Features
Inca's CEO John Mills unveils 2017 plans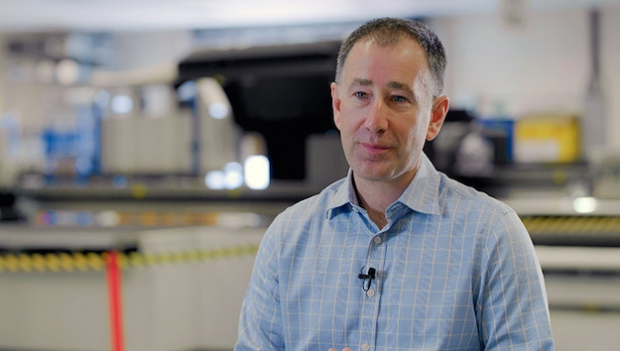 Ahead to FESPA 2017, we spoke with Inca Digital CEO John Mills about the company's latest innovations and plans for 2017 and beyond.
What is Inca's focus for FESPA 2017?
Inca is exhibiting at FESPA in its own right for the first time, which is a great opportunity for us to showcase the depth and breadth of our innovations and invite visitors to discover the "magic" behind our products, and the true extent of the sectors and markets we are actively involved in.
The centrepiece of the stand will be the latest version of the SpyderX which features a larger print area of 3.2 x 2m. IncaConnect, our new workflow solution, will also be launched at the show.
Our Inca Genius team will be on hand to take visitors through our bespoke applications wall and video demonstrations as well as the extensive range of industrial applications now supported by Inca technologies.
Can you tell us a little bit about these new additions, its features, the applications and end users?
The latest SpyderX is a true flatbed with roll-to-roll versatility which now features a new larger print area up to 3.2 X 2m. This machine has gained tremendous momentum over the past year and we feel the time has come to showcase the true potential of the latest version at FESPA. The SpyderX is perfect for businesses that require versatility and speed with all the benefits of a high end inkjet platform.
Another highlight at the show will be the launch of IncaConnect, a powerful software suite developed in response to customers' need for greater visibility and management of the workflow processes on their Onset X and SpyderX machines. IncaConnect is designed to seamlessly integrate any Inca machine into existing workflow solutions, reducing job configuration time and manual intervention, helping to enhance productivity, profitability and reducing downtime.
What else have you got up your sleeve in terms of product offering?
It has been a truly exceptional year for Inca, both in terms of sales and also in terms of new solutions we have delivered in a number of industrial markets. We see the future of printing to be closely linked with Industry 4.0 and, in partnership with our customers, we have started to integrate robotics into our print production processes.
We are also focusing on single pass; we believe we have solved many of the limitations and concerns around single pass technology and we will be bringing a product to market in 2018.
Why did you decide to exhibit at FESPA 2017?
FESPA is widely recognised as one of the leading international exhibitions in the signage and graphics industries so we felt it was the right platform to introduce the Inca Digital brand in its own right. It gives us the opportunity to showcase our technologies to a wide audience and engage with visitors across multiple markets - from signage and graphics to packaging, décor and industrial.
An increasing number of companies bring intense competition to the printing industry. At Inca Digital, how do you help create difference for printers?
We are a British manufacturer, delivering innovative, world-class inkjet solutions and industry leading innovations all under one roof. Twenty five percent of our staff work in our R&D department and, we believe that this and the synergy the R&D team has with our manufacturing division, mean we have the ability to quickly adapt to the market conditions and respond to customers' needs much faster than our competitors.
We make sure we always stay hungry and place great value on creating innovative solutions that can solve our customers' most complex challenges. Every year, we reinvest 35% of our profit into R&D and we are not afraid to take a few calculated risks that allow us to stay ahead of the competition when it comes to our product range.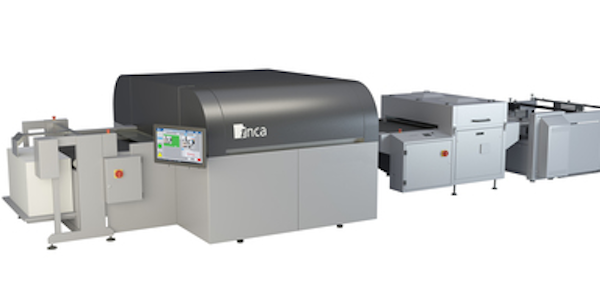 A new B1-format sheetfed inkjet printer from Inca Digital will be previewed at FESPA in Hamburg.
We pride ourselves in this agility and we remain genuinely excited about what we can do to change the industry and design new, creative and intelligent solutions for our customers.
What does the future hold for Inca looking forward?
Our operational independence means we are able to quickly identify and act on new opportunities as they arise. This is a critical attribute in an industry that is developing as rapidly as inkjet. This agility means we can anticipate opportunity rather than just follow, which in return enables us to lead the development of inkjet in multiple markets.
However, key to our success in this regard is our considerable investment in R&D. Over 35% of our profit each year goes into R&D and 25% of our staff work in R&D.
We will continue to establish the Inca brand in multiple markets by nurturing the strong relationships we have with our customers so we continue to understand their needs and, crucially, the reasons behind them. This allows us to stay ahead of the curve and spot trends before everyone else, making informed decisions and rapidly introducing the right innovations at the right time.
We believe Industry 4.0 and robotics will be key factors that will shape much of the future of the printing industry, especially in the industrial space, and are constantly working on solutions that seamlessly integrate automation and robotics into print production processes.
Register for free to attend FESPA 2017
Industry members that are keen to learn more about the new SpyderX , as well as the many other solutions on offer from Inca Digital, can visit the manufacturer on the booth D51 in Hall A4 at FESPA 2017.
Taking place from May 8-12 at the Hamburg Messe, in Hamburg, Germany, the exhibition will play host to many major brands from across the global market.
For more information on FESPA 2017, the companies that will exhibit and to sign up to attend as a visitor, please visit: www.fespa2017.com
Delegates can save 70€ entry fee to the exhibition by registering via the website and quoting reference code: FESG702. Discover how a visit to FESPA 2017 can benefit your business and register today
Interested in joining our community?
Enquire today about joining your local FESPA Association or FESPA Direct