Features
HP reveals FESPA 2017 plans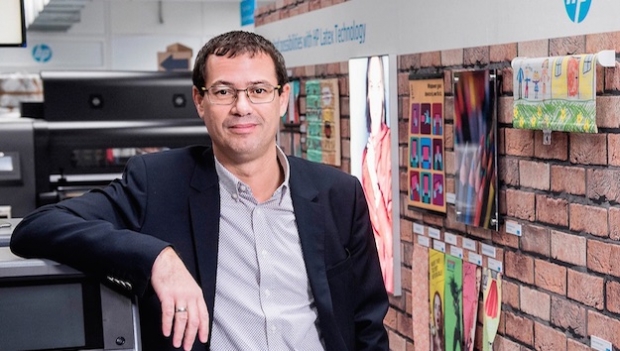 We exclusively speak to HP Head of marketing Michael Smetana to find out more about what the company will showcase at FESPA 2017.
In less than two weeks, the Hamburg Messe exhibition centre will welcome FESPA together with the international print and signage community.
'Dare to Print Different' is the challenge that has been set by organisers this year, aiming to inject fresh ideas and "real-word business guidance" for printers to take away and use to their advantage at the expo.
Given the current situation of the print market, this phrase may be more apt than ever, as more and more companies of all shapes and sizes are being encouraged to expand their horizons, and establish themselves as a multi-service solutions provider.
With just days to go before the doors open, we catch up with Michael Smetana, head of marketing, Graphics Solutions Business EMEA at
HP,
to find out what the firm hopes to achieve at this year's global print show.
What is HP's focus for FESPA 2017?
At FESPA 2017, HP will bring to life a wide array of large format applications that demonstrate how print service providers can reinvent their businesses and increase profits.
Visitors will have an 'up close and personal' experience with print at our booth, which is designed to emulate the experience of browsing in a shopping mall. It will include everything from high-end retail setups to coffee shops to supermarket aisles!
We want to inspire visitors to consider how they can reinvent impact for their customers, encouraging customers to ask themselves, "What will I print in the future, and what is the best technology to invest in?" This year's exhibit will give visitors a deep sense of the versatility of HP inkjet printers and encourage them to consider what new, creative applications they can offer… and most importantly how those applications will propel their business forward.
Additionally, we'll be focused on design. Markets such as retail and interior décor are growing rapidly, and this presents golden opportunities for large format PSPs to differentiate themselves, particularly thanks to HP Latex technology.
In the decoration lounge we will showcase a range of inspirational applications. Visitors will be immersed in the rich opportunities the décor market offers and gain inspiration from renowned designers, including Robin Sprong. In the Innovation area, we will showcase new textiles for designing soft signage solutions.
Finally, visitors will be able to watch HP ink experts Carlose Lahoz and Thom Brown perform ink demonstrations, exploring themes including the power of Original HP inkjet technology. They will talk about the science behind the ink and the difference between latex and solvent inks.
Are you launching new technology or products?
We will be exhibiting a comprehensive range of products in Hamburg and we will be making some exciting announcements too – watch this space, or better yet come to the show and see!
What else have you got up your sleeve in terms of product offering?
Visitors will able to experience a range of HP products that cover a range of sectors, including industrial high volume, décor, signage and posters, textiles, backlits, technical production, to name a few.
We will be showing the following digital presses: HP Scitex 17000, HP Latex 365, HP Latex 570, HP Latex 315, HP Latex 335, HP Latex 1500, HP Scitex FB750, HP PageWide XL 8000 & Fotoba Cutter, HP PageWide XL 5000, HP DesignJet 5600, and HP DesignJet 6800.
Why would you recommend people attend FESPA 2017?
FESPA is a must-attend event in the world of wide format printing, designed to showcase how market-leading technologies can be harnessed to deliver greater creativity and productivity, and grow businesses.
However, a wide format print show is not just a forum to show machines but an opportunity for exhibitors to give visitors an immersive experience. The FESPA 2017 tagline is "Dare to Print Different" and we believe HP's offering will certainly encourage visitors to do just this.
As well as seeing technology in action, visitors can take advantage of the interactive sessions that will take place at HP booth.
What sets HP apart from its competitors?
It is our goal not just to be market leaders but market makers, using innovation to help our customers differentiate themselves. We understand that brands are under ever-increasing pressure to capture consumers' attention and win market share.
We are committed to helping print service providers meet this challenge. Our investment in R&D means we can offer customers the tools to creatively harness the latest developments in digital print.
What does the future hold for HP looking forward?
The world of digital print has always been exciting, but never more so than now! We remain committed to helping our customers become the print service provider of choice, delivering the right solutions that will transform their businesses.
We will continue to strengthen our position as the top supplier of digital wide format printing systems in the world. Borders between traditional market segments are blurring, as the latest technology means that various different products can be produced by one print service provider. You can expect to see us demonstrating this with our latest innovations at FESPA 2017.
Register today to visit HP at FESPA 2017
Commandeering 10 halls at the Messe Hamburg, Germany from 8-12 May, with over 700 exhibitors covering around 68,000m2 of floorspace, FESPA 2017 is set to trump its 2015 edition on size and attendance.
HP is just one of a host of industry heavyweights that will be in attendance, and based on stand D15 in hall A1, it will be demonstrating a number of its printing products, including a new industrial solution for sign production and a new ecosystem that it says will help users to establish an "efficient end-to-end workflow".
For more information on
FESPA 2017
, the companies that will exhibit and to sign up to attend as a visitor, please visit:
www.fespa2017.com
Interested in joining our community?
Enquire today about joining your local FESPA Association or FESPA Direct