Features
HP commits to $200m investment in water-based development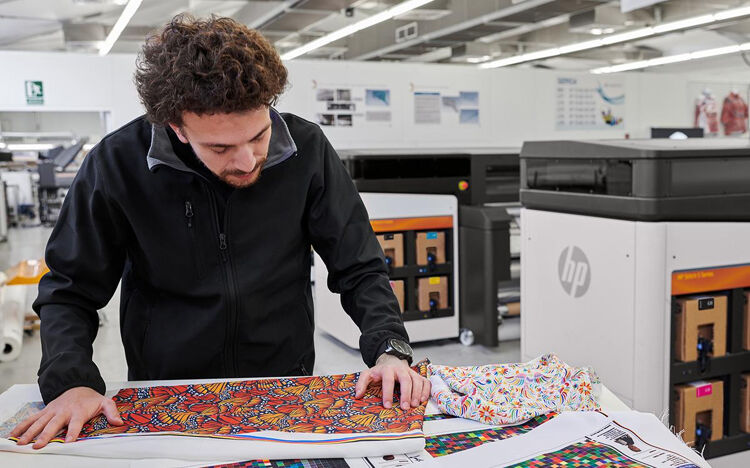 Global print giant HP has announced plans to invest $200m (£155.7m/€179.8m) in developing new water-based print solutions and innovations, with the aim of improving the entire product lifecycle in the corrugated and textile print sectors.
Revealed this week, the initiative will see HP spend $200m on water-based R&D efforts over the next five years to develop a next generation of print, printhead and press technology.

The project will build on HP's existing innovation in water-based ink technology, including solutions created for the sign and display market such as its HP Latex inks products, as the manufacturer seeks to offer customers more solutions with greater environmentally friendly credentials.

Speaking to FESPA.com about the new initiative, Santi Morera, general manager and global head of graphics solutions at HP, said that the investment will bring benefits across the whole product lifecycle. This includes industry professionals who use HP print systems, through to the end users of the printed product, and for the final reuse, recycling, or disposal of that product.

"Water-based inks offer an outstanding overall sustainable solution, particularly when compared to solvent-based inks or inks that incorporate UV reactive chemistry," Morera said. "This investment provides a solid foundation to develop non-hazardous and low VOC-emitting inks.

"HP's true water-based inks for corrugated packaging have already shown superiority in sensitive applications such as food packaging. HP has consistently made and will continue to make significant investments into water-based solutions, and water-based inks are already widely used across the HP print portfolio."

In terms of why HP has made the commitment and why it believes these types of solutions are important for the modern print industry, Morera said that demand for sustainable and greener printed products is increasing worldwide and print service providers must respond in order to retain and win new customers.

"HP's purpose is to create technology that makes life better for everyone, everywhere," Morera said. "Purpose demands a blueprint for thinking that considers every aspect of what makes life better for everyone, everywhere that reaches beyond product and profit.

"HP calls this Sustainable Impact, which has been at the heart of HP's reinvention journey, fuelling innovation, growth and strengthening our business for the long-term. In 2018, Sustainable Impact helped HP to win over $900m of new revenue, an increase of 35% over 2017."

The new project comes after HP in September also announced that, over the next five years, it will contribute $11m to the World Wildlife Fund (WWF) to help restore part of Brazil's threatened Atlantic Forest and increase sustainable management of state-owned farms and forest plantations in China, ultimately protecting a combined area of 200,000 acres.

"HP's partnership with WWF will support the development of science-based targets for forests, estimating carbon and nature co-benefits of forest restoration and improved forest management," Morera said. "The new initiative with WWF begins in November and marks the launch of HP's Sustainable Forests Cooperative."

Interested in joining our community?
Enquire today about joining your local FESPA Association or FESPA Direct