Features
How to choose a superwide high production roll-fed printer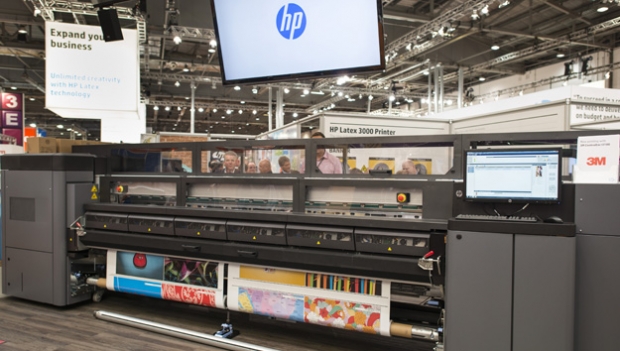 When looking for a new roll fed printer, it's important to consider other factors outside just width, speed and print quality to get a good return-on-investment.
Smaller roll-fed printers, which offer extremely good value for money and are generally capable of producing very high image quality, are limited to slower speeds, particularly when it comes to the higher quality modes. But there are a number of larger production machines that address this issue, capable of churning out a staggering amount of print, at good quality.
It might be tempting to simply buy two of the cheaper printers, and certainly these machines cost more to buy and tend to require more expensive service contracts. But they offer a very high level of productivity with the associated economies of scale in ink usage, which makes them highly cost effective.
These printers are physically larger than the cheaper machines, typically 3.2m wide, with some going up to 5m wide, which is ideal for printing large banners. Most of these printers can handle multiple rolls simultaneously, so that you can print either across the full width or to two smaller rolls side by side, each with completely different images.
HP has developed latex printers for the entry-level market, but there are also two larger 3.2m wide models. Thus the Latex 850 has 1200 dpi resolution with three printheads. Productivity ranges from 27 sqm/hr for backlits to 88 sqm/hr for billboards as well as a draft mode up to 177 sqm/hr.
But the latex 3000 is an altogether more industrial machine, using the third generation latex inks. HP claims that these have a scratch resistance that's similar to hard solvent inks and can be used unlaminated for short term outdoor events. Productivity ranges from 27 sqm/hr for backlits through to 180 sqm/hr for billboards. It has the same six colours – CMYK plus light cyan and light magenta – but there's a seventh channel with an optimiser, essentially a primer that controls dot gain to produce sharper images.
Mimaki also produces a superwide printer, the 3.2m wide SWJ-320. This is a solvent printer, which can be configured with two or four printheads. The standard speed is 15 sqm/hr (28 sqm/hr for the four head version) though it can produce up to 51 sqm/hr (83 sqm/hr) in draft mode. It uses four colours and the resolution ranges from 600 to 1080 dpi. It's not really a high production machine, though Mimaki's European marketing manager, Mike Horsten, points out that it is cheap enough that some customers use two or more together.
Agfa has developed the Anapurna M3020i RTR, a 3.2m wide printer that can produce up to 123 sqm/hr or 33 sqm/hr in Standard mode. It's a solid machine, available with either four or six colours, using Agfa's own UV inks. It uses the latest Konica Minolta 1024i printheads with a 12-picolitre drop size, capable of resolution up to 1440 dpi. It will take media up to 0.2mm thick and is suitable for most banner, POP and exhibition graphic applications. There's also an option for printing to mesh without a liner.
Matan produces the Barak series of grand format UV printers. The Barak 8Q is an eight-colour printer with CMYK plus light versions of those colours. There's also a version, the 8QW, which has white ink as well. It comes in both 3.5m and 5m wide versions. Resolution is 600 dpi with productivity up to 291 sqm/hr for the smaller version or 353 sqm/hr for the wider model. These use Matan's Parallel Drop Size technology, which prints both 20 and 40 picolitre sized droplets for a smoother image. As well as taking roll-fed media, there's also an optional flatbed for handling rigid substrates.
There are several other models: the Barak iQ has similar specifications but uses just CMYK inks: the HS model, has the same specifications but lacks the DPS technology: and the Matan 4Q, which is a CMYK machine marketed as an entry-level grand format device. There are both 3m and 5m versions, with speeds up to 172 sqm/hr. Fujifilm rebadges the Barak 8Q as its Uvistar Pro8 and the iQ as the Uvistar II.
High productivity
Durst has concentrated on high productivity machines, which includes a number of largish rollfed printers. These are designed to be left running overnight and include automated maintenance.
The Rho 500R is a 5m wide UV printer with 600dpi resolution that can produce up to 350 sqm/hr. It comes with CMYK colours as standard but there's a choice between light cyan, light magenta, white and various spot colours available optionally.
There's a variation on this, the Rho 512R, which has a different print array with a 12 picolitre drop size, which can be multi-pulsed to produce bigger drop sizes. Productivity and options are the same as the 500R, though it has a higher 900 dpi resolution.
A 3.2m wide version, the Rho 312R, which can produce up to 240 sqm/hr. In addition, Durst makes the Rho 320R HS, which has the same print array and colour options as the 500R. It can produce 138 sqm/hr at 600 dpi resolution but can run at up to 176 sqm/hr in POP mode.
There's also a roll-fed version of the P10, the 3.2m wide P10 320R, which uses Durst's Quadro Array 10 print unit, with up to 1000 dpi resolution. It can produce up to 190 sqm/hr in six colour mode. The top platen has a magnetic linear drive transport system, similar to that used on many flatbed printers, and can handle rigid materials as well.
Grand format
Finally, EFI has an enormous range of superwide printers, having concentrated almost entirely on highly productive grand format printers. Thus EFI owns the Vutek brand, which are all UV hybrids and can be used with rigid materials as well as roll-fed. Its main offering for roll-fed printing is the GS series, including the top of the range GS5500LXr Pro.
This is a 5m wide UV printer that uses LED curing, which is quite an achievement given that it produces up to 260 sqm/hr, though the high quality POP speed drops to 65 sqm/hr and 28 sqm/hr for Best quality. It uses a greyscale print head with a 7-picolitre drop size and resolution varies between 600 and 1000 dpi. It has eight colours – CMYK plus light cyan, light magenta, yellow and light black – as well as white ink. There's a 3.2m wide version, the GS3250LXr Pro.
There's the GS5000R, another 5m wide printer, but which uses larger drop sizes and is slightly faster, producing up to 288 sqm/hr or 96 sqm/hr in POP mode. But otherwise it has the same colours and resolution modes. Again, there's a 3.2m wide version, the GS3250r.
There are three further 3.2m wide printers, starting with the GS3250, which boasts eight colours plus white. It has a dual resolution with 12 picolitre drop size and 1000 dpi or 24 picolitres for 600 dpi. It can produce up to 223 sqm/hr. The GS3250LX offers similar specifications but with LED curing, which should lead to lower running costs. There's also a GS3250 LX Pro, which also has LED curing and the same sort of resolution but uses six colours and can produce up to 209 sqm/hr.
There's also a 2m wide version of this, the GS2000LX Pro, which has LED curing with eight colours plus two white channels, that can produce up to 186 sqm/hr. EFI also sells the GS2000, a 2m wide printer with eight colours and greyscale printing, but without the LED curing, that's capable of up to 185 sqm/hr.
In addition to the Vutek printers, EFI also sells a number of other wide format printers, including the R3225. This UV roll-to-roll printer takes 3.2m wide media and uses just four colours. It has greyscale printheads, with resolution up to 1200 x 600 dpi and can produce 12.8 sqm/hr in its Ultra Quality mode, up to 87 sqm/hr in its Express mode.
This quick run through is not intended as an exhaustive list of everything that's currently available. But these are the most common models and do give a good idea of the sort of productivity and features to look for.
Prices will vary across models, but the key things to consider are the ink prices and the service contracts, which will account for a significant part of the running cost of these machines.
Interested in joining our community?
Enquire today about joining your local FESPA Association or FESPA Direct