Features
How are manufacturers responding to textile print trends?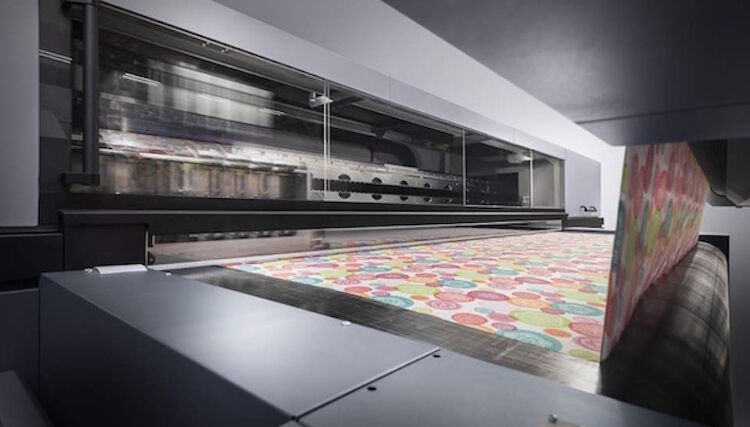 We take a look at some of the latest solutions on offer to print service producers in the textile print market.
Textile print has been regarded as one of the key growth areas in the industry for some time, and manufacturers have responded by delivering new, innovative kit. However, with textile print also one of the most varied areas of the market, there is a certain amount of pressure on manufacturers to ensure that this technology is able to meet customer demands.
FESPA 2017 gave members of the global market to opportunity view, first-hand, some of the latest products on offer from the biggest brands in the industry. And with other key events such as FESPA Mexico 2017 on the horizon, excitement is high over what manufacturers will bring to market either this year or in the future.
Much like the main FESPA 2017 earlier this year, FESPA Mexico, from 21-23 September in Mexico City, will play host to leading companies from across the print industry – many of which are able to offer textile print solutions to the market.
Responding to the ever-evolving requirements of textile print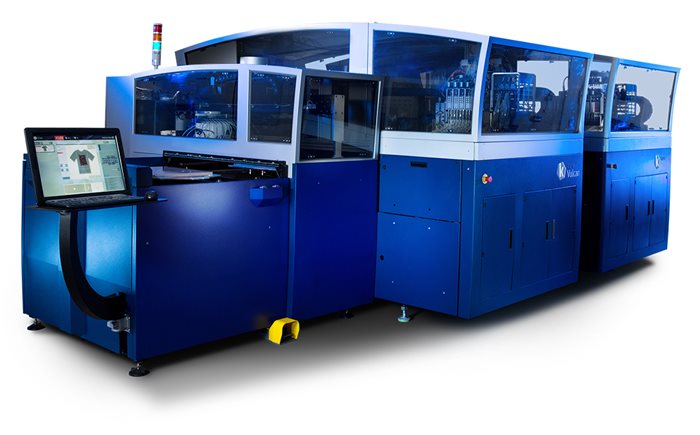 The Vulcan from Kornit Digital is targeted at screen printers that produce collections and short runs for retail use and promotional purposes
One such company that will feature at the Mexican event is Kornit Digital, which develops and manufactures kit for the garment, apparel and textile industries. Lea Duckwitz, regional marketing manager EMEA at Kornit Digital, describes the textile print sector as an "ever-evolving" market and, from the point of view of both a manufacturer and print company, keeping track is a "non-stop job".
"The industry now really needs the tools to enable companies to become online business enablers," Duckwitz said. "That is how they will be able to meet not only the increasing demand for short-run turnarounds, but also customisation and personalisation requirements, while at the same time remaining versatile and sustainable."
Duckwitz went on to say that the Kornit team has been able to identify two key trends in the current textile print market, namely mass customisation and the professionalisation of workflow and job management solutions.
"Mass customisation is on a high," Duckwitz said. "Our new Storm Duo, optimised for fast double CMYK printing on light garments, is a leading example. And also our Vulcan is aiming at the screen printer's segment by enabling users to switch to digital printing while still keeping up the high volumes in mass customisation."
Launched at FESPA 2017, the Storm Duo is a direct-to-garment printing system that has 16 print heads in a double CMYK configuration, a productivity of over 200 prints per hour, and is well suited for producing light garments. Meanwhile, the heavy-duty Vulcan is targeted at screen printers producing collections and short runs for retailers and promotional purposes.
With a focus on workflow and job management, Duckwitz also draws attention to the solutions that Kornit Digital can offer: "We're determined to elaborate our eco-system to provide customers with the most complete web-to-print solution.
"Thanks to a collaboration with mass customisation workflow specialist Custom Gateway, our customers can now create their own 'garment decoration kitchen'. Customers can design their individual shirts online, have them printed immediately afterwards in the production site, not to mention ship instantly.
"This platform covers the entire supply chain, from website and personalisation frontend through automated production and printing to packaging and shipping.
"The solution is flexible, available worldwide and suitable for B2B customers and B2C ones clients. We're also working on adding more workflow solutions to our portfolio as our customers are operating in increasingly demanding production environments."
Gaining an advantage in a competitive market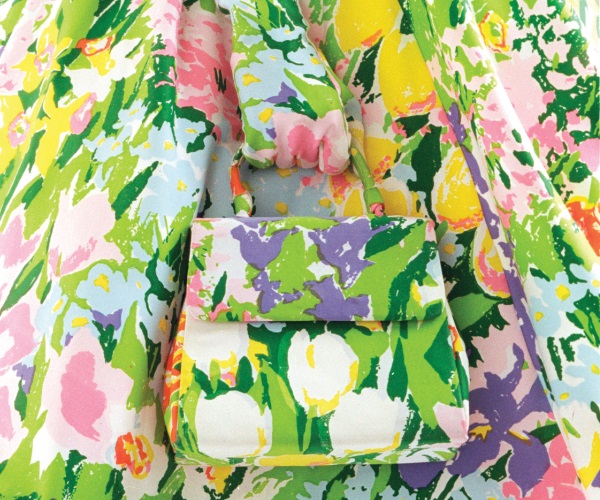 Epson demonstrated how its technology can be used to print bespoke textile products at FESPA 2017 earlier this year.
Another leading brand due to feature at FESPA Mexico this year is Epson, which, like Mutoh, has a number of textile print options on offer to the market. Heather Kendle, market development manager for Epson Europe, said that the manufacturer has picked up on an increasing call for on-demand, customised and personalised fashion and interior decor.
Kendle said: "Digital processes can print on synthetic as well as natural fibres and we have seen huge strides made in the range of polyester-based materials, many convincingly simulating the look and feel of natural products such as cotton, silk, satin or leather. Polyester-based materials are required for the dye sublimation process and can achieve really top quality results, even with complex design.
"Epson has the advantage of designing and manufacturing all the critical components for the technology: hardware, software, printhead and ink. This ensures that all production components are designed to work together to provide high quality output with competitive running costs. In this sector, Epson offers both dye sublimation and direct-to-garment (DTG) inkjet technology."
With this in mind, Kendle draws attention to some of the textile print solutions on offer from Epson, such as the SC-F9200 and the SC-F7200 64-inch models from the Epson SureColor SC-F series, which the manufacturer said are suitable for low to medium production. Epson also offers the 44-inch SC-F6200, which it said is "ideal" for more flexible production environments.
Kendle added: "Each of these models features Epson' s Precision-Core TFP printheads and run with Ultra Chrome DS inks to give vibrant results."
Focusing in on DTG production, Kendle highlights the Epson SC-F2000, which can print onto cotton or cotton blend products such as T-shirts, sweatshirts, hoodies and similar items of clothing.
Kendle said: "This DTG printer has four different platen sizes, up to 406 x 508mm, giving users a versatile promotional option. With the ability to handle substrates of up to 25mm thickness and safety systems to protect the printhead; it offers a high quality print resolution of up to 1,400 x 1,400dpi.
"The SC-F2000 uses the Precision-Core printhead and Ultra Chrome DG inks. This model offers black, cyan, yellow, magenta as well as white, which allows printing onto coloured as well as white items. It uses an automatic head cleaning system and is very easy to run and maintain."
In addition, at the industrial level, there is also the Monna Lisa press, supplied by Robustelli, a member of the Epson family.
Shifting from centralised production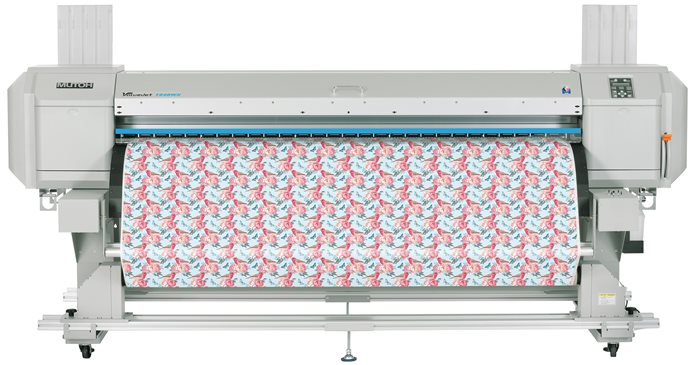 The ValueJet 1948WX from Mutoh is a dye sublimation printer that can print at speeds of up to 194sq m/hr
Another major manufacturer that has a strong presence in the textile print sector is Mutoh. The company will feature at FESPA Mexico this year, but Nick Decock, commercial marketing manager at Mutoh Belgium, gives an insight into the firm's business in the EMEA region, explaining that textile print is a "growing business" at present.
Decock said: "What we clearly see is a shift from centralised production and stocking of prints made with analogue equipment towards local and on-demand production of digitally printed textiles, specifically linked to the key benefits of digital inkjet technology.
"There is also a new trend towards direct printing on natural fibres like cotton using water based pigmented inks for applications such as home furnishings, upholstery and fast fashion. One of the advantages of water-based pigmented inks is that prints only need to be fixated after printing, making the manufacture process a lot shorter and easier."
Mutoh is able to offer both direct-to-textile printers and dye sublimation printing machines. Decock said that these types of technologies offer a number of major advantages over conventional analog printing, such as the possibility to produce plateless multiple products, even at low volume, and what Decock described as "endless" full colour design possibilities.
Decock added that users of this kit can also benefit from quick and local delivery – production plants rather decentralise their production and work without stock – as well as lower production costs, high added value and even environmentally friendly production, as there is no need to clean plates after printing.
With this in mind, Decock draws attention to some of the latest options on offer from Mutoh. These include the ValueJet 1948WX, a four head, 1,900mm-wide dye sublimation printer that can operate at speeds of up to 194sq m/hr, as well the ValueJet 1938TX 1,900-wide direct-to-textile printer with integrated gutter,
Decock added: "Digital printing has now reached a good level of maturity with regards to technology, quality and print speeds, factors which have proven to be acceptable for traditional textile printers for their short run needs."
This represents just a small selection of the companies that are set to exhibit at FESPA Mexico later this year. Taking place from September 21-13 at the Centro Citibanamex in Mexico City, the event will welcome visitors from across the Latin America region as they seek to learn more about the latest solutions on offer from various areas of the wider print industry.
Visitors to the event will have access to a series of informative seminars that are designed to offer valuable insight into key topics, while the event will also play host to the Mexican round of the FESPA World Wrap Masters.
To find out more about the event and view the full exhibitor list, visit the official FESPA Mexico website: www.fespamexico.com. Delegates can get free entry by registering via the website and and quoting reference code: MEXH718.
Discover how a visit to FESPA Mexico can benefit your business and register today.
Interested in joining our community?
Enquire today about joining your local FESPA Association or FESPA Direct