Features
Getting in the mix with corrugated print
Although the wider packaging market has been hit by a number of setbacks in relation to its environmental impact, there is one area in particular that not only addresses this issue, but offers a whole host of opportunities for print service providers. Rob Fletcher finds out more.
It is no secret that packaging has not had the best press in recent times. As we learn more about the devastating impact of plastic on the planet, brands and marketers are seeking out alternate ways to keep their products looking great, while at the same time being friendly to the environment.

Step forward printed, corrugated products. This form of packaging not only offers customers a cost-effective way of marketing products, but addresses the issue of sustainability, with such material much more recyclable than its plastic counterpart.

A whole host of print service providers (PSPs) have picked up on this and moved into the market in order to take advantage of an increase in work demand. This has been accompanied by a strong reaction from top manufacturers, which have bought to market various new solutions to support those in this area.
Jump on consumer- and brand-driven trends
One such company is HP, which cites its PageWide technology as one that will benefit PSPs either already active in the sector or looking to make the move. Cristobal Macedo, general manager and director for PageWide Industrial at HP, told FESPA.com there are many benefits to be felt from diversification here.

"We're seeing a surge in demand for corrugated due to current attitudes surrounding the use of plastic, and the industry has come a long way in a short time to meet the rising need for sustainable options," Macedo said. "At HP, we've listened to what the market is saying here and are constantly creating new ways to deliver the most environmentally sound results for a variety of applications.

"Getting involved in the corrugated sector allows companies to jump on consumer and brand-driven trends with greater agility and speed than ever before, and to supply commercial needs with ease.

"The corrugated market also helps companies to expand into more sensitive industries that were previously inaccessible to the majority of printing service providers. A recent example of this is the capabilities of our HP PageWide corrugated solutions, which offer companies the chance to extend into sensitive applications using as water-based inks that are safe for food packaging."



Caption: The HP PageWide C500 uses water-based inks, allowing for printing on both primary and secondary food packaging without the need for an additional barrier

Building on this, Macedo draws attention to the HP PageWide C500 press, which came to market in February. Macedo said the PageWide C500 delivers offset quality direct-to-board for a broad range of applications from basic to premium boxes.

With mainstream productivity on both coated and uncoated papers, the press also provides a cost-effective digital alternative for offset lamination and flexo production, according to Macedo.

As a further benefit, the PageWide C500 uses water-based inks, which enables printing on both primary and secondary food packaging without the need for an additional barrier. This allows box plants and sheet plants to comply with even the most stringent global food safety regulations, including Nestle Guidance and Swiss Ordinance.
Corrugated market is an "exciting playground"
Also active in this sector is Durst, which has been supplying multi-pass inkjet printing systems in the large-format print market for a number of years. Wolfram Verwüster, segment manager, corrugated packaging and display printing, believes that the corrugated business is an "exciting playground".

Verwüster said: "The product is truly green, the market is growing globally and it offers huge potential for decoration. Digital printing for corrugated cardboard packaging and display sectors has been a really hot topic for everybody over the last two years. High productivity printing, printing quality and flexibility are the hallmark features of Durst inkjet technologies."

With this in mind, Verwüster outlined the benefits of diversification to PSPs: "The bottom line is that the major brand owners and big retailers will be pivotal in driving this market. So, it's a case of, 'what are the requirements of our customers' customers?' Successful printing companies will continue to embrace the new opportunities coming alongside digitalisation.

"Print and digital will continue to co-exist, they complement each other, and the most successful companies make use of both. Online internet shopping should be seen as an opportunity for printers and converters, not as a negative since it is not going away anyhow."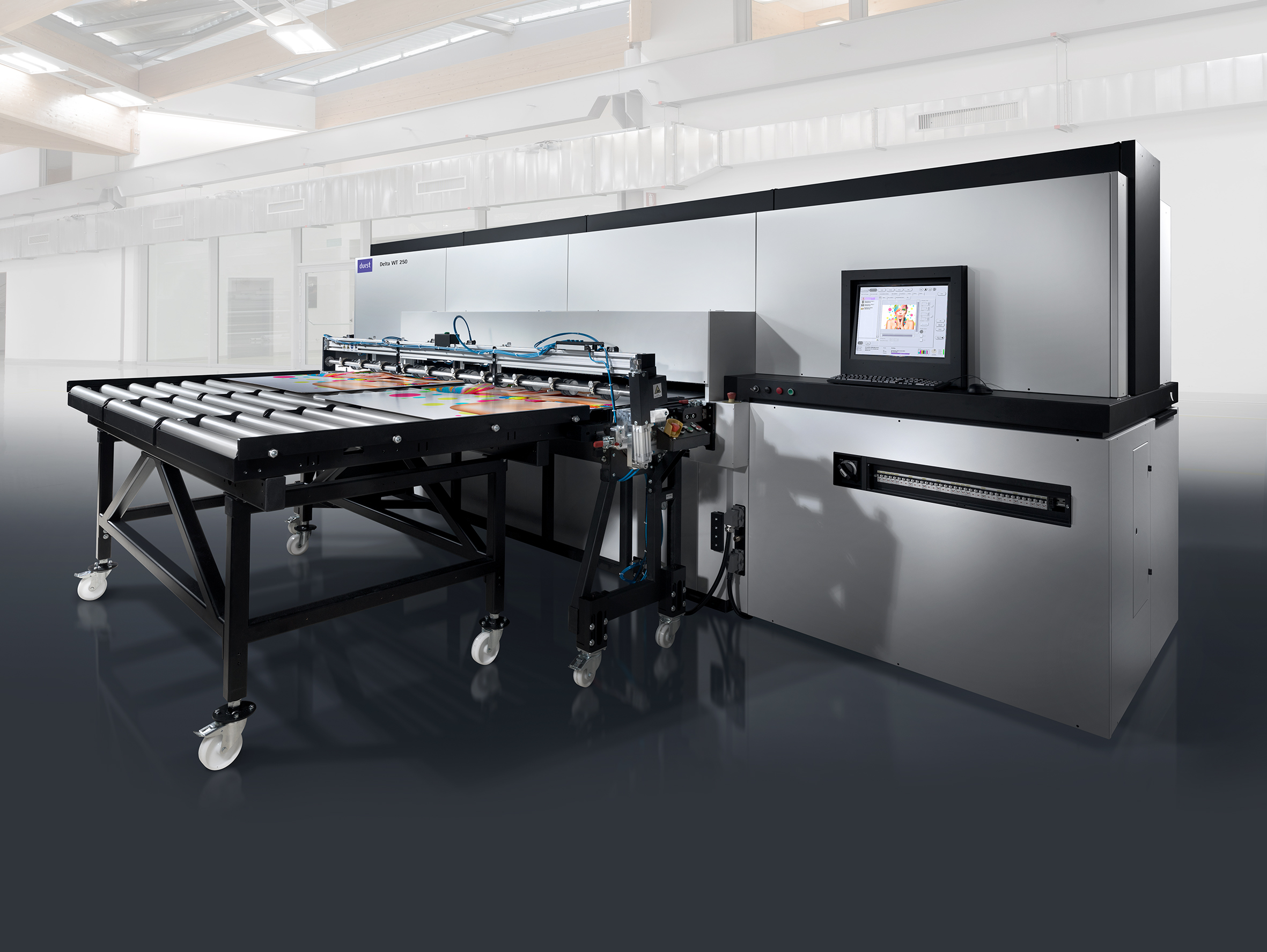 Caption: Durst's Delta 250, Delta WT 250 was named 'Best Corrugated Solution' at the European Digital Press awards

For those already in the market and others contemplating a move, Durst has a host of options on offer. These include the Delta 250, Delta WT 250 – which won the 'Best Corrugated Solution' in the European Digital Press awards – and most recently the Delta 2500 Plus versions. The portfolio was specially developed for printing on corrugated media, with all devices designed to help a corrugated industry that demands reliable, 24-7 capabilities with full variable data possibilities.

At the same time, Durst has developed the single-pass printing system Delta SPC 130, which, according to Verwüster, enables "superb printing quality and flexibility, together with extremely high productivity and consistency".

Verwüster said: "This allows, for instance, shelf-ready and retail-ready packaging in any run length to be produced economically, and also makes it possible to create short-runs, customisation and versioning immediately without any tooling cost involved."
Driving forward with digital technology
Casting the net wider still and Inca Digital can also help PSPs in an around this market. John Mills, chief executive, focuses on the digital influence within this sector and highlights further growth potential.

Mills said: "It is clear that the corrugated industry globally has a strategic initiative to digitise and we are seeing all the major companies in this sector actively adopting digital technology.

"With the volumes of print in corrugated being significantly higher than those is current POS markets it is clearly the area that has the biggest growth potential for digital print in the coming years. This is reflected in that all major inkjet providers now have equipment dedicated to printing corrugated board and liners."

Inca has been successful in the corrugated sector with its Onset, as Mills explains that between ten and 15 per cent of sales for the kit are from in the corrugated market.

Inca is also in the process of developing a range of single-pass printers for this type of work. The Jetliner is a 1.6m-wide single-pass roll printer that can run at speeds of 300m/min with a Samba-based aqueous system.

Mills said: "We are partnering with BHS in this project and believe that together we will transform the way corrugated is printed in the future.

"To complement and complete the range we are developing a single-pass sheet fed machine that will be able to print in both single pass and multi-pass and will be the first machine that offers single pass productivity and multi-pass flexibility in the same unit."

Sean Moloney, global product manager (digital), at Sun Automation Group, also weighted in, drawing on the benefits of digital production in this sector, citing single-pass technology as a key advantage.

He said: "The cost out and value added opportunities of digital work are clear, if the box-makers understand how to use the technology in use and with their markets.

"Proving this and building real world business cases for success remains in its infancy, however Plants running single-pass digital presses in various parts of the world are beginning to create competitive advantage over their analogue peers."

With this in mind, Moloney draws attention to the Sun-owned Corrstream single-pass digital print system, one of several options available to corrugated users as the firm works to "industrialise digital technology into the corrugated industry". Due to the large amount of packaging involved in both the food and beverage industries, Sun focuses on true, water-based inks with its kit.

Moloney however warns the choice may not be as simple with other kit, as users need to select both technology and consumables carefully. At present, there is the choice of flatbed scanning systems or single-pass system, as well as water-based, hybrid or UV inks, depending on the work type.
The push for personalised print
Focusing more on the short-run digital market, which has seen growth in general in recent years, Xanté has noted an increase in demand for corrugated print. Melissa van Gelderen, general manager for Xanté Europe, said this is a huge market that is continuing to grow, as customers understand they can have their shipping boxes printed digitally.

Van Gelderen said: "There has been a push for personalised, shorter run boxes for a while, due to the high growth of e-commerce but now that there are some good solutions for printing digitally and there is more talk about this subject in the market, the demand is increasing exponentially.

"From what our customers tell us, as soon as they start to put the word out that they can do personalised shipping boxes, they get interest not only from their current customer base but new customers as well. So the market is very exciting at the moment as customers see all benefits that digital print can add for corrugated applications."

In terms of how Xanté can support those active in this area, van Gelderen said the firm first looked at the corrugated market around six years ago, and quickly realised it would be important to have a printer that would be affordable and easy to use.

She said: "Corrugated boxes are traditionally printed by sheet plants with flexo and we thought they may need tools to help to ease them into the digital market."

Step forward the Excelagraphix 4800, which van Gelderen said is designed to be the "perfect step into the digital market". The EG4800 can print 416 corrugated flat sheets measuring 48 x 24" per hour.

Van Gelderen said: "The Excelagraphix is very flexible as it allows one to print sheets, converted boxes and even pre/folded and glued boxes. And, you can change the box size and type in seconds.

"In addition to this, we've added our complete iQueue workflow so they have all the tools they need to start printing directly, such as Pantone matching, imposition, job cost, variable data input and management and barcode generator."

As focus on the environment becomes an increasingly important part of planning for brands, marketers and retailers, demand for sustainable and planet-friendly solutions such as corrugated print is only likely to rise. Packaging itself has been cited as a key growth market for some time now, but if you throw in the benefit of this form of packaging being friendly to the environment, then you should be holding a winning formula.



Interested in joining our community?
Enquire today about joining your local FESPA Association or FESPA Direct