Features
FESPA Awards 2017: Meet the Judges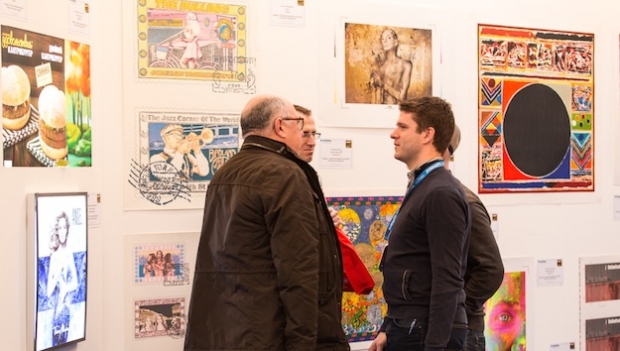 Ahead of the FESPA Awards 2017, we speak with the judging panel tasked with selecting the stand-out work from the thousands of entries expected this year.
With the deadline for entries to the FESPA Awards 2017 little over a week away, excitement is high amongst the FESPA community and wider print market as we look forward to seeing what industry members from around the world have put together for this year's Awards.
And although the final winner will not be announced until May 10 at FESPA 2017 in Hamburg Germany, there is a small group of people that will be rather busy in the weeks leading up to the main event, carefully studying each piece of work and considering which entrants are most deserving of an honour.
This year, a group of five judges will make up the panel, having the tough task of picking out the best work. Ahead of this challenge, FESPA.com caught up with some of the judges to find out more about their own career, as well as what they are hoping to see at the Awards this year.
Looking for technology and creativity
One of this year's judges is Simon Pless, owner and chief executive of Erler+Pless in Hamburg, Germany. With this year's main FESPA 2017 event to take place in his company's home town, and with Erler+Pless having entered the Awards a number of times, Pless is understandably excited about serving as a judge.
"I have always liked the idea of these awards," Pless said. "Erler+Pless was one of the winners in 2008 and we had an entry in 2015. It is a pity that, as a judge, I can't bring in my own entry into the awards, so I'll have to wait until next year!"
Speaking from the perspective of a previous entrant and winner, Pless is keen to highlight the benefit of taking part in the FESPA Awards, explaining that even if your company does not win, entering can help promote a business to the wider market.
"By entering, you can gain publicity and use the Awards as a marketing tool both internally and externally," Pless said. "I would like to see entries that show the company is looking for ways out of the more traditional business models of the printing industry."
Also preparing for his role as a judge at this year's Awards is Josep Tobella, who has a wide-reaching knowledge of screenprinting, having been active in this area of the market since 1971. During his professional career, Tobella has run his own company, served as director operations with several other firms and also taught undergraduate and postgraduate students.
Nowadays, Tobella serves as president of the FESPA España Association, the only screenprinting association in the country, and works with a number of other organisations in this sector, helping to promote the benefits oft his type of print technology.
Speaking ahead of the Awards, Tobella makes no secret of his desire to see work produced using screenprinting techniques: "As I am now on my own and have no vested interest, I seek to promote screenprinting in graphic arts and industrial graphics by sharing the possibilities of new applications, as well as by training in the use of screenprinting on an variety of materials. I believe screenprinting and digital printing complement one another."
Setting standards recognised by the global industry
Gerrardo Cerros, who currently serves as chief technology officer at CMA Imaging, a colour management specialist based in Braine-l'Alleud, Belgium, will also lend his expertise to the judging panel this year. Cerros said he intends to call upon his impressive technical knowledge of colour management, proofing and pre-press to make decisions in regards to which entrants will win honours.
Speaking about his decision to return as a judge for a second time, Cerros told FESPA.com: "The awards are industry standards and the competition is very high. However, it was clear that colour was missing and it is key in the industry, now a variety of substrates are being used.
"FESPA is a truly global brand; the world now looks to FESPA for new technology and creativity."
"Colour is becoming more critical; the environment is also still in people's minds, but colour, in the eyes of brands, has taken top stop. Print has never been so cost effective, so people are happy to spend but not want consistency. And with this in mind, I would like to see a more entries and more industrial applications this year."
Expanding on the importance of the Awards not only to entrants but also to the wider industry, Cerros said that they can help companies from around the world gain valuable promotion, with the global market looking to the Awards to see the best in print talent.
Cerros said: "FESPA is a truly global brand; the world now looks to FESPA for new technology and creativity. Having an award really shows a company that wins one is at the very top of their game."
Meanwhile, Graeme Richardson-Locke, sales and operations director at Vektor, will also serve as a judge for this year's Awards. As a previous judge, Richardson-Locke will know all about what the role entails, and says that judging from what he seen at past event, he is looking forward to seeing more innovation this year.

Gerrardo Cerros, chief technology officer at CMA Imaging, is hoping to see more industrial applications feature at this year's Awards.
Richardson-Locke said: "Having been a judge previously, I was very pleased to be asked to rejoin the team this year. Being a judge offers the chance to assess the best in print across a wide range of markets. There are always inspiring entries and in an era where screen and digital technologies brush up against each other, it remains very important to have judges who appreciate the technical merits of any job.
"I am hoping to have a hard time with the judging panel selecting the best work from a high standard of entries. The fact is awards are only presented where worthy and to date, printers keep entering great work."
Having spoken with many past entrants in past years, and a previous winner himself Richardson-Locke is also aware of the advantage that the Awards offer to participants and those lucky enough to go home with an honour.
He said: "When you enter the Awards, you are forced to review the work that you present to clients. Hopefully it inspires printers to be better and try harder. As a previous winner, I can say that it is great to have the quality of your work applauded by your peers. Then you know that you're on the right track!"
With just over a week to go until the deadline for entries to the FESPA Awards 2017, those interested in taking part this year should look to submit work as soon as possible. And for those of you that are still undecided over your entry, the many positive comments made by the judges that will ultimately decide the winners should help show off the many benefits of taking part.
To find out more about the FESPA Awards 2017 and for information on how to enter, visit: http://www.fespaawards.com
Interested in joining our community?
Enquire today about joining your local FESPA Association or FESPA Direct