Features
FESPA Asia 2017 preview: Stand by stand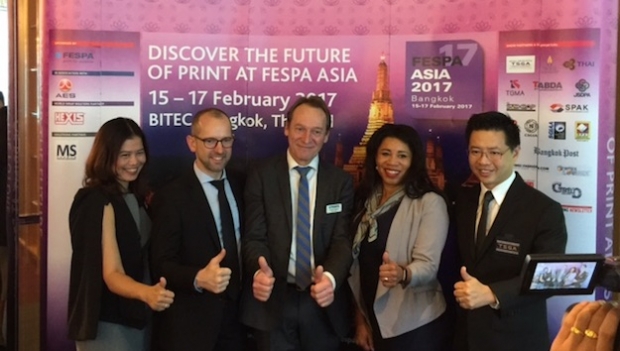 In less than a month, FESPA Asia 2017 will open its doors to invite print service providers to discover the newest products and the latest innovations in print. What's new at this year's inaugural show?
With hundreds of new products and services on display at FESPA ASIA 2017, the ASEAN+ region's premier speciality print exhibition, visitors are guaranteed to be wowed by the latest launches from favourite brands as well as inspirational products from newcomers!
Located in the purpose-built BITEC exhibition centre in the heart of Bangkok, FESPA Asia 2017 has been designed to connect the screen, digital and textile printing communities across the ASEAN+ region and beyond. Here, visitors will be able to benefit from the unmissable opportunity to source all they need for their business under one roof.
And with both local and international brands exhibiting, a visit offers the ideal opportunity to discover what's on offer from companies including: M&R, Kornit, EFI/Reggiani, Mimaki, Siser, HP, KIP, Roland, JTeck, Kiian, MS Srl, Hexis, Caldera, Decoprint, Chaiyaboon, CST, Saati, Winson and BPS.
That's not all; inspired feature areas including the World Wrap Masters Asia, on-stand advice, and unmissable seminars all make for an informative and enjoyable day out.
With so much to see and do, exhibitors on display include:
Caldera (Stand: 15-200a)
Armed with APPE 4, ready for the latest Mac OS and available in multiple languages, Caldera V11 speeds up image processing and improves organization for wide-format print businesses of all kinds.
d.gen (Stand: 13-303)
Papyrus G5 is the latest addition in the d.gen's high-speed direct-to-paper printers range. This fully integrated production system comes with the latest Ricoh Gen5 printheads that guarantee up to 138 sqm/h printing speed, Furthermore, the paper feeding and take-up units facilitate high productivity and 24/7 operation.
Hexis (Stand: 14-205)
The new HEXIS HXS5000 offers 14 colours combining Suptac with the Hex'press liner! Its flexibility allows application on flat and slightly curved surfaces: signs, shop windows, vehicles.
Kiian Digital (Stand: 14-200)
DIGISTAR K-CHOICE by: Kiian Digital. Inks for textile direct pigment printing with Kyocera Piezo Printheads. Features include: Vivid and bright colours. Spot colours give a wide colour gamut enabling faithful reproduction of fashion and home collection colour palette. Excellent printability capable to support industrial production runs. Extremely versatile: it can be printed onto a wide range of substrates.
Forever Digital Transfer Appl. Tech. GmbH (Stand: 12-146)
Forever has been developing Heat Transfer Paper since 1989. One of the first producers offering appropriate Heat Transfer Paper for colour copiers and laser printers of the new generation, today they offer complete solutions for printing on all kinds of different materials with a product range which covers transfer paper for light and dark coloured textiles as well as for hard surfaces.
Epic Computer Co Ltd (Stand: 14-141)
Epic Computer Co. Ltd has been operating since the year 2000. The company provides machinery for the industrial large format printing industry such as: indoor and outdoor print. The company is also an Epson distributor for all printing types of the Epson Pro Graphic and signage series, and offers the printing kits and materials such as ink, photo paper, canvas, vinyl.
Fotoba International Srl (Stand: 13-205)
Fotoba designs and manufactures high speed cross cutting wide format finishing equipment to work with all various flexible digital media with maximum precision, flexibility and speed to deliver on production.
GioLite Lumian Co.Ltd (Stand: 13-160)
GioLite Lumian is a manufacturer of heat transfer film for textile in Korea. Reflective and Non-reflective, cutting and printable films : PVC, PU, Glitter, Flock, Metallic PU, Puffed-up PU (3D), Perforated PU, Hologram, 27 different coloured reflective film.
IKONICS Corporation (Stand: 12-156)
Ikonics Corporation has served in the development of imaging technologies for over 60 years. Through processes based in photochemistry, abrasive etching, chemical etching and other technologies, Ikonics participates in a diverse spectrum of markets. From traditional and high-tech screen printing, to decorative and industrial etching and imaging, Ikonics Corporation conducts business in over 90 countries.
Mimaki Engineering Co., Ltd (Stand: 13-100)
For the first time in the ASEAN region, Mimaki introduces TX300P-1800B, belt attached, direct printing printer for the textile industry. This printer adopts various kinds of inks. TX300P-1800, beltless direct printer, and TS300P-1800, printer for sublimation will also be on show. At FESPA Asia 2017, Mimaki will exhibit UV cured ink printers, soft solvent printer, and printers with a cutting function as well.
Nexttech Screen Supply Co Ltd (Stand: 14-145)
Nexttech Screen Supply are a distributor and a provider of a complete screen printing service that operates under a proactive business concept of "NEXT", which means to completely move forward in terms of products, services as well as internal corporate administration. Supplies Sublimation Printing Machine and ink for interested business investors.
Distributing wide selection of printers and machines for printing industry and others. Supplies all kinds of printing products, equipment and decoration materials. Provides "One Stop Service" solution.
NOP4630 Supplies CO Ltd (Stand: 12-156)
NOP4630 Supplies are the Authorized Dealer for Screen Printing Machine and Accessories for Screen Printing Business for Thailand and Myanmar.
O-Sung C&T Co Ltd (Stand: 12-132)
O-Sung C&T Co., Ltd was incorporated in 1996, on the basis of its 20 years' experience in the screen printing industry. A leading manufacturer and supplier of "Heat Transferable Film" for textiles such as T-shirts, uniforms, sportwears and etc., O-Sung C&T provide various kinds of heat transferable films including PVC, PU, Nylon, Flock, Hologram, Glitter, Metallic, Foil and printable films all over the world.
Photonics Science Co Ltd (Stand: 16-144)
Photonics Science Co., Ltd. is the leader in laser systems, integration and solution based in Thailand. They offer solutions for hundreds of laser applications such as laser cutting, engraving, welding, drilling, polishing and more.
P&Tec Co Ltd (Stand: 11-105)
P&Tec is a manufacturer of sublimation transfer paper and sublimatable film. Creating a new business of sublimation with their value customers, P&Tec provides inspiration to expand the sublimation market with new ideas.
SAATI S.p.A (Stand: 12-101)
SAATI is an Italian multinational company that develops, produces and commercializes highly advanced technical precision fabrics and chemicals for industrial use. SAATI is a process partner in several screen printing sectors, including graphics, glass, electronics, ceramics textile and architecture.
SENFA / DECOPRINT (Stand: 15-200c)
DECOPRINT offers a wide variety of coated textiles for the large format digital printers in widths up to 5 meters for all types of inks (solvent, eco-solvent, UV curable, Latex, dye sublimation & direct dye disperse).
T.A.O. Bangkok Corp Co Ltd (Stand: 16-80)
T.A.O. BKK CORP has been part of the Printing and Graphic Industry in the ASEAN region with a commitment towards customer satisfaction by providing customers with the latest technologically advanced products along with individualized services. They offer printing solutions for screen, pad, digital, textile, and even special printing technologies as Flocking and Sublimation.
Texpaper Service SL (Stand: 15-175)
Texpaper Service S.L is a company who specialise in paper for the textile industry. Their core product is the Sublimation Protective Paper for calenders and presses and they offer a variety of GSM, width and different levels of protection papers according to the customer needs. Extend the life of the belt, improve the transfer quality and reduce the number of defective products only by using the right protective paper.
For the full line-up of exhibitors at FESPA Asia 2017 please visit www.fespa-asia.com. Visitors can get free entry to the exhibition by registering to attend via the FESPA Asia 2017 website, quoting reference code: ASAJ701.
Interested in joining our community?
Enquire today about joining your local FESPA Association or FESPA Direct