Features
FESPA Africa 2017: Stand-By-Stand Guide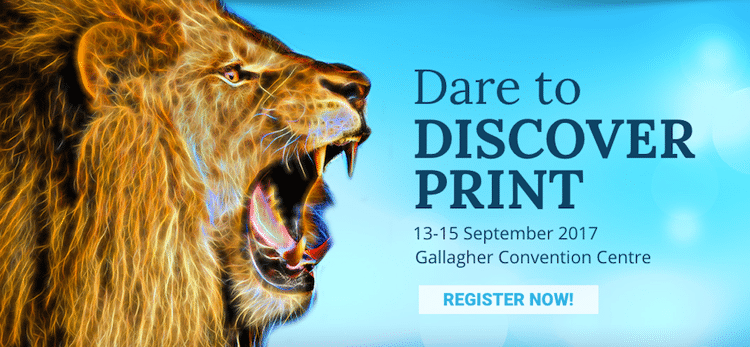 With FESPA Africa 2017 sets to take place next week, we look at some of the many brands that will be in attendance and pick out the technologies they will be showcasing.
With so much educational content and exciting features, it's easy for visitors to FESPA Africa 2017, co-located with Sign Africa, to get distracted.
We've compiled a useful guide of product highlights being displayed at the event, which is taking place from 13-15 September at Gallagher Convention Centre in Johannesburg.
3A Composites, Hall 3, E2
The company will launch a number of new products at FESPA Africa, co-located with Sign Africa. The new DISPA paper board has a unique structure of embossed formed paper that gives it exceptional strength and rigidity. CRYLUX acrylic glass is the perfect choice when it comes to looks because of its high transparency, resistance and UV stability.
CRYLUX is one of the optically strongest plastic sheets in this group. Manufactured from cast polymethyl methacrylate (PMMA), it is versatile and can be used for company signs, shop fittings, individual items of furniture and in the building industry. The product provides transparency for displays and lively, intense colours for visual communication.
3M, Hall 3, B52
3M South Africa will launch the new VHB Tape GPH series as well as showcase the latest Wrap Film Series 1080 and Print Wrap Film IJ180mC-10 and IJ180mC-120 at FESPA Africa, co-located with Sign Africa. The VHB Tape GPH series is a permanent bonding solution that can replace traditional mechanical fasteners and liquid adhesives in challenging, high temperature applications.
It uses a conformable, acrylic foam core to provide a good balance of strength and conformability. The new series helps break the barriers of traditional construction elements. It adheres instantly with high initial tack on a broad range of substrates like: metal, glass, ABS plastics, rigid PVC, and polycarbonate.
3DpXL! Hall 2, E23
3DpXL!, a Cape Town based bureau that can offer 3D printing to sign makers, brands, retailers and end users, will exhibit eye-catching 3D printed samples on their stand at FESPA Africa, co-located with Sign Africa.
3DpXL! will feature a range of samples printed on the Massivit 1800 printer, which has recently been installed at the company's Cape Town premises. The printer transforms the way high-level marketing, advertising and themed projects are created and can produce high quality 3D pieces up to 1.8m (6 feet) high.
AM.CO.ZA, Hall 3, E10 and E11
AM.CO.ZA will exhibit its FastCOLOUR large format printer and FastCOLOUR flatbed UV printer at the upcoming FESPA Africa, co-located with Sign Africa. The FastCOLOUR large format printer is a 1860mm eco solvent inkjet printer with an Epson DX5 print head. It will be exhibited at the expo for the first time. The new FastCOLOUR flatbed UV Printer can cure ink instantly, which allows printing on almost any surface.
Agfa Graphics, Hall 2, H1
Agfa Graphics' South African sales organization will present the new Anapurna H2500i LED wide-format hybrid inkjet-UV printer.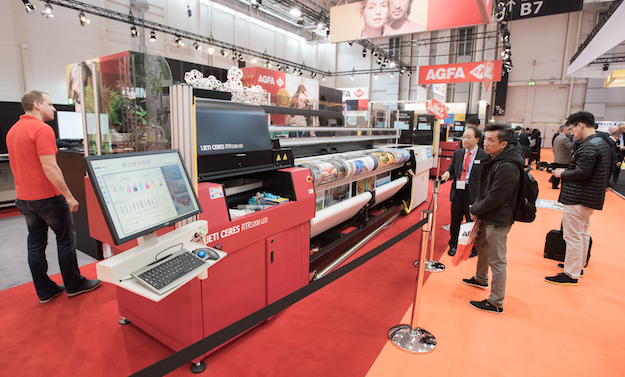 The new 3.2m-wide machines, which handles roll as well as rigid media, adds to the existing 2.05m (H2050i) and 2.5m (H2500i) devices in the range and is an extension of the roll-to-roll Anapurna RTR3200i. Agfa Graphics wide-format marketing manager Willy Van Dromme said the latest printer would meet the needs of most customers.
Clear Solutions, Hall 3, D65, D45, D46 and B61
Clear Solutions will exhibit the Jingwei Cutter CB06-2513RM at the upcoming FESPA Africa expo, co-located with Sign Africa. Features include a six axis high speed motion control system, integrated control of high-performance software, fully-automatic adjustment of the evenness of the cutting platform and high-end hardware configuration.
It has powerful winds for strong suction, dotted cutting, half cutting, full cutting and creasing by fine tuning. CB06 digital cutters are more stable and solid with steel structures, which are based on a modular design concept that lends them greater flexibility and adaptability.
CNC Professional Machine and Engineering, Hall 2, D1
The company will exhibit a range of laser cutters, CNC routers and plasma cutters at the FESPA Africa expo. Renowned for its stability, precision and speed, the PS series laser machine fully employ movement controlling capacity to improve the effect of laser processing.
Included at the expo will be: PS9060 Laser - 900mm x 600mm - 80W, PS1390 Laser - 1300mm x 900mm - 100W, PS1390 Storm Laser - 1300m x 900mm - 80W, PS1410 Laser - 1400mm x 900mm - 100W, PS1325 Laser - 1300mm x 2500mm - 100W, Plasma 1530 - 1500mm x 3000mm - 100 Amp, FL1325 - Fibre Laser - 1300mm x 2500mm, Router 1318 - 1300mm x 1800mm - 3kW Spindle and Router 2030 - 2000mm x 3000mm - 6kW Spindle.
Colorscreen, Hall 1, stand B3 and B4
The next generation of the Brother DTG digital direct-to-garment printers, the GTX, was launched worldwide on 1 September, and will be exhibited for the first time in Africa at the FESPA Africa Expo, co-located with Sign Africa.
The GTX print heads, developed by Brother, contain many more nozzles than its previous print heads. This allows for prints at 1200 x 1200dpi in a single pass, resulting in high quality prints at mass production level speed. This makes the Brother GTX printer two to three times faster than the previous GT-381 model.
Dacen Digital Technology, Hall 2, G10
The company will demonstrate its latest solutions at the FESPA Africa expo including the 3.2m Roll To Roll Macan, which uses 5pL CE4M Toshiba printheads and delivers excellent print quality. Eight printheads obtain a speed of 30 square metres per hour.
Also being showcased are digital cutting tables, which cut various substrates including textiles, die bond and Perspex and can be used for different packaging requirements. It features a high cutting speed with a vacuum table that includes a conveyer system to maximise non-stop production for increased production output.
EngravCut, Hall 3, D78
EngravCut will showcase its CNC routers and laser engraving machines at the upcoming FESPA Africa show.EngravCut laser cutters use the latest third generation CO2 laser tubes manufactured by RECI.
Its laser cutting and engraving machines include features such as a honeycomb aluminium grid, cooling unit, air extraction system, LaserWorks V8 programme, rotary attachment and air-assist compressor. On display will be: the EC9060 X (900 x 600mm 90W Auto Focus) and EC1390 X (1300 x 900mm 100W Auto Focus).
The CNC routers include features such as water cooled spindles, air cooled spindles, RichAuto A11S Handset, automatic oil pump and UCanCam V10 engraving software. The EC1318 (1.3 x 1.8m 2.2kW) water cooled spindle aluminium table is also being exhibited.
Exion Corporation, Hall 3, D72
Exion Corporation will introduce its Black Rhino Laser Welding Machine at FESPA Africa. The new 300W laser welding machine is renowned for its precision, and can weld very small and intricate type faces and logos at high speed.
The finished product has no chromatic abrasions or any trace after welding. Once the machine welds together the return and face, the user can create a halo effect or backlit channel letter with a quality finish that is flawless in design.
Fujifilm South Africa, Hall 2, E1
The company will launch the Acuity 15 flatbed printer at FESPA Africa, co-located with Sign Africa. This will be the first time this UV inkjet printer is being exhibited in Africa. This UV flatbed printer matches the renowned high quality produced by Fujifilm's Acuity Select 20 and 30 series, but at a lower investment cost.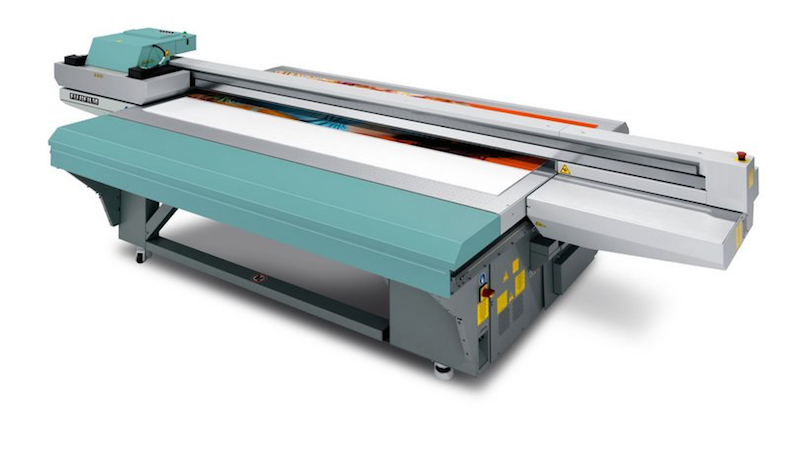 Designed for light production, the Acuity 15 offers near-photographic image quality and print speeds of up to 23 square metres per hour. Much like the Acuity 20 and 30 series, it boasts a robust platform that can print on rigid and flexible media up to 50.8mm thick. The vacuum system also reduces the need for masking, making it easy to load the media onto the bed.
Gawk Visual Engineers, Hall 3, D88
With the FSD display system, users can design and build eye-catching, modular tension-fabric displays including 3D towers, freestanding billboards, backdrops, exhibition booths, counters, walls and more using basic components.
FSD components are renowned for their recyclability and adherence to strict health and safety codes governing conferences and exhibitions globally. The product will be exhibited at the upcoming FESPA Africa Expo, co-located with Sign Africa.
Gencotech and Direct Distribution Services, Hall 1, stand B19 and B20
The two companies will demonstrate the new CorelDRAW Graphics Suite 2017, PaintShop Pro 2018 and PaintShop Pro 2018 Ultimate at FESPA Africa. The new CorelDRAW Graphics Suite 2017 is the latest version of Corel's flagship graphics software that offers designers a new, hands-on creative experience.
With LiveSketch™, hand-drawn strokes are intelligently interpreted, adjusted, and combined with existing vector curves, making it simple to sketch and draw directly on a pen-enabled device. The new PaintShop Pro 2018 and PaintShop Pro 2018 Ultimate boost productivity with user-requested enhancements and spark creativity with all-new content.
Graficomp, Hall 3, B23
Graficomp will be showcasing the new HP Latex L1500 The 3.2m-wide machine, suitable for printing on a wide range of materials including PVC banners, self-adhesive vinyl and textiles, caters to the many HP customers that want to go superwide.
It features automatic "very accurate registration" by using a small camera which accurately registrates the print using finuals for guidance. The 1500 can print at speeds of up to 74sqm/hr in outdoor production mode and up to 45sqm/hr in indoor mode.
The 1500 features 1,200dpi HP Thermal Inkjet printheads, auto nozzle replacement, an optical media advance sensor as well as an embedded spectrophotometer.
Graphix Supply World, Hall 3, D20, D21, C16 and E19
Graphix Supply World will be exhibiting the new Mimaki TS 30-1300 machine. Designed specifically with ease of use and versatility in mind, the Mimaki TS30-1300 is a simple, entry-level sublimation transfer printer equipped with a carefully selected set of features that allows users to bring high-mix, low-volume print productions in-house.
Sublimation transfer printing is widely used for textile and sportswear applications due to the elasticity and quick-drying capability of polyester material and in the growing market for soft signage applications, such as flags, retail in-store banners, and tapestries.
Hitech Graphics, Hall 3, E23
Hitech Graphics is debuting its LG Hausys sign and graphic materials at the upcoming FESPA Africa event, co-located with Sign Africa.
LG Hausys provides the complete range of printing solutions encompassing digital printing, silk screen printing, digital printing media and vehicle wrapping films. Solutions include: wall graphics, floor graphics, vehicle graphics, window solutions (clear, one way, etc.) and signboard solutions (self-cleaning films, block-films etc.)
JG Electronics, Hall 1, stand A2
The company will showcase the new Ghost White Toner, a complete solution for product creation and personalisation such as T-shirt printing, mug printing and transfer to many other materials.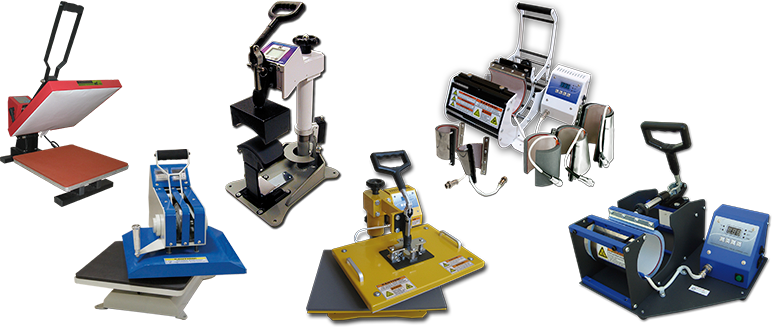 The Ghost process encompasses a white toner cartridge and CMYK toners that are optimised for transfer printing. These toners can be fitted to a wide plethora of HP Laserjet printers, although for the South African launch, the HP 452 A4 printer has been chosen. A3 is next on the horizon again with an A3 HP printer.
Keymark Media, Hall 3, C49
The company will showcase its latest solutions for signage and graphics at the FESPA Africa Expo, co-located with Sign Africa. Both the FOT-H and FOT-S machines are suitable for thermal transferring on garment, flat sheets, cut pieces, skis, metal plates, seat pads and foot pads. The FOT-H Vacuum Flatbed Heat Press is equipped with strong vacuum and hydraulic pressure for black ink to penetrate deeply into spandex.
It is easy to lay cut pieces and transfer paper on fixed positions and the press features a vacuum that removes excess. The FOT-S flatbed heat press features a three-way open shuttle for making long fabric; evenly distributes temperature and pressure and a simple mechanical design for easy maintenance.
Kolok Graphic Supplies, Hall 2, stand G33
Kolok Graphic Supplies will showcase its range of NUtec digital inks for the wide format indoor and outdoor printing market:
These include:
- Aquamarine AQ10 DS2 Ink (dye sublimation): designed for coated and uncoated transfer paper, as well as direct printing of polyester based textile and polyester coated rigid surfaces.
- Emerald E12 MS21 ESM Ink: an Environment Responsible Product (ERP) designed for optimum use in Epson DX4 and DX6 print heads.
- Topaz T35 SK-LS Solvent Ink (for grand format printers): ideal for reliable and efficient high speed printing. It is optimised for use in Seiko SPT 35pl and performs well on a range of other print heads including Spectra Polaris and Konica Minolta.
- Granite G60-F Ink (for grand format printers): a general purpose solvent ink available in five litre bottles for optimum use in Spectra 30pl, 50pl and 80pl print head machines. The ink offers good press stability, ensuring reliable printing with low maintenance.
Maritime Marketing, Hall 2, A15
The company will exhibit its range of vacuum forming solutions at the upcoming FESPA Africa, co-located with Sign Africa.
These include:
- Formech 508 FS vacuum former: the machine is ideal for signage applications that include the fabrication of lettering and lighting boxes, and works well with acrylic sheets.
- Formech Compac Mini: easy to operate and experiment with, Formech's plug n' play single zone Compac Mini is the perfect solution for hobbyists and first time users.
- Formech FT 10 Trimmer: the series offers simple and safe trimming of vacuum formed parts. With additional capabilities including polishing, deburring and slot cutting, the FT Series is a highly versatile and cost effective trimming and finishing solution. The FT10 features a 15mm thick MDF work surface.
- Formech FLB 500 Line Bender: the series is a manually operated line-blending machine that is capable of producing high quality bends in plastic sheets from standard materials up to 500mm wide.
NSDS, Hall 1, B16
NSDS will exhibit its manual screen printing equipment at FESPA Africa. In partnership with MS Engineering, NSDS now offers a range of micro register screen printing equipment, which allow the smaller printer to create high quality registered screen prints for a fraction of the cost of an automated machine. The X-Print machines come with X,Y and Z registration for exacting accuracy. Adjustment is completely tool-less.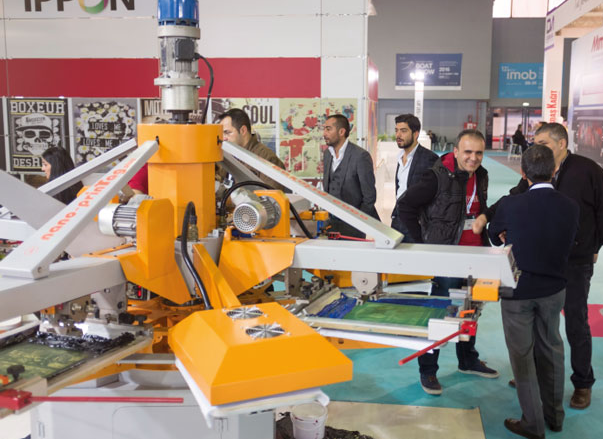 Complementing the print carousel are the torrid flash units, which combine instant IR heat with active air flow. The benefit of the Torrid flash is two-fold. Firstly, solvent based inks on ABS, vinyl, Correx and other substrates can be flashed in seconds, allowing multi-coloured prints, which weren't possible before without racking and air drying.
Secondly, as the unit works on IR lamps, it is only on when flashing, saving on energy costs, and also not causing excessive heat in the vicinity of printing, as is the case with more conventional 'always on' flash units.
Printequip, Hall 2, E31
Printequip will exhibit the Azon Mirage DTG digital printing machine and DK-20 heat press from Geo Knight .
Azon Mirage features a large 600 x 800mm format, which is capable of printing on a wide range of finished garments such as T-shirts, sleeves, jeans, aprons, cloth panels and more. Designed for industrial production and large quantities, Mirage has easy exchangeable dual-platen platform technology.
The Geo Knight DK-20 heat press features fully digital temperature control, an automatic digital timer with prepress and digital pressure bar graph, and heavy steel welded frameworks built to hold up over many years of heavy use and stress.
Parrot Products, Hall 3, E15
Parrot Products will showcase a variety of innovative and effective signage solutions at the upcoming FESPA Africa event, co-located with Sign Africa.
These solutions include a curved modular system consisting of anodised aluminium extrusions and interchangeable magnetic panels; a range of designer mountings and fixings providing modern finishes to various display requirements and a new range of Deluxe and Econo pull up banners with the option of a customised print. Also being showcased is the company's new digital LED signage panels.
Paul Moeller And Co, Hall 2, stand E15
Paul Moeller & Co. will be exhibiting the ADtac and X-Film Germany films. The large format ADtac series offers monomeric, polymeric and cast films, designed to be highly resistant to solvent ink aggression during the printing process, guaranteeing a high quality print performance on various print mediums such as latex, UV, eco-solvent and full-solvent.
With the overwhelming request for specialised X-Film products, X-FILM Germany has now included various print compatible metallised films into its product range, which is predominantly used for custom label applications. The company has also included high performance polymeric etched films for mid-to long term interior and exterior applications.
Red Hand Sign Supplies, Hall 3, C24
Red Hand Sign Supplies will showcase the new Vista Sharp system at the FESPA Africa expo, co-located with Sign Africa. Vista's variety of signs, models, sizes and modularity are now enhanced by the new Vista Sharp design.
Vista Sharp is an innovative flat, frameless and sleek looking indoor signage system. The system offers wall and door frames, directories, projecting signs, suspended signs and table signs – so the entire space remains cohesive and elegant in its simplicity.
Rexx Screen and Digital Supplies, Hall 1, stand B1
Launched for the first time in the Southern Hemisphere, will be the Kornit Storm Hexa R series paired with the Chiossi e Cavazutti Dual Plus 1200 return belt dryer.
The Kornit Storm Hexa R series features an eco-friendly process and biodegradable ink that complies with the strictest industry standards. The series guarantees accelerated print speed, industrial digital textile printing technology and the affordability of the Storm platform. It is the perfect choice for small-to-medium businesses looking to scale up in full colour while keeping costs down.
Sign-Tronic, Hall 3, C1
The Obelisk Foam Plotter makes it easy to produce 3D Styrofoam illuminated letters, signage and decorative elements. Sign-Tronic will debut this product at the FESPA Africa Expo, co-located with Sign Africa.
The plotter is a cost-effective and compact foam cutter capable of cutting styrofoam with no smoke, smell or noise. A professional, easy to operate machine with a footprint of less than a square metre when in operation, the Obelisk is capable of a maximum foam sheet size of 1250 x 600mm and thicknesses up to 100mm.
Titan Jet, Hall 3, E25
Titan Jet will showcase its Titan Jet 1.6m dye sublimation printer at the upcoming FESPA Africa, co-located with Sign Africa and FESPA Africa Expo. The machine can print exceptionally fast and at 2400dpi is the flagship of the company's range.
It is renowned for its ability to take on a high volume of work. A must-have for textile production, sublimation paper is printed and then heat pressed onto the user's material, making the artwork vivid and alive.
Touch Of Magic, Hall 1, stand E3
Touch Of Magic will launch MagicPrint, designed to transfer isolated full colour images, letters and numbers without trimming the paper. It only needs two steps to transfer the image onto the garment and runs without exceptions on all OKI White Toner Printers.
MagicPrint is self-weeding, so there is no need to trim the paper. The transfer paper works on various garments like cotton, cotton blends and 100% polyester. It offers brilliant colours and soft hand feel without leaving any background coating film.
Trotec South Africa, Hall 3, A18
The MOPA laser, which forms part of Trotec Laser's product portfolio of Galvo marking lasers, marks materials such as metals and plastics. More legible results are achieved, with the ability to mark anodised aluminium in black or create reproducible colours on steels. Other products being demonstrated include:
- The ProMarker: a laser marking machine for easy high speed laser marking.
- The Rayjet laser engraver: the ideal choice to start a laser engraving business.
- Trotec's Speedy 300, 400 and 500 from the Speedy series. The patented InPack Technology provides the highest laser lifetime in the market.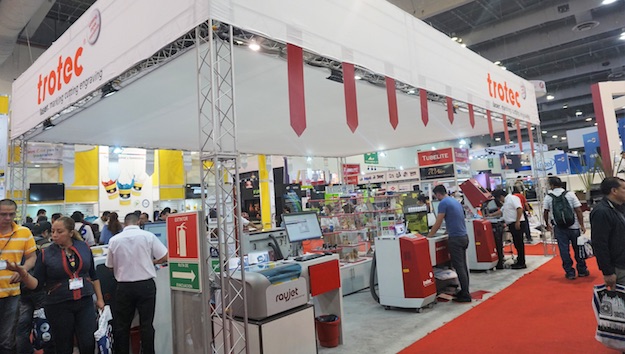 Vic Bay, Hall 1, D11
Vic Bay will exhibit its full range of garments at FESPA Africa, co-located with Sign Africa.
These include: 140g unisex T-shirts (available in 11 colours); 180g unisex T-shirts (available in 16 colours); 160g unisex ring spun cotton T-shirts (available in six colours); 180g ladies fitted T-shirts (available in six colours); 180g kids T-shirts (available in 19 colours); Vest (available in three colours); V-neck (available in three colours); Adult unisex long sleeve (available in four colours); Kids long sleeve (available in four colours); Adult unisex polo (available in 13 colours).
Wired4Signs, Hall 2, A11
Wired4Signs will showcase a wide range of LED products at the African show. The company has built up one of the largest selections of LED strip lighting for the retail, architectural, residential and commercial industries over the past 14 years.
Its LED strip lights are manufactured to meet international standards by the company's trusted suppliers from all over the world. All of the products are sold with a minimum three year warranty.
LED Modules are Wired4Signs' full-proof solution for many applications but mainly built for the signage industry. Whether it be billboards, lightboxes, fabricated letters, vacuum formed signs or retail applications, the products give optimal illumination at the lowest cost with the best power consumption and longest lifespan.
Register today to visit FESPA Africa 2017
Covering 13,000sqm and with the objective of attracting 6,000+ visitors, FESPA Africa will provide an ideal platform for visitors to investigate available business ventures, innovative products, technology, applications and education programmes for the signage and display industries in the sub-Saharan region.
For more information and to register for exhibition entry tickets visit: www.fespaafrica.com or www.signafricaexpo.com
Interested in joining our community?
Enquire today about joining your local FESPA Association or FESPA Direct