Features
FESPA 2017: Stand-by-stand Guide | Software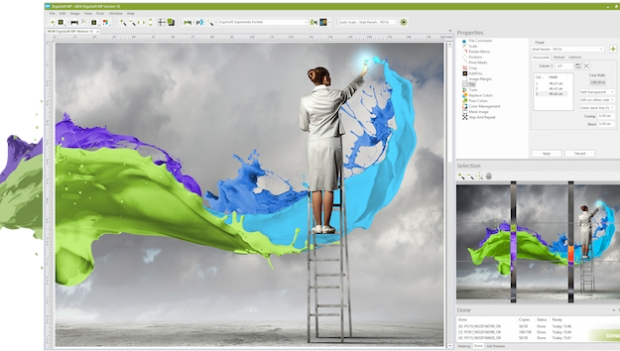 With FESPA 2017 sets to take place next week, we look at some of the many brands that will be in attendance at the event and pick out the technologies they will be showcasing.
Barbieri Electronic, Stand A27 - Hall B7
Barbieri manufactures intelligent colour measurement systems for professional digital printing. At FESPA 2017, Barbieri will be showing the SpectroPad Series 2, which builds on the features of its predecessor to offer several hardware, software and usability improvements. In combination with Digital Output Control it enables the operator to quickly and easily check the output consistency prior to running a job and works directly on the printer.
The company will also showcase the Spectro LFP spectrophotometer for flatbed and roll-to-roll printers, and the Spectro Swing solution for solvent printers.
ErgoSoft, Stand E33c – Hall A1
ErgoSoft will invite visitors to learn about ErgoSoft RIP Version 15 and its latest developments. ErgoSoft will present its 'distributed version', which it said has been designed for use in multi-printer and multi-computer environments.
The company will also show its new True Shape Nesting feature, which the firm said enables users of ErgoSoft RIP Version 15 to reduce their media waste by an average of 40 per cent. In addition, ErgoSoft plans to release the 64-Bit integration, Network Licensing and a RGB profile converter.
Esko Graphics, Stand C25 – Hall A1
Esko will show its ArtiosCAD packaging structural design software, which it said is ideal for use by POP, POS, and free-standing display designers. The company will also feature Automation Engine, a workflow solution that combines wide-format workflow automation with i-cut Suite's tasks of pre-flighting, file editing, as well as adding cutting paths and optimal nesting to a sheet.
In addition, Esko's Device Manager will be shown on its stand, while Enfocus will feature Enfocus PitStop for pre-flighting and Enfocus Switch for additional workflow automation.
Onyx Graphics, Stand B58 – Hall A1
Onyx Graphics will show its new Onyx SiteSolutions range, a family of products it said is focused on bringing business and production together in wide-format and grand-format print environments.
Onyx added that the products address areas of print production, connected workflows, and leverage real-time data to help users make better business decisions. The company will also demonstrate Onyx 12.2, the latest version of its RIP and print workflow software.
SA International, Stand A59 – Hall B7
SA International (SAI) will showcase the latest version of its Flexi signmaking software alongside the rest of its software software portfolio. Visitors to the company's stand will be able to see live workflow demonstrations, which SAI says will demonstrate how Flexi offers the "easiest print-and-cut workflow on the market".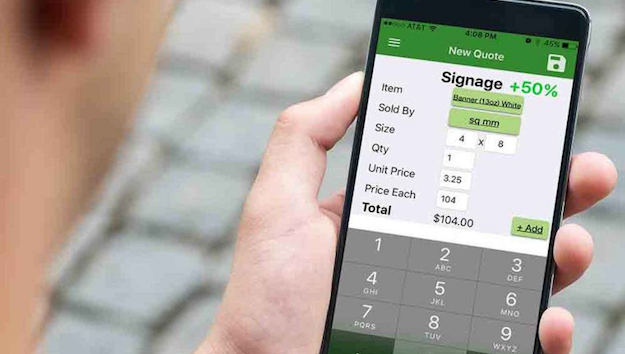 SAi will host live on-stand workflow demonstrations of its recently launched MyFlexi mobile app at FESPA 2017
Some of the new Flexi features to be demonstrated at the show include the new Finishing Tools and the QR Code Creator. The Finishing Tools enable the user to quickly add grommet, fold and stitch marks as well as bleeds to banners.
The company will also demonstrate its recently launched performance-improving mobile app, MyFlexi. The free app offers print shop employees and Flexi-users time-saving tools including the ability to quote jobs on-the-go in a matter of second using FlexiQuote.
Sawgrass Ink, Stand C44 – Hall B5
Sawgrass will focus on a number of software solutions at FESPA 2017, including the Sawgrass Virtuoso Desktop HD Garment Decorating System, the Sawgrass CreativeStudio Online Designer product, Sawgrass Virtuoso Print Manager and Virtuoso Virtuoso Desktop HD Product Decorating System.
---
FESPA 2017 Stand Highlights
How 'daring' are you? Register today to visit FESPA 2017
Taking place from May 8-12 at the Hamburg Messe, in Hamburg, Germany, FESPA 2017 will play host to many major brands from across the global print market.
To learn more about the companies that will exhibit at the show, as well as the conference programme and many other exciting in-show features visitors can look forward to at this year's event, visit the official FESPA 2017 website www.fespa2017.com.
Delegates can save 70€ entry fee to the exhibition by registering via the website and quoting reference code: FESG702. Discover how a visit to FESPA 2017 can benefit your business and register today.
Essentials
Date: 8-12 May
Location: Hamburg Messe, Hamburg, Germany
Price: Pre-register for free before 7 May at www.fespa2017.com (after which entry is €70 on the door or €40 online, unless you have a promotional code)
Opening times 8-11 May: 10am-6pm; 12 May: 10am-4pm
Exhibitors: 700-plus
Key attractions:

Printeriors showcase: Find out here how this dedicated event can help you access key information about the interior décor market.
Access to the co-located European Sign Expo, the leading non-printed signage event in Europe.
Exclusive seminar programme which will deliver key insights and market knowledge across digital, screen, industrial, textile and interior printing industries.
The best entries shortlisted for the FESPA Awards will be on show at the Hamburg Messe, where the winners being announced on Wednesday 10th May at the exclusive FESPA's Gala Dinner.
The last qualifying round for the World Wrap Masters Series will take place from 8-9 May followed by the finals on 10-11 May.
Interested in joining our community?
Enquire today about joining your local FESPA Association or FESPA Direct