Features
FESPA 2017: Stand-by-stand Guide | Presses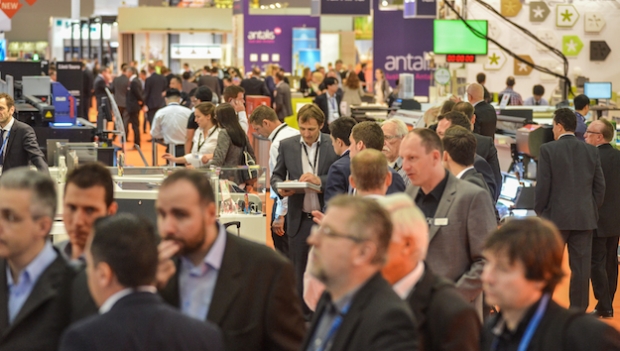 With so much on display at FESPA 2017, visitors will need to whittle what they see down to the essentials. Start planning your trip with our breakdown of what's on show on the exhibitors' stands.
FESPA's pick of the new wide-format products on show at FESPA 2017, from 8-12 May at the Hamburg Messe, Germany.
Agfa Graphics, Stand E20 – Hall B5
Agfa Graphics will showcase its new Avinci DX3200 printer at FESPA 2017 and demonstrate the machine's ability to deliver "high-quality, vibrant soft signage". The 3.2m-wide device has a top speed of 173sq m/hr and the ability to print at a resolution of up to 1440 x 540dpi. Agfa will also show the new Jet Ceres RTR3200 LED, as well as the Jeti Tauro H2500, the Jeti Mira 2732 HS LED and the Anapurna H3200i LED.
Aleph, Stand B60 – Hall B6
Aleph will bring its LaForte industrial plotter for sublimation to FESPA 2017. The company developed the eco-sustainable digital textile printer in response to an increase in demand from textile manufacturers for digital print solutions.Available in two versions, the plotter is able to provide a resolution of 1200 dpi and a speed of up to 270 sqm/h for perfect print quality.
Azonprinter, Stand A65 – Hall A1
Digital printers manufacturer Azonprinter will display its new Azon Matrix wide-format platform. The machine can be supplied with bed sizes of 700 x 1,900mm, 700 x 2,500mm and 1,200x 3,300mm, while each model can achieve output quality of up to 2,880 dpi.
Azon Matrix comes with new TurboJet inks and CMYK + white + gloss configuration in easy refillable 500 ml bulk-ink system. Dual security mode for automatic media thickness detection and head protection secure print head from damage before print operation.
Brother, Stand D39 – Hall B6
Brother will explain how its new Camera System and Projection Tools, developed by partner Brain Industries, can reduce misprints when producing print with the Brother GT3 Series Direct-to-Garment printers. The company will also show off various new options for e-commerce and IOT, while Brother's dealer Walter Schulze GmbH will debut what it said is the world's first self-contained industrial pre-treatment device for the full process of preparing garments.
Canon, Stand B55 – Hall A1
Visitors to the Canon stand at FESPA 2017 will be able to see the new Océ Colorado 1640 64-inch roll-to-roll printer based on UVgel technology. Canon will display two different models of the machine and also demonstrate how both machines can produce various applications such as banners, wall coverings and posters.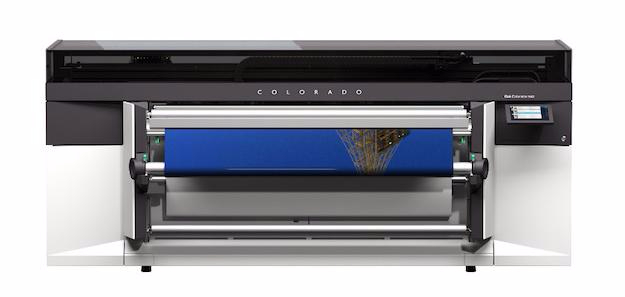 The Océ Colorado 1640 is a 64in (1.6m) roll-to-roll wide-format printer built around Canon's patented UVgel curable ink system
Canon will also show off its Arizona 1280GT with the new Océ Auto Pilot system, as well as the Océ Arizona 6170 XTS, Océ ColorWave 700 and Océ ColorWave 910. In addition, visitors can learn more about the Canon imagePROGRAF PRO-Series PRO-4000 and PRO-6000S, as well as the imagePRESS C750.
Colorjet, Stand G62 – Hall B5
Colorjet will showcase its TXF tech-loaded digital textile printer at FESPA 2017. The machine offers speeds of up to 24sq m/hr on five passes and four colours, and 60sq m/hr in two passes and four colours.
The TXF can also achieve print resolutions of up to 1,400dpi and is equipped with Epson printheads, which give variable dot control for achieving smooth gradations. The machine is belt-driven and, as such, is suitable for printing fabrics such as bulky textured materials, thinner fabrics and stretchable materials.
d.gen, Stand B45 – Hall A1
d.gen will focus on four of its leading technologies in form of the Teleios H6, Teleios Hexa, Papyrus H6 and Papyrus H4. The Teleios H6 is a direct-to-fabric device suited to soft signage work, while sister model the Teleios Hexa is also a direct-to-fabric, with more of a focus on flags. The Papyrus H6 dye sublimation machine features fluorescent ink, while the Papyrus H4 offer print resolution of up to 1,200dpi.
Durst, Stand A20 – Hall B7
Among new products and services being introduced by Durst at FESPA 2017 will be a standalone kiosk system equipped with 120 degree camera technology, that at the show will be integrated into a textile workflow process in order to demonstrate new design and product variations.
Details are being kept under wraps until the event, where the company will also show new machine analytics, service options and developments to the P10 series of printers with the Rho P10 250 HS Plus, alongside the new Rho 512R Plus, 3.2m Rhotex 325 for soft signage, and Rho WT 250 flatbed incorporating Durst's Water Technology.
EFI, Stand E30 – Hall B7
EFI plans to bring its Vutek 5r and Vutek FabriUV 520 printers to FESPA 2017. The Vutek 5r is a 5m-wide LED roll-to-roll machine that can print at speeds of up to 455sq m/hr and has a top resolution of 1,200dpi.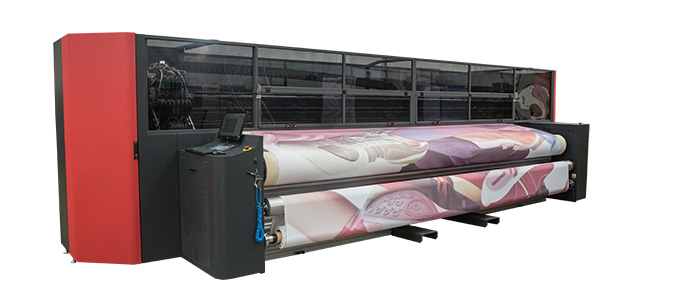 The 5.2m-wide FabriVU 520, which incorporates Reggiani technology, is the company's largest soft-signage printer yet
The device can handle a range of flexible and rigid media and has the ability to produce applications such as billboards, floor graphics and wallpaper. The FabriUV 520 is 5.2m-wide and has a top speed of 446sq m/hr, with production image quality up to 242sq m hr and POP image quality at 157sq m/hr.
Epson Europe, Stand D45 – Hall A1
Epson will show machines from its wide-format SureColor SC-S eco-solvent, SC-P aqueous, and SC-F dye-sub and direct-to-garment print ranges across four areas on its stand. The Signage/Fine art section will feature the SureColor SC-S80600, SC-S60600 and the SC-P20000 models, while the Fashion Space will showcase clothing printed using Epson SC-F machines.
The Garment Space will feature touchscreens developed by YRStore and samples of T-shirts featuring designs printed on the SureColor SC-F2000 direct-to-garment model. In addition, the Epson lounge and hospitality areas will show a collection of Décor products.
Fujifilm, Stand E35 – Hall B4L
At FESPA 2017, Fujifilm will be holding an exclusive technology preview for a new modular in-line flatbed production system that has no like-for-like equivalent on the market and will fill a much needed gap. Built on UV technology, this fixed B1 format device will offer ultra-high print quality and high productivity.
HP, Stand D5 – Hall A1
HP will present its first home-grown print and cut units with two new dual-device wide-format machines at FESPA 2017. The new cutter has a maximum diagonal cutting speed of 1.13m/second with 3G diagonal acceleration. It features a drag-knife with TurboCut and tangential emulation modes offering a cutting accuracy of +/- 0.25mm and a cutting force of up to 400g. The print engines are the same as the as the existing 48sqm/hr HP Latex 315 and 50sqm HP Latex 335 printers.
Other machines also on display include the HP Scitex 17000, HP Latex 365, HP Latex 570, HP Latex 315, HP Latex 335, HP Latex 1500, HP Scitex FB750, HP PageWide XL 8000 & Fotoba Cutter, HP PageWide XL 5000, HP DesignJet 5600, and HP DesignJet 6800.
Inca Digital, Stand D51 – Hall A4
A new B1-format sheetfed inkjet printer from Inca Digital will be previewed at FESPA 2017. The as-yet-unnamed device will be sold by both Inca and its partner Fujifilm and it will be shown on the Fujifilm stand (B4L, E35) at the exhibition.
The printer runs at up to 200sph and Inca said the initial target was short-run markets including point-of-purchase and commercial printing. It is based on the same platform as Inca's existing Onset X and SpyderX wide-format devices.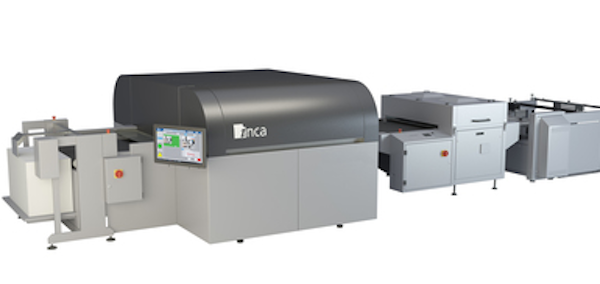 New B1 Inca device with automated handling option
The company will also present its new IncaConnect software suite, and the SpyderX flatbed machine with added functionality of roll-to-roll printing. The device has a printing area of 3.2 x 2m and Inca said this opens up new revenue streams to users.
InkTec, Stand C20 – Hall B5
InkTec will introduce its new Jetrix LXi8 LED-UV flatbed printer to the market at FESPA 2017. The 3.2m-wide machine can run at speeds of up to 197sqm/hr and has a top print resolution of 1,080 x 720dpi. Users can print on media up to 100mm thick and as large as 3,200mm x 2,030mm. Inktec will also showcase its latest inks and various new media.
Klieverik Heli BV, Stand C70 – Hall C70
Klieverik will launch its new GTC111-5400 extra large-format printing machine at FESPA 2017. The solution allows users to achieve fixation results on materials up to 5m wide, as well as narrow width shafts from direct textile printers.
Other features on the GTC111-5400 include multiple heating elements over the full width, touch screen operation, pneumatic tension settings, incorporated textile through feed. Klieverik will also show its new GTC131-2000 SP F high capacity single piece transfer printing calendar, with a 760 mm heating drum, as well as the GTC101-3500 large-format transfer and fixation calendar with 365 mm diameter drum.
Kornit Digital, Stand D10 – Hall B6
Digital Textile specialist Kornit Digital will show the Kornit Vulcan, Avalanche Hexa R-Series and Storm Duo at FESPA 2017. The Kornit Vulcan offers productivity of between 220 and 250 shirts per hour in the seven colours of CMYKRGW.
The Avalanche Hexa R-Series, which has been available since January this year, can produce up to 220 light and 160 dark garments per hour. In addition, the Storm Duo has a total of 16 printheads of CMYK colours and can produce around 200 shirts per hour.
Lüscher, Stand A80 – Hall B6
Lüscher-Tschudi will show its established T-REX 320 industrial digital printing machine at the event, as well as the upgraded T-REX 320 Mark II. Also on display will be the Quickfix Neo Mark II separate roll-to-roll thermofixing unit, the Raptor 320 printer with the Therminator 320 new thermofixing unit.
M&R Companies, Stand B30 – Hall B6
Screen printing equipment vendor M&R will showcase for the first time in Europe the new DigitalSqueegee direct-to-garment digital printhead at FESPA 2017. The hybrid system is designed to print images on both white and black shirts using screen-printed acrylic-based white ink to provide a toned underbase for the black shirt art.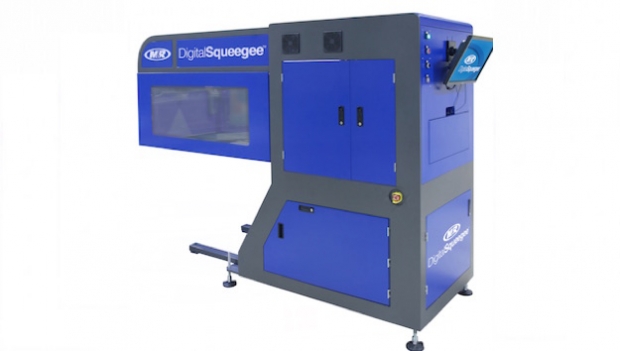 DigitalSqueegee is designed to print images on both white and black shirts to provide a toned underbase for the black shirt art
The DigitalSqueegee can deliver a full-colour 40 x 50cm image in under five seconds, and it can be integrated with newer M&R automatic presses.
Massivit 3D, Stand C20 – Hall A4
Massivit 3D will demonstrate how its flagship Massivit 1800 3D print machine can be used to produce a range of products, and change the way high-level advertising, marketing and themed tasks are created. The company will display a 1.6m-tall fragrance bottle, as well as a 15m 'spilled' milk carton and a 3.2m-tall mythical Greek sculpture.
Mimaki, Stand A25 – Hall A1 / Stand C50 – Hall B6
Mimaki will have its largest-ever presence at FESPA 2017 and be based across two stands. In the Textile Hall on Stand C50, Mimaki will show machines such as the dual-ink Tx300P-1800 and the high-speed direct-to-textile Tiger-1800B. On Stand A25 in the Digital Hall, the company will demonstrate four solvent printers and up to six UV printers. In addition, Mimaki plans to display its JFX200-2531 high efficiency printer for the first time in Europe.
MHM, Stand A22 – Hall A4
MHM will demonstrate its iQ Digital hybrid digital/screen printing machine, which is able to produce up to 1,100 shirts per hour. The company will also show off ArioPrint, which, developed by Ariolo, is a digital textile printing machine that has a maximum print width of 2,000mm. In maximum resolution mode of 1,200 x 1,200 dpi, the ArioPrint can operate at speeds of up to 122sq m/hr, and when in the top speed mode of 1,000sq m/hr, the press can still produce output at qualities of 300 x 300dpi.
Mutoh, Stand A15 – Hall A1
At FESPA 2017 Mutoh will première a new flex LED UV inkset (CMYK, white and varnish) that has been developed to extend the application capabilities of its ValueJet hybrid LED UV printers.
The company will also show new printers, including the recently announced 64in-wide ValueJet 1604WX dye-sublimation printer, and a 75in-wide
ValueJet 1948WX
high-speed sublimation printer. The new ValueJet VJ-626UF six-colour A2-size flatbed LED UV printer will also be shown.
NoeCha, Stand D75 – Hall A1
NoeCha plans to exhibit its NoeCha ONE wide-format industrial UV-LED digital press at this year's expo. The machine will be equipped with a fully automatic system of loading and downloading of the material, with the new feeder and stacker system allowing users to load and download a full pallet of material. NoeCha ONE has a native resolution of 600 x 600dpi.
OKI Europe, Stand A52 – Hall B5
OKI Europe, a show partner for the first time, will unveil new white toner desktop technology aimed at the creative and graphics arts markets, as well as showing the E-64S ColorPainter wide-format device that it launched in October last year.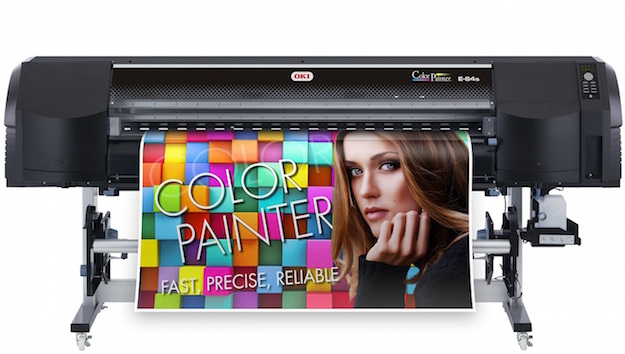 The E-64s ColorPainter uses OKI's high-pigment eco-solvent SX ink
The machine features a maximum print width of 1,616mm and top resolution of 1,080dpi, as well as the ability to print at speeds of up to 22.0smph. Visitors to the OKI stand will also experience OKI's unique technology innovations and applications spotlighting OKI's five-colour, white toner and neon capabilities
Qres Technologies, Stand C66 – Hall A1
Qres Technologies will launch its new Q-seriesUV flatbed printer at the event. The machine device can print at speeds of up to 60sq m/hr in draft mode and offers a basic print height capacity of 100 mm that can be boosted up to 300mm. Qres will also show off the F160 HS printer, which can print on objects of up to 300 mm high.
Ricoh, Stand C10 – Hall B4L
Ricoh will hand a European trade show debut to the EFI Vutek H1625 LED UV Hybrid roll/flatbed technology device. The 1.65m-wide machine features four colour print plus white and include both single pass and multilayer capabilities. Also on show will be the Ricoh Pro L4160 latex large-format printer and the MPC W2201SP colour wide format multifunction device.
Roland DG, Stand E20 – Hall B7
Roland DG will show machines from its TrueVIS VG series and demonstrate how the technology can be used to achieve quality print output. The new CAMM-1 GR cutters will also take centre stage on Roland DG's stand.
Launched in March, the GR series supercedes the GX series and has been redesigned "from the ground up", according to the manufacturer, with improved speed and accuracy, increased media options and additional cutting features. Visitors to FESPA 2017 will have the opportunity to win a GR-640 at the company's booth.
ROQ International, Stand D80 - Hall B6
ROQ International is to launch its new Roq Hybrid device at FESPA 2017. The machine is capable of outputting 450 pieces per hour and it can be supplied with either eight or 12 printheads. The eight-head model uses CMYK inks, while the 12-head option uses CMYK plus two extra colours to enhance and extend the colour gamut.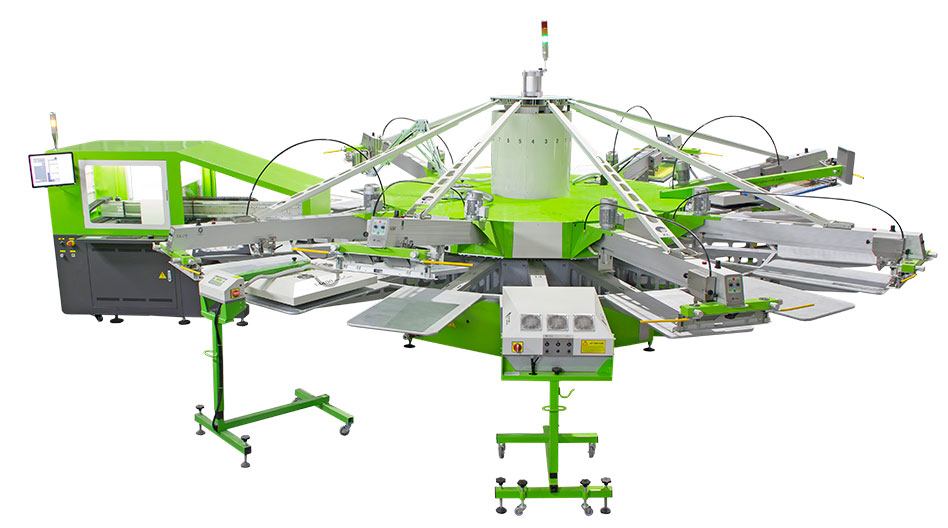 The new Hybrid DTG printer set up on a Roq automatic press
The Roq Hybrid has a maximum printing size of 500 x 700mm or 750 x 900mm, and its Z axis can be adjusted by up to 20mm to accommodate different heights of garments and textile substrates. The machine will be working attached to the new Roq ECO XL with 18 pallets and 10 printheads, while ROQ will also show Oval Evolution screen printer with 20 pallets and 10 printheads.
Sakurai, Stand D20 – Hall A4
Sakurai will launch its new MS110-DDS production unit on the opening day of the event and will demonstrate the solutions throughout the exhibition. The unit allows for large sheet printing with a maximum sheet size of 1,140mm x 788mm, while the printability on thin material and scratch resistance have been boosted to a thickness of 75μm.
The MS110-DDS also has a direct servo drive capable of enhancing print precision, due to a roll-to-roll cylinder mechanism and improved pressure. Sakurai will also demonstrate the OLIVER-66RCS, a multipurpose post-printing processing machine, and half-cut sticker process.
SPS TechnoScreen, Stand D43 – Hall A4
SPS Techno Screen will exhibit the VITESSA XP1 primeline with front-pick-up single sheet feeder and options to optimise printing on plastic substrates. Also on show will be the ATMA MF44 semi-automatic flatbed press equipped with a camera sheet / image register system and offers a maximum print size of 400 x 400mm.
Stahls' Europe – Stand C10 – Hall B5
Stahls' Europe will show a number of new products at FESPA 2017, including the Stahls' Hotronix Sports Ball Heat Press that enables users to customise or personalise a wide range of inflatable sports balls. Also on display will be the EZ Weeding Table that has a 40x90 cm heated work area and three temperature setting of 43, 48 and 54°C. In addition, visitors can learn about the Cad-Color SuperTEK Neon lightweight neon polyurethane film, and Cad-Cut Chameleon lightweight and stretchable material.
SwissQprint – Stand C50 – Hall B7
A new line of LED curing UV large-format printers will be shown by swissQprint at FESPA 2017- with two different flatbed sizes and two productivity levels. The Swiss manufacturer states that they have refined the mechanical basis of its existing printers for greater precision, but it is keeping other detail under wraps until the event next month.
Veika – Stand D30 – Hall B5
Veika will showcase Dimense, which it has described as an "entirely new printing technology". The development has led to the creation of Dimensor, a printer that works with the environmentally-friendly base material Ecodeco that Veika also introduced. Speaking to FESPA, Veika said: "Since no rotation cylinder needs to be produced for each and every design, with Dimensor, small batches become possible, new designs can be produced and tested easily and quickly and even individual wallpapers for individual clients are possible."
Do you 'dare to print different'? Register to FESPA 2017
Taking place from May 8-12 at the Hamburg Messe, in Hamburg, Germany, FESPA 2017 will play host to many major brands from across the global print market.
To learn more about the companies that will exhibit at the show, as well as the conference programme and many other exciting in-show features visitors can look forward to at this year's event, visit the official FESPA 2017 website www.fespa2017.com.
Delegates can save 70€ entry fee to the exhibition by registering via the website and quoting reference code: FESG702. Discover how a visit to FESPA 2017 can benefit your business and register today.
Interested in joining our community?
Enquire today about joining your local FESPA Association or FESPA Direct