Features
FESPA 2017: Stand-by-stand Guide | Pre-media and Post-press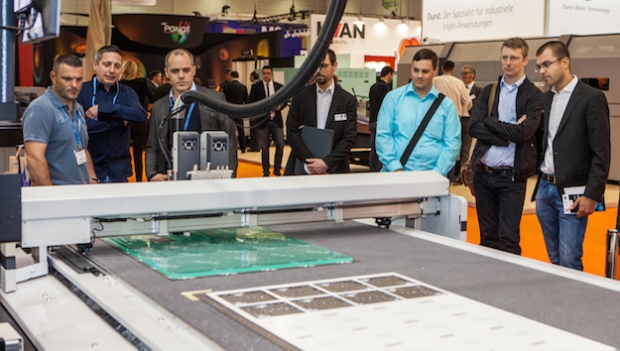 We find out what's new on the stands at this year's wide-format expo, taking place from 8-12 May at the Hamburg Messe in Germany.
Bullmer, Stand A40 – Hall B7
German digital cutting specialist Bullmer will focus on automation of the cutting workflow at FESPA 2017 and, as such, will launch a super-wide scanner solution on a 5m-wide cutter. Also on offer in other working widths, the solution is well suited to work with textiles, but can also be used to help save time when working with other materials. Bullmer will show a complete textile cutting line with material loading, scanner, motorised unwinding unit and single ply cutting.
Cibitex, Stand D93 – Hall B6
Textile finishing equipment manufacturer Cibitex will showcase the latest version of its easyCOAT/DRY pre-treatment and fixation machine. The 3.5m device allows inkjet printers to choose their own fabrics and manage the fixation in-house, as well as pre-treat any kind of fabric, using any other type of coating fluid.
Dekken Machinery, Stand C66 – Hall B6
Dekken is to launch its new T-Apparel model at FESPA 2017. The company said that the solution offers more flexibility and can handle a range of textiles. Dekken will also show textile folding equipment for use on applications such as home and bed linen, towels and curtains.
Demak, Stand B10 – Hall A1
Italiy-based firm Demak will launch a new automatic machine capable of doming labels at FESPA 2017. The company said the solution is suitable for large and typical packaging production, adding that it will enable companies in packaging to improve their products with 3D effects. Demak will also present its Kromex technology on its stand and showcase how the product can be used in applications across a host of different areas.
Elitron, Stand D55 – Hall A1
Elitron will be showcasing a range of solutions that embrace the entire workflow from pre-print to finishing. New products on show will include the Kombo SDC+ 3.2, the latest addition to the Kombo SD series of digital cutting systems.
Elitron's innovative twin-head cutting system, the Kombo TH, will draw the crowds at FESPA 2017
The Kombo SDC+ 3.2 can operate on both large-format materials for wallpapers and digitally printed signage or display, and has a conveyor working area 2.1m long and 3.2m wide. Attendees will also have the chance to see the Kombo TH system and learn about the company's patented Seeker System for the automatic detection of printed images.
Esko Graphics, Stand C25 – Hall A1
Esko is to demonstrate its Kongsberg X20 and Kongsberg C60 finishing tables at FESPA 2017. The Kongsberg C60 will be shown with a new automatic feed and stacking system – an option that can be fitted to any Kongsberg C.
The new device, which the manufacturer says will become the common operating platform for all Kongsberg digital finishing systems, will be on show alongside the firm's i-Cut Suite, a collection of pre-press and pre-production software packages designed to eliminate errors, save time and reduce waste.
Esanastri, Stand A50 – Hall B7
Esanastri will showcase the latest updates on its Galileo Weeding Machine. The company will also display its Galileo WM75, which has a maximum working size of 75 x 75cm, as well as the Galileo WM150 that has a larger area of 153 x 153cm. According to the manufacturer,
The Galileo Weeding Machine has revolutionized the industry of screen and digital printing by automating the only process that it was made manually: the weeding operation.
Faster Displays, Stand A30 – Hall B5
Faster Displays will introduce its latest cardboard automatic exhibitor at FESPA 2017. The solution is able to support up to 20kg and enables performing infinitive automatic POP models.
Flexa, Stand C20 – Hall B7
Flexa will display a number of machines at FESPA 2017, including the Easy Lite laminator, the Miura II Plus automatic XY cutter with edge control, the TGE roll-slitter and the Sublimax.
Fotoba International, Stand D35 – Hall A1
Fotoba will offer information about cutting machines such as the new XLD170 HS, which the firm said offers almost double the productivity of the existing XLD170. The latest model can also be accessorised with the REW104/160, available with the option to insert multiple tiles into the same roll.
Fotoba will also be showing the JRU170 for jumbo rolls, the ST170 collecting table for XLD170 models, as well as the new XLD320 high speed cutter with JRU320 for 3.2m-wide jumbo rolls.The XLD 170 can handle most flexible media up to a maximum thickness of 0.8mm including polycarbonate, photo paper, vinyl, self-adhesive vinyl, PVC, film, canvas and laminated or encapsulated prints. It can handle media up to 1.7m wide in both sheets and rolls.
Grünig-Interscreen / SignTronic, Stand B20 – Hall A4
Grünig-Interscreen and SignTronic will share a stand at FESPA 2017 and show off a number of solutions related to screen making. Grünig will demonstrate the G-Stretch 275 UV Bond LED fully automatic stretching machine with automatic UV gluing and LED curing process, as well as the G-Stretch 202 Plus individual pneumatic clamp with automatic frame lifting.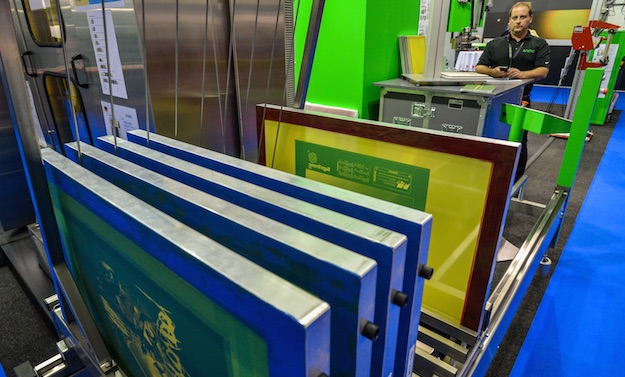 SignTronic will demonstrate the StencilMaster STM-MICRO, and the CtS direct exposure system for smaller formats, in modular construction
In addition, Swiss computer-to-screen (CTS) specialist SignTronic will unveil the latest device in its StencilMaster range, the STM-Micro, which offers quick exposure times and straightforward operation thanks to the front-loading format. The company will also be showing the latest addition to its STM-TEX series, the STM-TEX-S and a new developing machine, the G-Wash 175 XS.
Kimjaya, Stand B49, Hall A4
Dutch doming materials specialist Kimjaya will be launching a range of mercury free crystal-clear doming resins, manufactured by US-based firm Development Associates. The premier polyurethane substrate is weather resistant and fully compliant with EU 848/2012 REACH. Unlike others materials in the market, it doesn't need degassing nor ovening, as it can sure at room temperature with no need for additional equipment.
Leister Technologies, Stand B37 – Hall B3L
Leister will use FESPA 2017 to launch the Hemtek ST stationary machine that specialises in the welding of hems. The solution can be used to weld both closed and open hems, as well as process hems with piping.
Matic, Stand B53 - Hall A1
Spanish firm Matic will be showing off the new addition to its Cronos range of stitching and sewing machines, the Cronos Ultimate. Matic says the new automated machine is suitable for sewing a wide range of textile print, such as flags, displays, banners, tents and curtains.
Meevo Group, Stand C110 – Hall B6
Meevo will be showcasing the Latex Collection of textiles and special products, including new material WallCork, while Meevo MKF will focus on the AF Mark II, a major evolution of the MKF BR 320, and the MKF MX Event sewing solution.
The machine features an "innovative" system of eight easily adjustable longitudinal cut blades, the Easy-Adjust system, and one cross-cutting blade with LED sighting. The textile feeder is controlled by a photocell that corrects the cut alignment in real time, aided by the system of support for unwinding, which controls the speed and stabilises the textile during the process.
Monti Antonio, Stand D40 – Hall B6
Monti Antonio will discuss its selection of technical solutions, ranging from the entry-level 1,100mm calendars, to cylinder reactivators that are available in a number of widths and diameters, and custom-made calendars for industrial applications.
PlastGrommet - Plasticos Alco, Stand A20 - Hall B1U
PlastGrommet, a European manufacturer of finishing solutions for digital printing, will be exhibiting the Multi Press, a new automatic eyelet press for textile and banners. The machine can set eyelets in a variety of materials including PVC banners, flags, plastics and textiles. It has a top speed of over 60 eyelets per minute. It boasts automatic feeding and cutting and a high-power engine to cut though materials.
Summa, Stand C73 – Hall B7
Summa will display its F2630 flatbed cutter and the High Frequency (HF) router at FESPA 2017 in Hamburg. The Automated Depth Control simplifies tool, knife or bit changes by means of accurate measurement and is available for all F Series units and tools of the tangential module. The HF router provides smoother finishing of rigid substrates and less rapid wear of the bits, as well as higher processing speeds.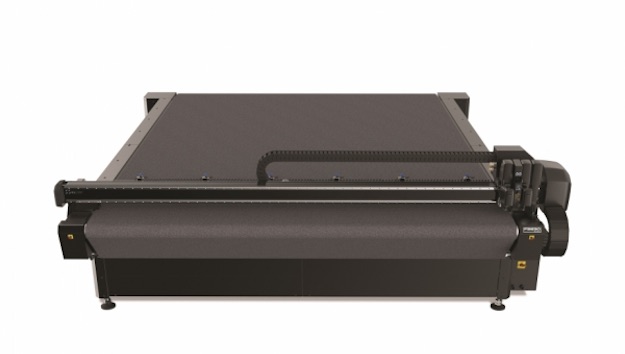 Summa F2630 cutter has a wide variety of modules and can cut substrates up to 25mm thick, including PVC, acrylic and wood
Also on display at FESPA 2017 will be the thermal transfer printer/cutter: DC5sx, two different sizes of their grand format flatbed series, the F Series F1612 and F1330 and Summa's range of vinyl and contour cutters.
Thermotron, Stand 41 – Hall A4
Thermotron will showcase a selection of machines at FESPA 2017 as it seeks to help visitors modernise their production process.
Kit on show will include the STP1000 automatic folding machine for garments, with a maximum daily capacity of 5,500 garments per eight hours; as well as the PV40 automatic bagging machine for ready-made clothing. Visitors can also view the FX23 automatic folding, stacking and packaging machine for clothing, with a maximum daily output of 3,000 garments per eight hours.
Trotec Laser, Stand C65 – Hall A1
Trotec will introduce its SP2000 large-format laser cutter to a specialist audience at FESPA 2017. The CO2 laser machine has a total working area of 1,680mm x 2,510mm and can handle a diverse range of materials such as acrylic, wood and textiles.
Trotec will also present the popular flexx laser machines for maximum flexibility. The flatbed lasers are equipped with a CO2 and a fibre laser, and can activate the two laser sources without manual change of the laser source, lens or focus.
Valiani, Stand G10 – Hall B7
Valiani will show off its Optima V twin-heads and Ultra V interchangeable-heads devices at FESPA 2017. Optima V is available in three cutting sizes – 123 x 80cm, 123 x 160cm and 123 x 245cm – while the Ultra V can be supplied in models of 60 x 80cm, 80 x 120cm or 100 x 150cm. All Valiani machines are integrated with a software module that allows users to edit and plot cardboard boxes.
Vastex International, Stand A100 – Hall B6
Vastex will be on hand to discuss its two Little Red dryer models, both of which have a 137cm-wide conveyor-belt. The Little Red X1-54 model has a 168cm-long conveyor and the ability to cure as many as 260 plastisol-printed images or dry 90 discharge or water-based printed images per hour.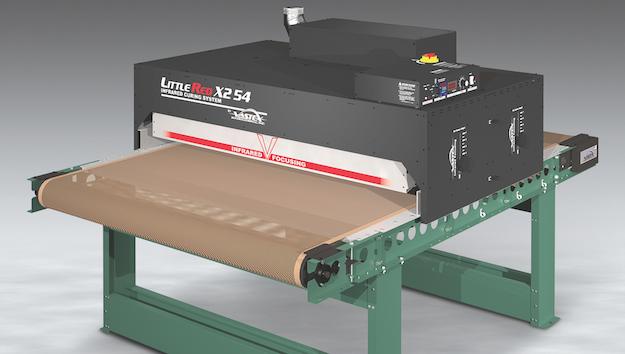 The new Little Red X2-54 has a 213cm-long conveyor and two 122 x 30.5 cm, 240V/5200 watt infrared heaters
The Little Red X2-54 can cure up to 520 plastisol-printed images or dry 180 discharge or water-based printed images per hour.
Vikiallo, Stand A43 – Hall B1L
Vikiallo will display its Vinyl Remover VR15 in order to show sign-makers and print companies how they can save time weeding cut vinyl and print-and-cut vinyl. The company will also launch its Transfer Weeder, a new weeding tool with heat that it said can save up to 70 per cent of the time on weeding transfers with contour cutting.
WEISS Machines – Stand E31 – Hall A4
WEISS, a manufacturer of high-speed powder applicators for the heat transfer industry, will show its WPA80/130 together with the new Vacuum Sheet Stacker system at FESPA 2017.
Zünd, Stand D30 – Hall B7
Swiss diigital cutting specialist Zünd will be displaying the G3 3XL-3200 cutting system, which is equipped with new technological advances designed to facilitate advancing and processing of rolled fabrics. Also on show will be the new D3 digital cutter with Board Handling System that will demonstrate the productivity of Zünd's dualbeam system in combination with fully automated board handling.
---
Explore FESPA 2017 Stand-by-Stand Guides
Essentials
Date: 8-12 May
Location: Hamburg Messe, Hamburg, Germany
Price: Pre-register for free before 7 May at www.fespa2017.com (after which entry is €70 on the door or €40 online, unless you have a promotional code)
Opening times 8-11 May: 10am-6pm; 12 May: 10am-4pm
Exhibitors 700-plus
Key attractions:

Printeriors showcase: Find out here how this dedicated event can help you access key information about the interior décor market.
Access to the co-located European Sign Expo, the leading non-printed signage event in Europe.
Exclusive seminar programme which will deliver key insights and market knowledge across digital, screen, industrial, textile and interior printing industries.
The best entries shortlisted for the FESPA Awards will be on show at the Hamburg Messe, where the winners being announced on Wednesday 10th May at the exclusive FESPA's Gala Dinner.
The last qualifying round for the World Wrap Masters Series will take place from 8-9 May followed by the finals on 10-11 May.
How 'daring' are you? Register today to visit FESPA 2017
Taking place from May 8-12 at the Hamburg Messe, in Hamburg, Germany, FESPA 2017 will play host to many major brands from across the global print market.
To learn more about the companies that will exhibit at the show, as well as the conference programme and many other exciting in-show features visitors can look forward to at this year's event, visit the official FESPA 2017 website www.fespa2017.com.
Delegates can save 70€ entry fee to the exhibition by registering via the website and quoting reference code: FESG702. Discover how a visit to FESPA 2017 can benefit your business and register today.
Interested in joining our community?
Enquire today about joining your local FESPA Association or FESPA Direct