Features
Fans send printed message of support to football star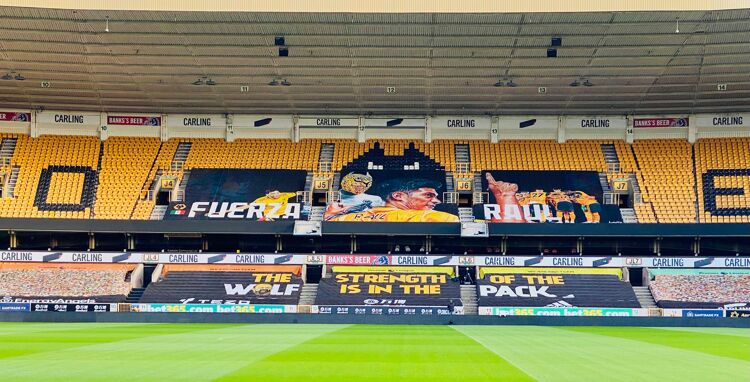 Supporters of Premier League football club Wolverhampton Wanderers have come together to fund the production of a giant, printed banner in support of star player Raúl Jiménez.
In November, Mexican striker Jiménez fractured his skull during a game against Arsenal – an injury that required emergency surgery and a stay in hospital in London.

With Jiménez facing a lengthy spell on the side-lines while he recovers from an injury that could have ended his playing career, fans grouped together to fund the banner as a show of support for their star striker.

The banner was the idea of supporter Kieran Newey, who, with the support of the club, launched a crowd-funding campaign to get the money together for the project.

Some £7,500 was needed to produce the banner, but this was far surpassed, with fans raising more than £20,000 for the initiative.

A total of 27 designs were put forward for the banner, with an entry by artist Louise Cobbold selected as the winning submission via an online poll.

Wolverhampton-based digital print, sign and graphics specialist DIS Group – the official print partner of the club – was tasked with producing the giant banner.

DIS printed the 45m x 11m banner at cost price on its EFI VUTEk h5 printer using UV inks. The company opted to use Kavalan Spiderweb PVC-free mesh banner – exclusively available from CMYUK – as the material for the project.

Upon completion, the banner was installed at the team's Molineux home stadium in the centre of Wolverhampton ahead of the local derby match against Aston Villa in December.

The banner will remain in place for the foreseeable future, while Jiménez, who is now five weeks into his recovery programme, has since visited Molineux on a number of occasions to see the banner in-person.

"Being very close to the Wolves' family, we really understand the concern for Raúl, which we share," DIS Group sales director Dave Purcell said.

"As a print service provider, we want to ensure we can offer suitable sustainable materials to all our clients. Kavalan Spiderweb mesh delivers on eco-responsibility and performance.

"It ticks all the boxes, and makes a compelling case for all sporting fixtures and outdoor events to confidently switch to a green alternative."

CMYUK sales director for materials, Damien Clarke, added: "We are delighted that PVC-free Kavalan Spiderweb mesh was the medium for the message. This material is a game-changer that provides a truly viable green alternative to traditional PVC."

Jiménez initially joined Wolves on loan in the summer of 2018, before signing for the club on a permanent basis the following year. To date, he has scored 34 goals for the club, while he has also scored 27 goals in 86 games for Mexico's national team.

Additional funds from the crowd-funding initiative will go to a charity of Jiménez's choice.


Interested in joining our community?
Enquire today about joining your local FESPA Association or FESPA Direct