Features
Exploring opportunities in sublimation print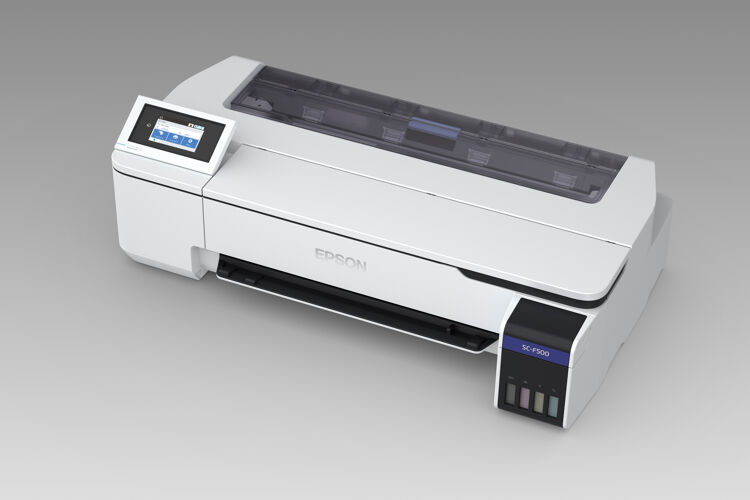 Print companies are constantly on the lookout for opportunities in new markets to help them stand out in the busy modern market. Rob Fletcher takes a closer look at the sublimation market to find out more about growth prospects in this area.
'Diversification' has been a key buzzword in the global print industry for some time now, with print service providers (PSPs) worldwide continuing to move outside of their traditional remit to take on new types of work and expanding their service offering in the process.
Sublimation has been the market of choice for many PSPs, with a large number of companies moving into the sector to take advantage of the amount of work on
offer. However, once you have made the move, how do you ensure that you are success in this busy market?
FESPA.com speaks with some of the leading manufacturers in sublimation print to find out about the expansion opportunities in this market and how PSPs new to the scene can capture valuable work.
Growing your business and customer base
Epson is one of several major brands active in the sublimation print sector and has a number of technologies on offer to companies new to the market, as well as PSPs already established in this area. Tom Owers, product manager at Epson Europe, said there are a number of benefits of taking on sublimation work.
"PSPs can take on new jobs and customers, as well as bring outsourced business in house to give them more control over quality, turnaround times and margin," he said. "You can also expand your creative applications to offer a broader range of services to customers, helping you to stand out from the competition."
In terms of the type of work PSPs should be looking to target in this area, Owers picked out two key markets: fashion and soft signage. For fashion, Owers said that work is plentiful as it is a fast sector as labels and brand seek to keep up with seasons and trends. It is also an environmentally friendly market as there is minimal wastage and produces a low carbon footprint compared with traditional textile production.
For soft signage, Owers' reasons are similar in that it is a green sector, while costs can be saved on shipping, labour and installation. In addition, there is a wide range of applications to consider when it comes to soft signage.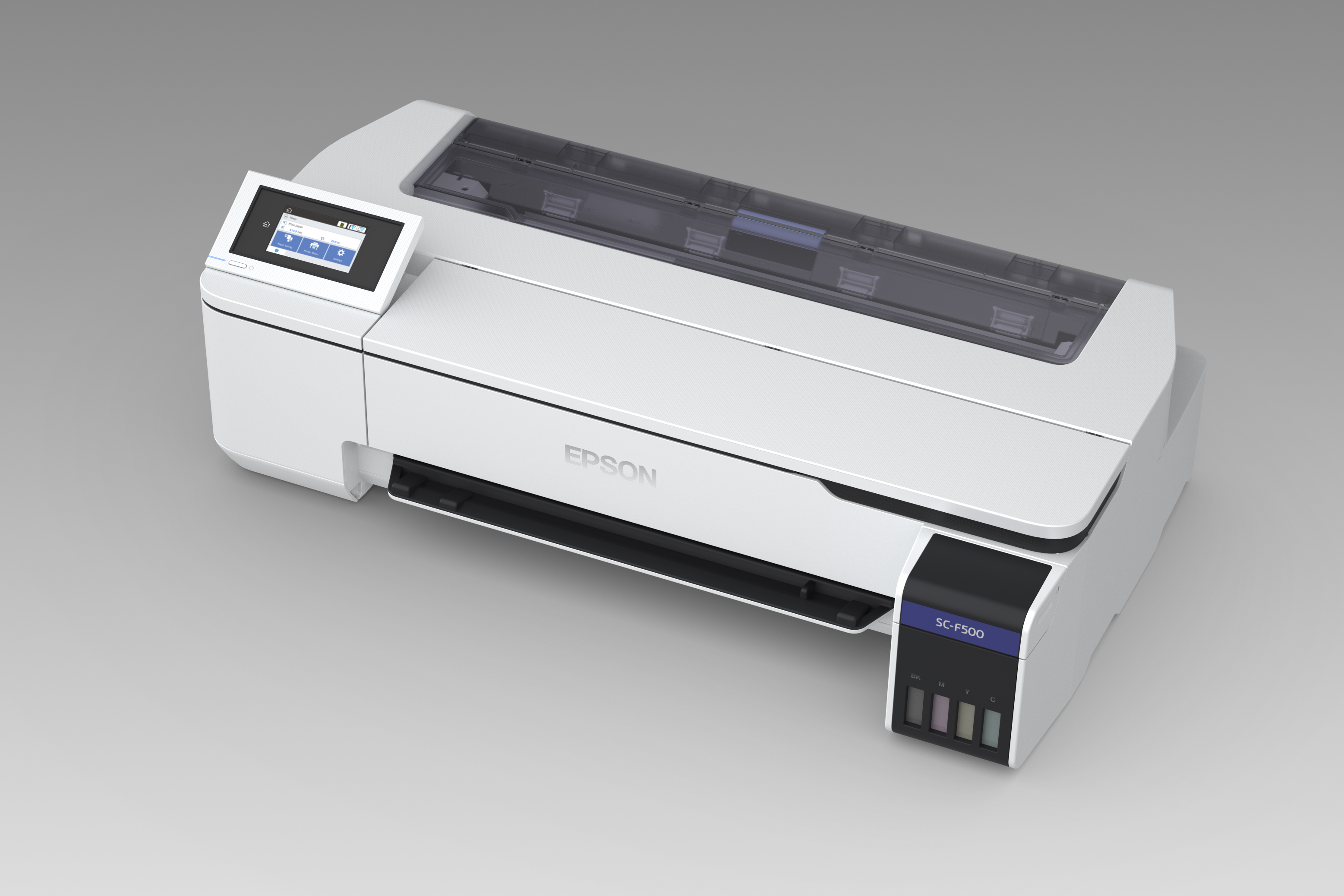 Caption: The SC-F500 is Epson's first 24-inch dye sublimation printer with a four-colour continuous ink supply system.
As to how Epson can help, Owers highlighted two pieces of kit. First, the SC-F500 is Epson's first 24-inch dye sublimation printer with a four-colour continuous ink supply system. It can produce a wide range of applications in personalisation, gifting and promotional goods market – something Owers said is ideal for small business looking to expand applications
Epson will also launch its new SC-F9400/H 64-inch dye sublimation printers in January, with a focus on high-volume printing for clothing, textiles and soft signage.
"The SC-F9400H also offers businesses the option of printing with two genuine florescent inks (yellow and pink), which brings bright, vivid colours to the production of sportswear, workwear and fashion items," Owers said.
Offering more benefits to customers
Also weighing in with advice is Roland DG, whose EMEA business development manager for inks and textiles, Encarna Luque, noted that the sublimation print market overall is projected to grow at a CAGR of 16.8% between 2019 and 2024.
Luque said: "Due to the process used in sublimation – the image is retained inside the fabric of the product – it offers superior washability and scratch resistance compared to other printing techniques, which is an obvious benefit for a variety of customers.
"Furthermore, digital sublimation printing is more affordable and less time-consuming on one-offs and short runs than traditional processes like screen printing or rotary printing, because it doesn't require multiple steps or lots of equipment."
Like Owers at HP, Luque said textile offers tremendous opportunities to PSPs in sublimation. Luque said most growth is expected across fashion fabrics, home decor and technical textile, but noted that the process is also compatible with any heat-resistant rigid material that is polyester-coated.
Luque said: "This means it's possible to access whole sectors with the same Roland sublimation machine – adding customisation and decoration to furniture, glass, curtains, carpets and tapestries for the interior decor market, for example."
Leading on from this, Luque picked out some of latest technology solutions from Roland DG, focusing on the Roland Texart sublimation printer series, which has been developed specifically to meet the demands of this market.
Luque noted: "Users have several ink configuration options to choose: 2xCMYK for maximum productivity, CMYKLcLm plus violet and orange for a wider colour gamut and optimum quality, and CMYK plus fluorescent pink, fluorescent yellow, violet and orange, with fluorescent inks for special effects, even more vibrant colours and the most extensive gamut."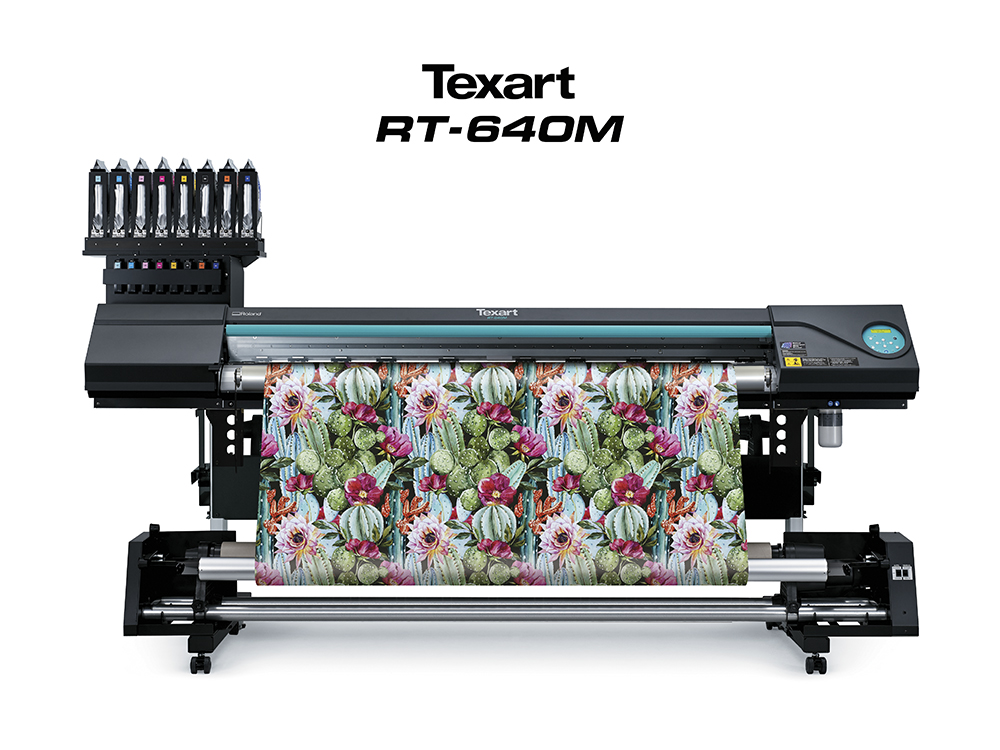 Caption: Roland DG's new Texart RT-640M can print on sublimation paper and directly onto some polyester fabrics.
The latest solution in the Roland Texart series is the Texart RT-640M. This is a multi-function printer that can print on sublimation paper and directly onto some polyester fabrics, optimising running costs and giving users versatility.
Fast and cost-efficient high quality work
Another leading manufacturer well equipped to offer both advice and solutions in this market is Mimaki. Senior product manager Bert Benckhuysen said that sublimation - both direct printing and transfer printing - is one of the fastest and most cost-efficient ways to produce high quality prints, which in turn makes it a highly profitable addition to a print company's portfolio.
Benckhuysen said: "Sublimation print also increases versatility, enabling printers to offer a number of high-quality applications including fashion and sportswear garments, soft signage, flag banners, home textiles, ceramics and more."
Focusing in on the work available, Benckhuysen picks out a number of markets that both companies new to sublimation and those that are established in the sector should be looking to target.
Benckhuysen said: "In general, the transition from conventional to digital printing is enabling growth in every area but the largest opportunity is in the fast fashion market.
"As this industry requires a faster time to market and a cheaper final product, printing on polyesters is becoming increasingly popular. More and more blended polyester fabrics for fashion are being introduced as a result and these are suitable for transfer printing."
Benckhuysen said there is also plenty of scope for growth in soft signage and home textiles, saying both of these markets have seen steady growth in the past few years as they are easy to install, affordable and durable. Fabric banners and flags are in particular demand for visual communications, with such products used for graphics in retail stores, indoor advertising and sporting events, as well as various other areas.
In addition, he said there are an increasing number of companies offering custom printed fabrics. He cited the example of a Mimaki customer in Poland – Cotton Bee – that has expanded across Europe, printing items for various textile companies, independent fashion designers, architects, cosplay enthusiasts and more.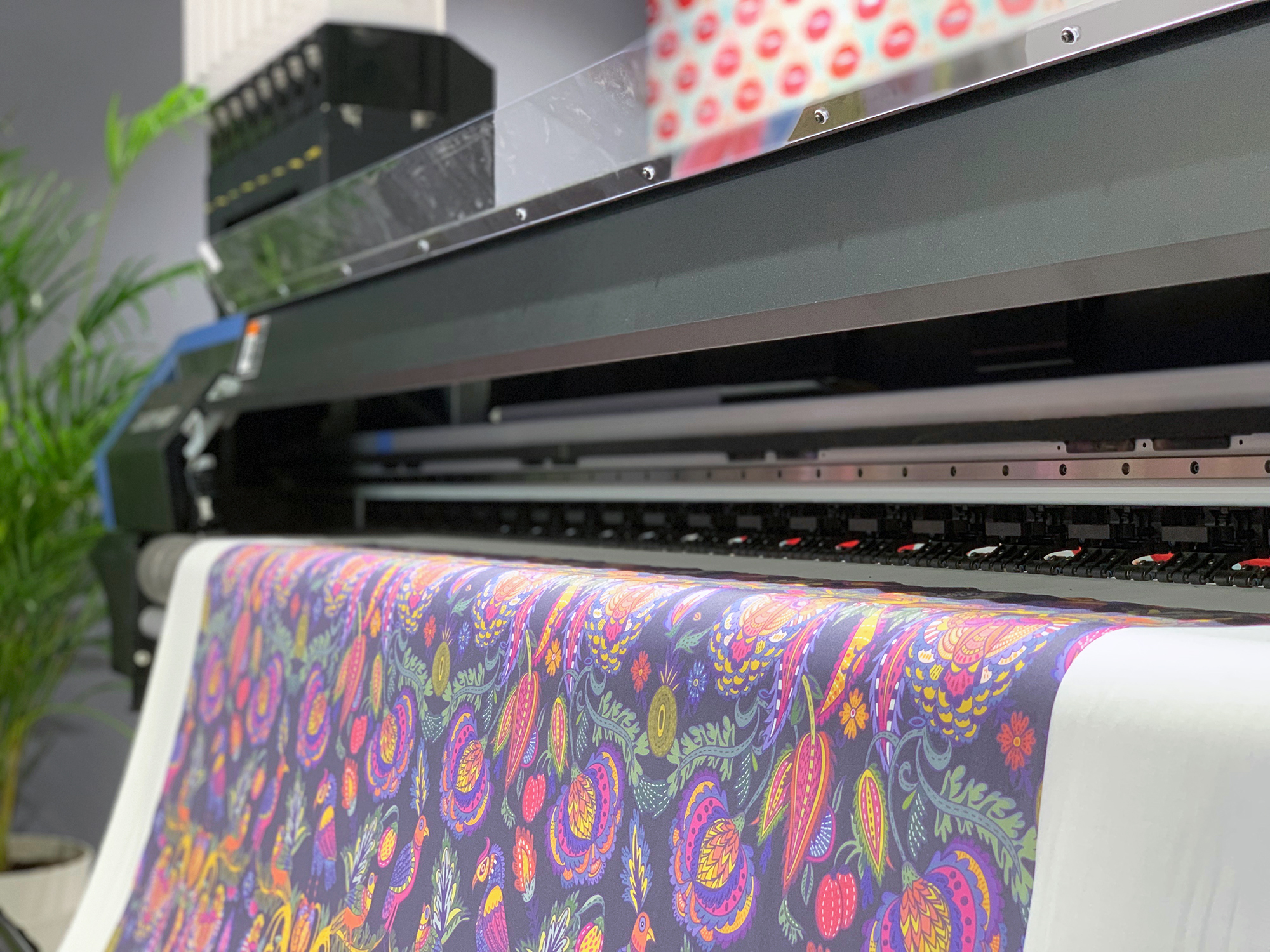 Caption: Mimaki recently previewed a new textile machine that will allow users to print direct-to-textile and on sublimation transfer paper with just one printer.
As to the equipment Mimaki can supply to companies in this area, Benckhuysen highlights a number of options, namely the paper sublimation machines in the form of the Mimaki TS55-1800 and Tiger-1800B MkII.
The Mimaki TS55-1800 is a dye-sublimation transfer printer that Benckhuysen said brings high-end features to the entry and mid-level market. These include high-speed one-pass printing at a high-resolution and high ink-density, as well as unattended printing with a new Mini Jumbo Roll unit and a set of Mimaki core technologies for continuous operation.
The Tiger-1800B MkII is a volume industrial textile production belt printer, combining a print speed of up to 385sq m/h and high print quality. In addition to
a high quality print mode of 1200dpi resolution, the Tiger-1800B MkII features Mimaki's core technologies such as the Mimaki Advanced Pass System (MAPS) to prevent banding, Nozzle Check Unit (NCU) and Nozzle Recovery System (NRS).
Mimaki in June also previewed a new textile machine that will enable users to print direct-to-textile and on sublimation transfer paper with just one printer. This solution is due to come to market in 2020.
The message from manufacturers seems to be quite clear; although there may be a high level of competition in the sublimation market, if you are to equip yourself with the right equipment and expertise, then there is every chance you can make a successful move into sublimation.
Companies active, or considering diversifying into this area, can be safe in the knowledge that they will have the backing of some of the leading names in print. Add in the fact that new products and developments are coming to market on a regular to satisfy new demands and address trends, then sublimation print is an exciting area to be.
Interested in joining our community?
Enquire today about joining your local FESPA Association or FESPA Direct