Features
EventureWorks doubles up with Roland investment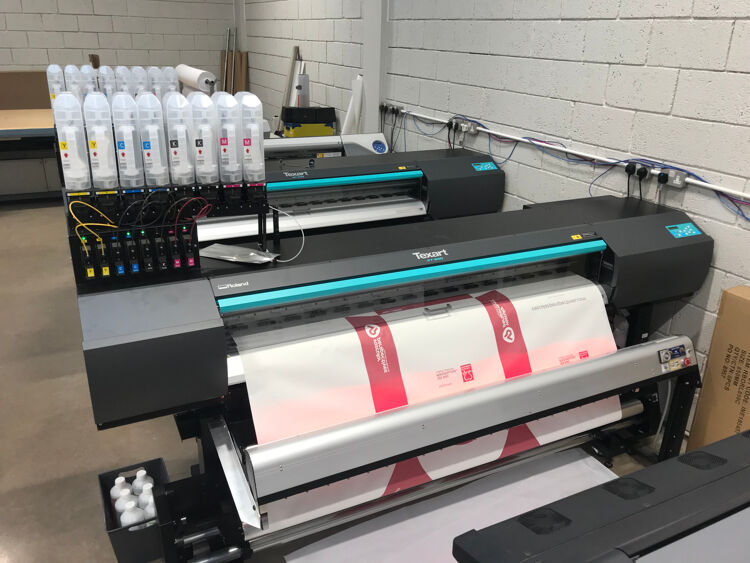 Scottish cycle jersey specialist EventureWorks has purchased two new Roland Texart XT-640 printers in an effort to shorten turnaround times and reduce the machine footprint at its new printing facility.
The Roland Texart XT-640 devices will now replace six older models at its site in Falkirk, in between Edinburgh and Glasgow, as the company seeks to respond to demand and expand its range of printed clothing products following its recent move.

Founded in 2005, EventureWorks, which also operates under The Cycle Jersey brand, specialises in custom-printed cycle jerseys, as well as limited edition jerseys created with permission of the relevant company or artist.

EventureWorks relocated to its new production facility in March this year and, as director Brian Gibb told FESPA.com, the company was keen to reduce the footprint of some of the older printing equipment it previously had in house.

"We have used Roland machines for many years and like the way they operate," Gibb told FESPA.com. "We had six machines which were an older model and were looking to reduce the machine footprint in our new premises and the XT640 machines fitted the bill.

"The new machines allow us to respond and turn things around quickly and also should allow for some spare capacity."

Roland's Texart XT-640 dye-sublimation printer has been developed specifically for transfer printing and is available with four-colour and eight-colour modes. In four-colour high-speed print mode, the machine can print in CMYK at speeds of up to 102sq m/hr.

Users opting for eight-colour mode can access additional colours orange, violet, light cyan, light magenta, fluorescent pink and fluorescent yellow, printing at speeds of 31sq m/hr. In addition, users can reproduce Pantone Solid Coated colours in eight-colour mode.

The two new devices at EventureWorks have both been installed with Nazdar NDT600 Series high-quality, alternative inks in bulk ink systems (BIS) that are designed for use on any printer platform using Epson printhead technology.

"The installation process for the printers was very straightforward, and we've used Nazdar inks since 2005 so know they work well," Gibb said in a statement.

EventureWorks purchased the machines from Quality Print Services (QPS) and Gibb has told FESPA.com that the company could soon be back in the market for more new kit as it seeks to widen its service offering.

"We are looking to introduce direct-to-garment printing for our merchandise side of the business and we are also looking at laser cutting," Gibb said.


Interested in joining our community?
Enquire today about joining your local FESPA Association or FESPA Direct