Features
Epson links up with sprinting star Usain Bolt to showcase EcoTank printers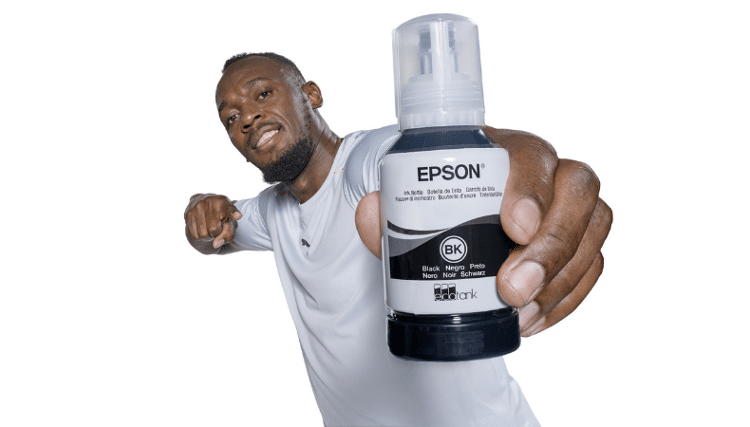 Epson has announced details of a new partnership with eight-time Olympic gold medallist Usain Bolt to raise awareness of its cartridge-free EcoTank printers and the benefits they offer to customers across Europe.
The agreement will see Bolt become the face of a major campaign for Epson's EcoTank printers, starring in a television advertising campaign that will run in the UK and Germany.

Bolt will also feature on billboard adverts, online in website banner ads, on point-of-sale in major retail outlets and on social media throughout the rest of Europe.

The campaign will focus around the tagline 'Just Fill and Chill', promoting how users of the Epson EcoTank printers can experience up to three years of cartridge-free no-hassle printing.

"Usain is the perfect partner for us," Epson Europe president Yoshiro Nagafusa said. "He is one of the most recognisable people in the world and his engaging character will help bring our low-cost printing solutions to life in a fun, memorable and engaging way.

"With more of us working from home than ever before, and modern family life getting busier, now is exactly the right time to raise even more awareness of our EcoTank printers and the cost saving benefits they deliver."

Bolt, who holds the Guinness World Record for the 100m sprint at 9.58 seconds, added: "I'm delighted to be working with Epson to help spread the word about EcoTank printers. I only partner with brands that I believe can make a real difference.

"EcoTank printers remove many of the frustrations that exist around printing with cartridges so anything that can help make life a little bit easier has got to be a good thing. But it's about much more than that! We share many of the same values such as building better futures.

"For Epson, that's all about building trust through its products, products that help communities grow and prosper. And for me it's about inspiring others to follow their dreams, regardless of how big or small they may be."

Since launching in 2010, Epson has sold more than 60 million of its EcoTank high-capacity ink tank printers to companies around the world, saving customers approximately 90% on printing costs compared with other machines.

Epson said such savings are possible through the use of high-yield ink bottles instead of cartridges, which in turn enables users to enjoy more hassle-free printing by having to reorder bottles less frequently than with cartridges.

The latest editions of the EcoTank printers also feature Epson's Micro Piezo Heat-Free Technology, which Epson said will allow users to benefit from reduced energy consumption, with less need for replacement parts.
Interested in joining our community?
Enquire today about joining your local FESPA Association or FESPA Direct