Features
Durst supports entrepreneur's £1m global expansions plans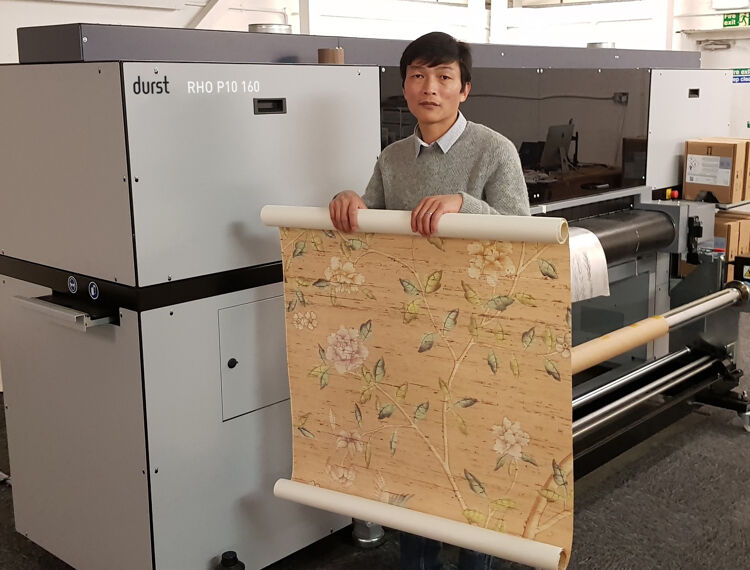 Wallpaper entrepreneur David Qian has joined forces with advanced digital and production technologies provider Durst on a £1m ) expansion drive, with a specific focus on the UK, Europe and US market.
Qian has relocated his unique wallcovering design printing business from Hong Kong into the UK as a way of reaching more customers around the world. As part of this effort, Qian has purchased Durst P10 160 with heavy duty roll from Durst for his new site in Nottingham, England.

Qian produces high-end, exclusive, wallpaper designs for customers around the world, with his products retailing at an average of £150sq/m. He combines bespoke, made-to-order hand-paintings and embroidered wall coverings, with ancient eastern artistic traditions with western and contemporary aesthetics.

Having already undertaken a series of initial tests with wallpaper applications on the Durst machine, Qian is now planning to start full-scale industrial printing in the near future.

"We are the only company in the world that can combine hand-painting and digital printing together," Qian said. "This is a core of our business where we create bespoke customer designs for major brand names within interior design and furnishing sectors who demand the very best service and quality.

"With a previous system we had problems with colour-matching, which cost us time and money. But the Durst machine has been an absolute revelation. Digital printing is the next step for the wallpaper industry – it's the future."

Speaking to FESPA.com about the innovative partnership, Peter Bray, managing director of Durst UK & Ireland, said that he is looking forward to developing a close relationship with Qian, through which Durst will be able to support the growth of his business in the long term.

Bray said: "It's not just about supplying hardware; it's a relationship-sharing opportunity where others can learn from David Qian and vice-versa.

"The success of his initial business venture using Durst technology means that he is already currently considering other options involving unique opportunities working on a variety of different substrates that we can provide."

Bray went on to say that such is the uniqueness of this project that Durst hopes it will serve as a referral point where the manufacturer can showcase to both new and existing clients how it can support them with more unusual ventures.

Bray said: "Many customers are producing wallpaper, but not to this quality where hand-painted artefacts are added to the finished product. Durst has worked in partnership with David Qian, as it does with all customers, to offer advice and support to help businesses grow.

"We also see the David Qian site as a referral opportunity where other businesses can learn how to increase their profitability through wallpaper applications."



Interested in joining our community?
Enquire today about joining your local FESPA Association or FESPA Direct