Features
Durst cites global opportunities in textile print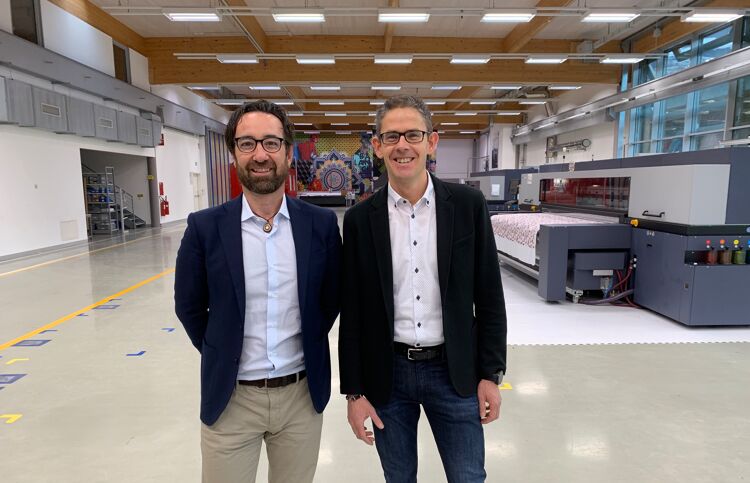 Rob Fletcher speaks to Christian Harder, Global Sales Director for large format printing at Durst on how the business is strengthening their digital print capabilities.
Digital print and production technologies provider Durst has reported a rise in demand for its textile printing solutions in regions around the world and said it expects this trend to continue as interest in the market increases.

In recent months, Durst has signed sales deals with companies in a number of countries, as print service providers worldwide seek to capitalise on a rising demand for printed textile products.

Spoonflower, an online community that runs its own bedding and table home décor business, is one such company, investing in Durst technology to support its operations in North Carolina, US and Berlin, Germany.

The firm purchased two additional Durst Alpha 330 Series 5 with pigment, to support its ongoing adoption of environmentally friendly digital textile print technology. The Alpha 330 Series 5 is the fifth generation of Durst's Alpha print systems, featuring new software to meet the increased demands of textile digital print and improvements in material handling, efficiency and material diversity.

Christian Harder, global sales director for the large-format printing segment and fabrics at Durst, told FESPA.com that he expects more companies to look at the Alpha 330 Series 5 and other kit from Durst as they strengthen their own digital textile print capabilities.

"The fabrics, soft signage and textile markets support fast turnaround short runs and sustainability using digital technology," Harder said. "Digital textile printing enables savings in colouring inks and water consumption.

"We are already seeing considerable increased demand for our digital print solutions, and we expect to be making further announcements in the not-to-distant future."

As to why Harder believes Durst will continue to succeed in what is now a busy marketplace for manufacturers of digital textile printing kit, he picks out some of the key attributes that set Durst's kit apart from that of its competitors – with a focus on its inkjet technology.

"Durst's inkjet technology reduces production costs and times, the amount of energy required and the burden on the environment," Harder said. "Durst water-based inkjet technologies are an economical and ecological evolutionary step and offer greater added value in comparison to traditional production methods and to many existing printing systems.

"Our growing number of customers make savings in colouring inks and water consumption, as well as in production costs and delivery times.

"We have invested considerable amounts in the sector, not only in printers but also in software, service and pre- and post-treatments."

Harder added: "Overall, there are huge growth opportunities across the world in textile markets, particularly with digital technologies."

Interested in joining our community?
Enquire today about joining your local FESPA Association or FESPA Direct