Features
Don't always rely on out-of-the-box RIP to get great results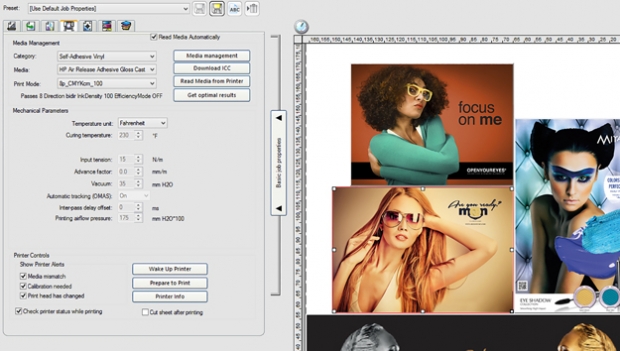 We all tend to think about the capabilities of the printers and then take whatever software comes with it, but the RIP is just as important as the hardware.
For many people, the software that actually runs the printer is just an add-on, but the RIP should be seen as a vital part of each printer. The humble RIP, or Raster Image Processor, to give it it's full moniker, translates the image file into a raster, basically the exact set of dots that the printer in question can produce. You could argue that really it's the printer driver that does that and nowadays that's mainly the case.
But RIPs have evolved considerably over the last decade or so and whereas a printer driver will just print the file at its native settings, the RIP will add a great deal of additional control. Thus a RIP will have different modes, for example, allowing for high quality posters using multiple passes and high resolution, or for high speed banner production with just one or two passes. And of course, the RIP can scale up the image so that a relatively small file can still be printed across a 5m banner.
Some vendors supply a RIP with their printer, but most leave it up to the dealer to bundle a suitable RIP. Most service providers research which printer to buy and end up taking whatever RIP the dealer recommends - but that might not be the right solution as not all RIPs are created equally.
There may be differences in the features between RIPs, there will almost certainly be some slight differences in the colour output and individual operators may have personal preferences for one way of working over another.
It's worth noting that some RIPs cater for specific niche areas, such as textile printing or the photography market. In addition, there are several design programs aimed at wide format production that also include RIP'ing, such as SAi's FlexiSign, which is increasingly being bundled with entry-level printers as a complete RIP package.
Basic features
RIPs are still primarily handled by PCs. Some list support for the Mac OS but realistically its easier and cheaper to tailor a PC as a RIP station. That said, Macs are commonly used as a standalone design station.
In the past, most RIPs used PostScript, but nowadays many RIPs are based on the Adobe PDF Print Engine and so use PDF as their native format. Some will ingest different file formats, though many clients still send files in a native format that will have to be converted to PDF. However, the use of PDF should make it easier to preflight files and to reduce the number of missing fonts and bad colour conversions that bureaux routinely have to deal with.
Just about any RIP currently available will allow multiple jobs to be nested together to make the most efficient use of the media available. This could be as simple as printing images side by side, rather than sequentially to use the full width of the media, but many RIPs can also fit oddly shaped graphics around each other to minimise the amount of media wasted. Similarly, most programs should be able to break larger images down into smaller tiles for easier printing. They should also be able to rotate and crop images and offer basic editing, such as allowing last minute text changes to catch spelling mistakes.
Workflow
Any decent modern RIP should be capable of printing one file whilst simultaneously RIP'ing another so that the printer keeps running without pause. This would in turn waste more time waiting for the printer to come back up to temperature before printing can resume.
At the very least the RIP should enable some basic form of print queue management so that operators can clearly see which jobs are in progress or completed, and which are more urgent. It should be possible to easily re-order the queue to prioritise rush jobs. Better still, many RIPs allow for some form of archiving so that repeat jobs can be stored and easily accessed again.
Many RIPs nowadays can serve multiple printers, though you may find that this is an optional extra. However, using a single RIP to run the output from all the printers should make for an easier life. For starters, with just a single RIP operators can really learn how to get the best out of the software. It also makes it easier to manage print queues and to switch jobs around if there's a problem or a sudden rush order. And it gives a single point to manage the printers from, to check the ink levels and see what substrate is loaded in each device.
That said, some vendors may sell a RIP that is specific to their printers and some third party RIPs may only support specific groups of printers. So, for example, Mimaki's RasterLink is a branded version of a Wasatch RIP, while Caldera's VisualRIP will only support printers of a certain size – you'll need GrandRIP for the bigger machines.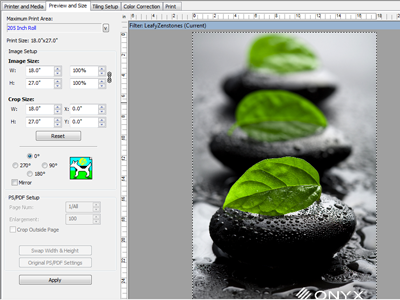 Some RIPs will also integrate with other systems, such as MIS and Web to print, though the degree of integration can vary wildly from one system to the next. Some will use JDF to exchange information, so that all the details of a job could be taken direct from the Web to print system, included in a job ticket sent to the RIP, and then forwarded to the invoicing system. But other systems rely on the use of hot folders.
Colour management
RIP should be able to produce reasonably accurate colour across a variety of different media. Most RIPs should reproduce most Pantone colours, within the limitations of the actual printer, and ought to be able to reproduce most of the Adobe RGB colour space for photographic images. But spot colours and specific company logos may prove more challenging, with some RIPs giving better results, and more control, than others.
Most RIPs have some level of colour management, though this will vary considerably from one RIP to the next. Almost all RIPs will be able to read ICC profiles but this assumes that you have an ICC profile for the media in use and that the profile is completely accurate. In practice, most people find that they need to tweak profiles for some jobs to get the best results.
Many RIPs will allow some level of profile tweaking, but only the more expensive RIPs allow you to build your own profiles. However, in many cases it's possible to duplicate the profile for a similar media and then tweak that to effectively create your own bespoke profile. This may be enough for most people, given that most substrate vendors will supply ICC profiles for their media.
But the top of the range RIPs will also let you make your own profiles, which is particularly handy if you are using non-standard materials, such as printing direct to MDF, or even if you just want a more accurate profile tailored to your own working conditions. There are also a number of dedicated colour management solutions that would be suitable for larger organisations, to ensure consistent colours across several different types of printers. But anyone with just a couple of printers to manage would probably be better off with a RIP that includes the colour management.
Finishing
Although RIPs have been developed for printing, they are also the natural home for some finishing steps. In some cases this can simply mean adding guidelines for grommets and eyelets, while others can add cutting lines. However, some RIPs can also drive automated cutting tables.
The bottom line is that there is no one size fits all approach – it's a question of knowing what features to look for and choosing the RIP that's most appropriate to your own needs. But a good starting point is to ask for a demo of any printer that you're planning to buy and then see which RIP the demo operator favours.
Interested in joining our community?
Enquire today about joining your local FESPA Association or FESPA Direct