Features
Digital wide format textile printers and their applications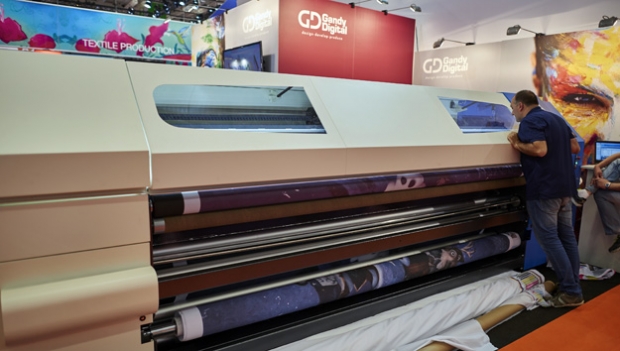 Demand for textiles produced by digital inkjet printers is growing, split across the graphics, soft signage, home furnishings and garments markets.
There is some crossover between the graphics markets, typically meaning exhibition and retail point of sale signage, and home furnishings, which can include everything from curtains and wall hangings to cushions and duvet covers.
It's becoming common for service providers to use latex, UV and solvent printers, particularly for short term graphics. But dye sublimation can produce more vibrant colours and is better suited to long term use. Most dye sub devices print the image to transfer paper.
This means you'll need a heat press to fuse the image to the final fabric. The heat press uses a combination of pressure and heat – typically around 180 to 210C. This process drives the ink colourants right into the fibres of the textile so that the material retains its own natural look and feel, and ensures that the graphic will last a reasonable length of time.
The alternative is to print direct to the textile, thus cutting out the transfer stage. Some printers will do this with dye sublimation inks, while others use disperse dye inks. They're both water-based inks but as a general rule the disperse dye inks have much better lightfastness and so are more suitable for outdoor use.
Dye sublimation printers
There are a number of dye sublimation printers available. Roland has developed a new sublimation printer, the Texart RT-640 (pictured below), a 64ins machine designed to print to transfer paper. It can print at up to 32.6 sqm/hr.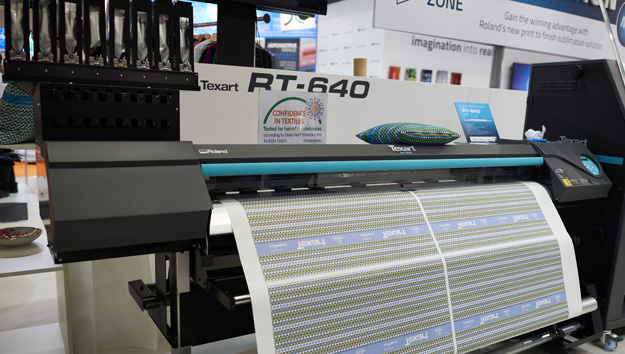 There's a choice of four or eight colours, with the addition of orange, violet, light cyan and light magenta as well as the standard CMYK colours. There's also a choice between Roland's own VersaWorks RIP and an ErgoSoft RIP. To complement it, Roland launched a new calender press earlier this year, the CS64, which can produce up to 50 sqm/hr.
Mimaki is one of the pioneers of textile printing and has several models. This includes the TS500, a 1.8m wide production printer capable of printing up to 150 sqm/hr on transfer paper. There's also the TX500 DS, which can print directly to coated polyester fabrics for furnishings and graphics, and the TX500-B, which has an automated belt-fed transport system for handling a variety of different fabrics for fashion and furnishing.
But Mimaki also sells the 1.6m wide TS5, which prints to transfer paper at up to 40 sqm/hr and is mainly designed for garments such as sportswear and scarves. There's a 1.8m wide TS34, which can print at up to 32 sqm/hr in four colours or 17 sqm/hr in six colours. There's a 3.2m wide JV5, which can print direct to polyesters as well as transfer paper, and is an ideal width for exhibition graphics, flags and banners. Earlier this year Mimaki launched the TS300P at the FESPA 2015 show, a 1.8m wide printer capable of producing up to 115 sqm/hr on transfer paper.
Epson makes the SureColor SC-F range of dye sublimation printers, which print to transfer media. They're fitted with Epson's own PrecisionCore printhead and use Epson's UltraChrome DS ink. The range includes the 44ins F6000, which can produce up to 63 sqm/hr, and the 64ins F7100, which can produce up to 58 sqm/hr.
The newest addition to the fold is the F9200, which features a new high density black ink to reduce ink usage. It can produce up to 97 sqm/hr.
Mutoh has a number of different dye sublimation printers, having adapted several of its wide format printers to use its water-based dye sub inks. At this year's FESPA 2015 show, Mutoh launched the ValueJet 1938WX, a 1.9m wide dye sub printer fitted with two printheads for faster production. It can print direct to textiles as well as transfer paper. It's essentially a wider version of the existing 1.6m wide 1638WX, launched last year. There's also a 2.6m wide 2638 dye sub, designed to print to transfer paper at speeds up to 108 sqm/hr.
Mutoh has also developed several direct to textile printers. The 1.6m wide 1628TD and the 2.6m wide 2628TD, both of which can print direct to fabric. They use CMYK and there's a choice of dye sublimation and direct disperse inks.
High volume printers
Durst has two ranges of textile printers, with the Rhotex 180TR designed for graphics use while the Kappa series is mainly aimed at industrial users including garments. The Rhotex is a substantial device meant for high volume users. It can print direct to textile but is mainly designed to print to transfer papers. It uses CMYK inks and has a maximum print width of 1.85m and standard resolution of 800 x 600 dpi, which can go up to 1000 x 1200 dpi. It's standard production is 200 sqm/hr.
Mtex has sought to take the pain out of finishing, having a number of textile printers that incorporate the fixation unit. These all print direct to the textile and are mainly designed for the graphics market. The range includes the Mtex 1800, which prints up to 48 sqm/hr on media up to 1.85m wide with resolution ranging from 720 dpi to 1440 dpi. There's also a 3.2m wide version, the 5032, which can produce up to 58 sqm/hr. Both of these use Epson heads.
Then there's the Mtex 500, which can produce up to 110 sqm/hr with resolution up to 1200 dpi. There's a faster version of this, the Turbo sub, which can produce up to 148 sqm/hr and includes an adhesive belt for dealing with stretchy materials. There's a newer version, the Vision, which offers a choice between four and eight colours and can take pigment inks for poly cotton/natural fibre fabrics and direct disperse inks for polyester materials. All of these use Ricoh heads and take 1.85m wide media rolls.
The Korean manufacturer D.Gen covers all bases in textile printing with a number of different models. The company's main offering for soft signage is the Teleios range, which all include a heat fixation unit and can print direct to textile. There are four models in total. The Teleios Black is available in both 1.8m and 2.5m wide versions, with maximum speeds of 32 sqm/hr and 38 sqm/hr respectively and 1440 dpi resolution.
The XL2600 is 2.6m wide but uses Ricoh printheads and can print at up to 150 sqm/hr. There's also a 3.3m version, the Teleios Grande G5, which can produce from 60 to 300 sqm/hr. Kornit mainly sells direct to garment printers but has developed the Allegro, which could be suitable for high volume graphics users. It's a roll to roll device that includes a dry curing stage. It uses Kornit's own Neopigment inks, which can be used to print to a variety of different fabrics, and are available in a seven-colour inkset. The printer itself has a 1.8m print width can produce up to 100 linear m/hr with resolution ranging from 400 to 1200 dpi.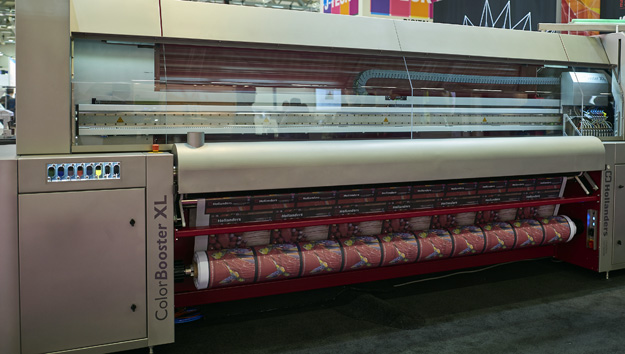 The Dutch company Hollanders makes the ColorBooster series (pictured above), heavy duty, highly modular machines that can be easily reconfigured to suit changing work loads. They include infrared fixation and are suitable for both dye sub transfer and disperse direct to textile printing. There are 2.5m and 3.2m wide models and Hollanders also makes washing and fixation devices.
Gandy has developed the SoftJet, which is available in 3.3m, 2.5m and 1.8m versions. It includes a fixation unit and will print direct to coated and uncoated polyester materials. It uses Ricoh printheads, with a choice between Gen4 and Gen5 heads and options to fit between four and 12 heads. The maximum speed is said to be up to 156 sqm/hr.
Finally, it's worth remembering that (with the exception of the D.gen) you will need a heat press to complete the sublimation process and that the running cost of this will have to be factored into the cost of the equipment.
Interested in joining our community?
Enquire today about joining your local FESPA Association or FESPA Direct