Features
Digital textile targets the luxury fashion industry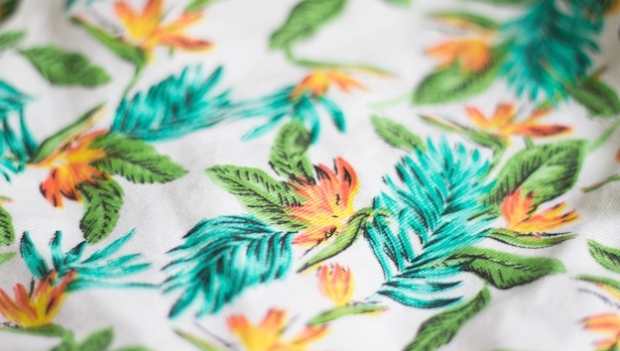 British fashion designer Jessica Kayll talks to FESPA ahead of her Keynote session at Digital Textile Conference, exploring digital print technology for the fashion industry.
With an innate flair for colour and pattern, British designer Jessica Kayll uses digital printing to create prints for the luxury fashion industry. We asked her what's special about bringing design to life and what we in the large-format print sector can learn from her experience in working with the likes of Alexander McQueen, Cachárel and John Galliano.
Jessica, how did you get into textile design?
Knowing I wanted to work within the visual arts, I did an Art Foundation course and discovered printed textiles - I could combine my love of drawing and colour with fashion and make real products people could wear. I went to the University of Brighton to study a degree in Fashion Textiles, during which I gained experience at some really inspirational brands including Alexander McQueen and John Galiano.
Can you tell us a little about your design process?
Any design work for me always starts with drawing. Most of my work is digitally printed as a final process. I use Adobe Photoshop to develop my designs and create repeats, but drawing and painting will always come first.
For me textile design is multi-sensual, not just simply visual. Fashion is about bringing to life a mood or a vibe. I like to design listening to music that fits the mood of what I'm working on.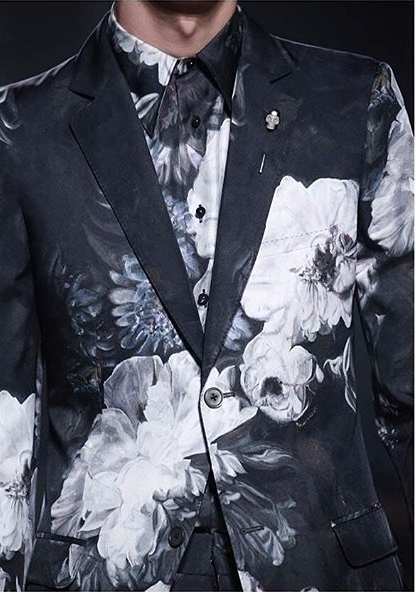 Jessica's hand painted floral textiles digitally printed for Alexander McQueen menswear AW16 show
I've previously worked as a freelance print designer for Brazilian label Isolda. It might sound funny... but I love to listen to Bossa Nova to help transport me to Copacabana Beach in my imagination when I am working for them!
What would you consider to be your proudest achievement so far?
When I was working at Alexander McQueen I helped hand paint two sequined embroidery designs for the finale dresses for the AW16 womenswear show.
I worked intensively day and night with a few of the embroidery designers at McQueen for about two weeks solidly painting the minute details of some of the finale dresses. They looked beautiful on the catwalk and it was also really rewarding to see Nicole Kidman wear one on the red carpet.
You are one of the keynote speakers at the FESPA Digital Textile Conference this year. So what will be your key message at that event?
The conference is a great opportunity to bridge the gap between textile designers like myself who work with digital printing, and industry specialists who develop the machinery and software.
I hope to give the audience an insight into using digital printing from a designer's perspective working within the luxury sector of the fashion industry.
I've been fortunate to work for some inspiring brands in my career so far, but I am still a young designer at the start of my career. My presentation will also touch on how I see the printed textile industry moving forwards in the future with a new set of young designers, like myself, coming into the field.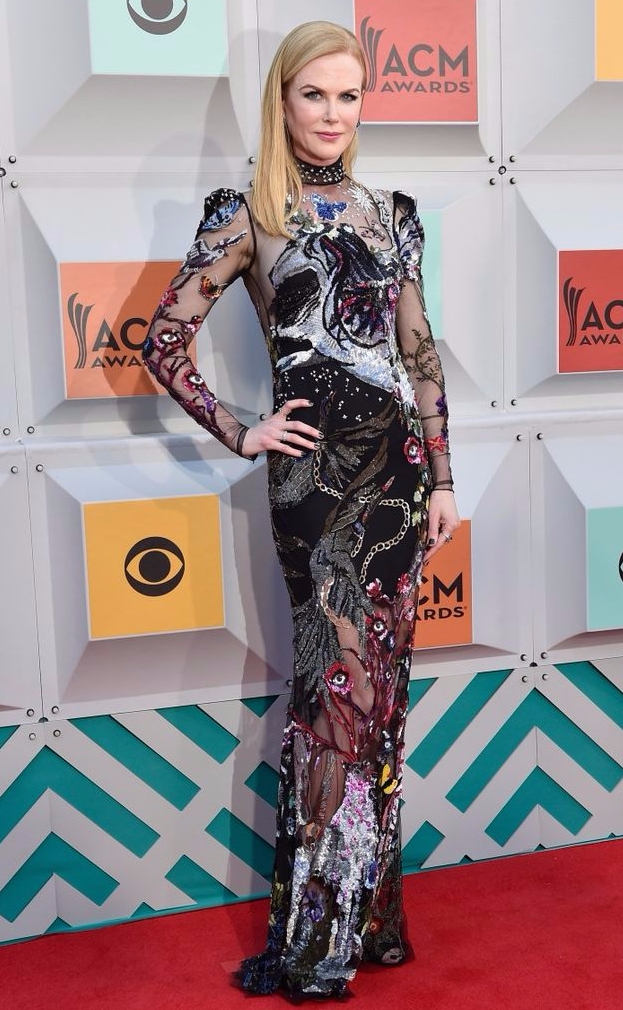 Alexander McQueen AW16 embroidered dress worn by Nicole Kidman
I have an insight into what young designers finishing art school are experiencing with regard to using Photoshop and digital printing. It is a really exciting time for textiles at the moment, with so many new graduates being armed with technical digital printing skills to really move fashion forwards.
Why do you think it's important that these kind of educational events take place for the industry?
Fashion in many ways can seem like a 'closed' industry. It's great that these kinds of events allow for learning and understanding of the technology available now along with ideas for the future. It is also a great opportunity for industry professionals to connect and discuss issues within the industry.
Do you have any advice for aspiring designers hoping to break into the textile field?
My best advice for new textile designers is to try to get internships and valuable experience at different fashion houses when possible whilst studying. I know it can be extremely hard for aspiring designers to juggle this, as (sadly) many fashion houses still do not pay interns. It is only possible for many young designers to have a part-time jobs alongside their internship, which can be difficult.
However, I too did many unpaid/barely paid internships whilst studying and it was an amazing learning curve that really helped to shape my career. Most fashion jobs are not advertised, so a lot of junior jobs come from personal recommendations or from interning first.
One of Jessica's print designs for Isolda worn by actress January Jones
On top of gaining valuable experience, I would recommend that textile and fashion design students also try to master Adobe Photoshop & Illustrator as soon as possible. Print design is becoming increasingly digital and Photoshop is an invaluable tool for new designers.
What impact has digital textile print technology had on your working practices? What could it have in next five years?
I had my first experience working within the fashion industry in 2011 when I was an intern at Giles in London; for as long as I have been in the industry, digital printing has been well established as a printing method and is been how most of my designs have been produced.
However, as the digital printing grows within the industry further and it becomes more cost effective as ink and print production prices drop, it will become even more commonplace within fashion print.
The next five years will be a really exciting time for digital textile printing. This is still a relatively new technical development within the world of fashion textiles. Like all print designers, I am excited to see what new advances will emerge in the coming years.
Applications such as t-shirts and clothing may be the most common form of work in digital textile print and the mainstay of many companies in the sector, but you have to ask the question as to how far you can stretch the boundaries here.
---
This year, the FESPA Digital Textile Conference (DTC) will highlight the many opportunities on offer to companies in terms of digital textile print on Friday 30th September at the nHow Hotel in Milan, Italy.
There is still time to sign up for the event, visit http://dtc.fespa.com/en/ and use code: AZ1701 to register.
Interested in joining our community?
Enquire today about joining your local FESPA Association or FESPA Direct