Features
Digital Disruption offers the Home Décor sector exceptional opportunities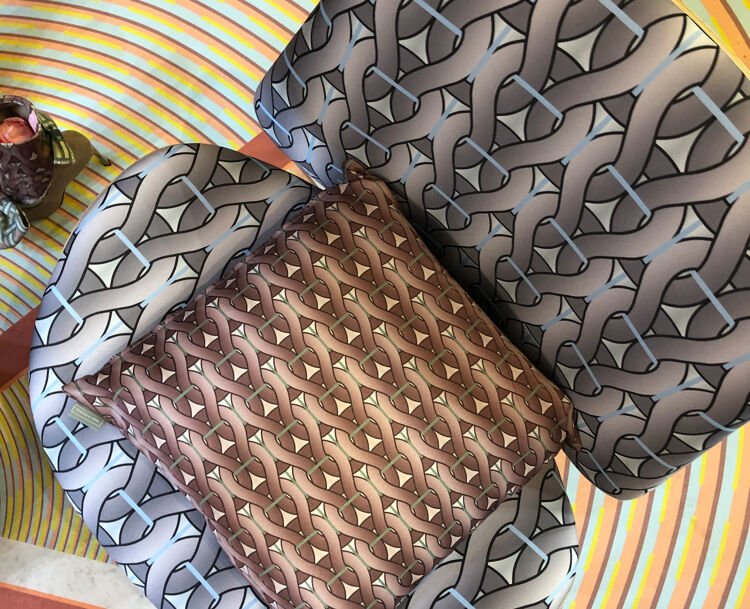 The Home Décor marketplace has a global value of almost $664 Billion dollars at full retail value. Once dominated by an established analogue supply route, which supplied fabrics direct to the buyer for multiple products, it is now being disrupted by Digital Print Technologies and offers both the supplier and the retailer unprecedented opportunities.
Interior Décor encompasses a myriad of products, Furniture, Drapes, Curtains, Bedding, Wallpaper, Carpets, the product list is almost endless (as is the printed meterage) and yet every sector has a unique micro climate. Each sector has defined expectations for design and product specification, across thousands of SKU's and performance standards.

The market has also witnesses falling volumes (by design) and an increasing need for design diversity. One of the first sectors to embrace this change and move to rationalizing inventory was the Polyester sector, typically Home and Contract Furnishings. Originally using analogue technology, many have now converted to Digital Dye sublimation printing for speed of delivery and design variance, printing the design onto the transfer paper and not immediately transferring onto the fabric, preferring to enable at source on demand.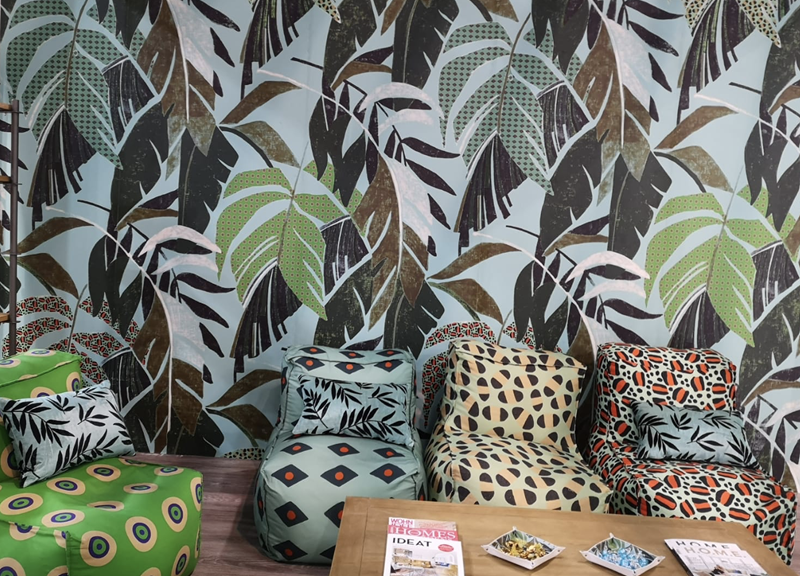 IMAGE CREDIT: EPSON
CAPTION: Utilising Digital technology, creativity has no limits! Designers will develop new markets and applications.

An important step for the buyer or retailer in order to control manufacturing costs. In holding the printed paper in stock many companies now source their printed transfer paper worldwide, and often only transfer onto the required fabric in the country of manufacture. We also see this action in the fashion industry, to control manufacturing in the country of origin, offering speedy delivery and removing the burden of holding expensive printed fabric stocks. This method offers an efficient sourcing route, and has generated huge volumes for the transfer printer worldwide.

As the Interior Décor marketplace shifts towards customization across all products and substrates, (a reflection of consumer and manufacturing trends in the world of Fashion) businesses now must look deeper and wider for efficient print routes. The Interior Industry faces the same issues as the Fashion Industry in so many respects, and companies large and small now have to manufacture sustainably.

Digital Textile Printing technologies not only offer a sustainable method of production but are also incredibly flexible. In a new world of Print on Demand, utilizing digital technologies the Interior marketplace is transforming into a clean, efficient and innovative sector, that's in tune with its consumers buying behavior and offers new emerging technologies a platform for growth.

With so many different applications for print, the Interior marketplace has taken time to embrace the benefits of digital technology compared to the world of Fashion. However, as the consumer demands design diversity from the Interior sector, the Textile supplier too must change their business model.

Heimtextil has been the mecca for the Home Interiors Industry for over many years. It's a staple in both the Designer, Manufacture and the Retailers diary, and brings together the Décor industry in Frankfurt once a year. As our industry flexes to embrace change it's never been more important to stay ahead and informed of new technologies. The Millennial buyer seeks a sustainable lifestyle, and that also means that we have to provide information and access to innovations in an unconvoluted format. For this reason, Heimtextil created a new hall for 2019 and brought the Designer, Digital Print Technologies and Trends to one central location to deliver insight and access to the innovations that we all need to inform and grow commerce.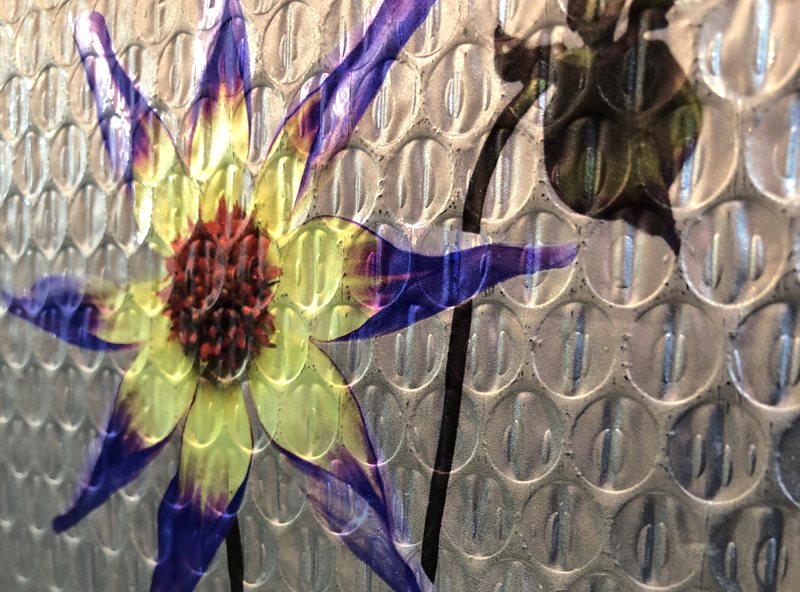 IMAGE CREDIT: MIMAKI
CAPTION: Pushing Creative Boundaries for Interior Decor using the Mimaki UCJV300 UV Print Technology

Bridging the gap between Creation, production and Innovation the hall provided a forum for conversation and importantly access to the technology that will transform our industry. I caught up with Mark Sollman, Applications Manager for Mimaki to give us an insight into his experience:

Mimaki technology offers multiple Digital printing solutions for Home Décor, and as a company are trailblazing the interior sector with new applications. Can you tell us about your favorite applications and why?

"At this Heimtextil, we focused specifically on applications and on showing what our machines can create. Mimaki has a wide range of innovative print technologies and our products serve various markets, including textile, sign graphics, industrial and since last year 3D markets.

This year, at Heimtextil, we collaborated with three designers working in various disciplines: Fashion, Interior Design, and Art. They were really involved in the projects and each of them brought something unique to our application areas.

As Heimtextil is really about interior design and home décor, I was personally pleased with the Interior Design area, in which we collaborated with Claire Vos. Her work 'The Dressing Room' featured digitally printed fabrics made into various applications and other works from other artists, yet the space was very cohesive. Our team was also extremely happy with the result of the printed copper foil featured on the walls at the Art area. We printed the copper foil using our award-winning UCJV300 UV printer with white ink. We then applied it to the walls and ceiling at the Art area, combined with designs by Dutch visual artist Sigrid Calon."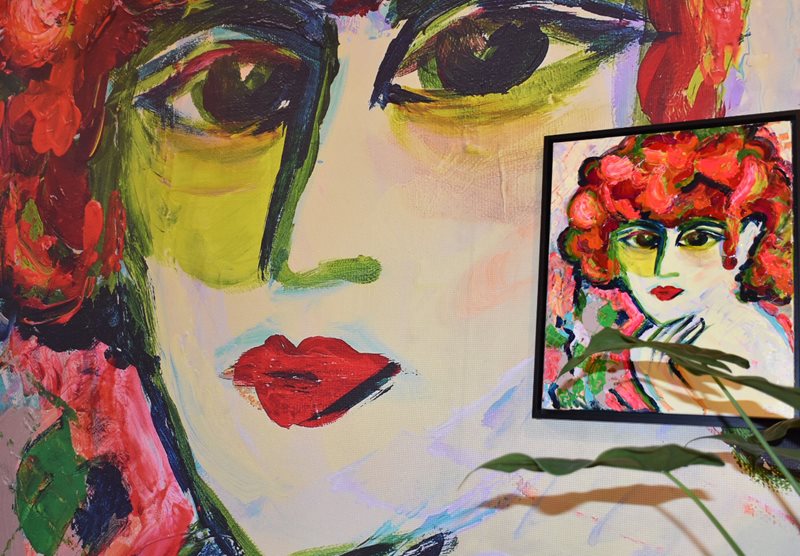 IMAGE CREDIT: MIMAKI
CAPTION: Innovative Textured Substrates for Wall Décor, Capture the Essence of the Original Painted Artwork

In collaboration with three Designers, Mimaki created a number of Inspiring, innovative roomsets, tell us more?

"Since we have a wide range of machines and technologies, the challenge for us was how we can show all of our print capabilities on our stand and make it interesting for the visitors. In the end, we decided to develop three separate application areas in close collaboration with three designers: Interior Design by Claire Vos, Art by Sigrid Calon, and Fashion by Tessa Koops. These celebrated designers have earned their stripes in their respective disciplines, and yet they were very eager to work with us. They were actually impressed by our extensive product portfolio and the endless possibilities that Mimaki machines can offer.

For Claire Vos, for example, we used sublimation printing to create the voile and curtains in the Interior Design area. On the other hand, in the Art area, we showed copper wallpaper and paintings created using our UV print technology, a large 2x2m piece of digitally printed textile featuring our fluorescent inks, as well as 3D printed art pieces. The designers were all very involved in realizing this project and delightful to work with. Their creative designs and works really highlight our diverse print capabilities."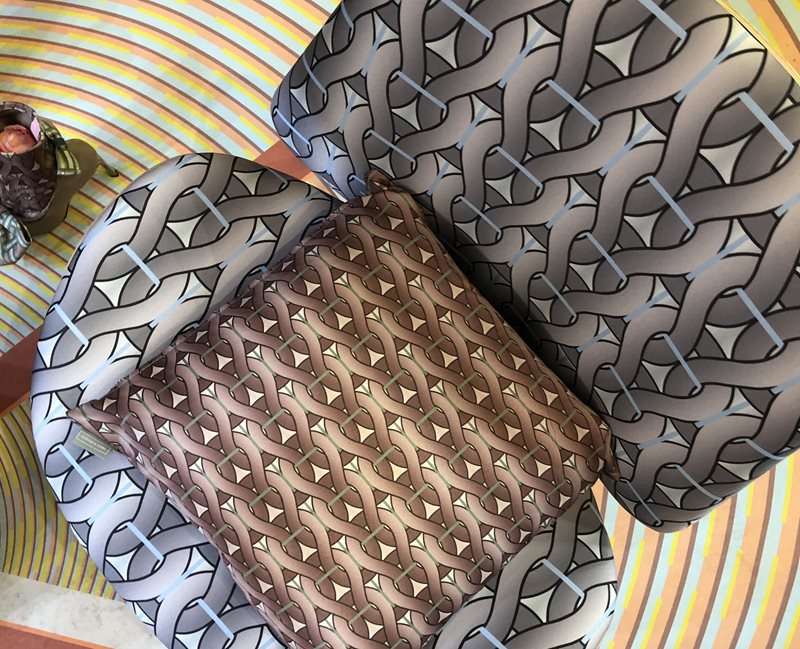 IMAGE CREDIT: MIMAKI
CAPTION: "The Dressing Room" by Claire Vos. Digitally Printed Furnishing Fabrics using Dye Sublimation Technology

This year the Digital Technology and the Designers exhibited side by side in Hall 3.0 which offers a new location and demographic to the Heimtextil visitor. Did that work, and what was the reaction from the Design community and the Textile manufacturers?

"As the biggest international trade fair for home and contract textiles, Heimtextil acts as the season opener for new trends and textile innovations. For us it is always a pleasure to connect with designers and innovators who pretty much can influence the new trends for the upcoming year.

On top of that, we notice that more and more end users who are currently outsourcing their print production, start to think of using digital print technology to bring the production in-house. In the textile market, there is a growing demand for shorter run, faster delivery and more personalized production of textiles. Digital textile printing is the key to facilitating these demands." Mark Sollman, Applications Manager, Mimaki

Digital Technologies are set to disrupt the Interior sector, offering the marketplace a new suite of tools for mass manufacture, personalization and customization.

We asked Fulvio Alvisi (Italian Textile Designers Association, President)
Professor in Textile Design in IED (Milan, Italy) representing Epson about their vision for the future of Interiors?

"The digital printing used for all kind of applications and markets will increase in near future thanks to the opportunity this technique offers in terms of creativity. The interesting use of customized print for different fabrics, material and sizes could transform carpet, furniture, wallpaper in an "art opera". At the beginning, the use will be easier for public spaces and contracts, but I think that this trend will arrive in residential projects sooner than we expect.

With this technology, creativity has no limits! Some examples: digital printing make wallpaper looks very real, especially when you print photos or photographic subjects. It is much easier to create optical illusions, as making a room look bigger. Same for curtains and carpets: the advantages are not only the possibility to get printouts of many different sizes but also the possibility to print on new materials with high quality results. I am thinking at blackout, anti-noise, purifying air materials that can enhance people's well-being.

The challenge is to use high technology materials and offer hand-made looking products to customers. An example? Materials that simulate the appearance of natural fibers or the imperfections of weaving and printing such as, for carpets, the idea of preciousness.

I image a new graphic language that uses the colors in a new original way, with no limitation in the color numbers. The big size of the carpet and the combination of printing with other processes needs also the development of new technology and machines. The same concept can be applied also to furniture and generally to all home textile items: towels, bedding, tablecloths.

To sum up, I think the market's growth is the result of the printing applications' growth. The digital printing will be a success if we make it clear to the end users the quality, both in terms of eco sustainability and well-being, in combination with the concepts of hand-made and exclusive. We need to find the way to help customers to perceive the quality: the design can be one of the keys to do that." Fulvio Alvisi (I.T.D.A)

Digital print technology is seen by all as a disruptive innovation for the Textile Industry.

Offering a diverse selection of technologies with multiple applications for all sectors and importantly, the tools to unlock the pre-established supply routes that can be applied to any business large or small. Rationalizing the sector to enable flexible, sustainable manufacturing and entrepreneurial opportunities for all…
Interested in joining our community?
Enquire today about joining your local FESPA Association or FESPA Direct