Features
Digital corrugated: What to offer and why?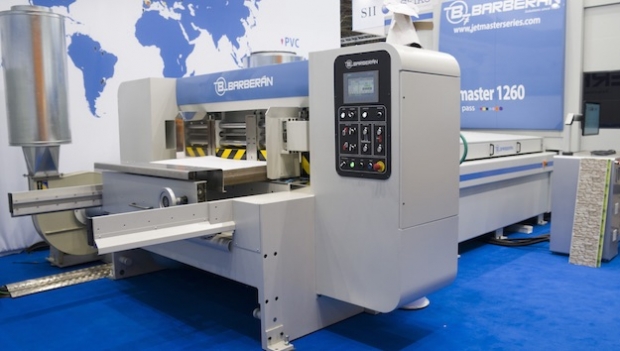 Following part one of our digital corrugated story, which covered the market rationale, here we present an overview of the key developers and digital presses announced so far. 
We've concentrated mainly on high speed inkjet machines being developed for the market, but also mentioned relevant corrugated-capable flatbeds and roll-fed liner printers.
Barberan
The Spanish developer Barberan was the first to deliver a fast sheet-fed digital press for corrugated, by implementing a UV-cured inkjet technology already used for wood panels. It has so far installed at least five of its JetMaster range, which are available in widths of 1,260, 1,680 and 1,890 mm.
The widest model, Jetmaster 1890, was launched early this year. It can print on corrugated sheets up to 55m per minute, equivalent to 6,000m² per hour. Its resolution is 360 dpi, with three drop sizes and four gray scale. For corrugated boards it has a pile feeder and a delivery conveyor leading to a stacker.
Bobst sheet fed digital carton press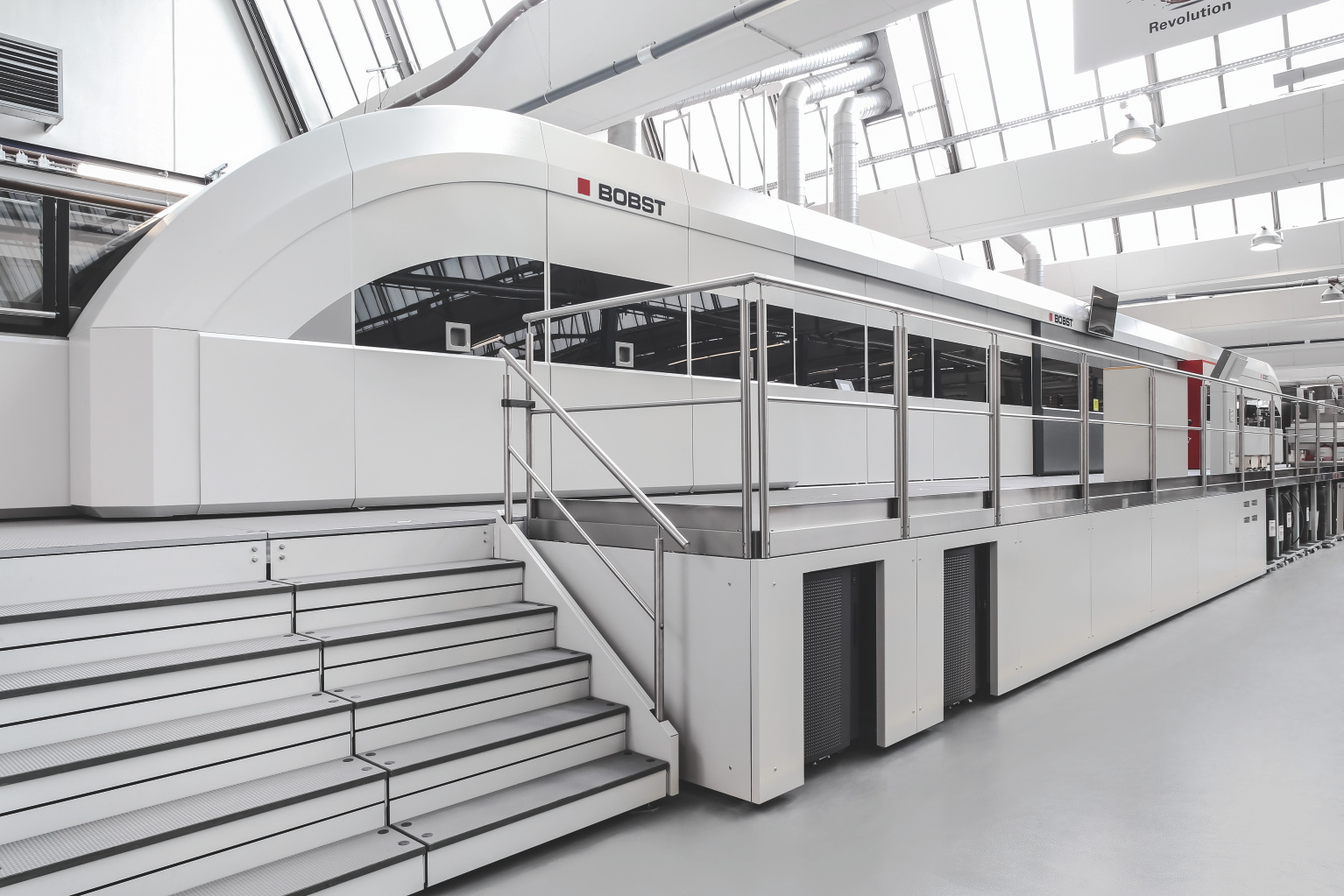 Bobst has built three of its fast digital corrugated board lines.
Switzerland based Bobst has a healthy business in fast sheet-fed flexo presses for printing corrugated and is also a big name in carton finishing with its platen based cutting and creasing lines.
It has applied its experience and market know-how to the development of a sheet-fed digital corrugated press, whose origins date back to 2003. It's been hinting about this for a long time but last year started adding some detail. However, no name or price have been revealed yet.
The press is about 50 m long and weighs about 100 tonnes. It uses Kodak Prosper S-series inkjet print heads, with their Stream continuous flow print technology and water-based CMYK inks. It runs at up to 200 metres per minute on sheets up to 2.1 x 1.3 metres.
It can be used with a Bobst pile turner, sheet loader and post-press MasterCut 2.1 flatbed diecutters. Two nearline diecutters are needed so that one can be prepared while the other operates.
So far Bobst has built three presses, two of which are in Beta sites in Switzerland and Germany and a third press has been built.
Durst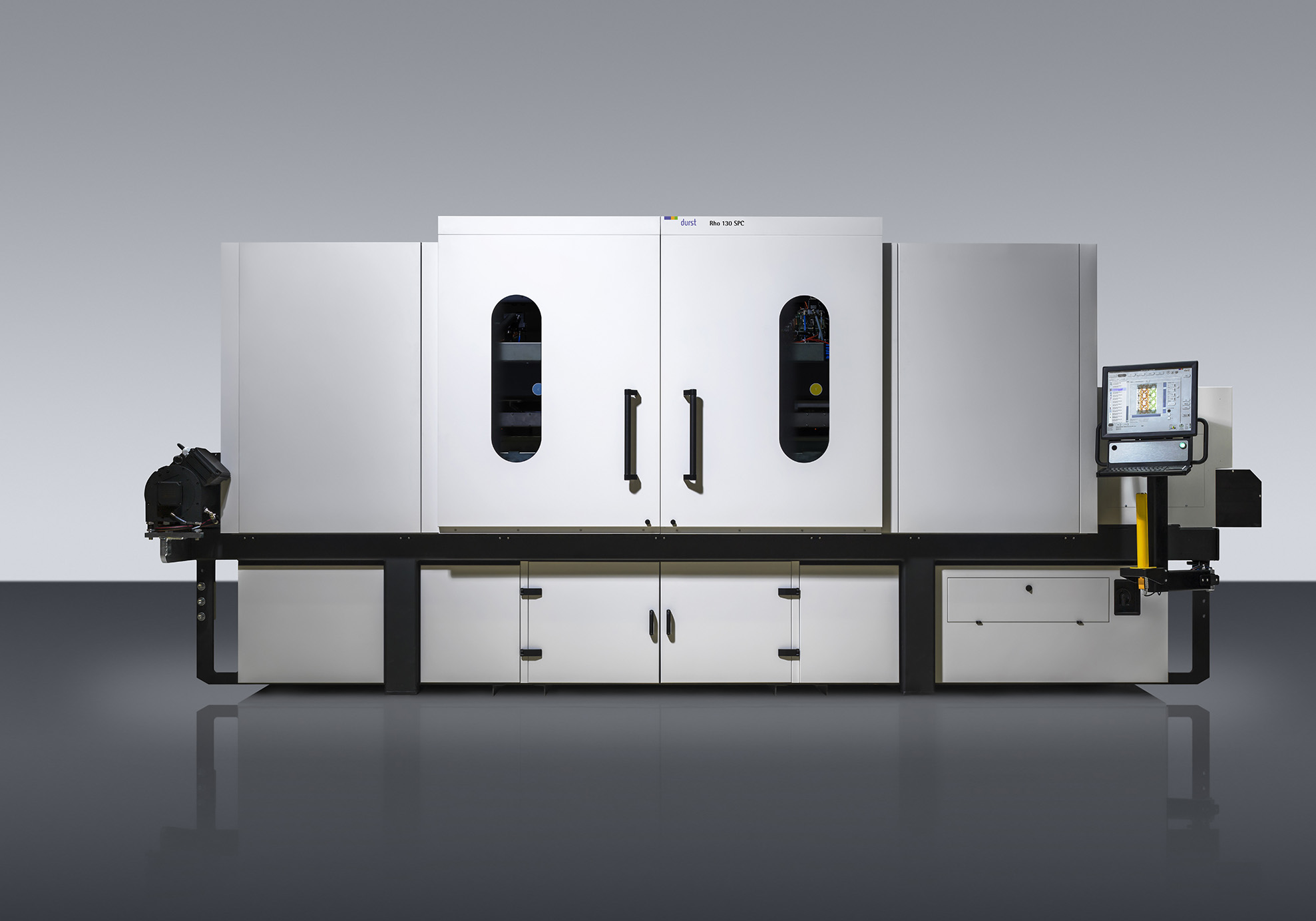 The print engine of the Durst Rho 130 SPC.
A big player in high end, high quality flatbeds for graphics and industrial use, Durst announced the Rho 130 SPC, a fast single pass inkjet press for corrugated boards in May this year.
Its big UV flatbeds are already used for corrugated. The Rho 1300 series take 1.25 x 2.5 m boards and can be configured with conveyors and automated loading for heavy boards including corrugated. The Rho WT 250 HS flatbed, announced at FESPA 2015, uses the company's new Water Technology aqueous hybrid inks. It's a high speed model, said to be suited to corrugated.
Durst has also supplying single-pass technology for ceramic tile and label printing since 2005 and has over 700 installations worldwide. Its new Rho 130 SPC (single pass corrugated) board press uses the company's Water Technology aqueous inks in up to six colours.
It has a maximum printing width of 1,300 mm and up to 800 dpi resolution. Up to 12 mm thick corrugated board can be printed at up 9,350 m²/hour.
EFI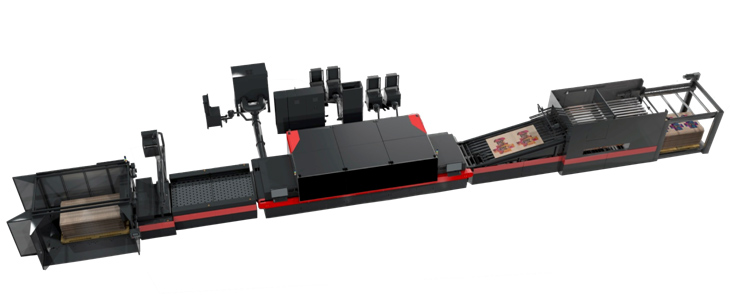 A complete EFI Nozomi C1800 corrugated print line.
Like Durst, EFI supplies UV flatbeds which are suited to corrugated work, though unlike Durst or HP it hasn't offered any real "industrial" models with automated board handling.
This year, the company announced Nozomi C18000, a dedicated sheetfed inkjet corrugated press that it says is intended for box and display work. It uses UV-E=LED curable inks. Its print width of 1.8 m can take sheets up to 3.0 m long, or two 80 x 60 cm boards side by side (a top feeder is needed for this).
EFI says it will print up to 8,100 m2 per hour, equivalent to 9,000 80 x 60 cm boards. The resolution is 360 x 720 dpi with four grey levels
It will be available with four or six colours (CMYK plus orange and violet), plus white as a fifth or seventh colour. A primer is used to control ink absorption on some media.
Fujifilm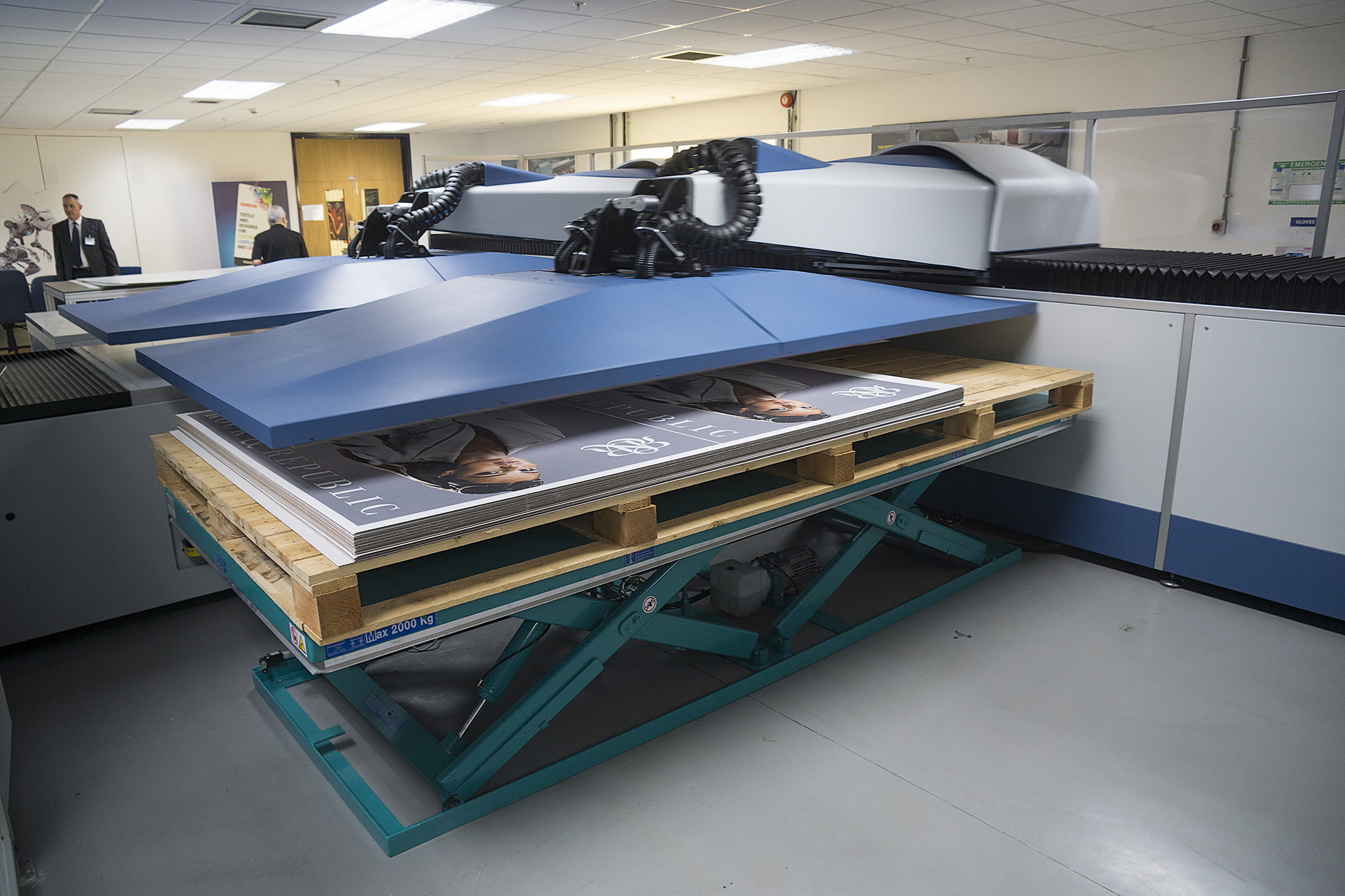 Fujifilm's robotic corrugated load/unload system for the Inca Digital Onset S40i flatbed.
For historical reasons Fujifilm handles the worldwide marketing of most of UK based Inca Digital's range high speed reciprocating-bed inkjets, despite Inca being owned by another Japanese company, Dainippon Screen, since 2005.
In 2013 Fujifilm commissioned a robotics company to develop an auto loader and unloader to handle large corrugated sheets for the Inca Onset S40i model. This can print boards up to 3.22 x 1.6 m, at rates from 32 to 112 boards per hour depending on the quality setting.
HP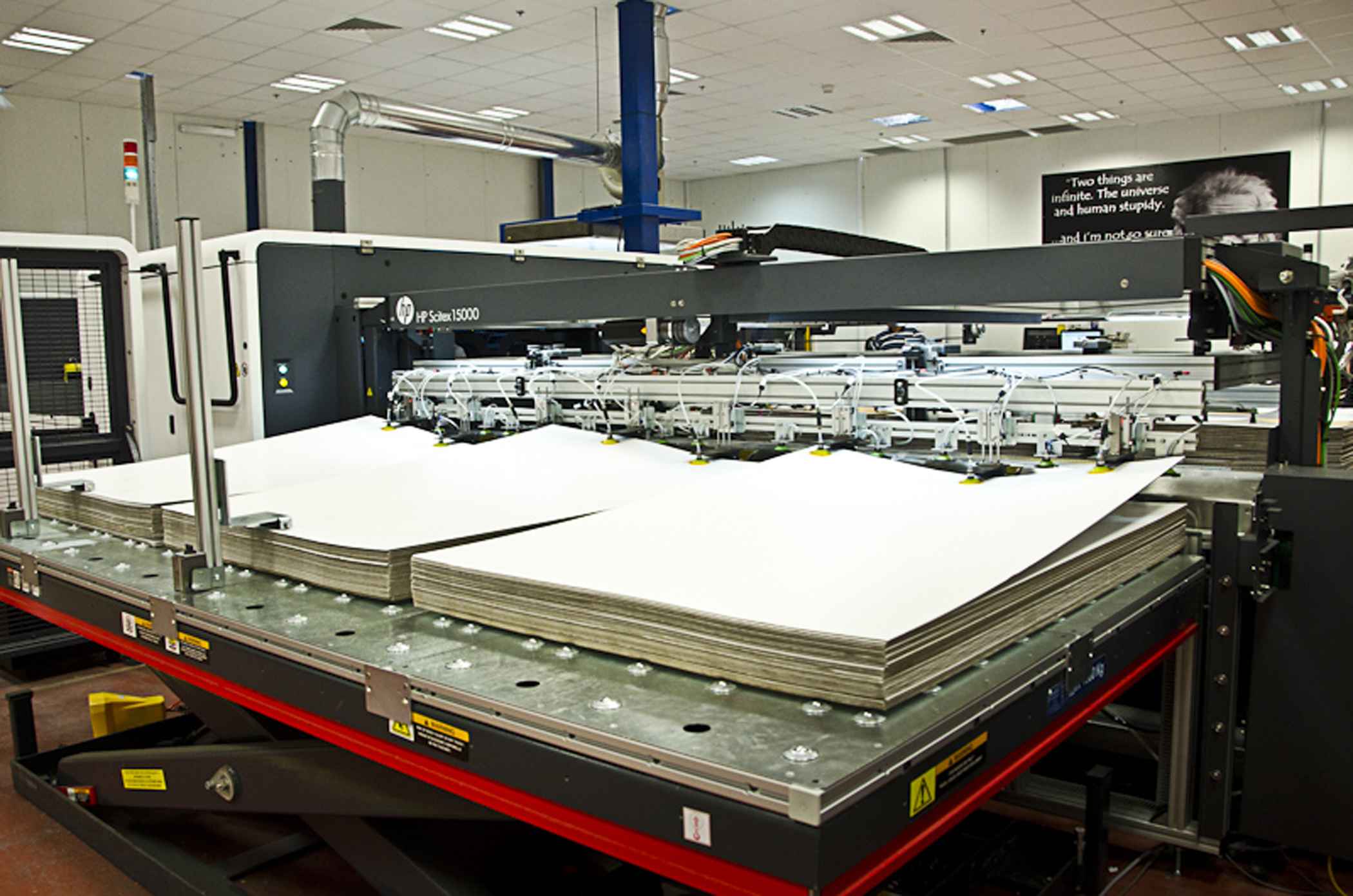 HP Scitex 15500 at a Beta site at Carmel Frankel, Israel.
HP has a range of both sheet fed and continuous corrugated machines. In 2014 it revised its HP Scitex FB10000 industrial UV-cured flatbed as the dedicated corrugated FB15000, with heavy duty autoloaders/unloaders and other special features to handle the thick and heavy boards (even warped boards, the company says).
Last year at FESPA in Munich it announced revisions to its line. The FB15500 replaced the FB15000, though existing machines could be upgraded. New low-odour HDR230 inks in six colours have been developed for corrugated. A new Corrugated Grid media loading system uses blankets on the bed to allow very warped boards to be held and printed. Throughput is up to 560 m2 per hour.
The FB 17000 also features Corrugated Grip. It's the same size but faster than the 15500, at up to 1,000 m2/hour with a duty cycle of 2 million m2 per year. It manages this by printing CMYKx2 rather than CMYK with light cyan and magenta.
In 2014 HP announced the T400S, a simplex version of the widest of its inkjet web press range. Forming the core of the HP High-speed Inkjet Corrugated Packaging Solution, it is intended to pre-print liner paper that's then used in corrugated forming lines. Variable data means that every sheet can be different, though regional and event versioning are probably more likely applications.
The T400S costs several million Euros. It will print on 1.05m wide paper rolls at up to 183 m/second, for 12,000 m2/hour throughput. The CMYK inks are aqueous, with a "bonding agent" primer applied when needed for some paper types. A gloss varnish can be applied inline. Roll-to-roll and roll-to-sheet configurations are offered.
Last year (2015), HP announced another digital liner press, the 2.8 m wide Page Wide Web Press T1100S. This is the widest single-pass inkjet press to date. It's a joint venture with KBA, the German press manufacturer that has huge experience with conventional web presses. It runs at up to 183 linear metres per minute, or 30,600m2 per hour.
HP's Multi-Lane Architecture allows the press to mix several different jobs (with different box sizes if needed) in parallel across the width of the web, as well as along the length. It can print at 1,200 dpi across the width, on coated or uncoated liner paper from 80 to 400 gm2 and HP claims it has "offset-substitutable quality."
The only installation announced so far is at DS Smith's Featherstone plant in the UK. DS Smith also has a T400S liner printer at its UK Belper site.
In June this year, HP pre-announced that it is developing the C500, a relatively compact sheet fed press for printing onto corrugated boards. Few details were announced in public, but it is apparently intended to take boards up to 1.8 x 3.0 m size.
It uses the same thermal print head technology in Page Wide single-pass arrays as the web presses, which means aqueous inks and a probable resolution of 1,200 dpi. Test sites will be installed in 2017, with the UK's Cepac announced as one of them. HP is also working with Smurfit Kappa on development.
Screen and BHS
Screen is the owner of Inca Digital, a UK developer of very fast UV-cured inkjets. In 2004 Inca collaborated with Sun Chemical to develop a fast sheet-fed corrugated press called FastJet. Only three were built. Interestingly Sun Automation (a different company to Sun Chemical) worked on materials handling for the FastJet project, and has since developed its own press, CorrStream.
This year, Screen announced that its Graphic & Print Solutions wing is collaborating with BHS Corrugated, a German based builder of corrugated lines with a 50% worldwide market share, to develop an inline digital printing facility for web-to-sheet lines.
Screen and BHS are setting up a jointly owned company to be sited close to Inca in Cambridge UK. Inca will develop the print module.
The print engine will be 2.8 m wide (a standard width for corrugators) and will run at up to 300 m per minute. It will apparently be integrated into the web line before the sheet cutting and stacking system. The print engine can be fitted to existing corrugating lines. The first alpha installation will be made in 2018 with a beta site in 2019.
Sun Automation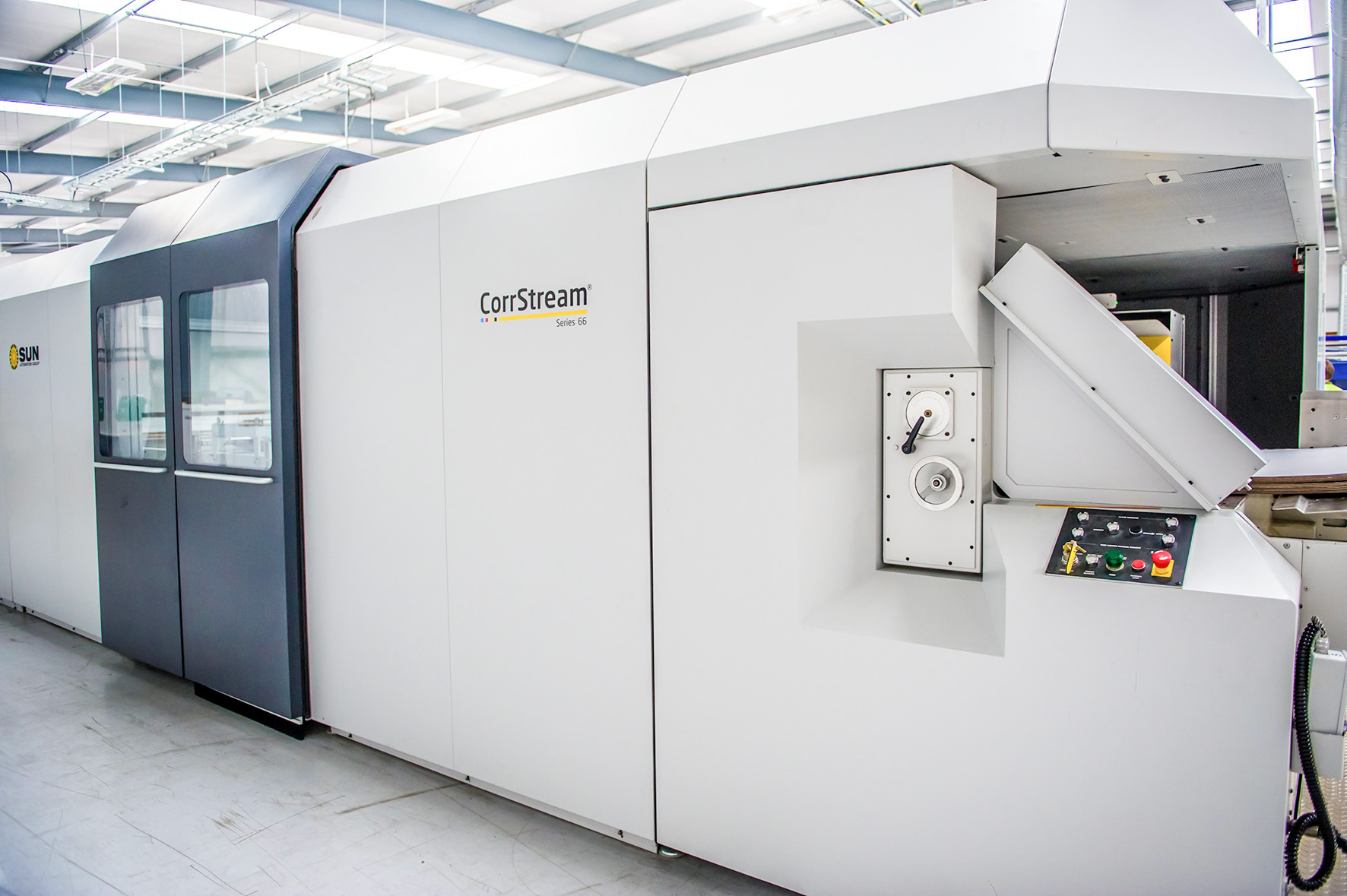 The CorrStream installed at HSG in Bradford, UK.
Announced in 2013, the Sun Automation CorrStream family of single pass corrugated board inkjets is available in three widths, each with a linear speed of 70 m per minute. The single-pass inkjet array is from an undisclosed maker, and aqueous inks are used.
CorrStream 20, with a maximum width of 537mm, has a list price of €1.6million. The 40 has a width of 785mm and a price of €2.1m, while the 66 has a width of 1,345mm and will be priced between €3.1 and €3.3 million depending on configuration. The materials handling draws on Sun's experience with flexo corrugated feeders, in particular the front edge feeder which is key to reliable handling on the CorrStream, says product manager Sean Moloney.
A Beta programme was completed earlier this year with a machine at HSG Packaging in Bradford, UK. Another is at Sun's own UK site in Bristol, which is used for testing and developments that are then implemented in the HSG machine for commercial assessment.
"We only have one Beta deliberately," says Moloney."We're pushing on getting the workflow, file handling and other models refined. That'll be done by the end of the year, then we'll go for more installations.
Xanté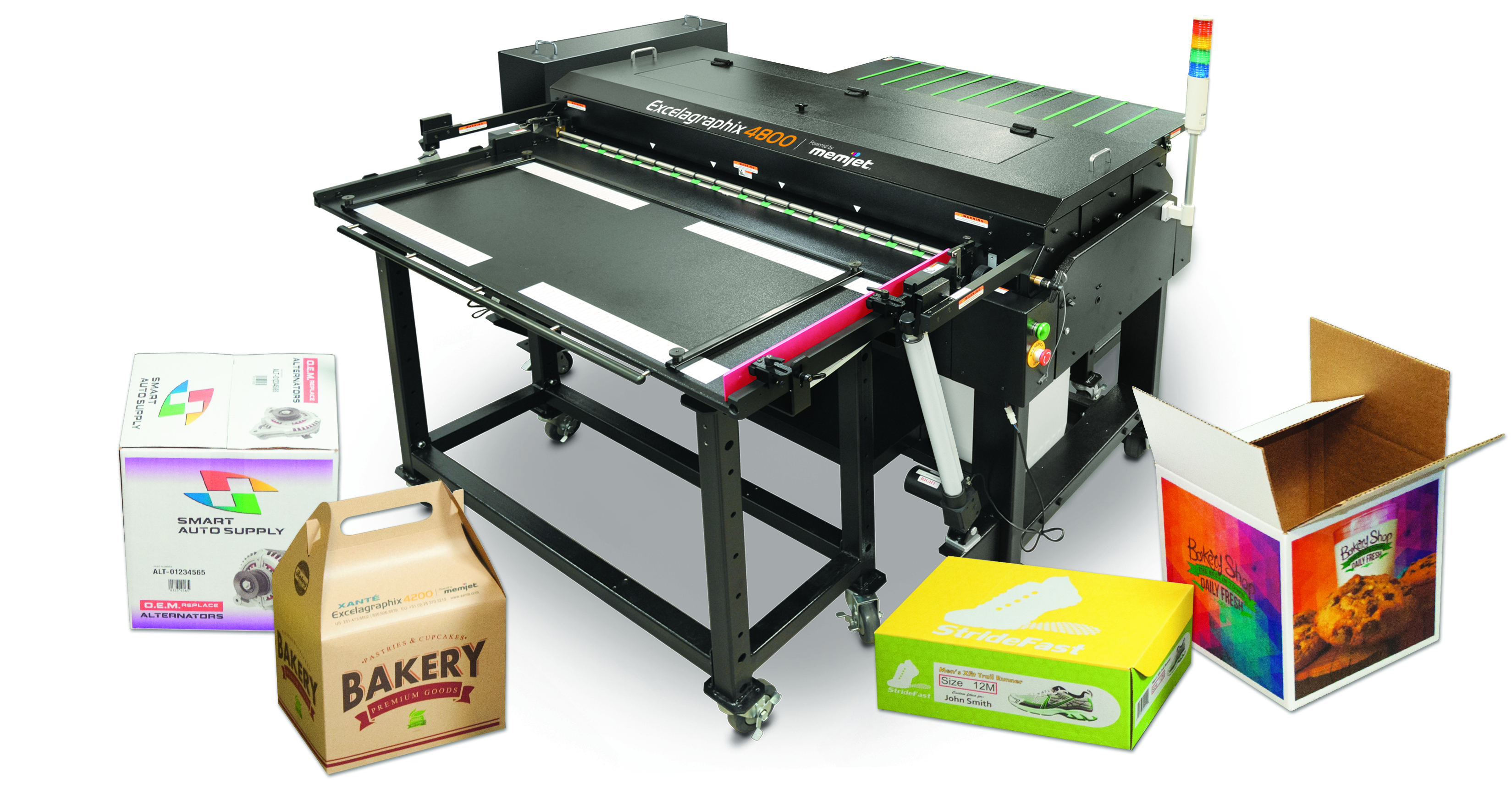 The Xanté Excelagraphix 4800 was introduced in June this year.
In 2011 Xanté was one of the first manufacturers to adopt the then-new 42-inch array version of the Memjet single-pass inkjet array technology.
While the other machines are configured for paper, to print plans and posters, Xanté's Excelagraphix 4200 was a unique manually fed system with a straight-through media path for thicker carton and corrugated boards up to 42 inches wide (1,067 mm). It was pitched at the short-run personalisation market, with pizza boxes for specific outlets given as a typical example.
This year Xanté replaced the 4200 with the Excelagraphix 4800, offering heavier duty construction and transport, able to take wider boards up to 48 inches (1,210 cm), though the print width is still 42 inches.
It can print up to 412 106 x 69 cm sheets per hour, including corrugated and other media up to 15.9mm thick. It's still unique at its price of €112,000, though that's a lot more than the 4200's €75,500.
Interested in joining our community?
Enquire today about joining your local FESPA Association or FESPA Direct