Features
Desktop T-Shirt Printing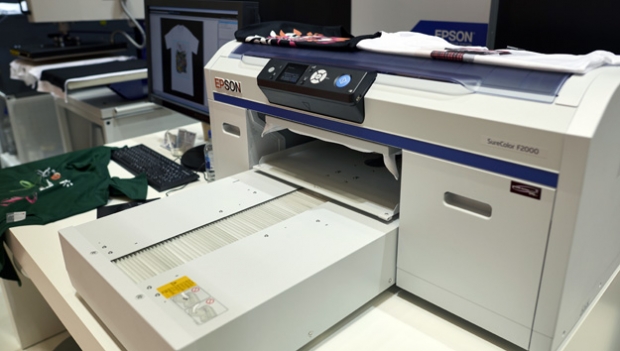 Desktop direct to garment printers could offer additional revenue lines to wide format printers.
Wide format print service providers are well-positioned to offer bespoke garment printing for items like tee shirts for local businesses and schools. Web to print ordering systems have helped broaden the market area and there's an increasing acceptance of printing designs to clothing amongst the general public.
But unlike soft signage, garments have to feel as good as they look. So the printing is best done through either screen, which is better suited to longer runs, or dye sublimation, for shorter runs.
However, many print service providers no longer use screen print, or may not want to invest heavily in large format dye sublimation transfer printers and heat presses. But a direct to garment desktop printer is considerably cheaper and takes up a lot less space. There are a number of companies that have modified other printers, typically Epson 4000 series printers, to run sublimation inks, costing typically around €2,500.
Epson itself has developed the Surecolor F2000, designed from the outset as a dedicated direct to garment printer. Richard Barrow, senior product manager for LFP signage at Epson Europe, says that there's quite a wide gamut of people using it, adding: "In some instances you have copy shops using it to produce personalised tee shirts all the way up to the highest production. We have companies in the US that mass produce tee shirts on a web to print business model."
Epson initially marketed it as a tee shirt printer, it's capable of a great deal more. Unlike most sublimation printers, it prints directly to cotton so it's been used for other products, such as cotton bags, which have become a popular and more sustainable alternative to polyethylene bags. One Spanish company even used it to print directly to deck shoes, adapting a platen to print to the outside of the cotton heel of the shoes.
The F2000 uses a pigment inkset and can print directly to cotton, as opposed to polyester, but the cotton still needs to be treated. You can print to a polycotton blend, but the blend needs to be biased in favour of the cotton. Barrow estimates that 85 percent of customers are printing to 100 percent cotton tee shirts.
There doesn't appear to be any suitable pretreated cotton materials available so you'll have to prime the material yourself. There are plenty of blank tee shirts, with Fruit of the Loom and Gildan being the most popular. Barrow says that it's quite easy to manually treat the blank tee shirts. It's best to put it in the heat press first to get a flat, even area.
Then, laying it on a bench, you can manually work the primer into the area to be printed with a roller. There are automated pre-treatment devices, though they're really geared towards high production environments. It should be possible to produce a tee-shirt in five to six minutes, faster if you have two people working in tandem to run the printer and dryer.
It comes with Garment Overview software, which is used to prepare the artwork, including the layout and the colour correction.
There are several platens available for different sizes of tee shirts, as well as one that's just for printing to the sleeves and another for printing to polo shirts that covers up the buttons to avoid any damage.
The basic model uses CMYK, which is suitable if you only plan to print to white cotton, but almost everyone who has invested in this has opted for the five colour model, which includes two white channels. The white ink does slow the machine down but allows printing to other colours.
The F2000, in common with most direct to garment printers, is certified to produce tee shirts capable of withstanding over 50 washes before the image starts to fade. This is the industry standard and should be seen as a minimum requirement in any solution.
Growing competition
For now, the main competition comes from Brother, which has made a number of tee-shirt printers. It's current range is the GT3-series, starting with the four colour GT341. There's a version with two additional white channels, the GT361, and another with four white channels, the GT381, and each can be upgraded. However, if you use white ink as an underbase then you will have to apply a primer first, cure this through the heat press and wait for it to dry fully before printing.
It uses high viscosity water-based inks that work best with 100 percent cotton or a high cotton blend. Brother claims that the lifespan of the printed image is equal to that of screen printing. It uses Brother's own piezo print heads and has a maximum resolution of 1200 dpi. There's a 6mm gap between the heads and the garment so that zips and seams won't catch on the heads.
It comes with a platen that can print an image 356mm x 406mm but there are other, smaller platens available including one for printing to long sleeves. It's designed to be easy to use, with no need for a computer or RIP software as the printer driver will work directly with most Windows graphics programs and designs can be loaded directly from a USB stick.
Mutoh is also looking at this market, having demonstrated a new desktop garment printer at the FESPA 2015 show in Cologne. The ValueJet 405GT (pictured below) is its first foray into this area and should be a direct competitor to both these printers when it's launched later this year. It's a five colour machine using CMYK plus white. It uses water-based inks and prints to cotton materials. There are several platens available.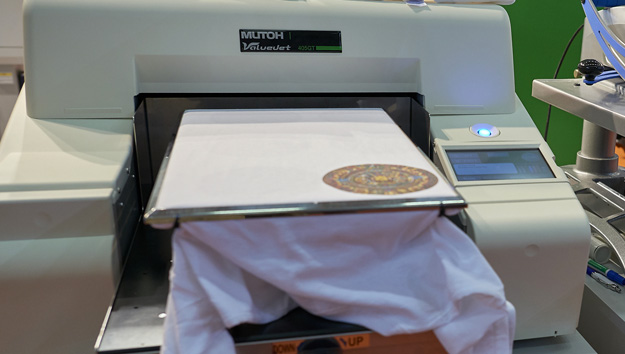 For all of these printers you will also need a heat press for the actual sublimation, to drive the printed inks into the fibres of the cotton. But given that the print area is relatively small, a desktop heat press should be sufficient.
Barrow says that the F2000 has been used by graphics companies looking to add an additional revenue stream and also used by screen printers looking for a short run production option. The breakeven point between the F2000 and screen printing is around 50 tee shirts. This will obviously vary depending on the design and the amount of ink used but in any case these desktop printers should offer a cost-effective way into the growing textiles market.
Interested in joining our community?
Enquire today about joining your local FESPA Association or FESPA Direct