Features
Cut to the point – what's new in cutting technology?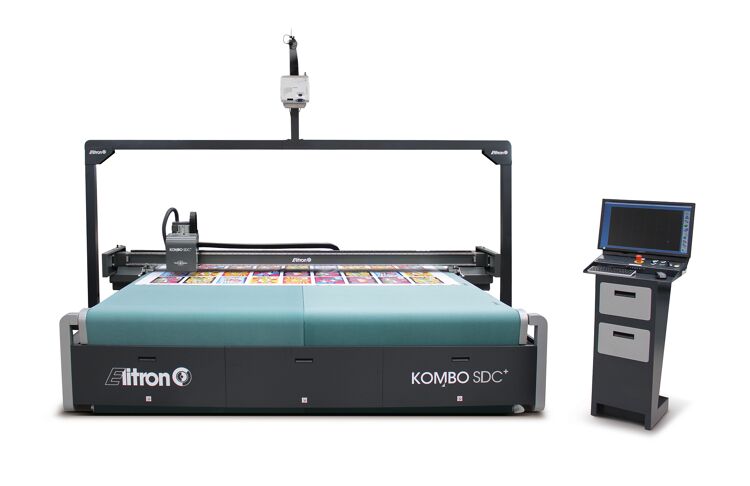 Investing in quality cutting equipment is critical for print service providers seeking accuracy in their finished work. FESPA.com takes a closer look at some of the latest developments in cutting technology and investigates the benefits of investment in this kit.
In years gone by, finishing was seen as something as an afterthought by some print service providers (PSPs), with many opting to outsource this to other companies in order to focus more on the actual printing of work.

However, fast-forward to the present day and finishing is now regarded as an incredibly important and profitable part of the print production process. The majority of PSPs have now taken finishing in house and are offering customers the opportunity to add all sorts of unique effects to their work.

An integral part of the finishing process is cutting, be it for small-format or larger-format printed work. Accuracy here is absolutely critical, with even the smallest of errors likely to cost PSPs in terms of time and money. Here, FESPA.com picks out some of the latest options in cutting technology.



Zünd will exhibit at the FESPA Global Print Expo 2022 in Berlin
Fast return on investment
First, Zünd is one of the leading providers of cutting systems, offering a range of options to the market. Lars Bendixen, segment manager for graphics at Zünd, said that only investing in high-quality, reliable and durable equipment will pay off in the long run for PSPs, and that underinvestment in this area could be costly in more ways than one.

"Our cutting solutions offer a unique combination of high performance, very low operating costs and very easy and fast integration into the production workflow, which mix ensures a fast return on investment for customers," Bendixen said.

"In addition, we don't 'just' sell cutters'; we offer our customers a complete package that we tailor exactly to their individual needs. This also includes various software solutions for areas such as administration, data preparation, design, removal support and robot control."

Bendixen also spoke about the advantage of PSPs moving to take finishing in house, saying the core benefit of this would be keeping add value in house and maximising profit on print jobs.

"By taking work in house, PSPs have control over the entire manufacturing process from A to Z," Bendixen said. "This is also an important buying argument for our customers whereby investing in a Zünd cutter, they not only cover the entire value chain in house, but also are often even able to open up new business segments."

With this, Bendixen draws attention to some of the latest technologies available from Zünd, some of which will be available to view on the company's stand at the FESPA Global Print Expo 2022 in Berlin.

Zünd will have a particular focus on software at the event, showing its PrimeCenter control centre for generating print and cut data. Also on display will be the Place Interface Option, which can be used to control robots and remove finished parts fully automatically, as well as the Visualising Option for additional efficiency in parts removal and job logistics.


Fotoba recently launched its new XLA170 fully automatic cutter

Attendees can also learn more about the Zünd Connect monitoring and analysis software, which Bendixen said can help the user to identify optimisation potential in the production workflow. Zünd Connect records key performance indicators performance and availability of the integrated cutters, using this to calculate the overall equipment effectiveness (OEE) and detect losses in effectiveness, helping the user to further optimise cutting.
New business opportunities
Next, Fotoba is another provider of cutting solutions to the print industry. Luca Bruson, vice president of marketing at Fotoba, said being able to finish your own jobs in house allows printing companies to avoid outsourcing it, thus optimising lead time and media handling, while at the same time increasing the number of orders that can be processed in a timely matter.

"One of the biggest challenges for print shops is being able to deliver their printed jobs in time," Bruson said. "Since it already takes few hours to print most of the rolls, it is critical to make sure they are correctly trimmed on the finishing area.

"High quality cutting systems gives the reliability needed to achieve that and avoid extra costs of handling and processing reprints, as well as giving new business opportunities thanks to the evolving technology."

Bruson went on to say that Fotoba is constantly developing new finishing systems to help its customer to improve automation and production. These include accessories like automatic coreless rewinding, jumbo roll handling and inline cutting, which Bruson said isenhancing the versatility of its popular XLD series.

"Our latest cutting product is the XLA170 cutter, which is capable of automatically adjust the position of the vertical blades allowing fully automatic trimming of variable sizes without human intervention," Bruson said.

At the FESPA Global Print Expo 2022 in Berlin, Fotoba will showcase the new XLA170 fully automatic cutter, as well as the wallpaper version for its XLD170, which offers X/Y cutting with high-accuracy blades to achieve seamless butt-joint for wallpaper applications.

Visitors to the Fotoba stand will also have the opportunity to view another new technology in the form of a new solution in line with Canon Colorado for jumbo-to-jumbo rolls printed applications.

Elitron will showcase a range of technology at FESPA Global Print Expo 2022
Forefront of business
Elsewhere and Elitron specialises in CAD CAM technology for automatic cutting. Caroline Bell, sales and marketing coordinator at Elitron, said a quality investment in cutting kit means the machine will stand the test of time and guarantee a swift ROI.

"Investing in the latest technology means that our customers are at the forefront of their business, able to offer their customers the widest range of products and solutions in the shortest production timeframe," Bell said.

"More than ever, just-in-time production is key to securing existing and new business. Job runs are becoming more personalised and shorter, and flexibility and reactivity are key, so digital large-format cutting is a must."

Bell also has plenty of positive things to say about taking cutting, and the finishing process as a whole in house, explaining that working with external finishing suppliers is much more time consuming and adds another, perhaps unnecessary, link to the production process

"Going in house means you will have much more control over the whole production process and save both time and money," Bell said. "Furthermore, if you invest in a fully automatic large-format cutting system, you are then able to produce around the clock, 24/7, totally unmanned processes including input pallet and stack logistics, automatic sheet loading, image detection, cutting and creasing, unloading, facilitated stripping and output pallet and stack logistics.

"This then allows them to compete for jobs where time to market is of the essence. Another benefit would be the cost saving in terms of operator intervention that is required with the manual loading and unloading systems."

Looking at what Elitron has to offer, Bell said Elitron has a full range of cutting systems to suit all production requirements, from compact to large-format, fixed and conveyor working areas, as well as a dedicated range of fully automatic systems.

Elitron's latest fully automatic cutting system is the Kombo TAV V2, which Bell said has been engineered to offer maximum flexibility in terms of loading and unloading. Bell aslo said it is the only fully automatic digital cutting system able to load stacks of material up to 1,555mm.

The message here seems a simple one; underinvest in cutting technology at your own risk. For a part of the production process where accuracy is critically important, sensible and proper investment will ensure you are finishing work to a high quality.

Discover the latest innovations and trends in cutting at FESPA Global Print Expo 2022, Europe's leading print and signage exhibition will reunite key industry professionals, enabling valuable networking and business building opportunities, supporting face-to-face conversations with suppliers and providing the opportunity to see the latest innovations and trends in speciality print. Register now and use the code FESG201 to receive a 30 euros discount and pay only 50 euros for your registration.


Interested in joining our community?
Enquire today about joining your local FESPA Association or FESPA Direct