Features
Counting down to FESPA Digital 2016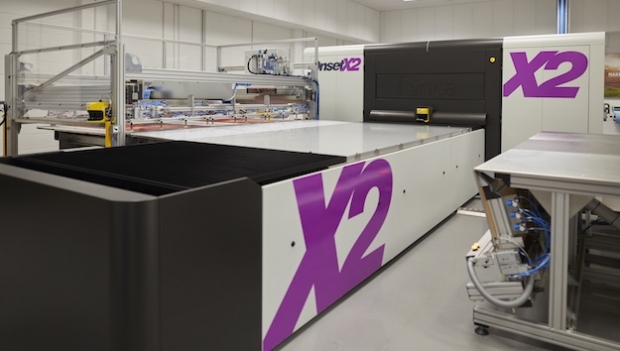 With this year's FESPA Digital show just around the corner we look back at some of the new machines that have been launched since the last exhibition in Cologne.
Many vendors take the opportunity of a FESPA show to launch new products but there is plenty of kit that comes to market throughout the year that is too late for the post-show reviews and too early for the next exhibition's previews.
There isn't space here to go through every single product that was announced over the last 12 months so we've picked out some of the highlights from each of the main categories.
UV printing
Thus we've seen a number of UV flatbed printers released with a clear trend towards large printers that offer both high productivity with excellent image quality. The most noticeable of these has been the Onset X, developed by Inca Digital and sold by Fujifilm.
The Onset family was initially conceived for fast production environments but the X-series has taken this to new heights. The underlying platform has moved from eight ink channels to 14, allowing for up to three sets of CMYK to be fitted.
This takes boards up to 3.2 x 1.6m and can produce a staggering 900 sqm/hr or 180 beds/hr, without compromising the image quality – it's an awesome machine to watch in action.
At the other end of the scale, Fujifilm updated its Acuity 1600 LED, a 1.6m wide printer that is now up to 50 percent faster than the original version producing around 33sqm/hr. This type of printer is all about the ability to print high quality images to a variety of substrates most noticeably window films and backlits, which the Acuity 1600 excels at.
Textile printing
The market for printed textiles has exploded in recent years and shows no sign of slowing down. Most wide format vendors have developed textile printers, mainly printing to transfer paper for dye sublimation. However, Konica Minolta's Nassenger SP-1 deserves special mention.
This is a single pass machine that prints direct to fabric that is fed under a fixed print unit. Konica Minolta claims that it will typically run at around 2,000 linear metres per hour, but can be anywhere between 1,500 and 6,000 linear m/hr. This is the sort of speed necessary to directly challenge screen printing. It uses reactive die inks for silk and cotton and disperse die inks for polyester.
Durst is also targeting the industrial textiles market with its Alpha series designed for production of home textiles and fashion.
The Alpha series offers print widths of 190-330 cm and can be configured with up to eight colours and 64 Alpha-S print heads that achieve a native resolution of 600 dpi and a print speed of 460 lm/h. Durst has also developed a Textile Workflow System that includes one-step profiling for new materials and color matching.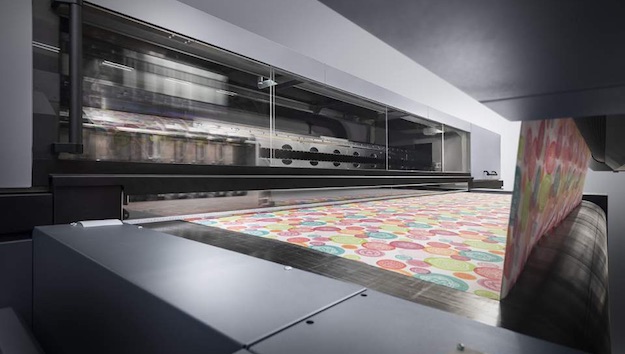 The 3.3m-wide Alpha 330 is suitable for home textile and fashion applications.
Meanwhile, Mimaki's latest wide format dye sub printer is the TS500P-3200, a 3.2m wide roll to roll printer designed to print to transfer paper. It's targeted at home furnishing textiles and indoor soft signage. It's basically a wider version of the existing 1.8m TS500 where the bigger size can be used for extra-wide fabrics for curtains, bed linen, and other home furnishings.
Solvent printers
There's still plenty of life in the solvent printer sector, judging by the number of new machines that have been introduced. Roland, for example, introduced the Soljet EJ640 towards the end of last year. This can be configured with up to seven colours, including light cyan, light magenta and light black as well as CMYK to give smooth gradients.
But many people may choose to set it up with two sets of CMYK inks, which will allow it to produce up to 102 sqm/h. There's a new heater system to help it keep up with the faster speeds and a new feed adjuster to take the substrates smoothly through the printer and onto the take-up system.
Epson has recently updated its SureColor S-series of solvent printers. There are three new models, all 1.6m wide. The entry-level S40600 uses a single printhead while the S60600 uses two heads and two sets of CMYK.
But the most interesting machine is the S80600, which has two printheads and takes nine colours – CMYK plus light cyan, light magenta, light black, red and orange – with an option to use a tenth colour and a choice between white and metallic.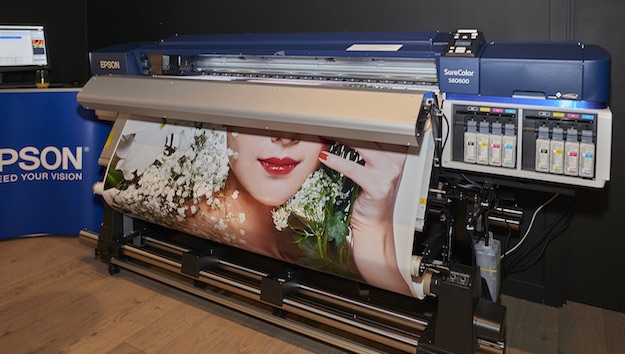 Epson has updated its SureColor solvent printers, including this S60600 with two printheads and two sets of CMYK inks.
These printers are fitted with the latest generation of Epson's PrecisionCore TFP printheads, which are capable of 1440 x 1440 dpi output. They use a new UltraChrome GS3 inkset, which promises reduced ink consumption, largely due to having higher pigment density.
Other improvements include a new media feeding system, which uses an auto-tension control system to control the motors on the feed and take up rolls.
Epson has also updated its aqueous ink wide format printers, the SureColor P-series. There's a choice of eight or ten colour inksets, each available in 61cm or 1.1m widths. Naturally, the most interesting is the ten colour UltraChrome HDX inkset, which offers a further choice between using violet or light light black.
Epson claims that the violet ink version can achieve 99 percent of the Pantone colour library so this is mainly targeted at proofing and fine art applications. The light light black, which Epson says is capable of producing 98 percent of the Pantone library, is mainly targeted at the professional photography market as it is better suited to black and white images, as well as reproducing shadow detail.
Epson has subsequently announced an even wider 1.6m addition to this family, the P20000. This uses the ten-colour inkset and has a built-in Colour Calibration utility for setting colour profiles. It also appears to have gained some of the same improvements to the media transport as the solvent printers.
Direct to object
Several wide format vendors have introduced dedicated direct to object printers. Mimaki, for example, has developed the UJF-7151plus, which has a maximum printable size of 710 x 510mm. It uses UV inks with LED curing.
It has six printheads that incorporate a continuous ink circulation system to cope with heavier particles in the ink and prevent clogged nozzles. It can be used to decorate a variety of products from smart phone cases to golf balls as well as pens and pencil cases.
Roland DG has a similarly sized machine, the The LEF-300, with a printing area of 770mm wide by 330mm long. It can accommodate items up to 100mm in height and 8kg in weight. It's up to 60 percent faster than Roland's older machines, thanks to four print heads combined with two UV LED lamps for bi-directional printing.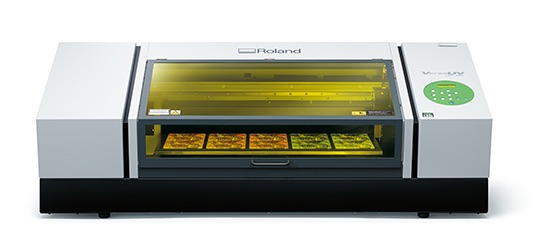 There are a growing number of direct-to-object printers such as Roland's LEF300.
Roland has also doubled the number of white and clear ink nozzles for faster printing, increased density and opacity and faster build-up of multiple layers for textured effects.
In conclusion, these machines demonstrate that wide format print technology is maturing into new areas such as textile and industrial printing. In recent weeks several vendors have already begun announcing the next generation printers to be demonstrated at the FESPA Digital show in Amsterdam, which will showcase where the technology will go next.
FESPA Digital 2016, from 8-11 at Rai Amsterdam, will this year play host to a large number of companies, each as keen as the other to show off their latest digital products and solutions to the thousands expected to attend this March.
Aside from a hefty list of wide format exhibitors, visitors will have the opportunity to find out more about this sector through various seminars that will take place at the show.
Interested in joining our community?
Enquire today about joining your local FESPA Association or FESPA Direct