Features
Antivirus protective films in the battle against COVID-19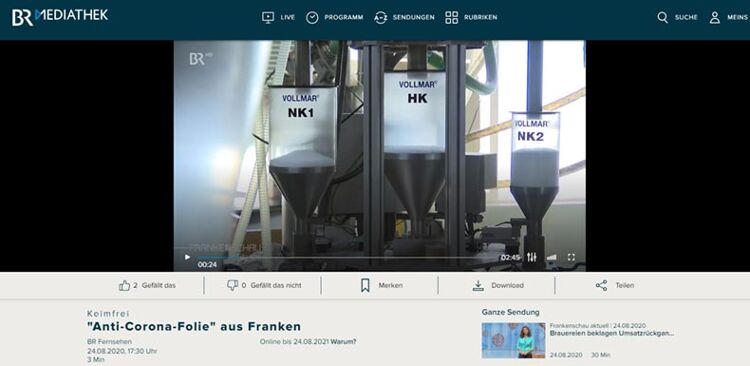 Germ-killing films can help fight against Sars-CoV-2, which can provide new business opportunities for digital printers.
Numerous companies are already offering protective laminated films against viruses, bacteria and germs, e.g. Oschatz Visual Media from Niedernhausen near Frankfurt, who works across museum exhibitions and therefore has a lot of experience regarding a wide variety of materials.
Currently, there is not a huge demand for protective films, but the longer the pandemic continues, these films could become a necessary lifeline for the industry.
Protective films against COVID-19 – why is this important at all?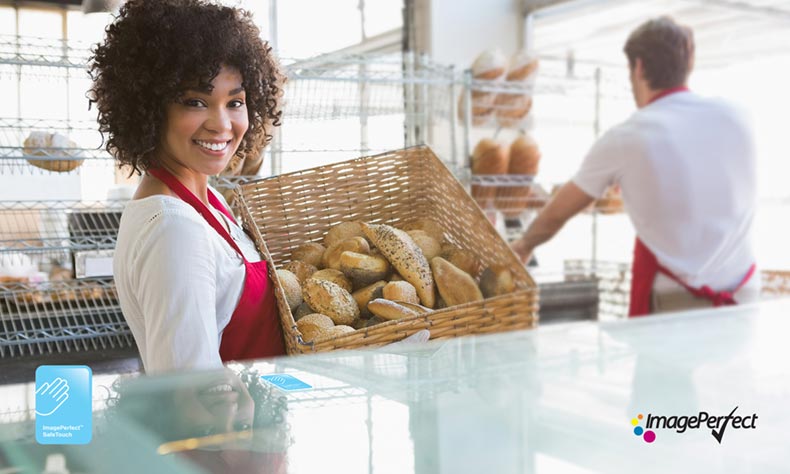 Caption: The germ-killing Image Perfect SafeTouch film has been offered by Sondeyx / Brunner films since the end of June 2020. Image credit: Spandex.

COVID-19 has tarnished many digital printers and advertising technology companies. Events and trade fairs were practically banned worldwide throughout the summer. Looking to the future, strict hygiene measures will most likely still need to be taken – to reduce contagion, especially in situations where many people come together.

However, the transmission of the Sars-CoV-2 virus is not only carried out by known aerosols, but also by the so-called lubrication infection. This means that viruses deposit on surfaces and from there find their way into the human organism via the mucous membranes. Surface disinfectants, often based on high-percentage alcohol, can help here. Surfaces such as wood or natural stone are permanently destroyed by disinfectants. So, what could be more obvious than to protect them with foils?
How do protective films work against germs?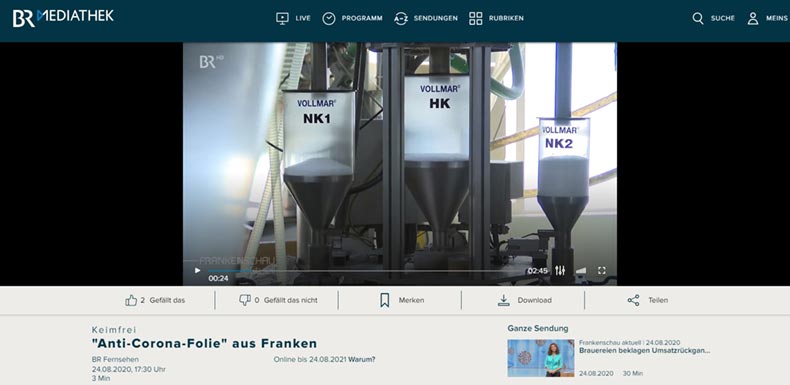 Caption: Jura-Plast from Reichenschwand (near Nuremberg) has recently been producing the Prevosan germ-protection film.

There are now some manufacturers in Germany that can kill germs on surfaces. In this context, "germs" is a collective term that includes bacteria, viruses, fungi, algae and other pathogens. For inhibitory surfaces, the germ-killing properties of metal ions are used. Very often formulations with silver salts and / or zinc pythrion are used. The exact recipes are understandably usually company secrets. This is because the germ-inhibiting active ingredients are introduced into the film itself. The advantage of a surface coating is that it is very durable. Even the additional application of surface disinfectants can have little effect on the embedded active ingredients.
Which films with germ-inhibiting surfaces are available for the graphic arts industry?
Spandex / Brunner Folien has been offering an 80"s shiny technical laminate with a "built-in" protection against microorganisms since the end of June 2020 under the brand name Image Perfect SafeTouch. It is available in matt and glossy, as roll material with a width of 1.37 metres and is designed to be used on flat surfaces.

SafeTouch is compatible with a range of calendered PVC films. The material can also be used as a protective laminate on printed products. Oschatz Visual Media also uses IP 2830-111 for its offering. With its semi-permanent acrylic adhesive, the film can remain for up to three years, and it should then be removed without residue.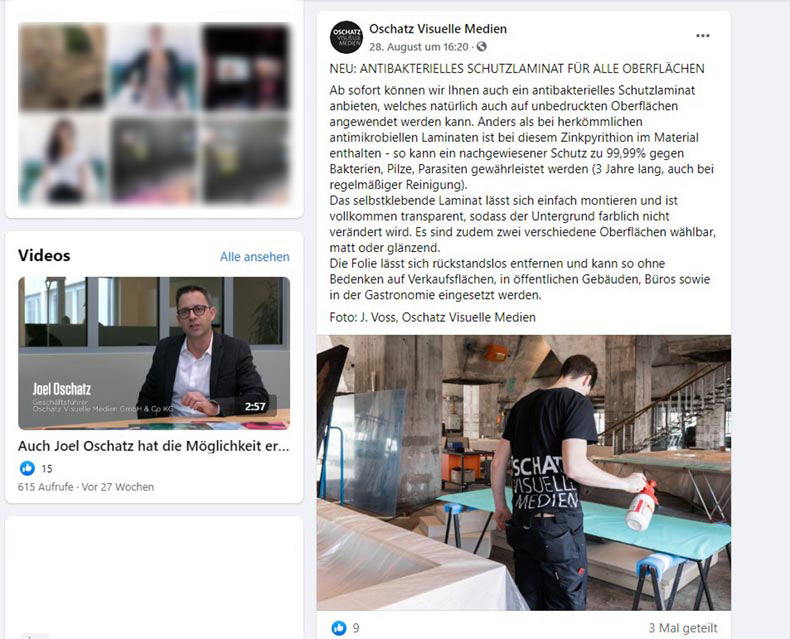 Caption: Oschatz Visual Media promotes the bonding of antibacterial protective laminate on Facebook.

The film should not be used in places where there is direct contact with food, such as worksurfaces in kitchens. It does not kill viruses such as Sars-CoV-2. However, the smooth surface simplifies disinfection and protects surfaces below it.

The Prevosan germ protection film from the Franconian film specialist Jura-Plast GmbH is not currently marketed in the digital printing industry. However, the company is considering using online direct sales to sell to their consumers. According to the manufacturer, the Prevosan film has rendered more than 90% of SARS- CoV-2 viruses and more than 95% multi-resistant hospital germs harmless to S. Aureus after 10 minutes. An independent audit institute has confirmed this.

Prevosan can be equipped with various adhesives, so that it can also be used on upholstery and carpets. The film is made of polyolefin and can therefore be disposed of with household waste. However, it should be renewed every 30 days to ensure effectiveness. (Here is a video of the Bavarian Radio on Jura-Plast and Prevosan).
How can the graphic arts industry benefit from germ-killing films?
Many advertising technicians and digital printers count film bonding among their core competencies. You are therefore a competent contact person for the application of films for the prevention against SARS-CoV-2 viruses. With enough marketing, this could lead to new opportunities and completely new customers, for example in the healthcare sector or in the hospitality industry.

Existing customers in the POS, Event or Trade Fair sectors can offer laminated films and thus higher-quality printed products. Investing in opening these new markets is probably also worthwhile in the longer term. After all, even after a possible imminent end of the COVID pandemic, increased public awareness of hygiene is likely to be maintained.

Interested in joining our community?
Enquire today about joining your local FESPA Association or FESPA Direct