Features
Analysing print's role in improving sustainability in retail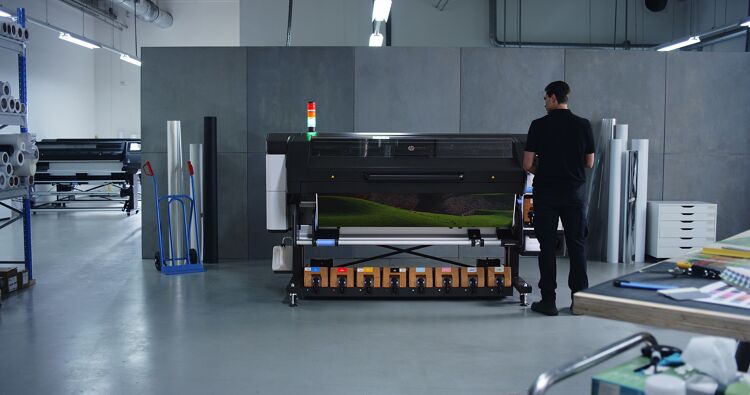 While retail is not known for being the most sustainable sector, Rob Fletcher takes a look at how print can help those in this area improve their own environmental credentials and those of the market as a whole.
'Sustainability' remains one of the key buzzwords for companies operating across all markets. However, some may find it easier than others to achieve their green goals, depending on the segment in which they operate.

Retail is not a sustainable sector by nature and businesses in the sector are made to hunt for ways to become more planet friendly. Looking at how they use print would be an excellent place to start; print plays a major role in the physical retail market and, when used properly, can bolster the environmental credentials of the market.

FESPA.com takes a closer look at the different ways print is helping retail become a more sustainable sector.
Step closer to customers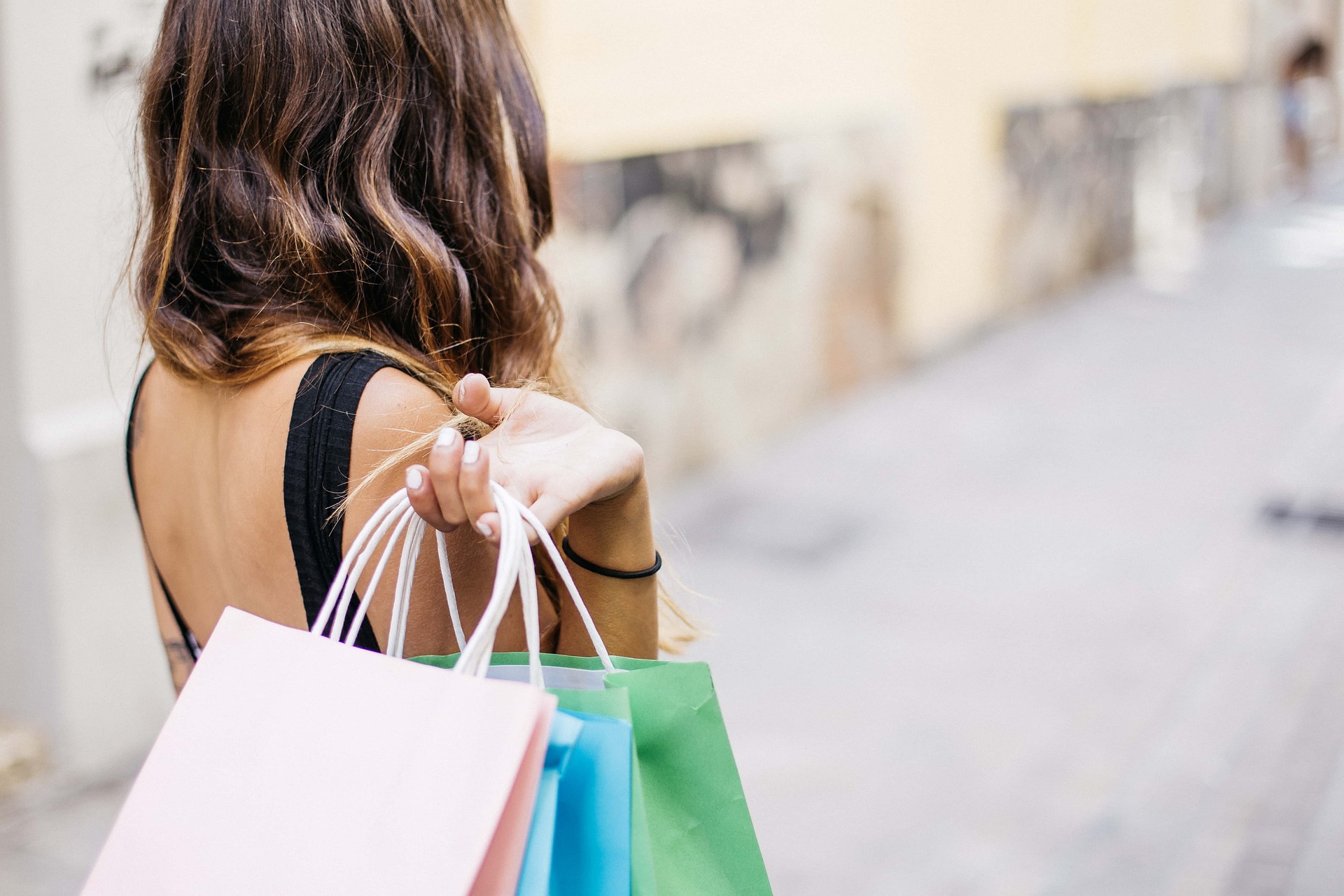 Caption: Consumers are becoming increasingly savvy about the impact of retail on the planet

The type of print technology used to create printed materials in retail can be a major factor into how sustainable these applications are. HP has long championed the use of greener print technology, with Olivia Kelleher, HP WW sustainability lead, highlighting the HP Latex, water-based kit in particular.

"The latest HP Latex ink mixtures are manufactured using carefully selected ingredients that ensure high print quality and user safety," Kelleher said: "They consist mainly of water - up to 65% - and prints using these inks are odourless and safe for use. Add in that the inks are also non-flammable, non-combustible and safe for handling, and they are ideal for retail work.

"They do not require any special measures for transportation and storage, while the fact that they are much safer than other ink types minimises the potential for customer health concerns associated with printing."

"In addition, HP Latex inks have full Greenguard Gold certification, a prominent, voluntary third-party certification issued by UL Environment and recognised around the world. This
indicates that products contribute to healthier indoor environments by minimising potential exposure to airborne chemicals."

But why do companies working with businesses in retail need to be greener? What main advantages does it offer to the printer, their client and the end customer? Kelleher said that as we are facing the worst climate crisis of our lifetime, there really is no choice and immediate action is needed.

"Consumers are increasingly demanding products with less environmental impact and turning to brands that prioritise sustainability," Kelleher said. "Every choice companies make today is under a microscope.

"Brands and consumers alike are looking to demonstrate their sustainability commitment to their customers or peers and reduce their impact anywhere possible, for brands they are forcing their suppliers to do likewise. "
Meet customer demands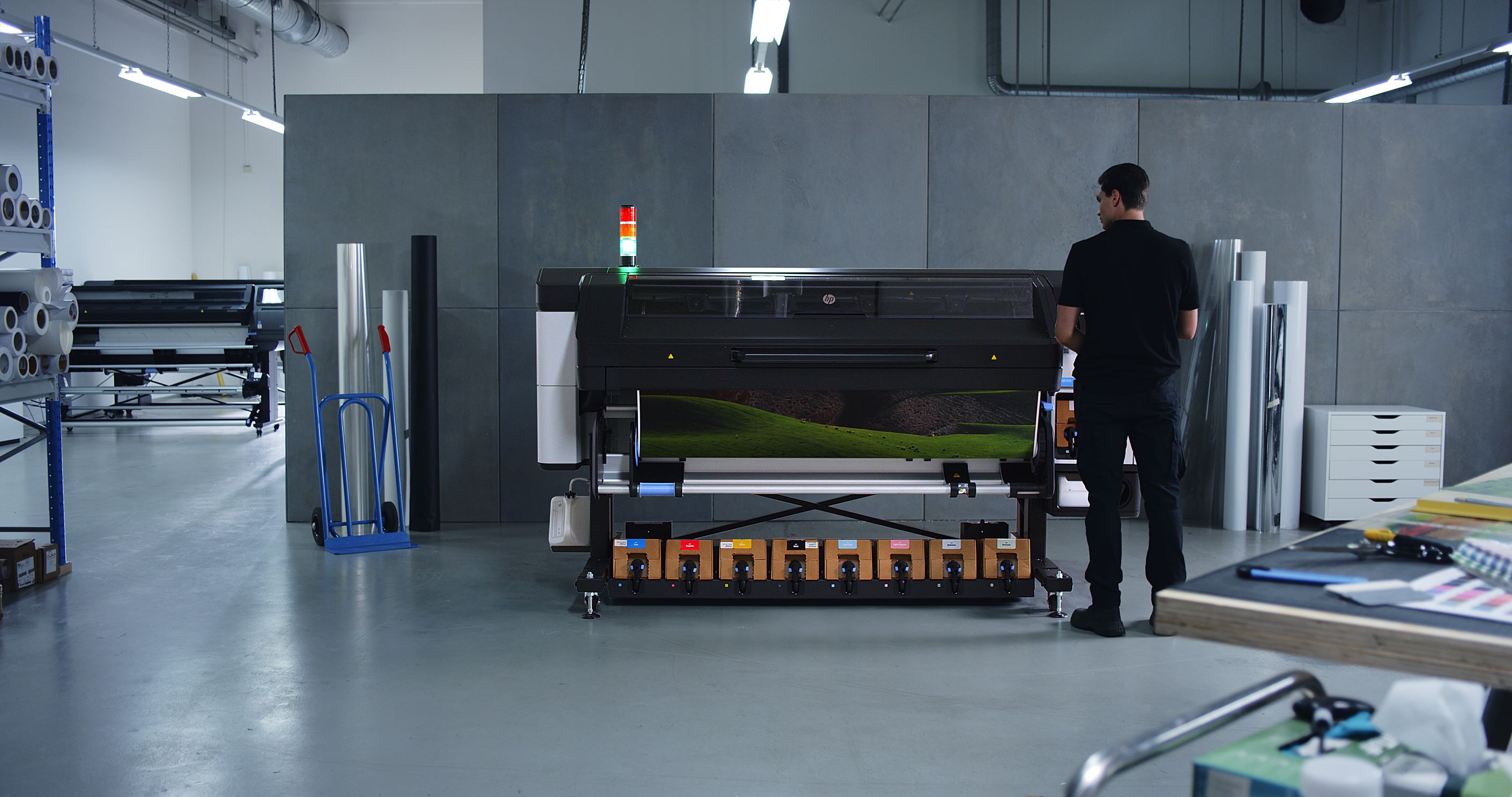 Caption: HP Latex printers run water-based inks, offering a greener solution than other ink types

Material choice in print jobs can also play a major role when it comes to environmental credentials, with Soyang Europe supplying a range of solutions. Sales manager Oliver Mashiter said as consumers are changing shopping habits, becoming more environmentally friendly and would prefer to buy from brands who are seen as being green.

"As retail is not a sustainable sector by nature it is important to that it moves quickly to meet customer demands and expectations," Mashiter said. "We are asked more questions about 'green' products from our customers every day, and we think it's important to build a range of products to compete with the traditional PVC products, and maybe in the future these products will fully replace the traditional products.

"Our customers will also be asked more about greener products so its important to offer a full range of products which will be seen as green, we offer out popular textile products which have yarns made from PET bottles and non-PVC banner alternatives with a broad spectrum of applications."

Included in Soyang Europe's portfolio is the RCY range of textile products made from PET Bottles, as well as the Solar range of non-PVC banner alternatives, covering indoor, outdoor, double sided blockout and mesh products.

Soyang Europe also offers the BIOTEX range from Endutex, a new product collection that comprises bio-based and bio-attributed materials, produced using 100% recycled PES yarn fabric, while the coatings are obtained from non-petrochemical and non-fossil resources.

John Draycott, marketing manager at ArtSystems, which also supplies printable materials to the market, agreed that product choice is critical when it comes to hitting green goals.

"As a distributor suppling networks of resellers who supply printers with both hardware and media, we see increasingly that printers are asking their suppliers to give them information on products that have clear sustainable credentials," Draycott said.

"The POS and retail sector is being challenged by consumers to both reduce and prove reductions in waste and the use of more sustainable materials. High profile retail brands must be seen to be leading this as it now forms a key decider in whether consumers engage and use that brand.

"Our role is to enable access to both sustainable products and to promote programmes that help print service providers (PSPs) via their supplies to make better choices in the design process and full end of life management of their print."

Draycott said that all the brands available through ArtSystems have introduced PVC-free products to offer alternatives to more environmentally harmful ones. He said both Neschen and SiHL already have many products that offer alternatives, and these have increased with growing emphasis on the retail sector.

"We expect to see more fibre-based products make their appearance on this space to facilitate both easier recycling and to enable clearer sustainable supply chains through such programmes as the FSC Chain of Custody," Draycott added.
Cutting out PVC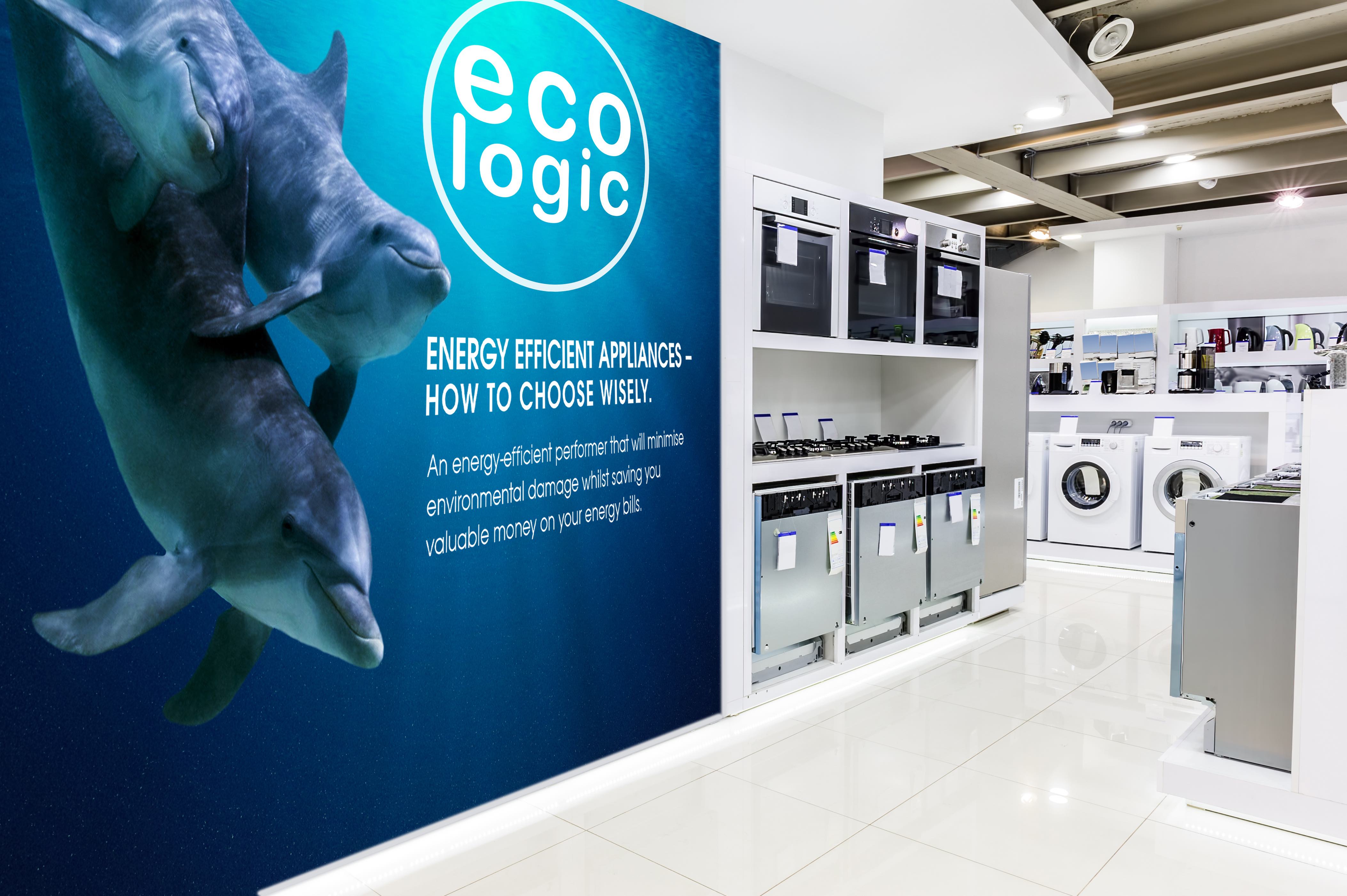 Caption: Drytac offers a number of environmentally friendly materials for use in retail settings

Another supplier of materials in the retail sector is Drytac. Amanda Brown Lowe, global marketing director, said with print being so heavily used in various forms across retail, it is key PSPs can deliver a sustainable service.

"Signs and graphics have a significant impact on sales with over 60% of businesses reporting a 10% increase in sales by adding or changing out graphics, according to the Sign Research Foundation," Brown Lowe said. "All the graphics are printed using various ink technologies and different medias with countless adhesive types.

"Therefore. testing and recycling need to be completed on all options. It cannot just be the material; it has to be the material, release liner, adhesive, ink and laminate."

The issue in retail, Brown Lowe, is that many graphics are produced using Polyvinyl Chloride, also known as PVC, which is the third most widely used synthetic polymer of plastic in the world. While this is manufactured to last for years, promotions come and go, and graphics are changed out frequently.​

"After a promotion is over, the graphic ends up in a landfill," Brown Lowe said. "It can take anywhere from 20 to 500 years for PVC to decompose, according to the WWF."

As such, Drytac has developed 'Drytac Zero', which Brown Lowe said is the new standard in sustainable products for the graphics, signage, and display industries.​ Drytac Zero is a comprehensive approach to providing environmentally designed products and limiting the lasting damage on our planet.

This, Brown Lowe said, fits in with Drytac's range of non-PVC and sustainable products that can be used to produce graphics, displays and other applications in retail environments.

"Offering a true 'greener' service to customers provides not only a product, but also a service of knowledge as the amount of research that must go into the lifecycle of that product," Brown Lowe said.

Clearly there are many advantages to offering a sustainable service to customers within the retail market. Adopting greener practices, such as switching to planet friendly print kit and materials, will allow you to address the rising demand for such services in retail.
Interested in joining our community?
Enquire today about joining your local FESPA Association or FESPA Direct