Features
Analysing opportunities in digital print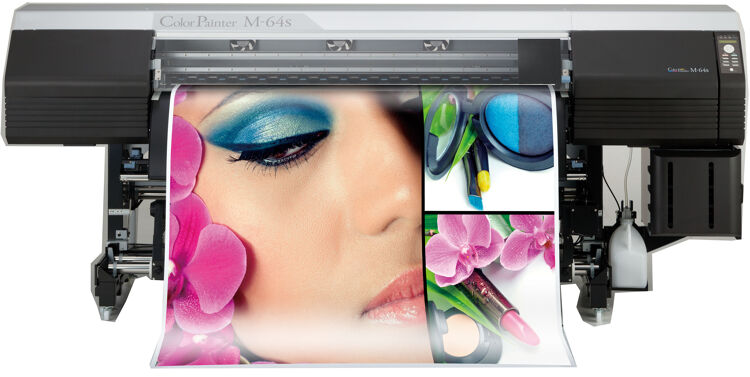 Much has been said and written about the ongoing evolution of digital print, but with so much change in this market sector, what opportunities are still available to print service providers?
In the grand scheme of things, digital print is still a new technology. Not so long ago, digital print was seen as something of a foreign language to print companies, which had been used to tried and tested techniques for quite some time.

However, there is no understating the impact that digital printing has had on the industry. Simply put, the market has completely changed since the introduction of this technology; and with ongoing development presenting us with yet more innovative machinery, the possibilities are seemingly endless.

The FESPA Global Print Expo 2018 represents a fantastic opportunity for those in the digital print market to find out about the latest advancements with this type of kit and see how it can help their company expand. Here, we pick out some of the major brands that will be in attendance at this month's show and learn more about what they have to offer to the market.
Growing your service offering
OKI is one of many leading digital print manufacturers that will be exhibiting at the event. Pamela Ghosal, general manager, marketing communications at OKI Europe, said there are more opportunities than ever before for print businesses in the graphic arts sector and this is a direct result of increased innovation in digital print technology.

"Historically, print businesses have been limited in their service offerings through a lack of affordable technology," Ghosal said. "This has changed significantly with smaller devices that are more affordable and easier to maintain. OKI's own innovations have enabled print businesses in this sector to grow their service offerings and increase new revenue streams.

"Innovations within large-format printing brings viable opportunities in both indoor and outdoor printing, expanding the service offering with the capability to print everything from wallpapers, pop-up displays, floor and exhibition graphics, banners, vehicle graphics and backlit displays.

"What's more, we have developed the highest pigmentation of inks on the market, meaning that even black ink remains deep and dark, even on the backlit displays where darker inks tend to appear saturated. Significant developments in colour have also added a lot of the value to printing in the graphic arts market."

Focusing on new kit, Ghosal picks out the Pro9000 Series Envelope Print System, part of the OKI Pro Series of products specifically for the print for profit market, which will be on display at FESPA 2018.

"We have developed the Pro9542E to deliver high quality CMYK plus high density white-under single pass printing," Ghosal said. "This delivers vibrant results that can be applied to a wide range of light, dark and transparent media. The Pro9000E Series includes an OKI developed and manufactured envelope feeder offering stable feeding, easy set up and robustness.

"Traditionally, envelope press systems were developed for print agencies but these systems have also become valued by large companies that can reduce their overheads by printing direct mail in house. What's unique about the Pro9542E is the dazzling colour on colour finishes that enable businesses to make their direct mailer materials truly stand out and the side range of media flexibility."

OKI will also use FESPA 2018 to show its range of ColorPainter large-format printers, including both the ColorPainter E-64s and the ColorPainter M-64s. In addition to this, OKI will have its full range of innovations designed to increase revenues for businesses of all sizes across the graphic arts vertical.
Digital print technology is the future
Elsewhere, Mimaki will also be in attendance at the event to speak with visitors about its latest advancement in hardware and software. Ronald van den Broek, general manager sales EMEA at Mimaki, believes digital print is stronger than ever and the market will only improve.

Van den Broek said: "We've noticed a shift from conventional to digital printing across the board; in sign graphics, industrial and textile markets. If we look at the trends now, more companies want to lower their inventory, print on-demand and create personalised/customised products, which digital print technology can easily accommodate.

"Digital print technology is the future. The markets are changing and the trends are just going to be even more visible. Besides, wide-format digital printers are also becoming more accessible, even to smaller companies or start-up businesses."

With this in mind, he draws attention to Mimaki and its commitment to digital print, focusing on a recent development involving the 'Internet of Things' (IoT).

Van den Broek said: "This aims to help users incorporate Mimaki printers to production lines for unattended on-demand production and mass customisation through communication with robots, conveyor belts, inspection devices and other peripheral equipment."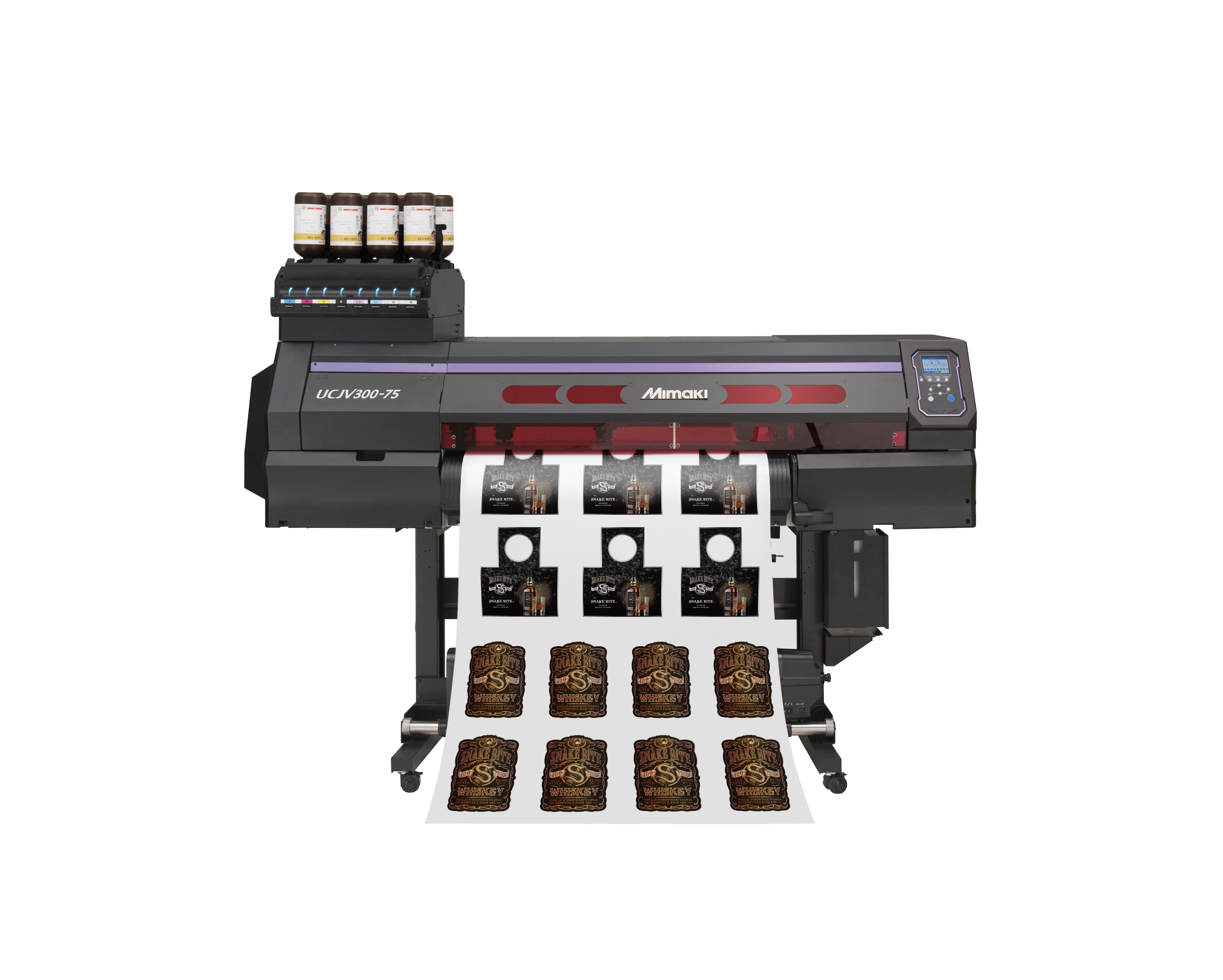 Caption: The UCJV300-75 will be one of a number of highlights on the Mimaki stand at the FESPA Global Print Expo 2018

Focusing more on hardware and what visitors can see at FESPA 2018, van den Broek also said: "We've recently added smaller models to the UCJV300 series, our latest range of UV-curable print and cut machines. Furthermore, we will demonstrate our 3D printer; the technology has been increasingly popular for the last few years, as well as our total solution for the textile market."
All set for excitement at FESPA
Meanwhile, EFI is gearing up for another busy FESPA event, where it will show its new VUTEk FabriVU 340i productive printer with in-line sublimation for the first time. Paul Cripps, regional vice-president of sales at EFI, said much more is in the pipeline at the company and while he cannot reveal all of this at present, he spoke passionately about the future of digital print.

Cripps said: "Digital print it is stronger than ever, but if you look at some of the growth areas of the market, like corrugated and textile, we are just in the beginning stages and have a lot more momentum in the market to come.

"Digital print reached where it is today because of a number of factors. One is the amount of continuous innovations happening with inkjet, where machines have not only become faster, but offer higher quality and can print on just about any media.

"This will be one of the most exciting FESPAs for EFI in the past few years considering the types of innovations we are introducing to market. While I can't reveal everything just yet, we will have some great innovations in superwide-format LED printing that addresses the core of the market in terms of giving customers more versatility and capabilities with print that can sell at a premium but is produced at an economical price per square metre."

Focusing on the VUTEk FabriVU 340i, Cripps said the machine costs less and also takes up less space than purchasing a printer and a heat press separately. Cripps also said it "really speaks to the growing volume our customers have in soft signage".

Also new from EFI at this month's event will be the latest Fiery system for wide- and superwide-format printing. For the first time, users will be able to manage both their cut-sheet digital and superwide-format print system from the updated Command WorkStation user interface.

Cripps added: "We at EFI are constantly looking to improve our offerings. While we like to stay ahead in terms of anticipating what customers will need next, it really can only happen when you have close, strong relationships with your customers to guide what you want to do in R&D. Our goal is to help customers develop and implement enhancements to the overall process so that they can increase their profitability."
Lots to look forward to at FESPA 2018
Looking elsewhere at the FESPA Global Print Expo 2018, visitors will have even more to look forward to in terms of new digital print kit. Kornit Digital will be showcasing its new Avalanche HD6 product. The company has already received orders for systems and upgrades that reach over $5m (€4.2m/£3.6m).

The Avalanche HD6 features Kornit's HD print engine and NeoPigment Rapid ink, which the manufacturer said reduces ink consumption and cost per print in comparison to previous Avalanche systems. The model cuts ink consumption by up to 30 percent in comparison to the current "R-Series" version, and as much as 45 percent compared to previous Non R-Series versions of the Avalanche Hexa.

Gilad Yron, executive vide-president for global business at Kornit Digital, said: "We have witnessed an evident and immediate interest from screen printers in our HD technology and we believe this interest will translate into a solid business pipeline at an impressive pace.

"Looking forward, we are positive that we will see a trend of selling new HD systems and upgrades for existing Avalanches. The Avalanche platform signifies our high productivity segment and globally we are looking at a three-digit number of systems that are suitable for upgrading."

Meanwhile, Swiss Performance Chemicals will display its new digital packaged solutions, with a focus on high productivity level at the lowest cost of ownership. Visitors will be able to see two digital production solutions on the firm's stand.

The first of these is a packaged solution for the transfer paper printing segment, based on its Panthera S4 digital printing machine. The device, which is equipped with four Kyocera inkjet printing heads and measures 1.8m wide, the Panthera S4 will be displayed with Swiss Performance Chemicals' premium sublimation Sublim C+ inks.

Swiss Performance Chemicals will also show a packaged solution for the outdoor segment, in particular the blue paper application, while technology experts at the firm will be on hand to talk visitors through how the machinery can improve their business.

Focusing on the finishing part of production, Zünd will show the newest version of its Zünd Cut Center ZCC software. A new Over Cutter Camera OCC provides fully automated registration that adjusts for stretch, distortion or position in seconds and, with a single shot, captures all register marks that are visible on the substrates in the cutting area.

Zünd also plans to showcase its G3 3XL-3200 digital flatbed cutting system in combination with the LM 100W Cut and Seal Laser Module. The system can handle rolls of fabric up to 3.2m wide.

In addition, Zünd will be exhibiting an integrated production line, featuring the Board Handling System BHS and a D3 cutter. This system showcases automated loading of rigid materials with the productivity of D3 dual-beam technology.

With this representing just a portion of what will be on display at the FESPA Global Print Expo 2018, visitors can be safe in the knowledge that their digital printing needs will be well catered for at the event this month.

To find out more about the exhibition and see the full list of exhibitors, visit the official FESPA Global Print Expo 2018 website: https://www.fespaglobalprintexpo.com

For free entry use code FESJ801 when registering.
Interested in joining our community?
Enquire today about joining your local FESPA Association or FESPA Direct