Features
Analysing growth opportunities in superwide-format print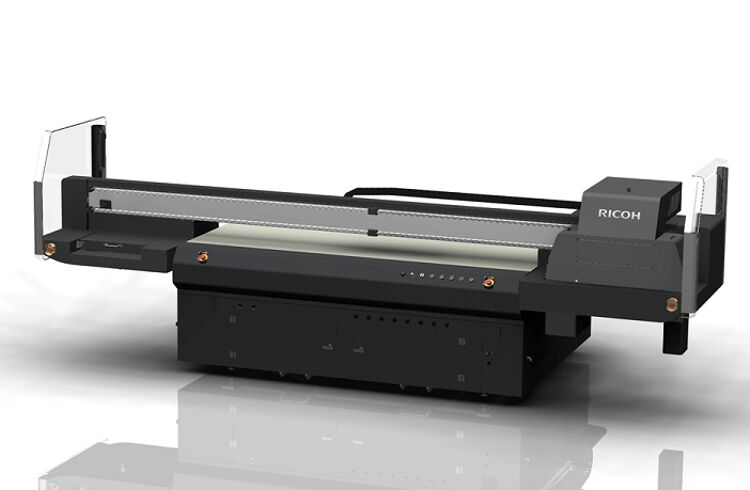 Rob Fletcher takes a closer look at the superwide-format print sector, speaking with some of the leading manufacturers in this market to learn more about the opportunities for print service providers to win new work and customers.
Wide-format has long been seen as a profitable expansion sector for print service providers (PSPs) that were previously focused on small-format print. But as this market becomes increasingly crowded, PSPs are having to think bigger when it comes to securing new work.

For those companies that have the capacity and investment budget, superwide-format print presents a whole world of new opportunities to PSPs. With such a wide range of work on offer, PSPs can significantly expand their service offering and bring in valuable new contracts from a host of industries.

With this in mind, FESPA.com sits down with some of the top manufacturers in the superwide-format print market and picks out some of the key pieces of kit that can help your business gain access to this sector.
A print market on the rise
One of the leading brands in superwide-format, as well as the wide-format sector in general, is EFI. Paul Cripps, vice president of Europe sales at EFI, said that if a PSP is running its smaller-format printers at capacity or multiple shifts, it makes sense for them to consider moving that work to a production-level superwide-format printer.

"To eliminate outsourcing and to stay competitive, printers should consider adding more applications to their offering; that means adding flatbed capabilities to print direct to rigid substrates," Cripps said.

"We are seeing a number of specialty applications driving innovation and opportunity in the superwide- and large-format marketplace today. Multilayer printing applications are creating textured (3D effects) layers, which extend opportunities in design and range of products.

"White printing has also gained traction as this expands the opportunity to grab more attention creating richer designs and optically entice viewing.

"The latest EFI technology increases ink yield lowering cost of operation, burst capacity to turnaround work more quickly than ever and to flexibility to efficiently expand the range of capabilities from a single platform is crucial to profitability and growth in today's competitive markets."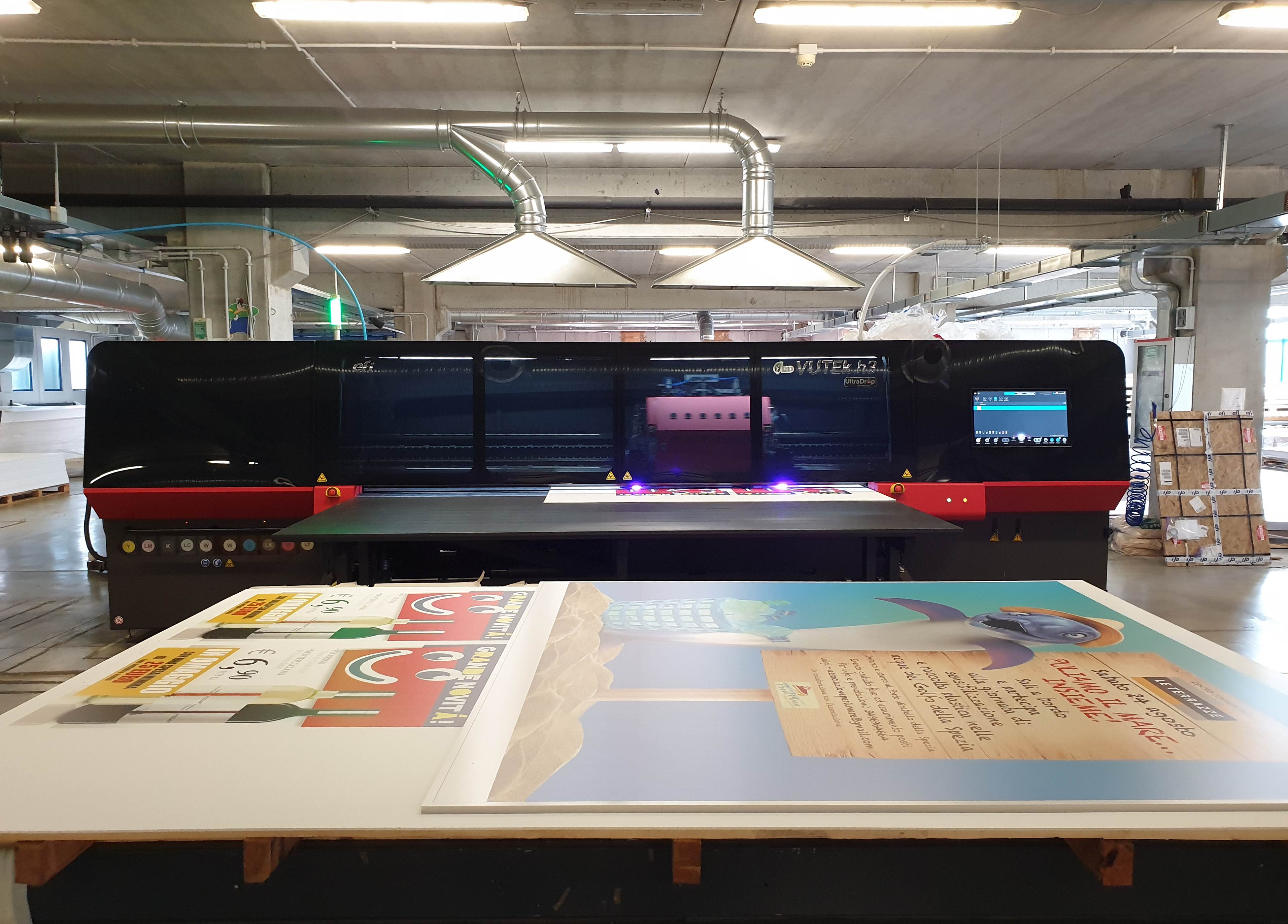 Caption: The new EFI VUTEk h series boasts high-velocity seven-picolitre UltraDrop Technology grayscale printheads, which deliver precision dot placement and consistency (Image courtesy of EFI customer Gescom spa in Italy).

Building on this, Cripps opens up about the EFI VUTEk superwide-format hybrid printers, which he said offer the versatility to print roll-fed and rigid materials.

"All of our superwide LED printers expand the range of materials you can print on, including thinner, less expensive and specialty materials," he said. "White ink, which comes standard on our hybrid printers, allows you to print on clear or coloured substrates, adding to the applications a printer can offer customers."

The latest addition to this technology portfolio is the EFI VUTEk h series, a high-end production platform that Cripp said has been built from the ground up to deliver higher productivity, print quality, reliability, capability and profits.

The series' new, high-velocity seven-picolitre UltraDrop Technology grayscale printheads deliver precision dot placement and consistency, while the series offers eight-colours plus white, a new X4 Technology optional printing mode, as well as up to nine-layer print capability.

"With the increase of specialty applications and demanding consumer needs asking for more creativity, the superwide- and large-format sector is definitely on the rise," Cripps added.
Low investment, high reward
Elsewhere, Canon is also well placed to offer advice and solutions to PSPs that are looking to add to their offering with superwide-format print. Duncan Smith, UK country director for production printing products at Canon, said the large-format graphics market offers massive opportunities (no pun intended) to print companies due to several reasons.

Smith said: "First of all, Canon does recognise a structural growth in this market. Not only in terms of print volume due to the transition of analogue (offset/litho and screen printing) but also in terms of applications. With a relatively low investment, a print company can easily expand its offering towards their current and new customers.

"Applications scope is unlimited varying from posters, signs and banners, to interior decoration, packaging and displays. With the current innovations in our roll-to-roll and flatbed technology supported by software and finishing, we can support the growth in markets such as packaging and display, interior décor and point-of-sale."

With this in mind, Smith goes on to highlight some of the latest solutions on offer from Canon, including a number of new products that the manufacturer showed at the FESPA Global Print Expo 2019.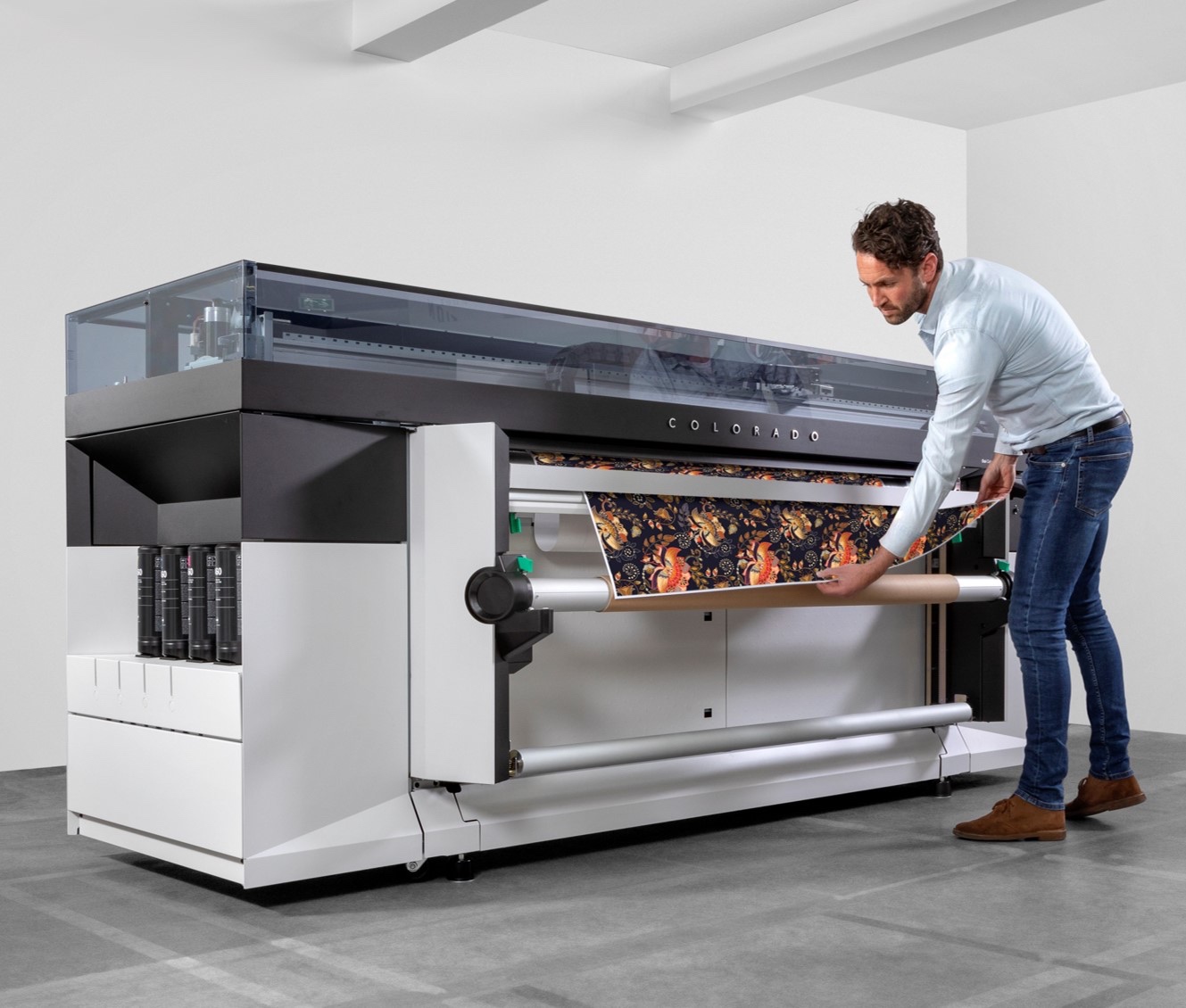 Caption: Canon's new Colorado 1650 includes flexible inks and Océ FLXfinish, offering a matte or gloss finish without changing ink or media.

The new Colorado 1650 is the latest addition to the UVgel family and includes flexible inks and Océ FLXfinish, offering a matte or gloss finish without changing ink or media.

Meanwhile, the Arizona 1300 GT is part of the Arizona 1300 series of printers, the first Océ flatbed products to feature LED curing options, offering customers the scope to print as needed from standby mode, without waiting for UV lamps to heat up.

In addition, Smith bills the new Arizona Xpert as an innovative software solution that simplifies and automates complex print jobs, including multi-layered and duplex applications, so that print files are ready in an instant.

Smith said: "The intuitive software stores the print-ready file, enabling similar future jobs to be prepared more quickly and easily by the customer time after time, for long-term production efficiencies.

"We have a programme of continuous innovation across the large-format graphics technology portfolio, with a sustained focus on delivering improved productivity, quality, media versatility and total cost of ownership for our customers, and enhancing total process automation."
Highly profitable move
Casting the net a little further and Ricoh is also able to assist, with Simon Isaacs, national sales director at Ricoh UK, offering some interesting research findings on the superwide market. Isaacs cites 2019 findings from Withwise, which show that more than 50% of print companies say large-format margins are higher than for other parts of the business.

Isaacs said: "Moving into superwide- or large-format areas of work brings in extra revenue streams, which can be highly profitable. Market research suggests that when print companies do invest in large-format, they see their turnover as well as profit margins grow year on year.

"Print companies can also benefit from a larger share of wallet from existing customers enhancing the relationship. Having small and large format on offer prevents printers from sending them to another supplier. As well as this, moving into superwide- and large-format work also means new avenues of commerce and opportunity with a broader customer base."

Focusing in on the superwide- and large-format markets, Isaacs and Ricoh have picked up on a number key growth areas, including sublimation. Isaacs said that sublimation, being a semi or fully-digital process, allows for customisation of fabric printing which is traditionally done by analogue processes, which in turn opens up possibilities for short run/limited edition print.

Ricoh has also noted growth in the use of fabric applications. Isaacs said textile printing for banners and flags, as well as textile printing for garments, are in the top three of applications that printers want to move into, and Ricoh is hearing this from its customers as well.

In addition, one-off customisations, including special effects like metallics and UV spot varnish, are becoming more popular.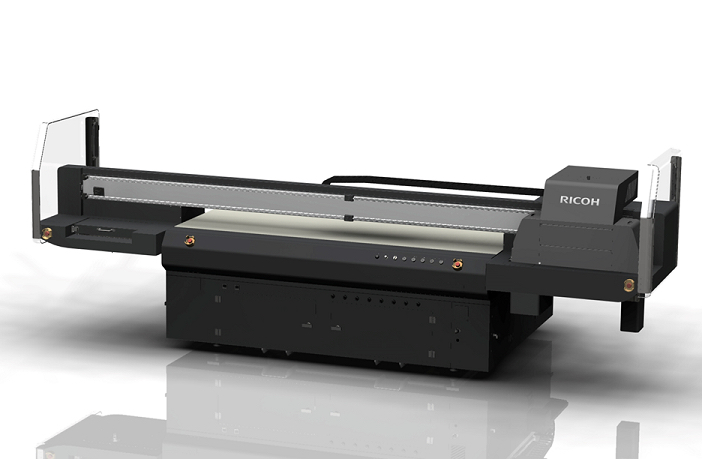 Caption: The Ricoh Pro TF6250 large-format UV flatbed printer has a top print speed of 116sq m/hr.

So what does Ricoh have on offer to PSPs keen to access these opportunities for growth? Isaacs has no hesitation in putting forward the Ricoh Pro L5130/L5160, the manufacturer's latest large-format Latex series.

New high-speed staggered printheads and almost instant drying Latex ink means higher output speeds and image quality, according to Ricoh, and together with jetting technology, this helps to enhance productivity and enables the ability to print on a vast range of media, which solvent printers are unable to touch.

"The ability to print white to standard CMYK results in more vivid and vibrant colours, and also expands the range of applications," Isaacs said. "Meanwhile, the auto cleaning system frees customers from regular maintenance and minimises downtime due to this keeping the long-lasting nozzle clean.

"The devices also operate at a low print temperature and have a low energy consumption. As well as this, an automatic ink refill system enables long, continuous print runs meaning less ink consumption, while eight reusable ink cartridges can be inserted. This means an eco-friendlier printer, with the latex ink awarded the Greenguard Gold Certification."

Ricoh also has the Pro TF6250 large-format UV flatbed printer, which offers a broad set of applications. This 2.5m x 1.3m system has been designed to help the sign and display, graphic arts and industrial sectors capture new industrial decoration, internal decoration, packaging, screen printing and personalisation market opportunities.

Built on the same industrial structure as the Ricoh Pro T7210, it can print at an image quality of 635 x 1,800 dpi with Ricoh's printheads, and boasts a top print speed of 116sq m/hr.

Isaacs added: "We are likely to see further growth in the superwide- and large-format sector. This will be a result of print output and suppliers/OEMs providing new solutions within their portfolios, such as adding sublimation and UV printers."

These closing comments offer an apt conclusion to this feature; we have seen tremendous levels of growth in superwide- and large-format print in recent years, and this shows no signs of slowing down. Backed with technology from some of the leading names in the industry, if you are planning a move into these areas, be prepared for a wide range of work from a host of new markets.
Interested in joining our community?
Enquire today about joining your local FESPA Association or FESPA Direct