Features
Adapting for Creative and Commercial Success– meet British Textile designer Diane Marsland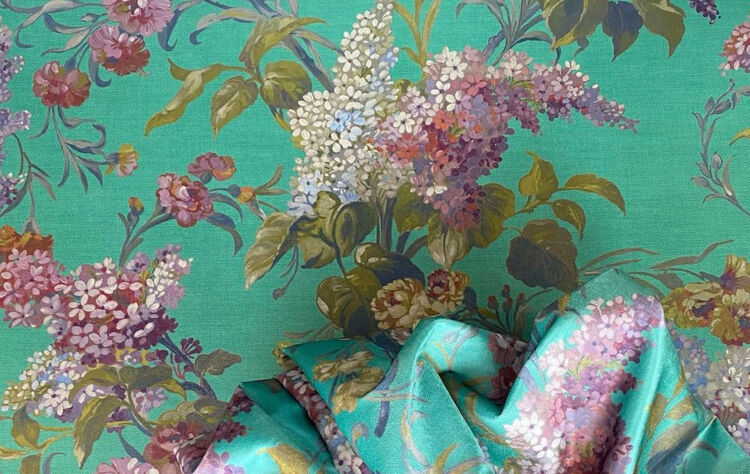 Diane Marsland is a British Textile designer with a vast experience of both the design and manufacturing of home furnishings. Over the years she has created many best-selling patterns for retailers and textile mills worldwide.
In our recent podcast conversation, we explored many topics from design origination - to new developments and applications using digital technologies. We also discover: how she plans to expand her brand English Decoratives. Listen to the podcast here.

This is a story that spans many decades, in an industry that has experienced many ups and downs during that time. Diane has continually adapted her creative skills and her commercial plans to evolve. Ensuring that she is equipped to succeed in the industry she loves…Textiles.

As we approach industry 5.0 - we are fast approaching a new benchmark for design and industrial textile manufacturing, it's therefore never been more important that we share our experience and knowledge:
Diane when did you get started in the design industry and how has your career evolved?
I started in the late 70s after I cut short my college training in Fashion Design. It wasn't that I wasn't enjoying the course, but I wanted to get out there - earning and when an opportunity arose for a design apprenticeship in one of the freelance studios in Manchester I decided to apply.

This decision turned out to be a very positive one. I was not only fortunate to understudy some highly skilled master craftsmen for surface pattern and colour separation, I was also lucky to work in some of the studios in Paris, Como and Krefeld. This was similar to internship of the students these days but quite unusual at the time.


Caption: Diane Marsland. Credit: English Decoratives.

During this time we created collections for UK and International clients. In the early days most of the designs were for bedlinen and quite often panel prints on a large scale or complete design packages where there were different designs for each product. For example, duvet, panel pillowcases, bordered sheets and bedskirts and curtains.

We worked very closely with manufacturing, so the designs were created around the technical restrictions of the machinery. For example: the number of colours and repeats for cutting and stitching purposes.

Over the years my role still incorporated actual design, but I became more involved with the product development side working in the textile mills. In the UK but also in various mills in Southern Africa. I was responsible for overseeing artwork right through to the finished product and became the link between design, manufacturing and retail. Working very closely with the buyers for the big retail groups like M&S, House of Fraser, Debenhams etc. I also had a very brief position of buyer/producer for the Accord brand of bedlinen, which at the time had over 200 concessions in the UK.


Credit: English Decoratives.

When a lot of the UK mills closed, I worked for various Pakistan mills over a 10 year period and lived over there for 2 years where I set up a studio and trained designers for the company.
Returning to the UK, in around 2002, I actually thought the glory days and my career were over. It was a very difficult time for me. The industry and the market were so different. Pattern and colour trends were quite understated, and texture and weave were the dominant themes for fabrics.

I created a huge portfolio with the intention to go freelance but for whatever reason it was not successful. And so, decided to work in Retail selling fabrics, bedlinens and furniture. I also worked on made to measure, while taking a short Interior Design course and made a conscious decision to stay with homewares and interiors while I was in a selling role. I believe that all experience is positive and can add to your portfolio and be useful at a later date. Following on from the course I enjoyed about 4 years working as Interior Designer (or decorator/stylist as I prefer to call it). I loved this job as it enabled me to work with fabrics, wallpapers, paints and help decorate people's homes. Plus interacting with the clients and trades people.
What excites you about designing for printed applications?
I have an ongoing passion for print which I know is an overused word these days, but it is true. In the early days I loved working out the pattern and colours and then standing by the print machine watching every colour being printed - and the excitement of seeing the finished pattern never disappears.
I am still on a learning curve with regards to digital printing. At first I was disappointed with the results of digital, but now I treat it as another challenge to work out how to design for this printing method. A designer still has to plan a design around the technicalities, digital just requires a different discipline.
When did you decide to set up "English Decoratives" and why?
When I was working as interior designer and using all the fabulous fabrics out there, I realised that I was really missing painting and actually designing patterns. Also pattern was back with a bang!

Feature walls were new and customers had become more brave in their colour and design choices. I yearned to get back to the drawing board.

Initially this became another challenge as digital design had overtaken hand painting and digital designing was a skill I had not acquired. Companies seemed to be only set up to work with designs in a digital format. Therefore, I felt that the only direction I could go towards was the top end of the market, creating hand painted artwork for murals, silk wallpapers, and art. English Decoratives became my overall brand.
Can you tell us about your brand and the products you create?
I named the brand English Decoratives to encompass all that I believed to be English style, which is a mix of lots of things. Love for nature, historical influences and collecting from our travels. Quite often eclectic and not wanting to be pigeonholed, which describes me as well and the decorative part I guess is my love for all of the decorative arts.
Initially starting off with my hand-painted bespoke collection which includes, silk panels for drapes and cushions, wallpapers, murals, and tiebacks.
I am now developing collections for printed fabrics and wallpaper. Aiming to reach a wider market than my bespoke collection does.
Which industries do you serve and how has that portfolio evolved?
My bespoke collection is on a commission basis, and it is either for Interior Designers or I am commissioned directly from a private buyer.

My collaborations to date have been with fabric suppliers but I am looking at a few other potential collaborations on different products. I have also created a few one off designs for clients based on my styles but it's not something I intend to build on as I need to do quite a bit of speculative work to showcase which at the moment, I don't have the time.

RE: Printed - I am hoping to build upon my printed collections with new designs every season. a lot depends on development costs and routes to market. I seem to have gone full circle, back creating for printed fabrics and wallpapers, which I am very happy to be doing.
You offer hand painted alongside printed products – How has digital technology enabled your business to grow?
Digital technology is not really applicable to my hand painted art, but it certainly is for my printed collections.

I still manually do my repeats but then get the design scanned and I use a freelance digital designer to just fill in the joins. As I have already repeated it, it's just a quick tweak for her to do and then provide me with the files. I then do all the colours myself using pantone references and she just drops them in for me.

This part of the design process is so much quicker now compared to the old days were we physically painted each colour. I can also do a few design alterations if needed where in the past it would have been a re draw. So, I would say digital cuts down time and of course there are no minimums on the printing of fabrics and papers which for small companies would be a major obstacle when building a collection.
What fabrics and papers do you print onto?
I have been printing on lots of different substrates. Poly velvets and Linens as well as natural cottons and Linens. The way forward for me is to only print on natural or sustainable fabrics so I am looking at keeping to Linen, cotton and perhaps a recycled poly. I actually prefer a more natural linen and a velvet and obviously silk, but I need to do a bit more homework on some of the higher end fabrics first. I love painting on silk but understand it's not always a practical fabric for interiors and some of the poly mixes are actually more hardwearing so it's a balancing act at the moment.

My wallpapers are still in the development stage but I have printed on to a mica, and a more matt paper. Both paste the wall. I would love to use the sisal and silk to print on but haven't done so far.
Do you ever use both media together – mixing digital and hand painted techniques?
Not at the moment, but it is definitely something which has been on my radar lately. I have been thinking of buying a Wacom tablet as I would love to try this out as a new tool. I have also been interested in painting over the top of digitally printed wallpapers to create different textures.
What has been your favourite project, so far, and why?
I have to admit that I am a true butterfly (I was once told that I was a typical designer butterfly, meaning I like to hop from one thing to another).

I love working on lots of different projects and they all become my favourites especially if the new project is different to the previous one.

Because of this I would say my favourite this year has been the Peony mural that I hand painted on to a slub silk. It is large painterly flowers with lots of inky textured foliage and I used 24 carat gold leaf.

This was a joy to work on as it was a free and easy technique compared to the highly detailed chinoiserie silks that has been my main styles this year. I also loved it because of the large scale which I prefer to work on compared to small scale.
How do you plan to expand your business in 2022?
I am really hoping that my printed collections take off and I can build upon this. I would also like to add some made up products like cushions as well. Work in progress regarding an online shop and retail opportunities.

I will continue to offer my hand painted art and Interior silks and I am also thinking about limited edition prints taken from this to add to the shop.

My designer workshops have put on hold at the moment while I work on my product developments, but they are still in the pipeline for the future.

I think it is important being involved with designers and sharing my skills, not only because I miss the design studio environment but it's a great way to interact with younger designers and bounce off ideas.

There are also collaborations with several different companies that I am looking at. So lots to think about for next year.

I think these days businesses have to be involved with several projects to keep going especially when the design market is as saturated with pattern as it is at the moment.
What advice would you give to a young, entrepreneurial designer?
To continue to be entrepreneurial. To continue to be interested in the industry and the market and look out for the changes that will come, either design wise or consumer/trend/marketing wise.

To not be disheartened when changes happens that you have not prepared for (for example your style or product is not selling). Sometimes you have to side- step the industry and change direction a bit. Keep up with the technical aspect of design and constantly update your skills to fit in with everchanging needs…which I'm sure is a song!

Interested in joining our community?
Enquire today about joining your local FESPA Association or FESPA Direct