Features
A myriad of technologies, the value chain of Digital Textile Printing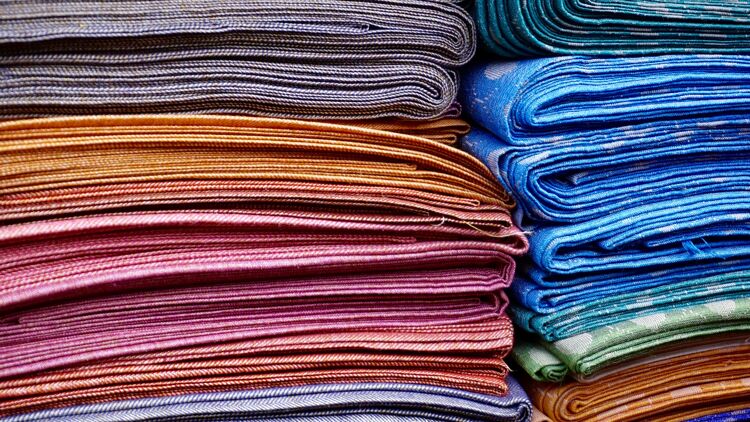 Various machine manufacturers in the large format inkjet market are now focusing on digital textile printing. They have developed, or adapted printers to print on one or more types of textile.
However, what does the textile printing value chain look like, in screen printing or with the help of digital printing? And when will high volume and low volume digital textile printing meet? First of all, let's look at what's happening in the high volume textile printing market for fashion items such as clothes, curtains, furniture and many other products.
Traditional value chain
The traditional textile printing value chain, mostly using - rotary - screen printing, relates to two types of printing companies:

Commission printers, who work on behalf of other companies delivering the basic designs, e.g. for exhibitions or other designers and, Collection printers, who print for their own brand and/or shops, mostly with assistance from their in-house design department.

Obviously there were, and are, printers doing both.

In fact, the arrival of fast digital textile printers has resulted in 'fast fashion' from commission printers (catalysed by the Zara brand in particular) entering the market. These printers started to buy and use, digital textile printers enabling them to produce clothes and other fashion items in much shorter time cycles and much smaller numbers than with screen printing.

These systems usually print using reactive or disperse inks, depending on the type of fabric.

Printing is then followed by steaming and washing. Steaming to make the print resistant to subsequently being washed, and washing to eliminate any colour particles that were not 100% fixated.

These processes are followed by the finishing stage, using special machines to adapt the printed material to a specific width or weight, depending on the type of clothing. A water resistant finish can be applied to sportswear, while an extra 'softener' is often applied to lingerie.
Complete rolls
The completed rolls are then ready for delivery to the clothing workshop. With commission printers this often involves an external company, with collection printers it is usually their own department. The rolls are then cut into patterns in confection departments. Nowadays this is mostly done by machines (from Gerber, Lectra, Zünd etc.) in high volumes, a process in which the nesting of the patterns is done by computer. Esko has recently equipped its cutting tables with a weighted roll feeder and catch, making it possible to cut large rolls of textile with a knife and laser cutting system builder Trotec – similar to many others in finishing - is now entering the textile market with laser cutting.

Some systems will make it possible to cut many layers of fabric on a table mechanically. These machines are fully programmable and will cut different designs in the desired numbers and sizes. A company such as Zara, with numerous shops all over the world, assesses weekly which sizes of a certain design have been sold and sends this data back to the manufacturer.

In the final stage the designs are delivered to a sewing workshop, which adds regulatory and design labels, packs the clothing and sends it to the brand's distribution centre.
Because this method assumes that the distribution centre is closer to the final phase - in this case the stores - the Zara distribution centre, for example, is located in Morocco rather than Sri Lanka.

This type of value chain applies to manufacturers of large digital textile printing systems such as SPGPrints, EFI Reggiani and MS Solutions, to name but a few (although there aren't in fact that many). For now, these companies maintain that they have few problems with other digital textile printing system builders, who focus on printing much smaller runs at slower speeds and are often not familiar with how the value chain of digital high volume textile prints in smaller runs (very quickly) builds up.
Part 2 - Smaller digital textile printers
One thing is clear: digital textile printing is a hot topic. Sales of digitally printed textiles are on the up, but this growth is not the same in every segment within the textile market and also differs per region. Textile fabrics for various advertising applications can also be printed with UV or latex inks, which means that the number of suppliers and, therefore, the competition is considerable. As a result the volume in this segment is growing faster than the turnover. In order to be successful, those getting started with textile from the graphic arts or sign market initially need to focus on finishing (see above). Textile assembly differs from all other forms of finishing in the graphics and sign market. The only form of textile printing this does not apply to is printing on already made-up textiles, such as t-shirts, polo shirts or bags, using a direct-to-garment (dtg) printer. Kornit Digital and many other brands manufacture these types of printers.
Inks and textiles
Textile may consist of natural fibres (cotton, linen, silk), semi-synthetic viscose (rayon), or plastic (polyester) and - in the advertising market – polyester reinforced PVC. Each application imposes its own requirements on the textile and the printing thereof.

Traditionally, the different types of ink used to print on textiles are geared to the type of fibre (for a detailed description of the textiles and the best inks for printing, please refer to my article in SignPro Europe number 1-2019, page 48-49). This is also the case with digital inks. There are roughly four (or five) groups of inks:

Sublimation inks, for textiles with at least 50% polyester fibres, particularly suitable for advertising applications.

Acid inks are used for printing on wool, silk and viscose.

Reactive dye inks are particularly suitable for printing on vegetable fabrics such as cellulose, cotton and linen. Disperse inks are being used for some special vegetable fabrics. Similar to sublimation inks, heat promotes the release of the colours in the dye and the bonding of the dye to the fabric.

Pigment inks are the big promise in digitally printed textile, not so much in the very fast segment of SPGPrints and others mentioned but in the small and middle segment. They can be used on a large number of fabrics but usually require pre-treatment to ensure proper adhesion of the pigment ink.
Pre- and post-processing
The traditional market for printed textiles also involves pre and post treatment of the textile. This determines the printability, as well as other properties such as dirt repellence, fire and water resistance. Traditional screen printers often have a so-called tension frame for this, to pre or post process the textile. A lot of textile is also washed after printing, or steamed, ironed and dried.

In the first digital textile applications, we saw little in the way of extra equipment from the traditional market. Printing on polyester flag cloth requires relatively few extra operations. Fixing the ink in the fibres using heat and pressure is the main finish here. Various suppliers now provide tailor made solutions for textile pre-treatment and post processing.

DTG printers
The growth in printing on textiles in this smaller segment is mainly generated by DTG printers. Here the growing influence of web shops is asserting itself. They are now good for large numbers, but the number of items with the same print is small. There is also a growing need among retailers for small series of customised clothing, used to attract visitors to the store.

Conclusions and recommendations for smaller digital textile printing systems

Formulate a clear plan before purchasing a printer. Work out the entire production chain you want to follow, including all the different links and steps involved. Remember to formulate a comprehensive business plan: What do you want to produce? For whom do you want to work? What does that market look like? Who are your competitors? What are the prices? What's the ROI?

All these questions require accurate answers before you purchase a digital textile printer. Also look at sustainability aspects if your potential textile buyers have to comply with regulations, something that will become more and more important going forward.
FESPA Global Print Expo
Print service providers wanting to find out more information on textile printing and how they can reap the benefits of the lucrative opportunities this market provides can visit FESPA Global Print Expo 2019 (14-17 May, Munich, Germany) where there will be over 160 exhibitors showcasing textile printing solutions.

Visitors can also attend Print Make Wear, FESPA's microfactory feature, which will address every step in the garment production process from planning and design to finishing and packaging. Visitors can also take part in expert-guided tours of the feature to learn more about each individual setp.

For more information on FESPA Global Print Expo 2019 and to register to attend, click here. For free entry use code FESM960 when registering before midnight on the 13th May.

Source Information: Ton Rombout is a freelance copywriter and specialist in textile printing; he is also Editor-in-Chief of SignPro Europe.

Interested in joining our community?
Enquire today about joining your local FESPA Association or FESPA Direct