Features
20 Awesome Print Advertisements of 2016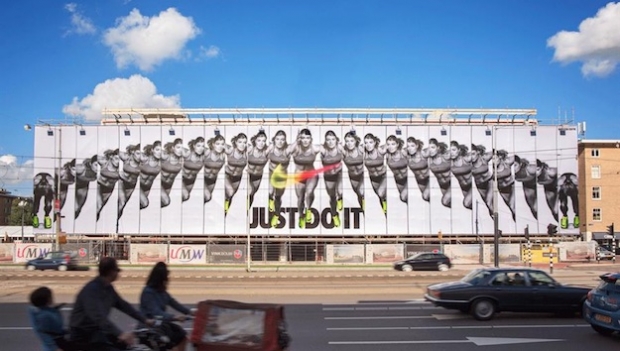 FESPA takes a look at some of the most creative outdoor print applications from the past 12 months and analyses why innovation is so important in this sector. 
If you think about it for a moment, outdoor print plays a major part in our every-day lives. Whether you are passing a giant billboard on your commute into work, jogging past a building covered in a printed wrap, or even traipsing over floor graphics when walking around town, outdoor print comes in all shapes and sizes.
However, with so much outdoor print around, it is important, especially in terms of advertising and branding, that your own work stands out. If that means adding special print effects or even incorporating another form of media, catching the consumers' eye is more important then ever before.
With this in mind, FESPA has picked out some of the best examples of outdoor printed work from the last year that not only show how creative we can be with print, but also how our media can be used alongside other to produce innovative applications.
Pokémon Go helps in missing people search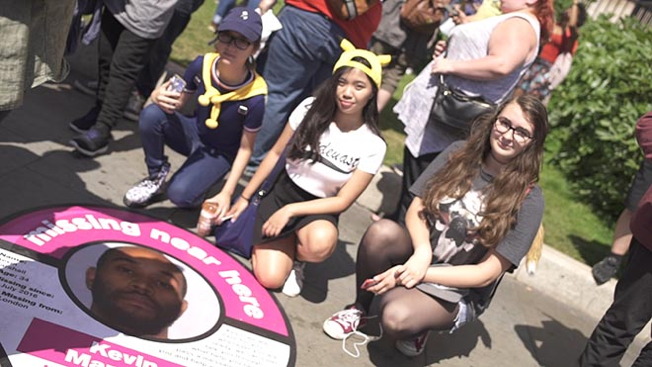 Designer: Missing People / BBH Barn / Publicis
Description: British charitable organisation Missing People capitalised on the Pokémon Go phenomenon last year by producing a series of printed posters and floor graphics to help aid in the search of missing people.
The faces of people reported missing were featured in 'Pokéballs', the imaginary tool players use to catch the virtual creatures, complete with information and contact details for the charity. The launch event attracted more than 4,000 people.
Picture: Courtesy of Adweek
Heineken hashtag draws attention in Milan
Designer: Publicis Milan
Description: Heineken featured a rather lengthy hashtag in this poster advert, which was placed on the streets of Milan, Italy, ahead of the Uefa Champions League football final in May 2016. The hashtag translates as 'Water Barley Hops And Horizontal Fermentation Are The Secrets Of Heineken Since 1873 Tweet It Right To Win The UCL Final'…phew. The campaign was aptly named 'The Final Hashtag'.
Picture: Courtesy of Heineken
Road safety message causes controversy in Canada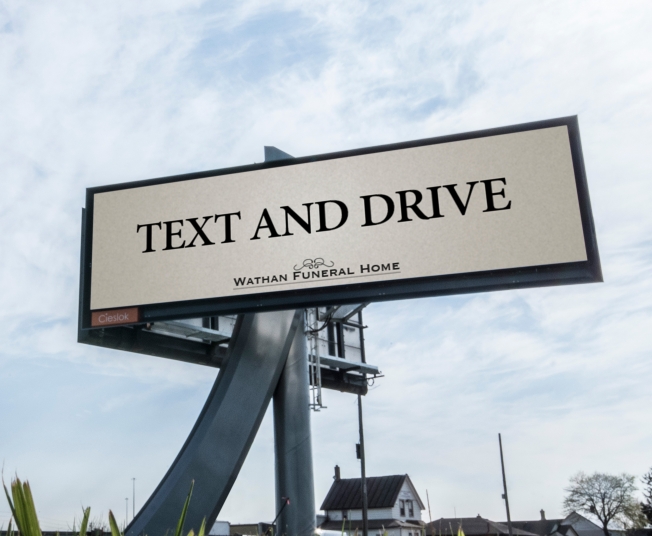 Designer: John St.
Description: The Montreal office of the John St. agency came up with this tongue-in-cheek billboard ad to encourage people not to text and drive. The advert is for a fake funeral home, with the message encouraging people to 'Test and Drive', thus potentially landing themselves in the home.
However, when angry motorists visited the funeral home's website to complain, they were met with a message explaining the campaign and outlining the dangers of texting while driving.
Picture: Courtesy of John St.
Remember kids, mother knows best!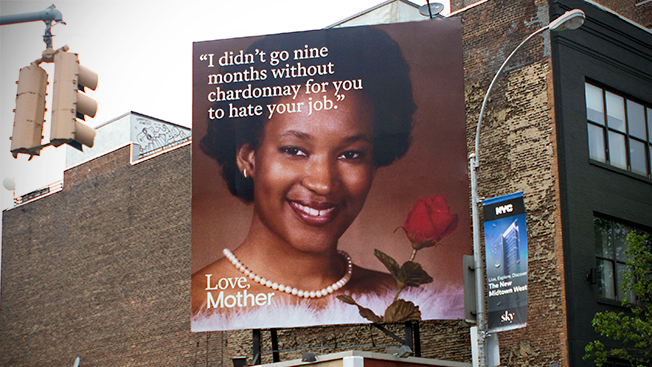 Designer: Mother New York
Description: New York agency Mother New York carried out this ad campaign to promote Mother's Day in a humorous way. Each of the printed adverts featured helpful advice such as 'Follow your dreams, just not the kind you had in puberty' and even 'Tell your therapist nice things about me'.
Picture: Courtesy of Mother New York
Marijuana paper – the way forward for printed adverts?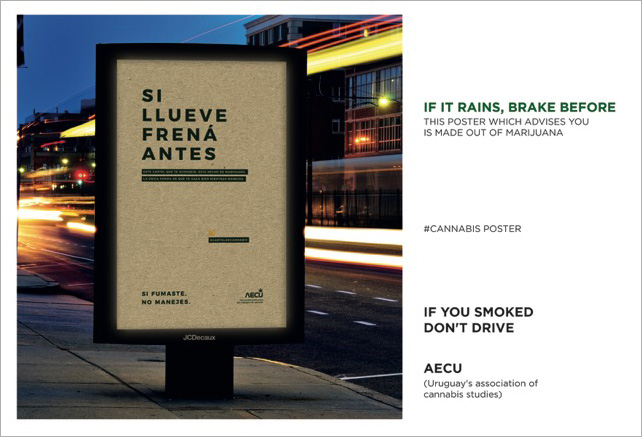 Designer: Electric Factory / JCDecaux
Description: How about this for a twist on traditional print! The Electric Factory, working with JCDecaux in Uruguay, created this print campaign to encourage people not to smoke marijuana and drive.
Although at first glance the posters may look normal, on closer inspection, the paper they are printed on is made from marijuana, which became fully legalised for production and sale in the country in 2013.
Picture: Courtesy of the Electric Factory / JCDecaux
McDonald's pokes fun at rival Burger King in France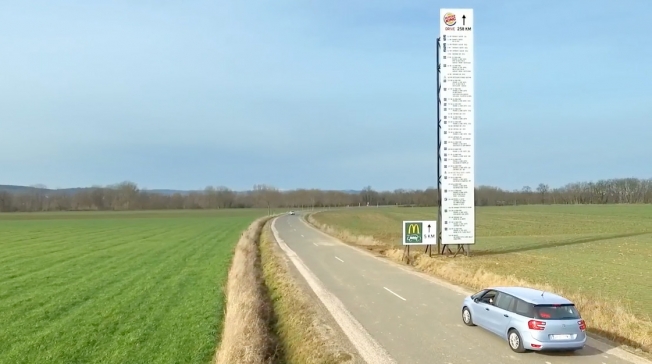 Designer: TBWA Paris
Description: McDonald's came up with this huge, but humorous, billboard to welcome rival fast food restaurant chain back to the French market. The application features rather lengthy directions to the nearest Burger King, alongside a smaller sign that simply shows only 5km to the next McDonald's.
Picture: Courtesy of TBWA Paris
Racing ahead for Rio 2016
Designer: Wieden & Kennedy (London)
Description: Dutch sprinter Dafne Schippers featured in the larger-than-life print campaign for Nike, which ran around Amsterdam ahead of the Rio 2016 summer Olympic Games. Schippers, who wore Nike's 'Unlimited' trainers in the campaign, won a silver medal in the 200m in Brazil.
Picture: Courtesy of Wieden & Kennedy
LAPD spreads serious message with outdoor campaign

Designer: LAPD / Mayor Eric Garcetti
Description: The Los Angeles Pilice Department joined forces with Mayor Eric Garcetti's office to create this campaign that raises awareness of domestic abuse.
A series of billboards and posters were placed throughout the Californian city, including this example that states one on three women are victims of domestic abuse, urging sufferers to visit the featured website and take action. For more information, visit NODVLA.org.
Picture: Courtesy of LAPD
Chevrolet lights up the city skies in Detroit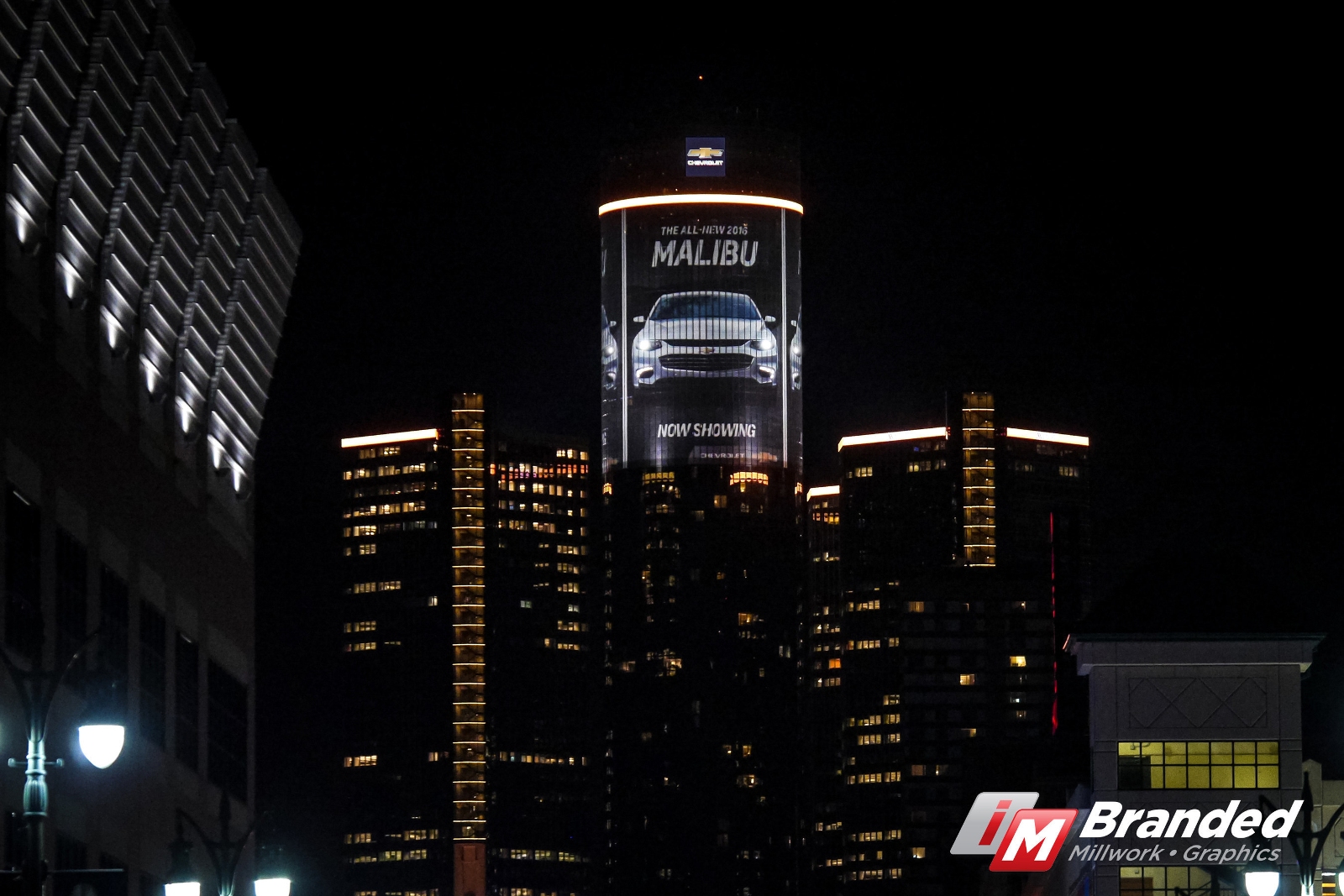 Designer: i.M. Branded
Description: i.M. Branded came up with this creative building wrap to promote the new 2016 Chevrolet Malibu. Installed on Detroit's Renaissance Center, the application features 115,000sq ft of material and includes 66 high-definition LED lights. These lights shine through the wrap at night, with an emphasis on the car's headlights, thus making it visible at all times of the day.
Picture: Courtesy of i.M. Branded
Presidential makeover for Danish bus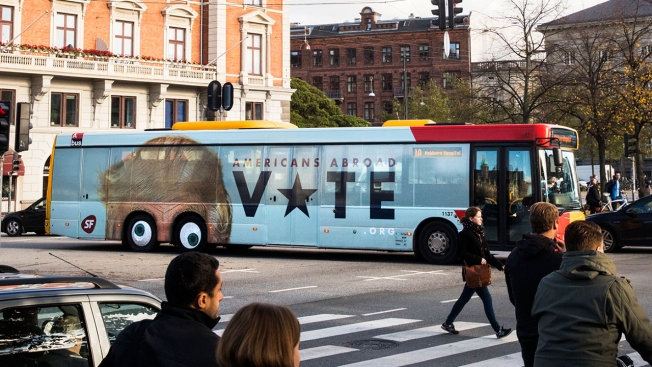 Designer: UncleGrey Copenhagen
Description: Danish agency UncleGrey came up with this vehicle décor project in an effort to discourage American expats living in the country from voting for Donald Trump.
However, despite the best efforts of the goggle-eyed bus, Trump successfully made it to the White House as the 45th President of the United States.
Picture: Courtesy of UncleGrey Copenhagen
A wink and a nod for Snapchat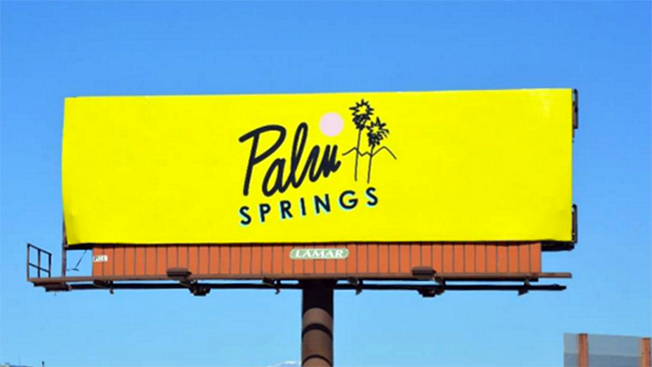 Designer: Snapchat / various artists
Description: Social media application Snapchat ran 50 static billboards across the US to give users a sneaky wink and nod. The main image on each billboard represents a geofilter for that specific area, allowing Snapchat users to overlay graphics on their photos are share their location with followers.
Picture: Courtesy of AdWeek
If Carlsberg did chocolate bars…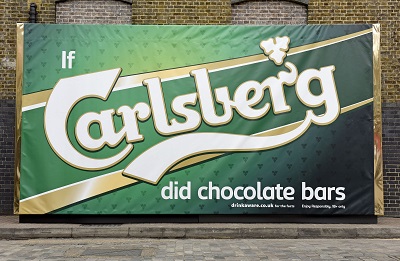 Designer: Carlsberg
Description: A regular contributor to FESPA's Top 20 articles, Carlsberg appears once again this year with this sweet contribution. The giant chocolate bar, complete with a printed label, looked impressive enough; however, once unwrapped, it revealed a popup bar made of chocolate. A fantastic example of how print can play a role in some of the most innovative advertising campaigns around today.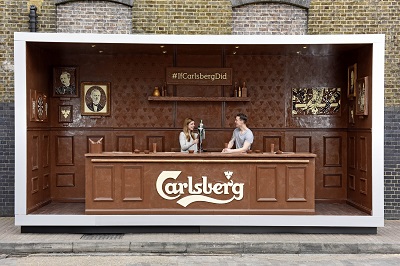 Picture: Courtesy of Carlsberg
Confused? Puzzled? That's the idea…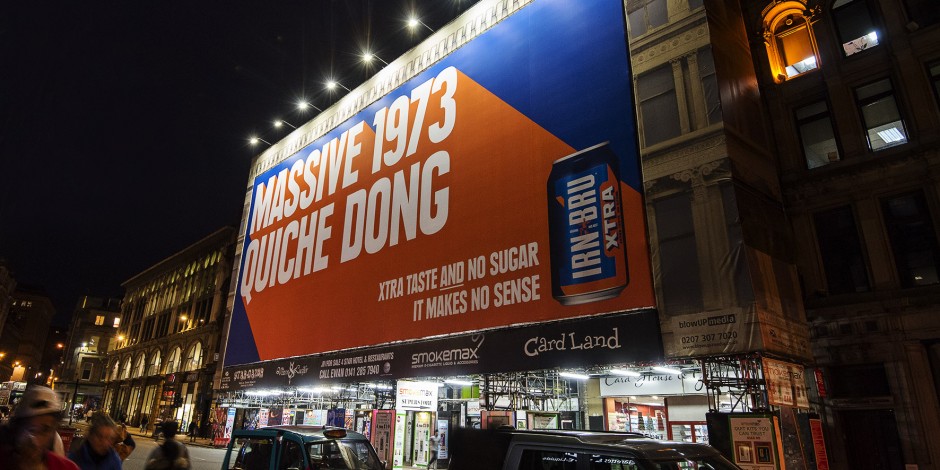 Designer: Irn Bru / Stripe Communications / Dare
Description: Irn Bru left consumers in Scotland confused with this large billboard application, which features text that does not make any sense. The idea behind the campaign was to promote the drinks company's Irn Bru Extra, a new product that features no sugar has the same taste as standard Irn Bru. Much like the ad, it makes no sense…
Picture: Courtesy of Irn Bru
Greggs gives London a caffeine boost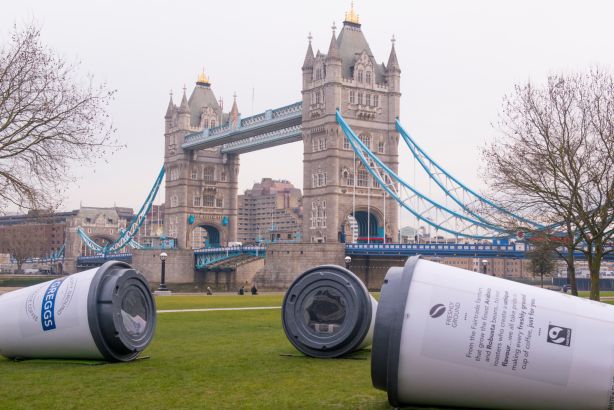 Designer: Greggs / Havas PR Manchester
Description: To promote its new coffee range, Greggs created a special outdoor laboratory in Potters Bar, London. Consumers were invited to test out the coffee and take a 20-minute "power-nap" in giant coffee cup pods, which were designed to look like giant Greggs coffees – complete with printed branding and labels.
Picture: Courtesy of Greggs
Erasing cancer with Future Dreams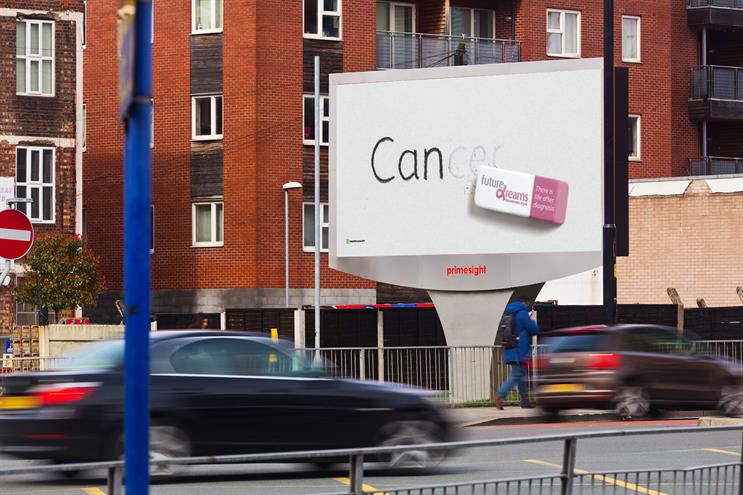 Designer: Dan Kelly – Adam & Eve
Description: Breast cancer charity Future Dreams joined forces with Primesight to run an outdoor campaign that showcased its commitment to fighting cancer. The print adverts show how through the efforts of its team and fund raisers, the charity is "erasing" breast cancer – with the message shows on Primesight's 'The Ultimate Canvas' displays.
Picture: Courtesy of Future Dreams
Cats invade the London Underground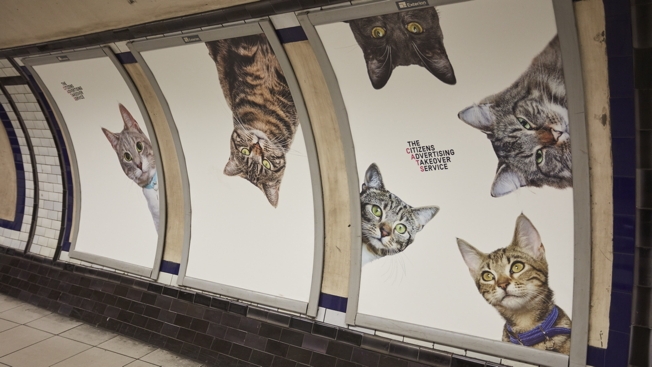 Designer: Glimpse Collective
Description: Although not strictly outdoor, this series of posters was exposed to various conditions at Clapham Common Underground Station in London.
All of the adverts at the station were changed to pictures of cats as part of a Glimpse Collective Kickstarter quest, with the posters appearing in various formats. The featured cats were, at the time, residents of Battersea Dogs & Cats Home and Cats Protection.
Picture: Courtesy of Glimpse Collective
Simple, effective and punctual from Twitter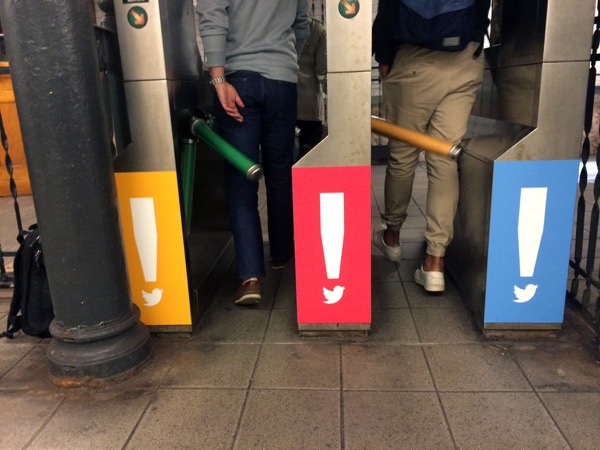 Designer: Twitter
Description: Twitter went back to basics with this outdoor campaign that ran in New York City last year. The social media, which used a combination of print and other medias, featured simple punctuation marks in throughout the project, with the Twitter logo incorporated into each symbol. Images appeared at a number of locations, such as on turnstiles and subway station walls.
Picture: Courtesy of Creativity-online.com
Swapping faces with celebrities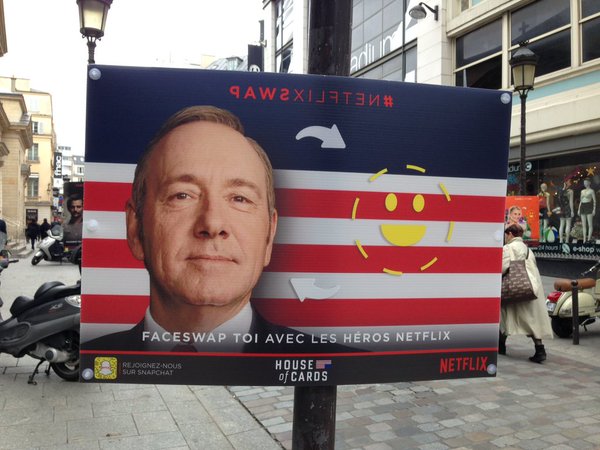 Designer: Snapchat / Netflix
Description: Snapchat features for a second on our list for this creative advert, run in partnership with video-streaming service Netflix.
Users could stand in front of the advert, featuring Kevin Spacey in his role as Frank Underwood in 'House of Cards', and use a function on the app to "swap faces" with the actor, with the option to send to other users and upload to social media. A brilliant example of print's role in a crossmedia world.
Picture: Courtesy of Nicolas Garnier
Rams return to LA with billboard series

Designer: Los Angeles Rams / Art Machine
Description: Last year, NFL American football franchise the Rams relocated back to Los Angeles from St. Louis, in one of the biggest moves in recent NFL history.
The team marked its return with a number of billboards and posters that saw giant versions of Rams players placed in various locations across the Californian city. Here, running back Todd Gurley is pictured "jumping" over one of the many piers on the LA coastline.
Picture: Courtesy of Los Angeles Rams
Fiat Chrysler celebrates world-first with printed wrap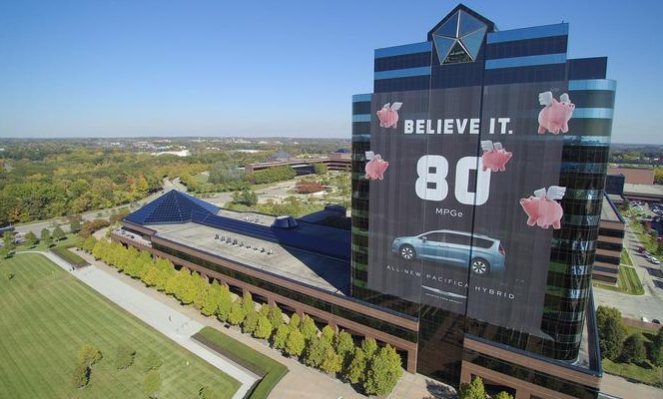 Designer: Fiat Chrysler
Description: Last year, Fiat Chrysler opted to mark the launch of its new Chrysler Pacifica Hybrid by wrapping its US headquarters in Auburn Hills, Michigan. The new product is the world's first hybrid minivan, and the building wrap celebrates the invention by featuring flying pigs alongside the words 'Believe It', playing on the misconception that such an achievement was not possible.
Picture: Courtesy of The Newswheel
---
Dare to create different at European Sign Expo 2017
With so much creativity around in the outdoor advertising sector, FESPA will look to support and champion this at the European Sign Expo 2017, which is due to take place alongside the main FESPA 2017 event in Hamburg, Germany, from May 8-12.
The fifth edition of the popular event will feature exhibitors from the wider sign-making market. In addition to print, visitors will gain an insight into the latest goings-on in dimensional signage, architectural signage, channel lettering, illuminated displays including LED and neon, digital signage, and more.
To find out more about the European Sign Expo and for information on how to register, visit: http://www.ese.fespa.com.Visitors can get free entry to the exhibition by registering to attend via the website, and quoting reference code: ESEH701
Interested in joining our community?
Enquire today about joining your local FESPA Association or FESPA Direct