Coffee Breaks
FESPA Coffee Break: Why Printing Standards matter? Get the benefit of world class expertise without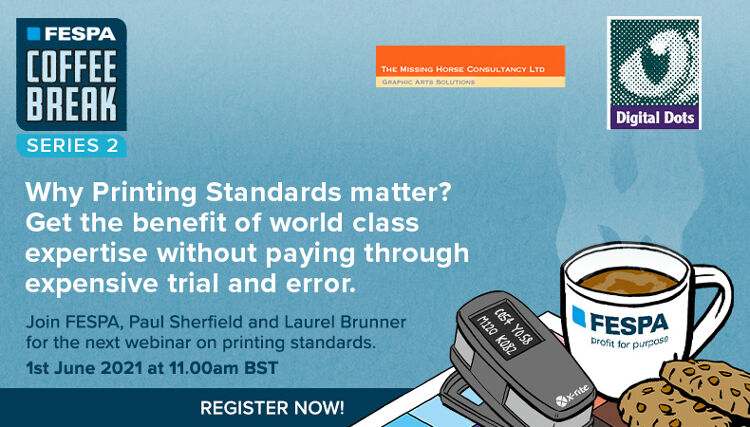 In this FESPA Coffee Break, we'll focus our discussion on Printing Standards, what is available and why they're valuable.
Knowing your ISO 12647 parts 1 -9 from the ISO 3664 standard may require a bit of effort but working to meet the requirements laid out will allow you to print your best quality work using methods that have been through a rigorous process of development and approval by international experts. Find out which one's matter and hear from the people who make them happen…

We have the benefit of two printing industry experts, Laurel Brunner who is the managing director of Digital Dots, which provides international consulting and educational services in prepress and publishing. Laurel works with several ISO working groups and is the convenor of ISO's Working Group 11. This group develops standards relating to the environmental impact of graphics technology, including print media.

We'll also be joined by Paul Sherfield, from The Missing Horse consultancy who is well known in the printing and pre-media industries as having considerable knowledge of digital workflows, and special expertise on the business reasoning behind such systems. Paul installed some of the most successful digital pre-press and pre-media systems in the UK was a partner in what became one of the leading pre-press/printing companies in London.
.
He is FESPA's Colour Ambassador and is involved in the BPIF Technical Standards Committee, ISO TC 130 printing standards committees and is chair of the BPIF steering group for ISO 12647/2 UK.
Interested in joining our community?
Enquire today about joining your local FESPA Association or FESPA Direct