Blog
The Southern European Print Congress 2018 proves to be another successful event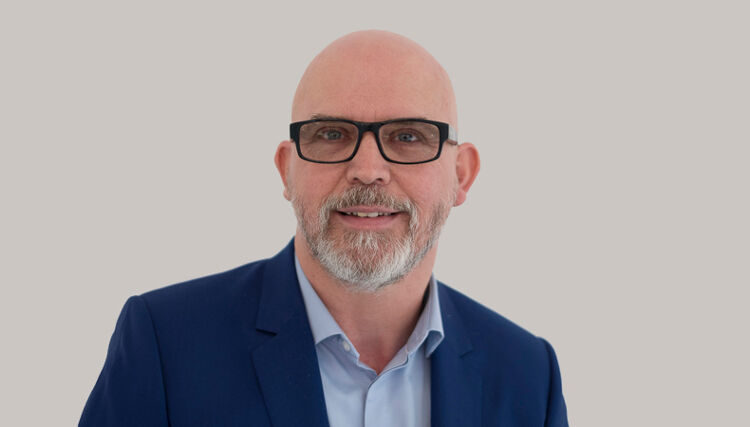 Graeme Richardson-Locke discusses his experience at the Southern European Print Congress 2018 in Lisbon, Portugal from 18th -19th June 2018.
After returning from the Southern European Print Congress in Lisbon I am happy to report that it was a very engaging and worthwhile event to attend. Although I had some minor concerns about the translation of technical presentations and the detail that may have been lost, I had no need to worry. The translators managed to glide through some tricky terminology which allowed the French, Italian, Spanish and English audience to keep in the loop throughout the event.

The Portuguese print association, Apigraf were hosts of the event and FESPA France, FESPA Italy and FESPA Spain were all co-organisers. All successfully brought together a diverse range of speakers and curated a very enjoyable 'speed meeting' format which allowed the delegates to network with each other.

The congress was opened by the presidents of the organising associations who thanked the sponsors, FESPA and the delegates for committing their time. FESPA's President, Christian Duyckaerts then proceeded with a warm welcome.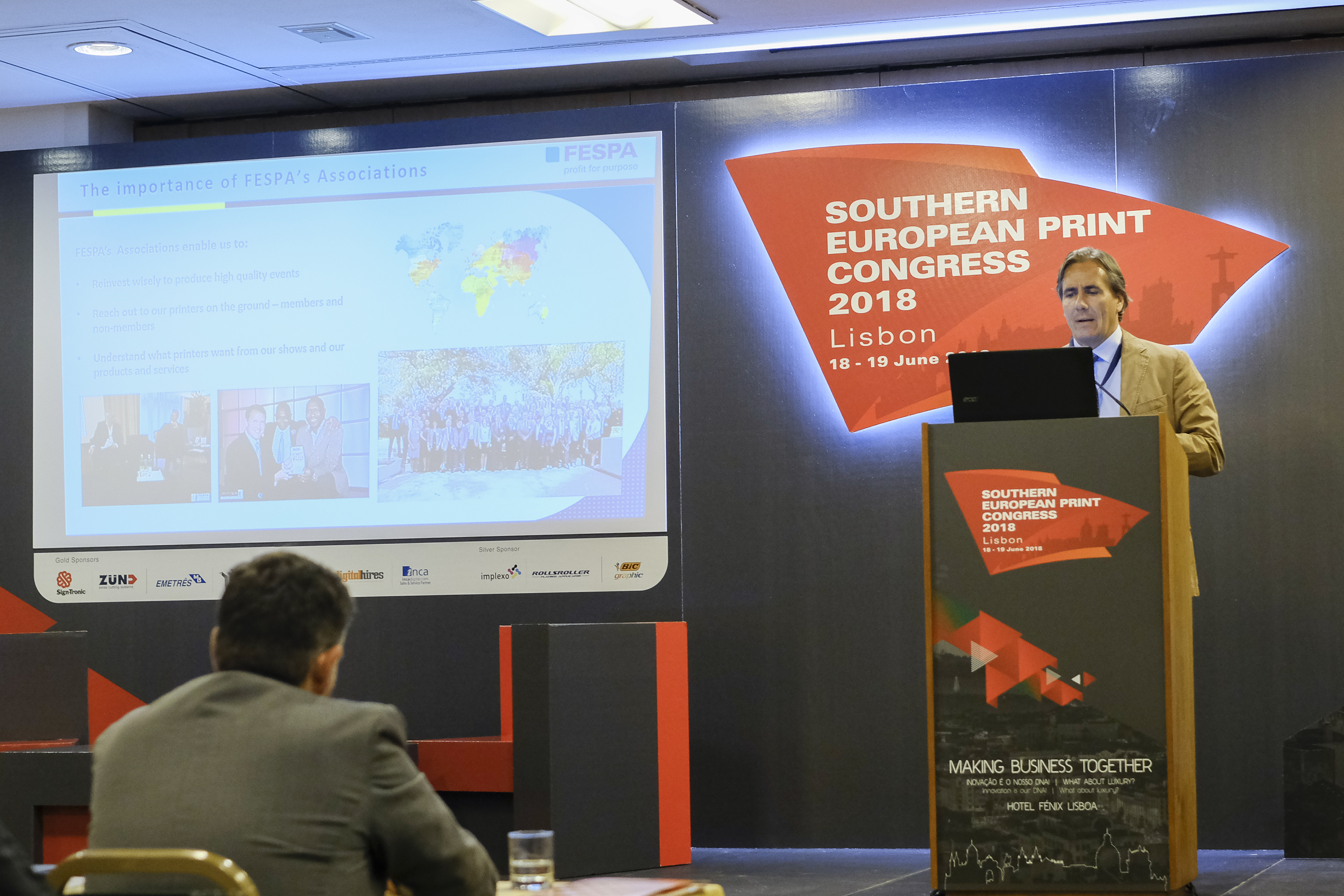 Caption: FESPA President Christian Duyckaerts opens the congress.

The proceedings kicked off with a presentation by Flemming Jensen of Sign-Tronic who provided insight into the company's developments of CAD Cutting technologies from the original XY vinyl cutters to the latest fully automatic Zünd models which utilises robotic automation for contour cutting on a wide range of substrates. This is an agile system which can be adjusted when issues such as print distortion can be compensated for without re-tooling. The robotic arm can lift all components from the cutting table in a single sweep which helps to keep the device running and having two cutting heads on some models further improves this efficiency.

Gaspare Bugli from Massivit 3D discussed their latest offerings including their large format 3D print technology which has the impressive ability to print models up to 1800mm high in a single piece for POP and signage usage that can be wrapped or painted. Gaspare continued to explain the models can be filled with polyurethane foam to create vacuum forming tools for shorter runs of around 50 units. This is another example of digital production creating new possibilities that enhances traditional methods of production. Gaspare described how creating custom shaped lightbox trays can be combined with tensioned textile prints. This again provides opportunities beyond the standard rectangular or circular options.

Angel Jiminez of DigitalHires introduced the Inca Onset M B1 fully automatic print line. This model is a great example of how high-speed multi-pass UV inkjet printing offers high-speed agile printing capacity for a wide range of substrates and it is finding it's home amongst the commercial print sector.

The next presentation came from Miguel Neiva of ColorADD. Miguel is a passionate graphics designer who developed a set of graphic symbols that can be used to describe colours and to help those affected by colour blindness.

There are over 350 million people globally affected by colour blindness. Miguel wants to be inclusive so that everyone is clear in understanding visual communications. He provided us with blue glasses so that we could experience the challenges faced by colourblind individuals. It was a very effective presentation that has encouraged empathy and recognition for this community.

FESPA France's President and Founder of Synia, Sylvain Maillard proved that there is more to UV doming than meets the eye. Sylvain's company has developed olfactory labels that feature resin which contains various scents to increase engagement and add value. Synia recently won a Distinction at the FESPA Awards 2018 in Berlin for their Hugo Boss aftershave bottle domed decal that was 700mm high and used in Swedish bus shelters to present the Hugo Boss fragrance while customers looked at the poster. They also worked very hard to meet the stringent environmental standards by using clean energy and mercury free doming resins. It was clear that this progressive French print company has a strong passion to do better and to innovate. Synia has a high-volume production process to create domed labels in volumes similar to the two million in a single run for Dior.

The afternoon discussions included presentations from Pinkplate, a leading POP producer in Portugal and Spain. Pinkplate explained how they have adapted to meet the challenges in their markets through their technology and by ensuring that they put the customer first whilst maintaining strong financial reporting. This strategic approach was echoed by Fiorenzo Maggioni of Maggioni Serigrafia from Italy who have spent considerable resources of training to guarantee that their customers are met with exceptional service. This is in addition to its development with IKEA of a web to print furniture printing customisation service.

The printer sessions were followed by a fantastic presentation from Loinaz Errezola of Kendu retail who has carved a successful niche internationally by focusing on the production of tensioned fabric lightboxes. Their talents were recognised at the FESPA Awards 2018 in Berlin when they received the FESPA Gold Award for Special Effects. This award was for their programmable lightbox for Mazda that used animated colour changing LED light panels and double-sided graphics. Kendu continue to develop this technology and are looking to add motion detection and other innovative solutions to continue their ambitious growth.

After a busy day, the delegates were treated to a traditional evening of Portuguese food and Fado performance at Café Luso in the city. This evening gave a great opportunity for printers and suppliers from five different countries to compare notes and experience.

The second day of the congress began with a presentation by a printer with a legendary passion and ability. The multi award-winning Lorenz Boegli of Atelier Siedbruck can teach us all a thing or two about creative persistence. Originally a screen printer from Switzerland, he explained that his business faced some specific challenges. The main challenge being that Swiss printers' prices are twice that of their European counterparts, therefore he has to find customers who can meet these costs. Lorenz explained that over 30% of his work has been for the luxury watch industry. Lorenz is now working in the US and Japan using his specialised print techniques (that he's developed over 20 years) in fine halftoning and the use of metallic, iridescent and spot colours on unusual print stocks.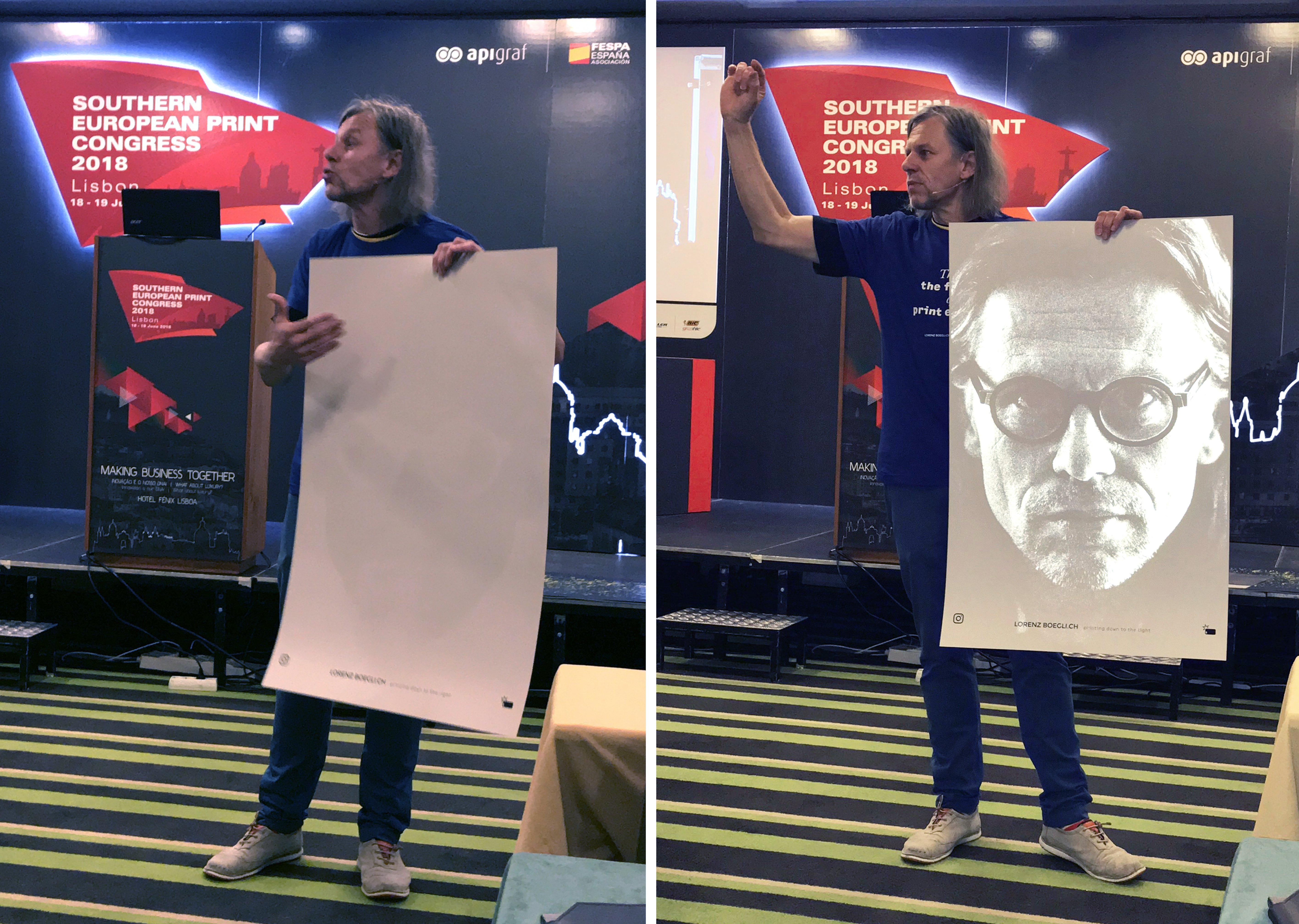 Caption: Lorenz Boegli showcasing the before and after of smartphone flash trigger.

Much of his output is for large offset printers, the printing of brochure covers and invitations in addition to his fine art reproductions. When I met Lorenz earlier I noticed he had layers of T-Shirts on. He explained with characteristic humour that it was cold in his home country. Later, we learned that those T-Shirts would be removed one by one, each in a different colour offering a relevant slogan to punctuate his presentation. The first one said, "look for the difference in print". It supported his conviction that the luxury sector will not accept anything that falls short in terms of quality and innovation. Lorenz showed a captivated audience sample upon sample of prints featuring well-executed range of techniques.

The second T-Shirt came off and the slogan read, "Let you inspire!". Although the English may have been a little broken, the message was that it is the printer's responsibility to show the customer their know-how and technical prowess if they want to win high-value orders.

The three things that luxury brands need from their printer is the process should be immaculate, innovative and the print manager must have the aesthetic understanding to adapt the print to ensure it achieves an appropriate emotional connection to the audience.

The third T-Shirt said, "Combination of technologies results in luxury". The message here was that it's the selection of special papers, inks, and pigments together with great repro and separations that only together make the stunning result that luxury brands will pay for. Some of the watches in Switzerland can sell for 2 million euros and are mainly bought by wealthy Chinese clients. Taking this into account the budget isn't hard to find, however the demand for stunning special effects is mandatory.

Lorenz also showed his smart phone flash triggered hidden image print that used reflective ink onto white stock to create a very interactive ink on the paper product to couple with this all-pervasive technology in revealing messages.

The fourth and final T-Shirt, "Think (print) outside the norm (PSO)" reflected that new development that Lorenz has patented, the RGB technique which uses Merck Prisma pigments. This allows for the printing of Red, Green, and Blue that when printed on Black paper creates full colour images. Through many trials he achieved a result that is remarkable. However, anyone wishing to try this for themselves should understand that it isn't like printing four colour process to ISO-12647. It is a road full of trials and tests that requires sustained effort to realise.

You may feel that Lorenz has received disproportionate cover in this review, for that I make no apology. However, that does not take anything away from the other presenters, it just reflects the significant degree of inspiration that Atelier Siedbruck contributed to the Congress.

The next speaker was Emanuele Posenato from Pozzoli. His business is a long-established specialist in Luxury Packaging. With a comprehensive plant list under his control, his team has created the most polished packaging available for most brands within the fragrance and luxury goods sectors. He reaffirmed the other speaker's emphasis that we, as printers, have or need to develop the knowledge and ability to guide clients to the best use of materials and printing methods in the creation of stunning products.

The second to last presentation came from Alberto Bulhosa of Bulhosas Iramos, whose contribution was based around security and anti-counterfeiting methods to protect luxury brands. The business is well established and equipped with digital, flexo, screen and extensive finishing capacity. Alberto discussed their developments in printing organic signature inks that when coupled with a reagent shows whether a product is genuine. The use as an anti-counterfeit for high-value wines and spirits was just one example of its application. The printer also uses screen printing to deposit reactive inks to produce the drug and explosive testing swabs. Clearly, Bulhosas Iramos have worked hard to create added value products through innovation to improve their business performance.

The Congress was finally rounded off with the help of Remy Felaize from Reosign and Jesus Dura of Vinylcolour Digital whose joint presentation exposed the value of printers utilising their graphic installation teams across France and Spain to roll out campaign materials within signage and retail. They offer the advantage of taking control of regulatory and practical issues that can reduce profitability if underestimated.

All of the delegates I spoke to agreed that this year's Southern European Congress has been a great success and are now looking forward to learning where and when the next one will be held. I'd like to pass on my thanks to the team for their efforts in creating such a great event.
Interested in joining our community?
Enquire today about joining your local FESPA Association or FESPA Direct