Blog
Large-format lessons from 2020 and forecasting the future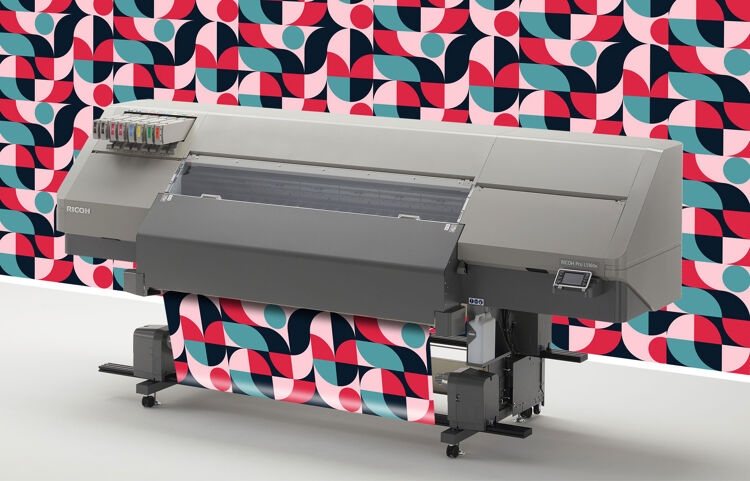 Yucel Salih, Large Format Specialist, Ricoh UK, considers the lessons of 2020 and makes predictions for 2021 in the sign and display industry and beyond.
As we approach the end of another year, we have a natural desire to look back and consider how the next twelve months will pan out. But 2020's COVID-19 pandemic has turned any forecasts - and how many businesses in our industry operate - on their head. For this reason, it's even more important to learn from the changes we have experienced this year so we can prepare, as best we can, for 2021. Here are some lessons and predictions for the future.
COVID-19 signage and the impact of floor graphic
Coronavirus, and its associated restrictions and guidance, has resulted in simultaneously more and less demand for signage and graphics. Travel, retail, and events and exhibitions have shrunk as profitable markets for print service providers (PSPs). Many businesses and organisations in these sectors simply closed in the spring and some are yet to reopen their doors. But at the same time, signage for informational and directional messages - for instance designating distances of 2 metres or one-way systems - have been in exceptionally high demand. Floor graphics, in particular, experienced incredible sales.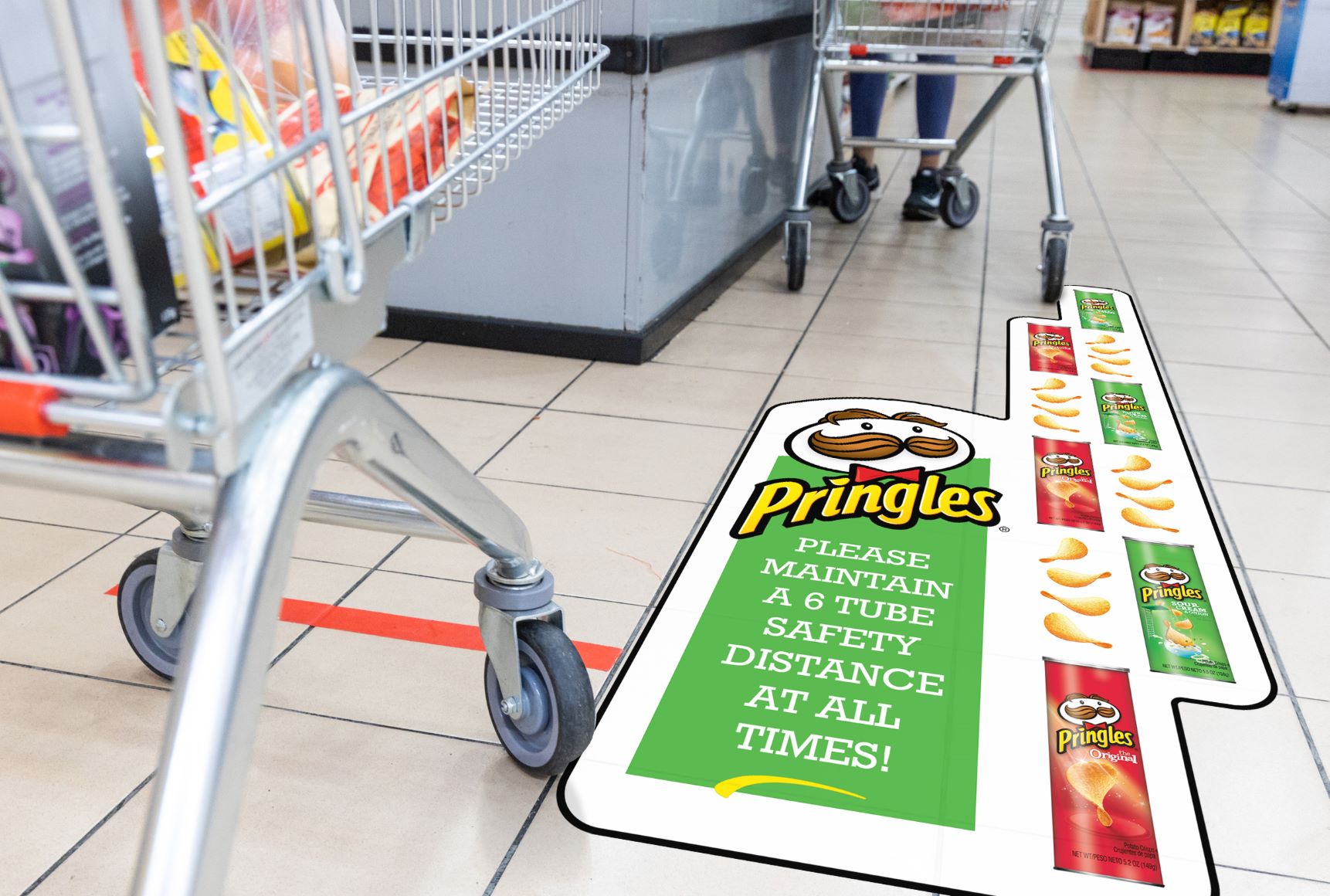 Caption: A formerly under-utilised canvas, the floors of retail, commercial and public spaces are likely to receive a lot more attention. Credit: Ricoh UK.

In 2021, there will be - hopefully - less requirement for directional floor graphics, but now their effectiveness has been proven we expect to see more creativity in this application. Marketeers will surely see their potential for influencing consumer behaviour, while PSPs and designers will be keen to create incredible quality output with their digital printers and cutters. A formerly under-utilised canvas, the floors of retail, commercial and public spaces are likely to receive a lot more attention.
Application-led diversification, backed by technology
It could be argued that the print and display industry has rested on its laurels for the past few decades. Since digital large-format printers became affordable investments, most PSPs have found more than enough work to keep them busy; there was little need to look for new markets to explore. When COVID-19 hit, of course, all that changed. All kinds of business had to shift gear and see what else, and to whom else, they could sell.
Diversification has been driven by two aspects, besides necessity: the applications in demand; and the versatility of today's digital printing technology. For instance, thanks to large format printers suitable for multiple applications, exhibition specialists may have switched to floor graphics, while T-shirt printers normally busy with personalised tees for events perhaps shifted production to reusable fabric face masks. It's expected that print businesses have entered a new era of exploration, experimentation, and entrepreneurialism. Operators and owners will be looking at what else their print room can do and where it can take them, not just during a crisis but long term.
This extends beyond printing hardware. Inks and substrates are more specialised and yet more versatile and user-friendly, while software is making more things possible than we could have ever predicted. As more business is conducted online, PSPs now have the tools to integrate their printing operations with e-commerce and marketing platforms, giving them more control and direct access to new markets.
Forging and retaining connections
Interacting with customers more directly is part of the new normal. This year has been emotional, with much emphasis on staying connected with our loved ones and our communities. Relationships between businesses and their customers, and their suppliers and service providers, are more important than ever before. It's likely that the companies that succeed in the next twelve months will be those shown to be reliable and responsive to everyone in their supply chain.
For PSPs, these connections established in 2020 may prove incredibly useful in showing customers what's possible with print in 2021. Social media and e-marketing creates more opportunities for engagement and interaction; print businesses can DM or tag their way into the focus of potential customers or show their existing client list their latest application innovation via their inboxes. Trade shows and training have gone online - and are expected to stay there for the time being - giving more people outside the large-format print world unprecedented access.
Personalisation - at home and out
We expect personalisation in the consumer market to grow as a market segment. Custom wall coverings are already an exciting vertical market for PSPs but until recently were typically restricted to schools, colleges and offices, often to display motivational messages, and in hospitals where colour and design can create a more welcoming, less intimidating environment for patients. But now - judging by the demand for home decorating and DIY products in 2020 - there is an opportunity for PSPs to enter the domestic market armed with the ability to create bespoke wall coverings and other interior decor items.
Again, this is enabled by the unceasing R&D in our industry: the material versatility of large-format printing technology, the development of low-VOC inks suitable for domestic settings, and new substrates and adhesives that make DIY installation easy for the end user. And, again, software and social media make it possible for PSPs to sell directly to the consumer. There may be a learning curve, and perhaps it will be necessary to change how these services are marketed and branded, but established graphics companies have the skills to succeed in custom home decor.
Back in the commercial sector, we may see more localised marketing messages online, in OOH and on printed output. Many retailers and brands sought to connect with their customers on an emotional level during the pandemic and have now seen the value of adding localised elements of their marketing to retain that bond with their demographic. The nature of digital printing technology allows unlimited personalisation for businesses with one site or thousands.
Sustainability and reducing costs
Sustainability, in the eco-friendly sense, has moved down the list of priorities for many businesses and their customers. But 'sustainability' also means financial security with longevity - and these two definitions often go hand in hand. Reducing waste, transport miles and energy are all to the benefit of the bottom line as much as the environment.
Many of the trends of 2020 and 2021 discussed here come into play when talking about sustainability and reducing costs. The evolution of technology has resulted in direct-to-substrate printing with latex and UV, which uses fewer materials and is faster than traditional multi-step methods. Personalisation and greater customer involvement mean buyers get exactly what they want, adding value and reducing waste. Reaching the local market can improve turnaround speeds and therefore margins, while reducing transport emissions and fuel costs. By connecting with customers more directly, PSPs can also educate them about the sustainability of the materials they use, which is far from a black and white subject in our industry.
Sustainability, of course, is all about surviving and growing. All of us could benefit from taking some time to stop, take a breath, and consider what 2020 has taught us. This knowledge can help us thrive in 2021 and beyond.
Interested in joining our community?
Enquire today about joining your local FESPA Association or FESPA Direct