Blog
FESPA UK Association Industry 4.0 conference 2018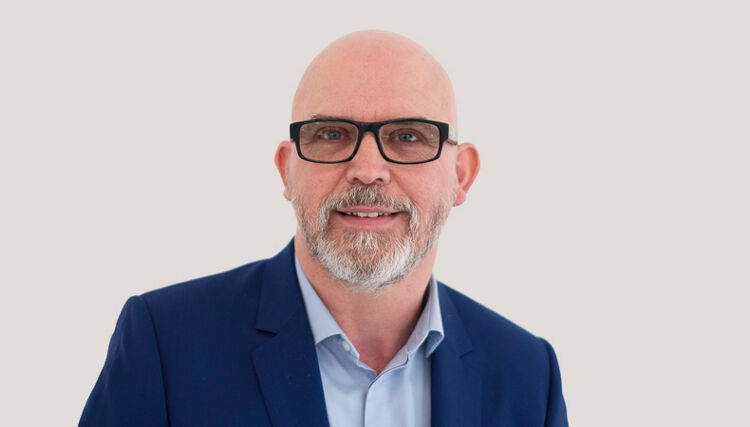 Graeme Richardson-Locke shares his experience of the FESPA UK Association's Industry 4.0 conference that took place at the Manufacturing Technology Centre in Coventry.
Peter Kiddell, the former Director of the FESPA UK Association opened the i4.0 The Future of Print conference. Peter discussed the aims of FESPA UK Association in providing insight for UK speciality printers across screen and digital technologies. Our host for this conference was the MTC (Manufacturing Technology Centre) in Coventry. The MTC provides deep insight into the trends in industrial automation and manufacturing from robotics through to 3D printing (additive manufacturing). It was the perfect venue to discuss the opportunities that will result from greater automation and the integration of computer systems from web through to production across the print sector.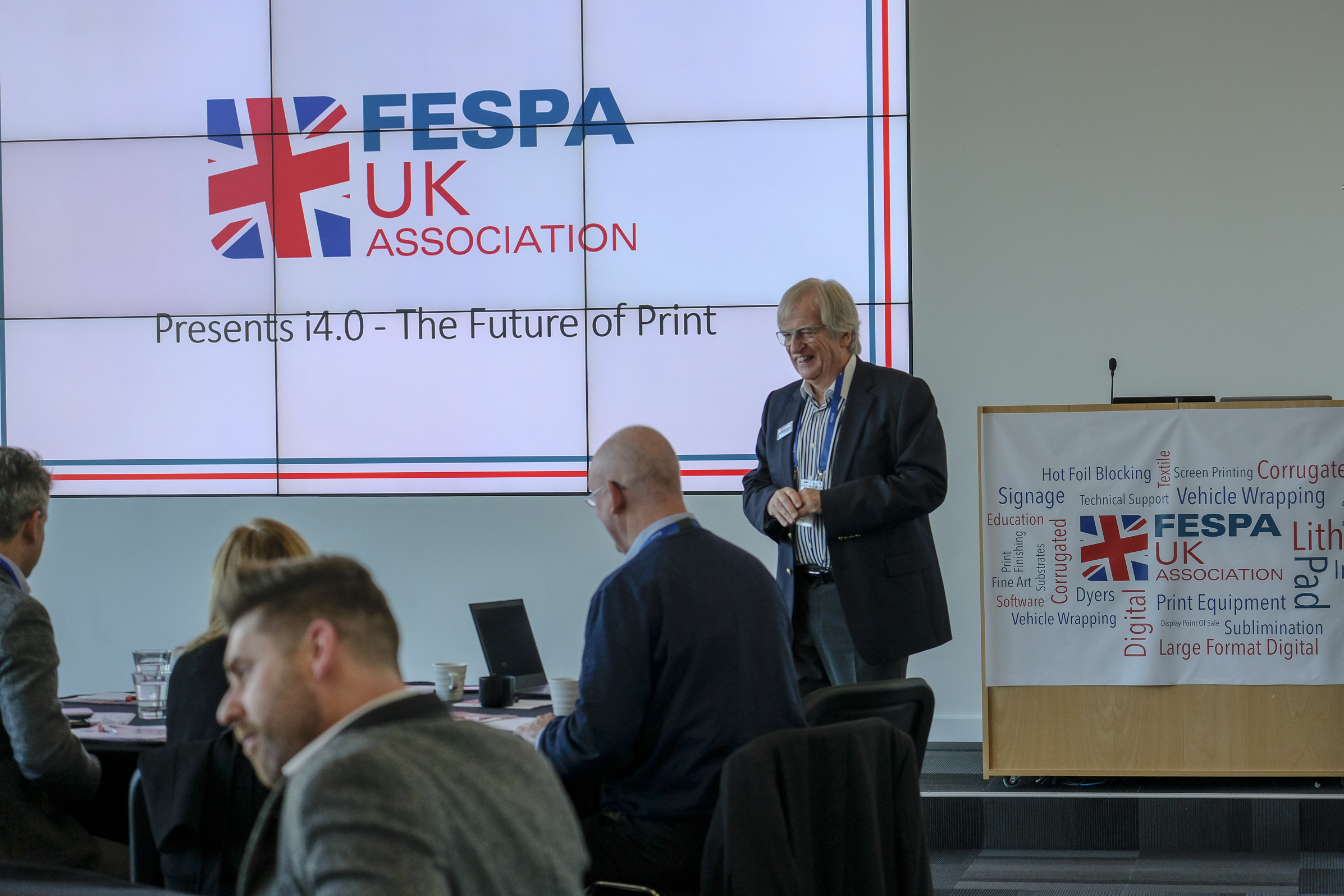 Caption: Peter Kiddell opens the FESPA UK Association i4.0 conference.
Neil Smith, the Head of Business Development SME engine from the MTC discussed the history of the Manufacturing Technology Centre. This technical research organisation is based on the German Fraunhoffer model of application lead research and has advanced manufacturing technologies worth approximately £20 million at this one site. During its 8 years, the MTC has increased its revenue from £160,000 to nearly £60 million in 2018. The focus of the centre is to bridge the 'valley of death' which advances the technology readiness level process to reach full capability, from university research through to full scale manufacturing. The problem that the 7 UK MTC sites aim to solve is that whilst Britain has been responsible for the invention of numerous products including the mobile phone, lithium ion batteries, plasma TV it hasn't been successful in manufacturing any of them.
The centre has 100 apprentices working on metallurgy, robotics, laser engineering, 3D printing and additive manufacturing. The MTC has strong links in the academic community and aims to facilitate the best use of intellectual skills. The organisation has close ties to many research-based universities.
Through the SME Reach programme, the MTC aims to improve companies' operational efficiency and offers 1 free day for every day that a customer buys. This follows a complimentary full day review to understand how processes can be improved.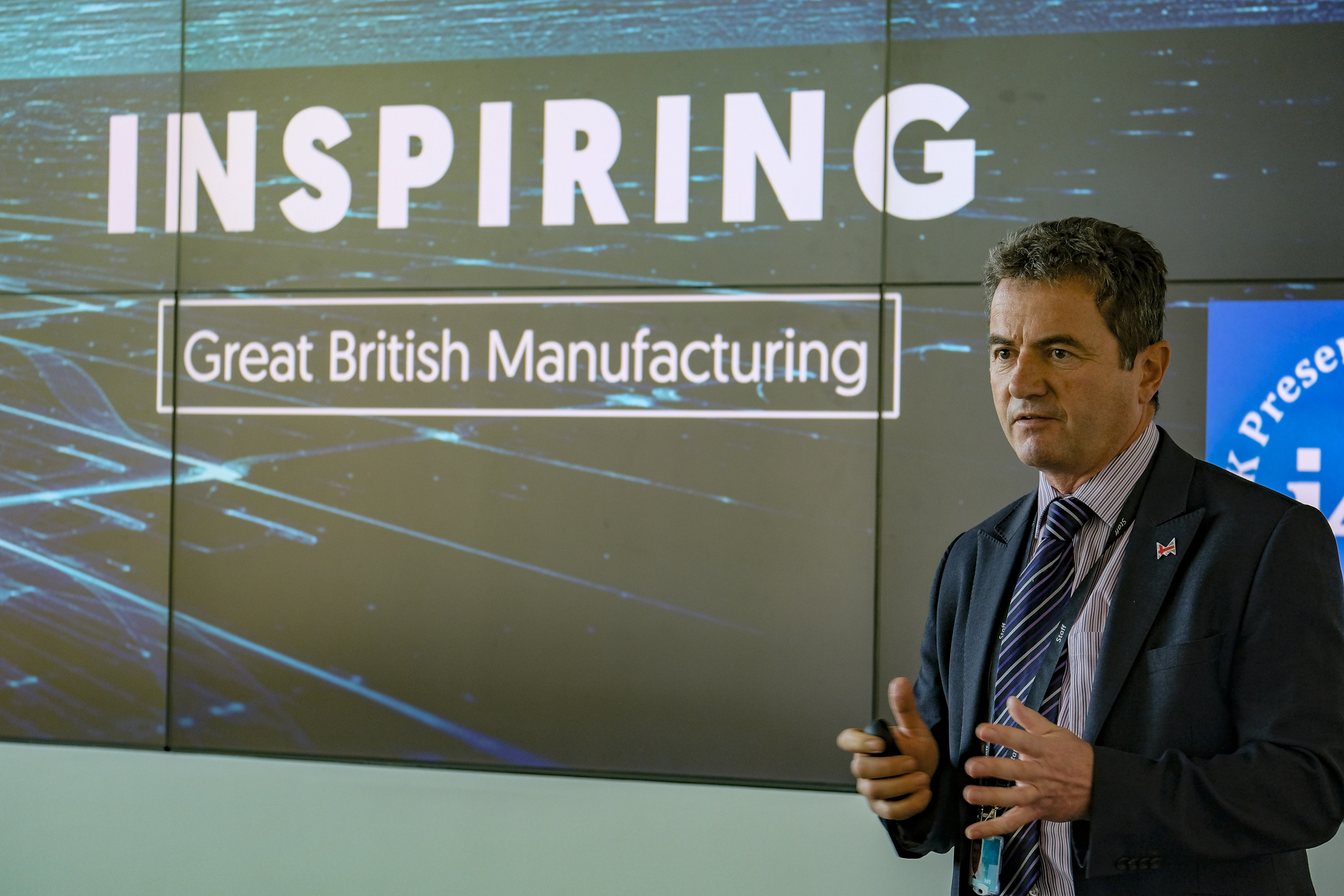 Caption: Neil Smith from MTC speaking about R&D support services.
Steve Richardson from Optimus software was the next speaker, who presented on the topic of automation for increased profit and performance. For 36 years Optimus has evolved it's MIS software Dash. As with many management information systems applications automate the generation of quotes, orders, purchasing, scheduling, invoicing and feedback to keep critical business information to hand whilst ensuring efficient workflow.
Dash has 10,000 users and operates globally, Steve introduced Storbildsbolaget's CEO, Jonas Hellke who has successfully harnessed the MIS platform. Jonas was keen to ensure that he would achieve payback in a year, he simplified the administration and eliminated errors. From 1993 the company grew from a modest sign company and in 1997 made its first critical investment in 5 metre wide inkjet printing. The business now has 28 employees harnessing UV flatbed, superwide and dye sub imaging techniques. The business's strategy is to double in size by automating the sales process through the implementation of full web to print fulfilment.
After investigating the costs of developing a bespoke system for an investment of £85,000 they decided to look at existing MIS suppliers. In 2012, they found Optimus and made the purchase. The savings represent 830 hours per year which amounts to a cost reduction of £21,300 per year. Jonas explained how the Dash system has given him the opportunity to plan material ordering more efficiently which has saved a further £38,400 per year. The next step for the business is to move to a paperless environment, this includes a screen-based visual planning board. His presentation clearly indicated that this path to automation has generated enough savings to cover the cost of the system.
The next speaker was FESPA UK's R&D tax specialist Adam, who has specialist knowledge of the print industry and helps printers to recover cash from R&D by offsetting against corporation tax. It is possible to track back over the past two years when assessing the R&D Tax Relief. You need to be an active trading limited company to qualify for the scheme. By identifying what elements of your process are considered part of R&D, you can claim 26% back for every pound spent if you're profitable, if you're unprofitable you can recover 33% for every pound spent.
Typical projects may include those that are aimed towards improving a product's quality if you are creating something brand new or if you're improving knowledge. In addition, duplicating existing products to improve process efficiency may qualify.
For example, developing a software platform can qualify, and your R&D cost calculation is can be multiplied by 130%. The initial visit is free of charge and the process can be concluded within 8-10 weeks. They take a percentage of the recovered money depending on the scale of the business.
If you consider working with the MTC on a project alongside Adam with the MTC's 50% matched funding, it is possible to gain an extra 17% R&D relief on the cost. Members of FESPA UK Association have managed to recover much more than their subscription fee, in one case 500 times more. Please
contact
Carol or Suzi Wilkinson for more information.
Russell Weller, Product Manager at Esko joined the audience to discuss the pace of progress in digital finishing. With 25% of printers reporting finishing as their greatest bottleneck and the onset of single pass printing, this frames the challenge. Esko offers software and hardware within the wide format and packaging sectors, with Artios CAD being the design and creation tool coupled with a Kongsberg cutter there are many options to increase productivity.
Russell focused his attention on hardware, the Kongsberg cutting table. He talked about the C66 table which features multiple cutting zones. You load zone 1 whilst cutting zone 2 and then switch over, as it keeps the blade cutting utilisation at the highest level. In addition, Esko have added roll feed and take off unit which is fully automated. When considering sheet fed applications, Esko have on offer auto feeders and stackers to facilitate pallet-to-pallet production. Zero tooling has enabled minimal set up as files are just run from the cutting queue and the sheet positioning is automated by scanning the sheet to pick up on optical marks to register.
An alternative approach is the implementation of robotics where the system will pick to load from a stacked pallet of 1700mm high, this leads to longer unattended operation. The vacuum material handling technology has been developed to cope with warped sheets. The robot then collects cut sheets and returns to the cut stack. This is a great example of labour reduction with maximised uptime. The machines are also now connected online and provides diagnostics and production efficiency data. There is some discussion around the speed of cutting and what is in the pipeline regarding laser vs knives. Russell mentioned that within 18 months there will of course be new developments to launch. Maybe the idea of 'dark factories' isn't so far off, full automation, 24 hours a day, within unattended operation.
Tony Moscrop, President of FESPA UK Association introduced himself and offered the audience his case study on i4.0 and its impact at Dufaylite in the production of honeycomb board. Tony explained the history of the business since its management buyout in 2000. As many of the businesses products were mature they needed to identify new business opportunities. From the introduction of wide format digital printing at the time of the 2008/2009 financial crisis they have not been without challenges.
As we look at the business today, there is a road map in place to address the market opportunities and markers to ensure achievement. The company has worked with MTC to re-engineer the production plant integrated with their MIS system which has created a business which is agile and efficient. With advice in LEAN manufacturing, developing the lamination process and production improvement plans the goals were achieved. The cost to the business utilising Value Stream Mapping resulted in clear benefits. They have reduced lead times from 4 to 2.5 weeks and labour cost reduction is on target to reduce from 13.7% to the end of year target of 10%.
The second project that MTC supported was a laminator upgrade project that allowed Dufaylite to move to Infra-Red drying. This was a significant improvement; the product strength and speed of processing improvements have created tangible benefits to product quality and capacity.
After enjoying a networking lunch, we regrouped with Tomas Novais, Technology Transformation advisor to understand the potential of augmented reality using the Microsoft Hololens mixed reality (AR) system. We were shown a video of, an electronics assembly using an overlay template which showed where components should be placed in the product and the full set of instructions to complete the task. Another use of Hololens technology is to hold virtual meetings where expertise can be provided on-site without needing to be present. I had the chance to wear the system and walk around a mixed reality environment and get a feel for how natural the interaction feels. I have previously experienced nausea when using VR technology, however this was very straight forward. Don't be surprised to see an engineer wearing this unit in the future to repair your presses!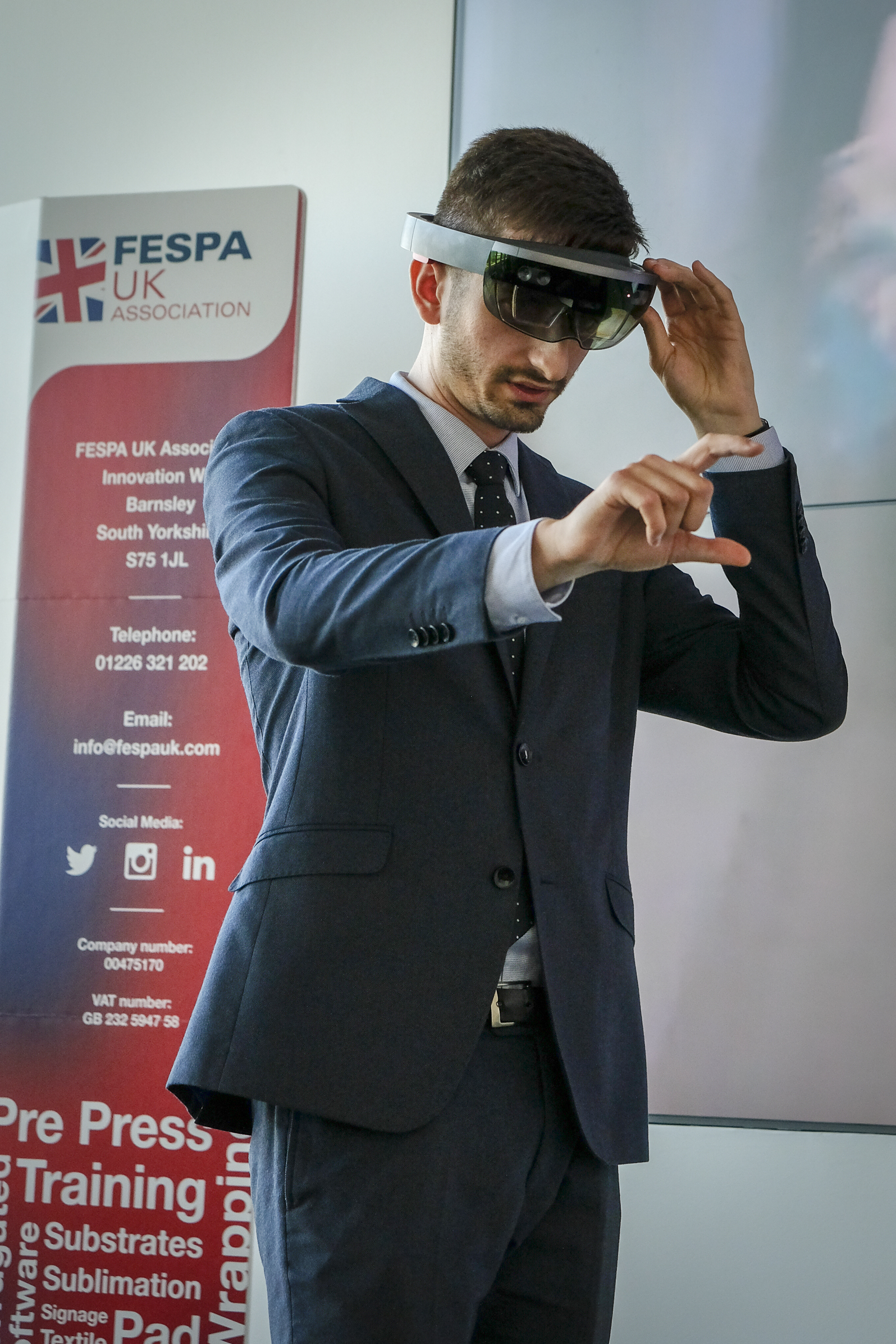 Caption: Tomas Novais from MTC demonstrates Hololens augmented reality.
The final presentation came from Dr Lina Huertas, the Chief Technologist at MTC who provided information about what Digital Manufacturing means for SMEs. She discussed how digitalisation reduces time to market and improves quality by setting up defined workflows to eliminate rejects. If your files don't meet the predefined criteria they get thrown back before production. Of course, working out pre-flighting presents the opportunity to automate and maximise uptime. If you establish an automated workflow, you'll be able to process many more files and if your colour management is in place you'll achieve the expected without manual intervention. The MTC have experience in identifying the key areas that will benefit your business. However, with insufficient investment capacity, a lack of information, market awareness and the widely perceived experience of not having time will all hinder progress. It is always helpful to bring an independent eye to the business proceedings and the MTC have helped several FESPA UK Association members to refine if not revolutionise their business process.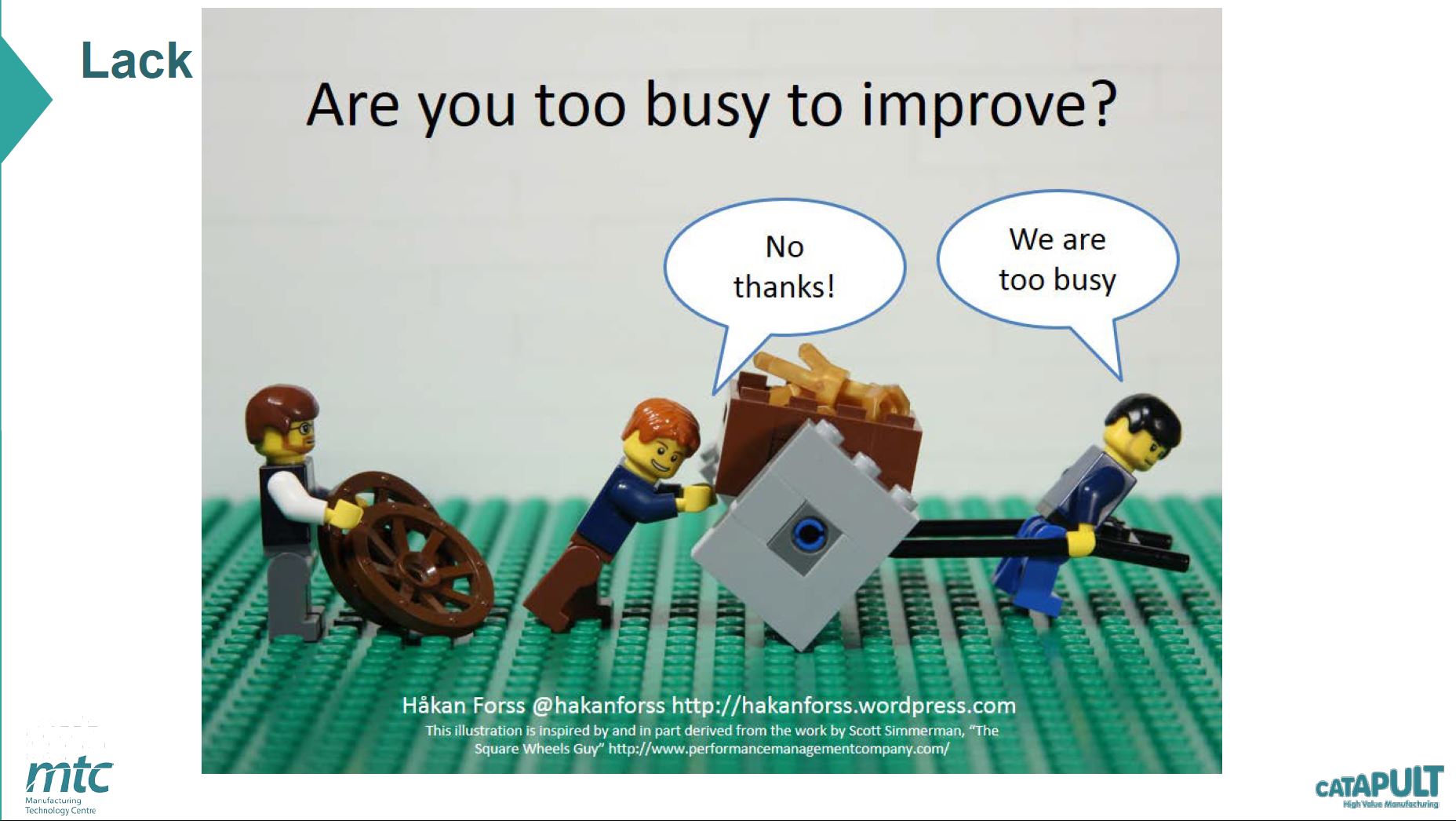 Caption: A slide from Dr. Lina Huertas' presentation.
After enjoying these thought provoking presentations, we were treated to a full tour of the MTC's research centre. Our guide was Neil Smith who lead us through the 5 and 6 axis robotic cells, he explained how this level of automation significantly improves quality and yields. We then moved onto a cell running research trials where we saw a 20kw laser mounted to a robotic arm for welding, cutting and braising.
Whilst the examples of these projects were more relevant to advanced engineering they did provide valuable insight into the power of new technology. The 3D printing cell was involved in both additive manufacturing and rapid prototyping. They had systems available to print full colour prototype models and showed us running shoes made using this technology. What was again tangential to our direct printing interest was the printing of metallic mediums that would then be sintered to fuse the metallic particles and create cohesive structures with the performance of machined metals. One example that demonstrated the enormous benefit was a fuel injector for a jet engine. Originally, manufactured by welding 8 machined components together to build the assembly, the printed product was a single piece item that when sintered performs to the same standard but benefits from not having 8 potential failure points.
In conclusion, this conference provided some practical guidance on how to move towards further automation to see the future of robotics and additive manufacturing that will no doubt allow for further miniaturisation and hopefully will contribute to bring manufacturing back to the UK.I believe that this conference was another useful and engaging event supported by FESPA through our 'Profit For Purpose' scheme. Suzi Wilkinson and Carol Swift from FESPA UK should be congratulated for putting together such a great event.
Interested in joining our community?
Enquire today about joining your local FESPA Association or FESPA Direct