Blog
EKFA offers an explosion of possibilities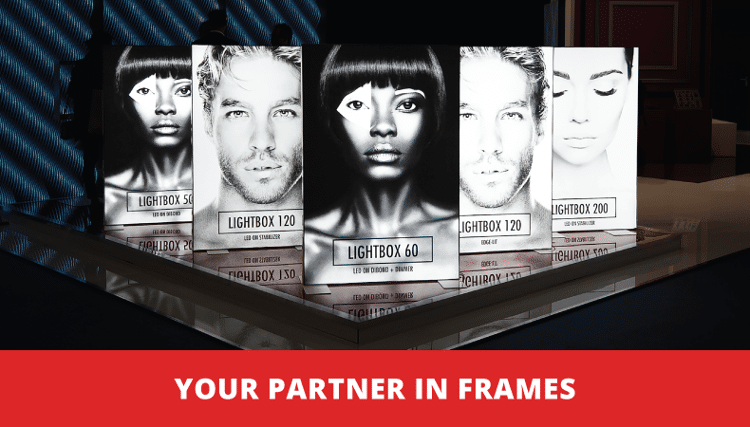 EFKA discusses their current wide product range.
MORE THAN 70 ALUMINUM PROFILES AND EVERY SIZE IS POSSIBLE
Our SEG and LED frames are available in different types and sizes! In recent years, the combination of a modular aluminum frame with textile print and a silicone strip has proven itself. In our range we have single-sided and double-sided aluminum frames. All our frames are suitable for various applications from indoor lightboxes on the wall, to a striking eye-catcher such as a display, wall décor or photo walls in shop windows or showrooms.

EXHIBITION AND PRESENTATION SYSTEMS
A complete exhibition could be built with our aluminum textile frames. Our exhibition and presentation systems are very easy to set-up. To make trade show participation a success, good presentation and appearance are important. In addition to a great appearance, our aluminum profiles can be used as an exhibition stand or at sporting events as a back wall. They can also be used in showrooms and other stores as advertising displays. Each visual can be printed on textile.

ORDER LENGTHS
EFKA makes it possible to order various lengths of aluminum profiles, so sign-makers can cut it themselves. With our aluminum profiles sign-makers are free to make LED and textile frames in every size they want.

CURVED AND 3D ALUMINUM FRAMES
Nowadays, the curved and 3D frames are the aluminum textile frames that make the difference! This is down to their striking appearance. Curved frames are in almost every curve possible and 3D frames are possible in every size. With the curved and 3D aluminum frames sign-makers can create a unique experience in stores, offices and exhibition stands.

ALUMINUM IS 100% SUSTAINABLE
EFKA offers innovative and sustainable solutions for aluminum frames. Remains of aluminum profiles are collected and separated where necessary. With relatively little energy and low processing costs new aluminum frames can be made. Extrusion is the process by which aluminum is reformed.

FAST WORLDWIDE DELIVERY
EFKA is a worldwide supplier of aluminum textile and LED frames. These frames are often used in retail, offices, at home and exhibitions. Due to our large stock, it is possible to provide fast delivery worldwide.

European Sign Expo 2019 is Europe's largest exhibition for non-printed signage and visual communications. Over 4 days visitors will have the opportunity to experience the latest products and innovations on display from over 100 exhibitors. Visit EFKA in Hall A4 Stand L10. Please use promo code ESEH901 to register for free.

Interested in joining our community?
Enquire today about joining your local FESPA Association or FESPA Direct