Blog
CRON reduces ink waste to almost nothing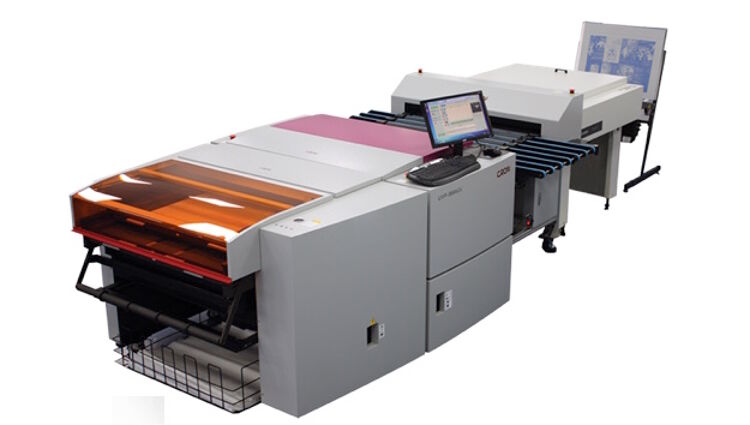 Chinese developer of computer-to-plate (CtP) systems CRON has developed the EZcolor printing system that is says controls ink volumes and cuts ink waste.
Intelligent resource management is what sustainability is really all about, whether you are a research scientist or a provider of technologies for graphics production. Brainy people keep coming up with new tools to help graphics professionals to improve process control, cut waste and reduce resource usage.
Digital printing has stolen a lot of the sustainability limelight over the last few years, primarily because of its ability to produce custom documents in runs of predetermined run length. However, makers of other kit, including platesetters, have not been idle.
CRON, a Chinese developer and manufacturer of computer-to-plate (CtP) systems, has developed the EZcolor intelligent printing system, to control ink volumes and reduce ink waste to almost nothing, allegedly. The system replaces a conventional mechanical ink duct with an ink pumping system.
A dedicated database controls the ink pumping by calculating how much ink is needed for each inkzone for a given printing condition. Calculations are based on profiles, required densities and print speed, and assume the use of CRON plates and punching technologies.
CRON claim that their combined system makes it possible to achieve compliance with ISO 12647-2 (process control for offset lithography) and to do so with a single click.
The approach can yield considerable savings in paper and ink, and cut the carbon footprint of the printed product. This also reduces costs associated with production: CRON claims that paper waste is cut by some 90% and that energy consumption is also substantially reduced.
The system requires no colour adjustment and cuts makeready times to less than ten minutes and ink ducts do not need to be cleaned during operation. Accurate colour means less human intervention on press to control colour quality.
And of course, there is the inevitable comparison with digital that all developers of technologies for analogue printing have to make. In CRON's example offset can have a breakeven of twenty copies, below which digital is more cost effective.
CRON has developed some other new technologies that are intended to help reduce negative environmental impacts. The Emerald low chemistry negative plate apparently has a "more stable dot, better ink transmission, higher printing resistance and bring savings on printing ink between 10% – 20%."
The plate is good for 50,000 impressions without baking or 20,000 for UV printing. It holds a 1 to 98% 20-micron dot so the Emerald plate works with stochastic screening or conventional screening up to 200 lpi. This is not a true processless plate but rather one with low chemistry. By this CRON means that the plate is processed in a solution that is nontoxic and noncorrosive.
Reducing waste and rework in printing and converting operations is ever more critical, not just for the environment but for bottom lines. Better management of plate processing and of ink consumption can help address both environmental sustainability and the commercial kind.
Source: This article was produced by the Verdigris project, an industry initiative intended to raise awareness of print's positive environmental impact. This commentary helps printing companies keep up to date with environmental standards, and how environmentally friendly business management can help improve their bottom lines. Verdigris is supported by the following companies: Agfa Graphics, Spindrift.click, EFI, FESPA, HP, Kodak, Kornit Digital, Ricoh, Splash PR, Unity Publishing and Xeikon.
Interested in joining our community?
Enquire today about joining your local FESPA Association or FESPA Direct