Blog
Building the business case for a 'fun office'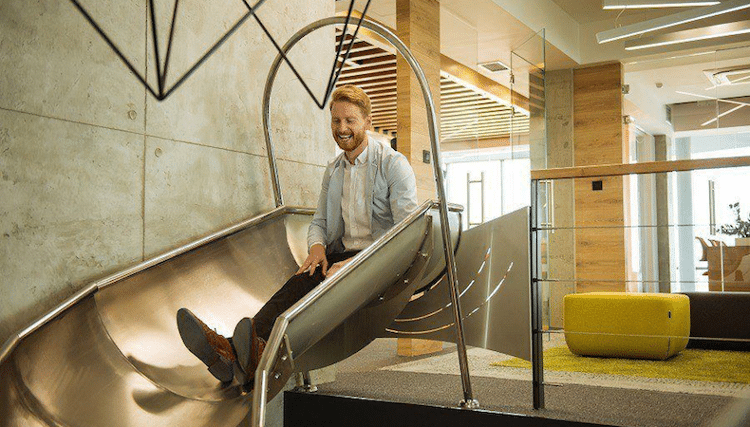 Designing fun offices isn't about employer branding. Well-designed modern offices help staff maintain energy and improve mental wellbeing. But how?
The history of office design is well-established: a lack of privacy led us to the cubicle age before we swung back towards towards more social space with the open plan era.
Now we've entered a new age that doesn't really have a name yet but is heavily influenced by human and organisational psychology. This age is driven by a need for offices to suit the interpersonal requirements of the knowledge economy, like effective communication and collaboration.
Many offices designed in this image are, not to put too flippant a word on it, fun. But fun is a hard word to get buy-in and budget for. This article outlines how different aspects of modern-day 'fun' offices positively benefit mental wellbeing, a crucial driver of productivity in the knowledge economy.
Fun is often sporty and the link to health is clear
The table-tennis table has become the symbol of the modern office but there's good reason for it.
Back pain, for example, is estimated to cost UK employers 31 million days every year and physical activity is linked to recovery from back pain and other musculoskeletal disorders. Chronic conditions, including back pain, put people at risk of developing mental health problems.
Yoga is increasingly being offered in the workplace. It reduces stress and increases resilience and, interestingly, improves social wellbeing by increasing a sense of belonging to others. Team sports can have the same effect. Both are useful tools in knowledge economies that rely heavily on interpersonal tasks like collaboration.
If that's not enough, active workforces tend to display a range of benefits, including lower staff turnover, higher productivity, fewer industrial injuries, higher levels of work satisfaction and an improved corporate image. Additionally, physically active employees take 27% fewer days of sick leave every year [PDF].
Fun helps stop employees having to 'battle' their surroundings
We've spoken before of the need to acknowledge that there are 'four Cs' that people need to do at work (communication, collaboration, contemplation, concentration) and design workplaces so that employees can pick the right 'zone' for the task, rather than automatically go to their desk. Picking the right zone makes it less likely employees will have to battle their surroundings to get work done, for example by trying to concentrate in a noisy sales environment.
More offices are including quiet zones and places of sanctuary that are perfect for contemplation, a crucial part of the creative process.
There's been an upward trend in 'privacy pods' in the workplace, stylised around themes (we've seen Tardis pods, for example). These are often soundproofed and include ethernet and power points, plus VoIP phones and more. They are perfect for concentration.
On the other side, more offices are including quiet zones and places of sanctuary that are perfect for contemplation, a crucial part of both the creative process and a chance to let the mind recuperate from the 'frazzling' nature of collaborative spaces.
Fun allows us to tackle stimuli-induced burnout
There are many reasons why being in nature is good for the mind (and therefore for our energy levels). One of the biggest problems with the workplace today is the onslaught of information which is driven by technology: the email problem is significant, for example, and cases a host of problems.
Designing a nature-themed breakout space that features natural light or daylight LEDs and specifically has no ethernet points or plug sockets could double as both a place for employees to go when they need a break and also a place for quiet reflection on the business problems of the day.
Fun helps promote self-management and empowerment
At home, people naturally gravitate to the area most suited to need: bedroom for sleeping or quiet time, living room for watching television, a study for concentrating on paperwork. At work this pattern seems to vanish as we use our desks for everything, including eating our lunch.
But if offices can be mapped to functional need, as above, then the office becomes a place where we can continue this trend of self-management. The breakout space with a projector and comfy bean bags is great when we need to bounce ideas around with our team, while the standing desks are suitable when we need to concentrate hard for 30 minutes and we feel lethargic.
Since everyone is an individual with very different needs, we must empower workers to choose a path that leads to the highest productivity.
This idea of self-management is relevant to many workplace initiatives. Since everyone is an individual with very different needs, we must empower workers to choose a path that leads to the highest productivity. In flexible working, for example, setting autonomy with boundaries is crucial because it allows employees to self-manage their time and energy, reducing the chance of long-term burnout.
Three tips for creating an effective 'fun' office
Function first, employer branding second: don't be lulled into the belief that everyone wants to work in the hippest offices. You don't create a fun office to conform to a specific image. The aim is to create an environment that generates positive feeling in the maximum number of people and offers the biggest toolset to a diverse group of people to improve their wellbeing and productivity.
Interpersonal is important, but not exclusively: as research grows around the importance of diversity to decision-making and teamwork, bringing people together is increasingly a core goal of new office design. But don't forget that collaboration and innovation alone do not make companies succeed: people need to be able to work alone. Harvard Business Review says that the most effective offices balance the 'we' and the 'me.'
Technology needs to be frictionless: moving around offices to the most appropriate location will require employees to bring technology with them. If the experience of 'plugging in' is difficult, this will form a major obstacle for building a longer-term habit. One of the biggest challenges with hot-desking is phone calls - people need to be available to take calls wherever they are. VoIP services can help overcome this by allowing any employee to login at any available phone.
Interested in joining our community?
Enquire today about joining your local FESPA Association or FESPA Direct