Blog
Advanced Functional and Industrial Printing Conference 2019 part 1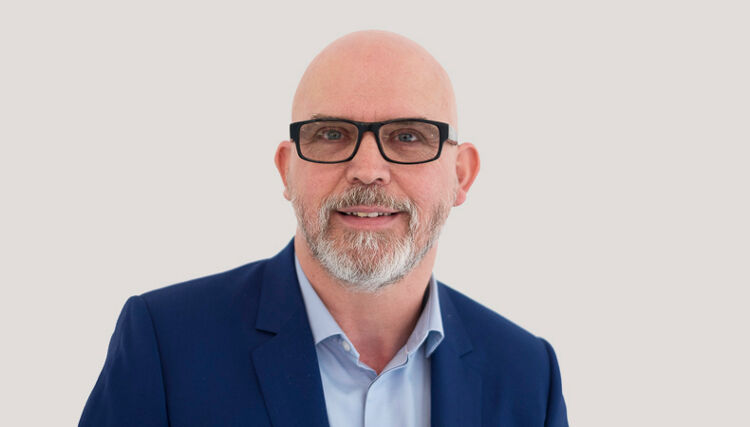 Graeme Richardson-Locke attends the AFIP 19, Advanced Functional & Industrial Printing Conference organised by ESMA and located at their usual venue in Dusseldorf.
The range of speakers was, as ever, technically rich and in some cases interesting but somewhat beyond my understanding of electronics engineering. AFIP focuses on how screen and inkjet printing are developing markets using conductive, dielectric and robust graphic inks such as those used in In Mould Design applications.

Professor Tim Claypol, the Founder and Director of Weslh Centre for Printing and Coating (WCPC) at Swansea University was the keynote speaker and opened the conference with his paper based on research using tungsten screen printing mesh to achieve line widths of 30 microns in printed electronics. Tim discussed the importance of rheological analysis in achieving this standard of printing. He explained the benefit of Swansea's Small amplitude ocillitory shear technique to provide insight into the elastic and non-elastic qualities of ink behaviour. In short, it allows chemical engineers to better understand the performance of their formulations and how to improve their printing performance.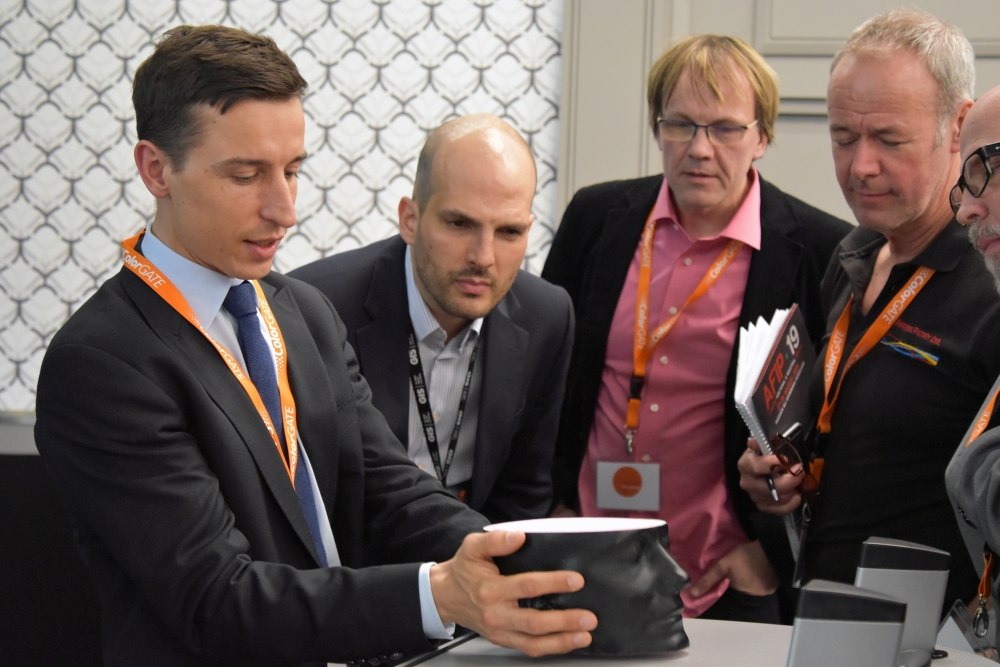 Prof. Claypole also spoke of his interest in developing graphene carbon inks to a very high-performance standard through triple roll milling and print analysis over many weeks to achieve formulations that print reliably and remain stable in storage for many months. He showed some practical applications, including flexible heaters, pressure sensors and energy harvesting that pulls in energy leaking from devices like mobile phones. One of the researchers is currently developing a golf pressure mat to assess the gait and stance of golfers. Micro LED's with inductive coils are being screen printed and are stimulating interest in wearables and packaging. Nth-Light is the name of one of these fully printed flexible LED's. These wearable electronics can now be powered using a small rechargeable phone battery and silicone electronics making them much lighter than before. This white light source can have colour printed on top to create a bright range of coloured lights.

Afterwards, Dr. Fabian Gyger from ELANTAS presented his paper on Smart surfaces and In-Mould electronics. This industrial group operates across a broad range of coating, pigment technologies and printed electronics. During the early stages of thermoforming conductive inks there were many challenges with cracking and electrical failure. ELANTAS' new inks are flexible enough to withstand the process and are being used to create capacitive touch controls in IMD or in mould design. IMD is a process where graphics are screen printed, formed and located into the injection moulding process before the molten plastic floods the moulds under pressure to make homogenous component.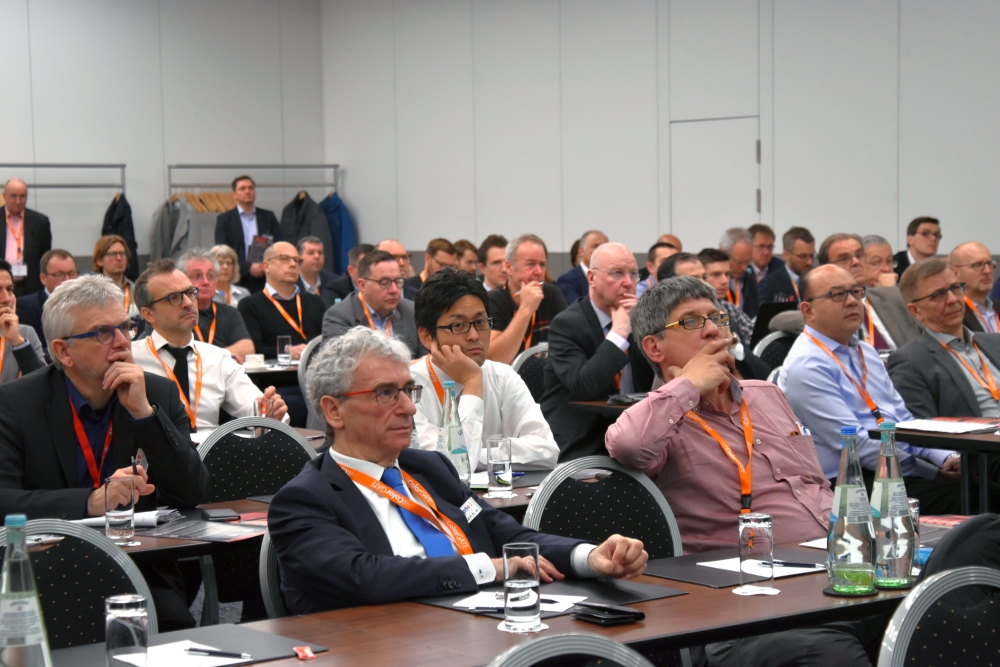 Bectron is their brand name for these conductive/dielectric inks which perform well with Proell IMD inks. We were shown new controls that are being integrated into white goods and automotive applications. One application allows the user to run their finger along a flat surface to adjust the lighting intensity inside their car. ELANTAS have also developed clear conductive inks which will no doubt extend to all manner of useful applications.

ESMA's President, Debbie Thorp introduced Global Inkjet Systems and described their expertise in consulting across the inkjet landscape. Inkjet is now developing into markets where spray coating has dominated as it has the ability to jet coatings only where you need them which offers massive potential savings in materials.

Inkjet's breadth of application has been limited by the viscosity of coatings that can pass through the nozzles, research is progressing to jet thicker fluids. Throw distance has also been an issue for functional applications and with the right heads and wave forms controlling ejection, it's possible to widen the gap up to 25mm from the surface. The coating speed is now hitting 129m2 per hour which of course can be increased by adding more print heads. Couple this with greyscale print heads where variable droplet capability can blend stripes to remove visual artefacts through blending further advances the possibilities. Furthermore, Thorp explained that applications to 'wrap' inkjet printing around 3D objects need advanced robotics. The standard range of industrial robots aren't typically built to meet the tolerances that inkjet requires for high resolution print applications. There needs to be a tenfold increase in the resolution although GIS have developed solutions for printing on complex 3D items that are very impressive.

CTS or computer to screen was a popular topic and the question of, 'why CTS direct exposure?' was well addressed. In essence, conventional screen making is time consuming requiring lots of laborious steps, film positives are costly, and they attract dust and require storage. The vacuum frame to expose in, is often scratched, therefore the feasibility of this investment must consider all the costs of screen production to calculate the return on investment period.

Dr. Gerard Rich of Luscher presented how Luscher uses collimated UV light through a fibre optic laser to achieve super fine detail in screen making with its computer to screen technology. The positional accuracy required in fine resolution imaging demands the secure location of the screen using vacuum throughout exposure. Their solution uses a registration pin system so that the setup is minimised on press. The imaging resolution is 10-micron pixel size when set to 2540 dpi. For printed electronics 10,160 dpi, then the imaging resolution is set to 2.5-micron pixels. The tolerance of +/- 1.25 microns applies to the highest resolution image exposure and of course requires amazing engineering quality control. Amongst the list of challenges, when UV laser light passes through the emulsion there is diffusion and reflectance from the surface of the coated mesh, both of which restrict limit the highest resolution. Dr. Rich explained that there is a difference between data sent and resulting print when getting to 40micron line widths. It isn't possible to image below 20-micron lines when imaging screens. Whilst some technicians suggest reducing UV exposure dose improves resolution it usually results in poor cross-linking of the emulsion and premature stencil breakdown on press. . Software correction can be employed to compensate and lead to the correct output line widths.

Arguably each of the CTS manufacturers have comparable technologies but it was interesting hearing from each of the key players. Oliver Leven of CST introduced their range of exposure systems for screens and the different options available. If you need a very large system for glass screens you'd take a system with lower resolution as it'll be faster. From automatic processing from exposure to washout, these systems are available. From a manual load and unload device to fully automatic lines, all specifications are covered. The resolution is critical, there is no point in over-specifying as you restrict throughput.

Grunig/Signtronic's Andreas Ferndriger expressed the importance of a perfect screen. These suppliers are heavily engaged in automation and developing equipment to ensure better screens. Grunig provides UV robotic screen stretching, automatic emulsion coating, drying and exposure with CTS in line. At the end of the printing process the screens need to be reclaimed and subject to volumes influences the appropriate degree of system automation. When you're processing 400 screens a day there are many possibilities and these requirements can be supported by 2-3 technicians.

Signtronic offer UV LED using 2 lamps with 305nm and 405nm, by blending the two wavelengths to achieve polymerisation. Signtronic also offer high power wide spectrum UV lamps where required depending on the emulsion requirements. Ferdriger stated that in his experience, Kiwo Z140 dual cure emulsion works really well and you don't need pure photopolymer emulsions.

Read part 2 here, I continue to discuss the remaining presentations that took place during the conference which features presentations from CTA manufacturers, Seiko, Sefar, PVF, Marabu, EPTANOVA, Extensis Group, Yole Developments, Eurecat, Phantomx and more.

Interested in joining our community?
Enquire today about joining your local FESPA Association or FESPA Direct