Features
What technology should you invest in? Sewing or high-frequency welding?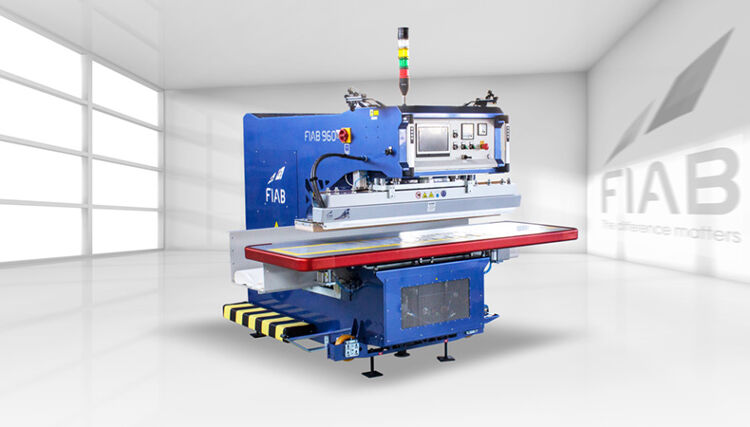 When it comes to finishing large format prints, many printers are faced with the decision to choose between sewing or high-frequency welding, Sonja Angerer explores both options and advises which is better suited for your business.
2 of the most popular methods for printed tarpaulins or textile material are sewing and high frequency welding. Both of which have their advantages and disadvantages, sometimes they are unsuitable for technologies commonly used in wide format printing. In this article, we explore both processes, looking at both their advantages and disadvantage as well as potential applications that can help printers make an informed investment decision.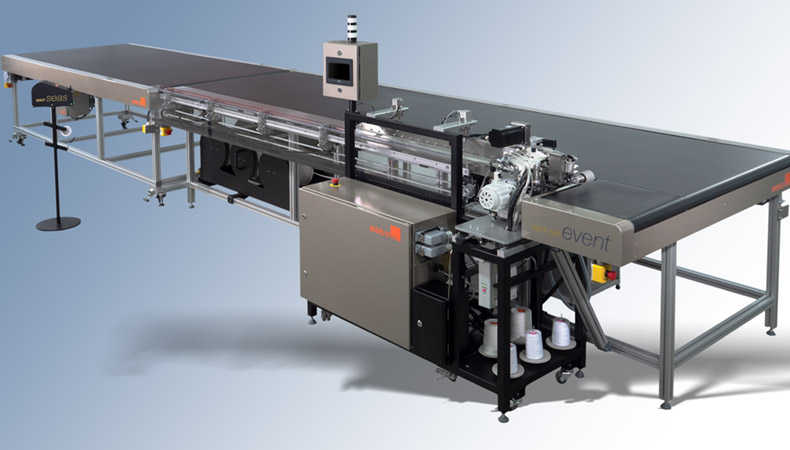 CAPTION: Sewing machines like the MX Event from Meevo do not require a skilled worker to operate. Photo: Meevo / via Multiplot
Sewing and Wide Format printing
All printers want the ability to make their finishing process of prints onto tarpaulins and textile more efficient. Industrial sewing machines are widely used and you can purchase them second-hand at a low price. They work well for hemming or attaching SEGs to printed textiles, industrial sewing machines can handle even thin tarpaulins. However, the prerequisite is that a trained specialist is required. Finishing can become a bottleneck because there is not enough capacity to fulfil large and urgent demands.

If larger volumes of sewing work are regularly required, sewing automats such as the MX Event family from Meevo or the Cronos product line from Matic can be a good option. They are primarily intended for long, straight seams. A conveyor belt ensures that the textile material is distortion-free. This means that even materials that are stretchy can be sewn very precisely. After a short training, sewing machines can also be operated by semi-skilled personnel. There are usually various additional modules available so Velcro strips or piping can be attached inline.

Whether the material is woven, knitted or non-woven, sewing machines and automats are best suited for these textile materials. You can utilise fibres that are both natural and synthetic. Seams typically hold up well, even outside. However, they are not completely waterproof, they need to be additionally secured using adhesive tape if this is required.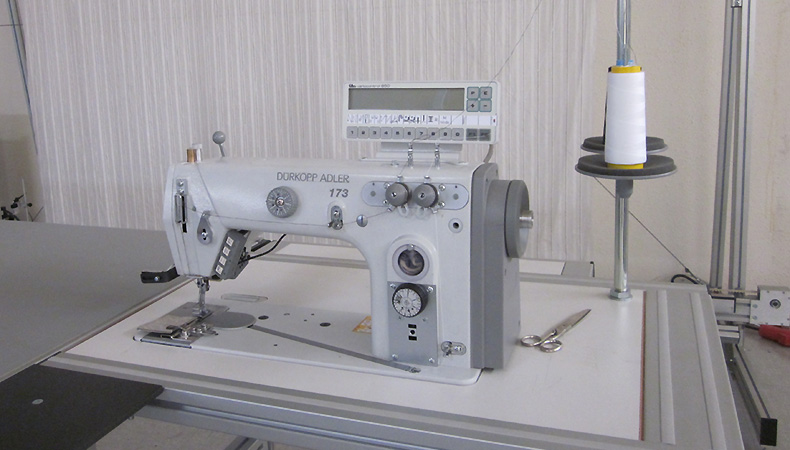 CAPTION: An industrial sewing machine is relatively inexpensive, but it quickly reaches its limits during order peaks. Photo: S. Angerer
High Frequency Welding for Printers
High frequency welding is more commonly used in digital printing to join tarpaulin material. The technique works on Vinyl and PU, 2 materials that are common for long-term outdoor applications. High frequency or HF welding heads are available stationary and mounted on tables. For super-wide applications, mobile models are common that are guided along a beam. Typically, manufacturers include Forsstrom and FIAB.

In high-frequency welding, an electrode generates an electromagnetic field that oscillates at 27.12 MHz. This generates heat that softens the materials, which are placed on top of each other. Under high pressure, the materials fuse, the resulting weld is durable, stable, waterproof, and airtight. Since several layers can be joined together, the HF welding process can also be used to mount eyelets made of PVC, which are resistant to tension.

While high-frequency welding on PVC and PU is almost unrivalled, the technology cannot be used on alternative, more environmentally friendly print substrates such as PET. However, there are other ways to weld tarpaulin material. Hot run or hot wedge welding is commonly used as well as impulse welding with a heated Teflon stripe. There are also systems that work with ultrasound or laser. Occasionally, adhesive or adhesive tape systems are used to join tarpaulins. Handheld devices for mobile tarpaulin welding usually work with thermoelements or hot air.

Unlike metal welding, users of an HF welding machine do not usually need to have proof of welding training, although manufacturers such as Forsstrom offer further training for skilled personnel on their own HF machines.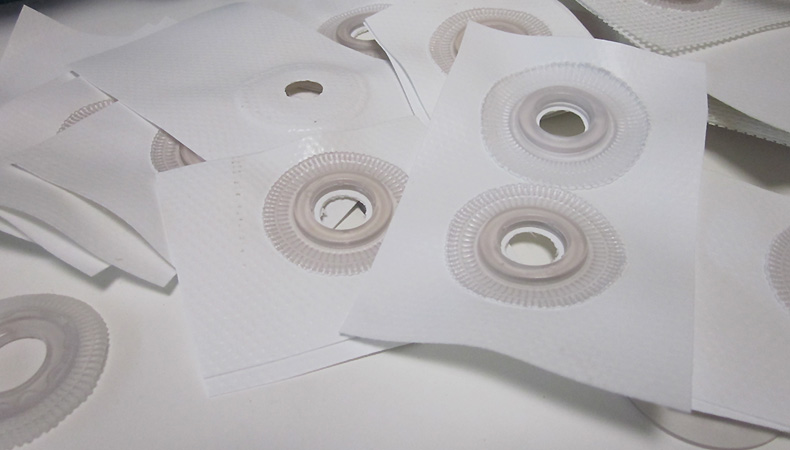 CAPTION: Welding machines can also be used to place plastic eyelets into tarpaulins. Photo: S. Angerer
Sewing or HF Welding for printers?
The finishing of printed tarpaulin and textile material in the print shop is mostly determined by the applications and their requirements. High-frequency welding or sewing are both viable options. Where textile material is common, sewing is widely used.

High-frequency welding is often used in large format printing and for tents and 3D objects. However, the use of PVC as a substrate is decreasing in Europe. Many environmentally friendly alternatives cannot be joined using the HF process.

It is also important consider the entire process, regardless of the technology you choose. For example, a single manual welder or industrial sewing machine is relatively inexpensive. However, manual solutions frequently prove to be insufficient in terms of productivity. For peak order times, additional trained staff and equipment are required. This usually costs more in the long run than an automatic sewing machine or a highly productive welding equipment.

As with printing presses, it is essential to take energy consumption into account when making investment decisions for sewing and welding equipment. This may also include other modules required in the overall process, such as compressed air or extraction.
Interested in joining our community?
Enquire today about joining your local FESPA Association or FESPA Direct