Features
Top 9 Graphic Design Software for signmaking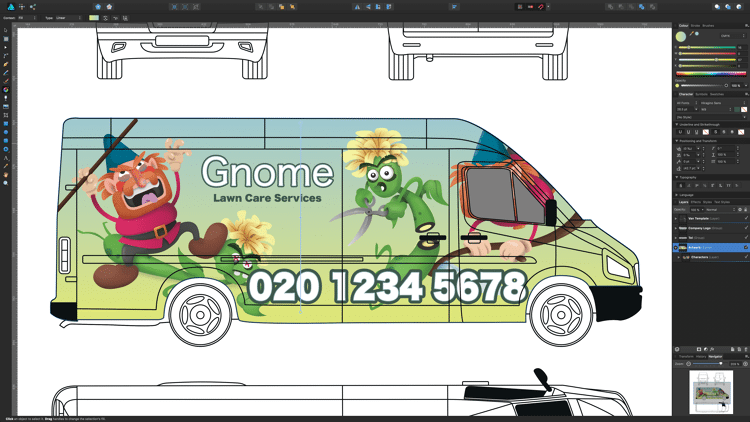 Nearly all of today's signage is designed on desktop computer software, much of it offering vector graphics with a range of tools and effects.
In part 1 of this story we examined the dominant Adobe Creative Cloud suite, especially its vector design programs Illustrator and InDesign.
Here we look at the alternatives to Adobe, some of which offer equivalent features. As mentioned before it's not necessarily an either/or decision, but which of several programs you may run alongside each other.
Prices are given in Euros here, but in some cases these are approximate as we have converted them from the price in UK pounds at the current rate, as we don't have access to official Euro prices.
CADlink SignLab V10
The long established SignLab has been the springboard for a suite of software aimed at signage, engraving and similar professional services. These are perpetual license products (ie not rented), but you can opt for a yearly service charge that includes support and upgrades.
There are several packages for different applications, all running on the latest 64-bit Windows 10. Recent new features include:
Online access to clipart
Import of SVG alongside other formats
Import of STL (3D print format)
White outlines for characters
Support for silver metallic inks
New special effects including "distressed"
Improved Bezier and bitmap editing
30+ barcode styles
There are features to support print-and-cut machines as well as separate cutters. Nesting is offered to save material on large formats.
The entry level is Designer for around €450, offering text composition, vector design and layout tools, plus export to print-and-cut Rips. CutPro costs the same and is optimised for vinyl cutters. Laser (€670) means laser engraving and is for trophies and awards, signage, parts marking, and 3D engraving.
Digital Factory Print (€1,000) is a Rip that offers multi-printer, multi-queue workflow support. Print & Cut includes all the features for €2,200. The separate ProfileLab v9 (€1,130) offers CNC/Router support and V9 3D (€1,700) outputs 3D files.
For screen printers, FilmMaker prints photo masks onto clear film and is available as the Desktop version (£395) and the XL version (£695) that supports more and larger inkjet printers.
CorelDraw Graphics Suite 2017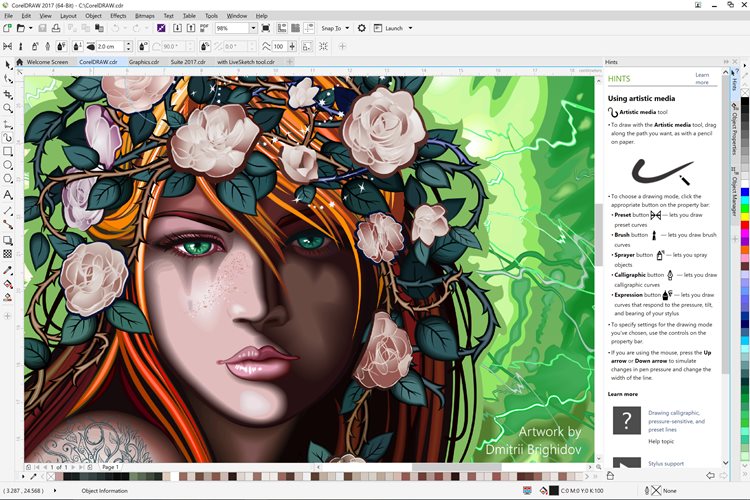 The latest CorelDraw 2017 introduces support for tilting controls in Wacom's pressure tools.
The core CorelDraw vector design application has long been a favourite with signage designers. It started out in 1989 as relatively low cost compared to Illustrator, but what really endeared it to users was the often huge quantities of "free" add-ons that Corel bundled with it: hundreds of fonts, thousands of clipart graphics and surprising numbers of accessory programs. In the 1990s and 2000s the policy seemed to be "pile it high and sell it cheap," and the quality of the add-ons was more notable than the quality or reliability.
Although there was briefly a Macintosh version in the 1990s, it has been Windows-only for many years. After Adobe announced its Creative Suite in 2002, Corel revised its policies and eventually came up with something similar, a suite of its own that it called the Graphics Suite, followed by various X numbers up to X8. There were still plenty of fonts and clipart but the accessory programs were fewer and of respectable quality.
The Graphics Suite used to be revised every 18 months or so, but this year Corel said it would move to a yearly cycle and name these after the release year. So the latest version is called CorelDraw Graphic Suite 2017 and shipped in May. It costs €677 to buy new and updates are €340. A subscription plan costs €19 per month and gets you all the upgrades for no extra cost.
The full Graphics Suite includes four main programs:
CorelDraw (vector drawing, painting, layout, equivalent to Illustrator)
Photo-Paint (pixel based image editor that's equivalent to Photoshop)
PowerTrace (photo to vector conversions)
Font Manager (to search for, group and activate/deactivate fonts for the various applications)
plus 1,000 fonts and about 12,000 clipart items
The vector CorelDraw is likely to be the program of most use for signage work within the Suite. It has been around almost as long as Illustrator and has been developed along similar lines with broadly similar features. Plug-ins tend to be less well known, but they do exist.
For instance the Australian-developed SignTools 4, compatible with CorelDraw up to 2017, offers a new menu with some 35 sign-related functions, including patterns, borders, outlines/inlines, templates, cutting tools and engraving tools. It costs $349 AUS (about €240).
CoCut Pro is dedicated to setting up vinyl cutting, and includes tools for objects scaling, duplication, conversion to contour lines, creating weeding cuts and direct access to cutter drivers. There are versions for Illustrator and Inkscape as well as CorelDraw. A full version for any program costs €299.
EasySign
This Netherlands developer offers a range of signage software to cover design, plotting, printing, routing and production. There's file support for Adobe Photoshop, Illustrator and CorelDraw.
EasySign Starter is either standalone software or runs as a plugin to Illustrator or Photoshop. It adds signage controls and features to designs created in the main programs. These include more tools, weeding support, optical mark generation, colour separation for vinyl plotters and the like. It's offered on subscription at either €30 for three months or €90 for a year.
EasySign Master adds more tools, such as vectorisation, non-destructive editing, cloning, adjustable multiply and nesting, trapping, measurements to calculate media usage, masking and effects copying. This costs €35 for a month's subscription, €99 for three months or €349 for a year. You can buy it outright for €999, with a year's support. A Routing version costs €299 for a year's subscription.
InClix Creative Media Maker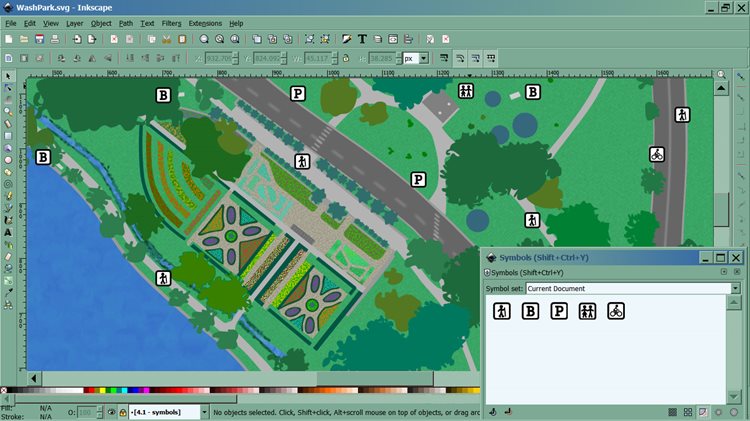 InClix is an on-line design and ordering system that includes sign creation tools.
InClix is a Roland DG owned startup company in California, with a new approach. This year (2017) it launched a true cloud-based design and online ordering system, intended for signage and other promotional media. Initially it's aimed at newcomers to design who want to create their own signage and send it to print shops.
This is a closed-loop system - the printshop sends its customers a link to Creative Media Manager, they set up their design and place an order, and the resulting PDF artwork will automatically come back to that company. The PDFs don't go to the customer and can't be sent to another printer. Alternatively, a salesperson from the printshop can visit the customer and set up a design for them on a laptop or tablet and have them approve and order it on the spot.
This idea isn't entirely new, but the involvement of large format specialist Roland and its initial focus on signage makes it particularly relevant to FESPA readers.
InClix offers a library of templates of signage types, from POS to banners and posters, plus access to external libraries with "millions" of images that they can incorporate in their designs. These templates and images are guaranteed to work at the sizes and resolutions needed for the output type. Customers can also add their own designs, with preflighting to ensure that they will work for the required output size and colours.
There are conventional vector design tools for shapes, text, layers, colour palettes (RGB, CMYK, Hex), grids, guides and grouping. There is instant messaging for communication between printer and customer and to community groups. Links to popular social media sites are also planned.
There are also audiovisual features for websites and digital signage. The software outputs standard PDF files so can be used with any printer, not just those from Roland DG.
Initially it uses a set of standard prices set by Roland (and paid to the printshops), but in future printshops will be able to set their own pricelists. There will also be a "white label" version of the service that can be customised with the printshops' own brand identities, rather than InClix.
Users can sign up for free, with 500MB of online storage, though there's then a pay-per-use charge. There are two paid-for levels: $19 per month (which includes 2GB of storage and up to 20 job renderings per month); and $29 per month (with 200GB, unlimited renderings, online support and access to user groups.
Inkscape
This is a free vector graphics program, available for Linux, MacOS and Windows. It is Open Source and developed by contributors to the project. Its native graphics format is SVG, but a choice of export formats include PDF and EPS.
The developers claim Inkscape has equivalent features to Illustrator or CorelDraw, although it doesn't have their range of effects such as pressure-sensitive brushes. Like Illustrator and CorelDraw it's not specifically intended for sign work. It can be extended by Addons, equivalent to plug-ins.
QuarkXPress 2017

Quark XPress can handle any type of layout work from multi-page to display for print as well as HTML5 for digital publishing.
Like CorelDraw and Adobe Illustrator, QuarkXPress has origins in the 1980s and is still regularly updated, as with the latest 2017 version.
It is primarily a multi-page layout app that's roughly equivalent to Adobe InDesign, but it has additional built-in tools for basic vector art as well as imported image enhancement. It also has HTML5 web page generation and can create layouts for web, mobile devices, e-books as well as print, with a lot of crossover between designs. You can synchronise content between print layouts, digital projects, and design for different device screen dimensions and orientations.
There are MacOS or Windows version (64-bit is now required, and native files older than about 2009 need a separate (free) program to convert and open them.
The 2017 release includes new user interface options, one of which is similar to Illustrator. Imported files in the PDF, Illustrator, and EPS can be converted to Native QuarkXPress Objects, so they can be edited as part of the layout. This also allows copy and paste from PowerPoint, Illustrator, or InDesign as Native Objects. Illustrator and Photoshop native PSD files can be opened with layers and channels and edited directly.
Xpress is available with perpetual licensing, but its initial purchase price of about €829 seems high, despite the respectable feature set. Quark is currently offering a €399 "sidegrade" deal to current Adobe CC, CorelDraw or MS Publisher users if they buy QXP 2017. As QuarkXPress is most likely to appeal to experienced users, then the current upgrade price is perhaps more relevant: about €180 from QXP 2016 or €399 from QXP 2015.
SAi Flexi v12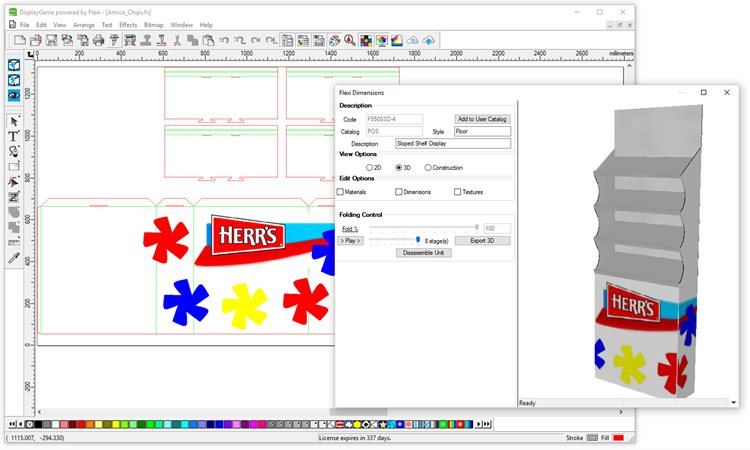 Sai's DisplayGenie uses the Flexi system to design POP units in 3D.
Sai stands for Scanvec Amiable International, a merger of two software companies going back years. Originally called PhotoPrint, Sai Flexi is a dedicated signmaking production package offering all-in-one design, print and cut features. It runs on Windows 10 and is available on subscription only.
It includes RIP, print, contour cutting and vinyl cutting tools and a decent selection of sign-related clipart including shape contours and vehicle wrap templates. Recent enhancements include:
Nesting for print and cut (or just cut) jobs
Customer artwork approval links
Banner and canvas finishing tools
Choke and bleed for metallic and white inks
CleanColour for pure hue printing (turns off colour management for pure colours)
Support for Pantone+ color libraries
A Cloud Window offers online access to extra tools, drivers, templates and so on. There is also a mobile app for phones and tablets.
There are several levels available. Flexi Sign & Print is the full package, for design, printing, printing and cutting and direct production flow for vinyl. It includes large-format RIP software with cutter and printer production features. FlexiSign includes design, text serialisation and colour vectoring features. It includes drivers for over 1,000 cutter models.
FlexiPrint includes banner finishing, textile repeat and stage finishing, and special colour matching features. FlexiSign SE is an economy version with vinyl cut and design kit features tools for importing and exporting files, text manipulation and basic drawing, plus drivers for 1,000 printers and cutters.
A slightly stripped-down version, Flexor Design, does not print and cut but can export to other Rips. Display Genie builds on Flexi to allow 3D design of POP displays for cutting from corrugated and other sheet media.
FlexiPrint SE is primarily a Rip, though it includes tools for automatic serialisation (variable data), contour cut path creation and layout optimization.
Serif Affinity Designer
Serif Europe is a UK based developer with a long history going back to 1987. It created generally respected entry level graphics programs (such as PagePlus, PhotoPlus and DrawPlus), until 2015 when it revised its approach to take advantage of the new trend for very low cost apps.
Its Affinity Photo and Affinity Designer were completely new programs (initially for Macintosh only, now also for Windows. They are both priced at €49.99 each. A new iPad version of Affinity Photo costs €21.99.
They offer an extensive set of image editing tools with support for professional print needs (such as CMYK working, several Pantone palettes, ICC profile support and PDFand PDF/X export). Affinity Photo won an Apple award as 'the best Mac app in 2015.'
Affinity Designer is intended as a low-cost alternative to Illustrator, with the idea that it has all the tools you need without the "bloat" of features that Illustrator has gained over the years and add complexity. However, it does have a long list of features and functions which were extended with the recent v.1.5 release. It will open and place native Illustrator (AI) and Photoshop (PSD) files and can open and edit PDFs.
Like Illustrator it can handle most graphic tasks, but doesn't have the specific features aimed at sign makers that are found in CADLink SignLab.
Serif has been talking about Affinity Publisher, a forthcoming layout program, for some time, and now says it will be released by the end of 2017. This will be an alternative to Adobe InDesign or QuarkXPress, so it's likely that the existing Affinity Designer will still be more relevant for signage work.
Xara Pro X365
Xara is a long-established UK developer, producing a range of related Windows programs that handle vector graphics, photo retouching, 3D titles, multi-page layout and web pages.
Xara Pro X365 is the top product that offers all the main functions for about €279. The price includes all updates for a year after purchase. The vector tools include pressure-sensitive art brushes. Vector export formats include AI, PDF, EPS, SVG and some early CDR (CorelDraw) types.
Register today to visit FESPA Mexico 2017
Taking place from September 21-23 at the Citibanamex Centre in Mexico City, Mexico, FESPA Mexico 2017 will play host to many major brands from across the global print market.
To learn more about the companies that will exhibit at the show, as well as the conference programme and many other exciting in-show features visitors can look forward to at this year's event, visit the official FESPA Mexico 2017 website www.fespamexico.com.
Delegates can get free tickets to the exhibition by registering via the website and quoting reference code: MEXH718. Discover how a visit to FESPA Mexico 2017 can benefit your business and register today.
Interested in joining our community?
Enquire today about joining your local FESPA Association or FESPA Direct