Features
The ultimate design software guide for signage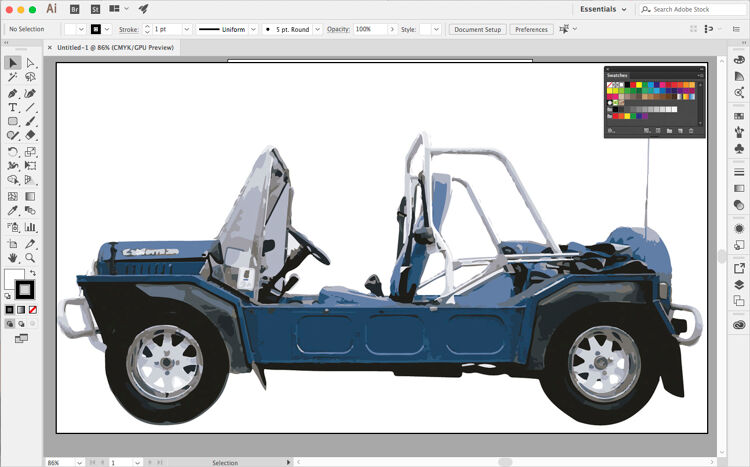 Buy, implement, build. Software is part of your everyday business life now. It is the primary tool of all businesses.
Professional artwork for signs, like artwork for practically anything else today, is mainly created in computer design programs. These provide on-screen tools to create graphics which used to be created in physical form by ink pens, pencils, airbrushes and Letraset or Blick transfers, as well as new effects that would be difficult or impossible to create with conventional art tools.
In this pair of articles we'll look at the main software choices available for sign work, whether standard or specialised. This means in particular vector design and layout programs, especially those with support for contour cutters and other large-format needs, such as media-saving multi-image placement on large formats, white underlays and overlaps for wallpaper and similar.
Image editors are also important, such as the dominant Adobe Photoshop and its rivals, but we won't consider those in detail this time.
Standard design programs work well for the majority of signage requirements, but there are some more dedicated programs that offer special features if you need them. In this two-part story we'll ty to put these into context, for beginners to the industry and for more experienced people who might appreciate a catch-up on what can be a confusing set of issues and options.
Adobe Creative Cloud
Today Adobe dominates the worldwide professional graphics software market with its Creative Cloud suite, a comprehensive bundle of design, imaging, video, sound, animation, web and other media apps. These all run on both MacOS and Windows, with a few stripped-down versions for tablets and mobile devices too.
Since adopting a "subscription" payment model (more accurately described as rental) in 2013, Adobe has increased its domination of the graphics sector, with most design studios, individual artists and printers worldwide concluding that for about £50 per month per seat, there's everything to be gained and little to lose by having it.
The full CC package offers several apps that are particularly relevant to print artwork creation: Illustrator (vector graphics and layout), InDesign (sophisticated multi-page layout), Photoshop (mainly image editing for photos and related bitmap images), and Acrobat (PDF creation from other files, basic editing, reviewing and pre-flighting). These can all share files, fonts, colour management profiles and other settings.
The document programs (InDesign, Illustrator and Acrobat) will work with native formats from the other applications, although it's probably better practice to use non-proprietary formats (EPS, JPEG, TIFF etc) as they will work third party workflows too. The only native CC file format that tends to be sent down the line to other production houses or processes is .AI, the native Illustrator format. This can be opened and edited by some other programs, such as CorelDraw, Esko DeskPack, Sai Flexi, CADlink SignLab etc.
Adobe has also assembled a large supporting cast of fonts, clip art and access to online image libraries, and is constantly pushing the idea of online sharing and collaborative working. It is apparently this sharing aspect that explains the use of the Creative Cloud name – the applications themselves are downloaded to operate from local computers and are not remotely hosted (which is the usual reason for calling software "Cloud").
Illustrator
lllustrator is a vector program, so shapes can be enlarged to any size and still retain perfect curves and shadings.
All the print-related apps are excellent and together form the most comprehensive set of graphics tools you'll find anywhere. It's worth mentioning Illustrator in particular as its working methods are especially suited to the needs of signage as well as decal/labels.
This was actually Adobe's first creative design application, launched 30 years ago in 1987. It offered all-vector tools to create shapes, fills, outlines, blends, type and so on. It could save its own native AI file format, or the more universal EPS (which remains editable if re-imported).
It's been extended greatly over the years, with notable enhancements being live previews, layers, transparency, paint-like (but still vector based) pressure-sensitive brushes, PDF import and editing, bitmap placement, bitmap-to-vector conversion, text on paths, perspective grids, artboards with multiple designs, and user-defined styles. It has gained import/export support for PDF and it can also create SVG and some other graphics formats.
Unlike some of the other CC apps, Illustrator is backwards compatible so can open even the earliest AI format files, and save to many of the old formats too.
The CC apps can all be extended by add-on modules called plug-ins, which can be developed by third parties as well as Adobe. In the 1990s and 2000s there was a lively third party sector devoted to creating and selling plug-ins to add specialist features or enhance usability.
However as the main apps were continually developed Adobe added more and more features as standard, so there was less requirement for plug-ins. Photoshop (and the related Lightroom image processor/organiser) still has a wide choice of third-party plug-ins for image enhancements, creative effects and filters though.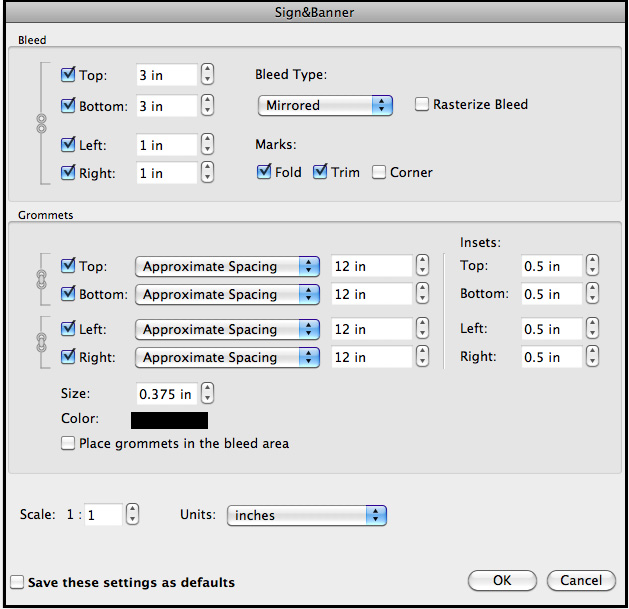 Onyx Sign&Banner output menu.
There are still some useful production-oriented packages for Illustrator. Roland's CutStudio AI plug-in sends vector images to the CutStudio software it bundles with the company's printer-cutters.
Esko's DeskPack plug-ins for Illustrator and Photoshop offer professional packaging design tools, some of which (eg step and repeat, or spot colour integration), may be relevant to signage. InDesign plug-ins tend to be mainly related to publishing and not large format layouts.
Why use other applications?
Despite the dominance of Adobe, there's still room in the market for apps from other developers. Adobe doesn't yet do absolutely everything that a signage designer/printer requires, though there are workarounds to the point that you can get away without using anything other than CC if you really want to.
From a professional user's point of view, a Creative Cloud subscription is affordable enough that using other apps isn't usually an 'either-or' financial decision. Instead it's matter of which of several other programs it's worth having as well.
This isn't especially a cost decision, more a question of how much time and effort to invest in learning them. It's significant that the latest CorelDraw 2017 has a switchable user interface option that gives you the look and feel of Illustrator, with less need for re-learning.
Another good reason for using a non-Adobe program is if it's what you or your designers are used to – if say you've been using CorelDraw or QuarkXPress for 10, 20, or even almost 30 years and the latest versions still do all you need, why change?
There are also aspects to Adobe's business model that worry some people. Chiefly that the payments are open ended: you have to keep renewing the subscription forever, but you never own the programs. If you stop paying, Adobe switches off your access to the apps and services, and although you keep all your files, the native formats can't be edited and re-saved (they still work fine if you open them on somebody else's Creative Cloud apps, though).
So far there is no loyalty scheme for long-standing customers, though Adobe does offer reductions for multiple copies and site licenses.
There is a less tangible worry that because Adobe makes billions of dollars per year from "locked-in" subscription customers who can either pay or leave, there's less incentive for the company to put a lot of effort into upgrades.
Conversely, some people complain you have little choice about accepting the incremental upgrades: if Adobe decides to take out a feature in Photoshop that you really need, you've lost it and there's nothing you can do about it. In reality that need not be the case: major upgrades leave copies of the older versions on your system, and they will apparently still work indefinitely (as long as your subscription still runs and the operating system supports them). My Photoshop CC 2015.5 still runs even though I also have 2017, for instance.
A lot of longer-standing Adobe users kept their old copies of the Creative Suite applications that went before the CC subscription types. CS6 was the last of these. You don't get the new features of CC, but a lot of people were happy with the old ones. They were bought outright with a "perpetual license" that doesn't run out and can be transferred to new computers, although as Apple and Windows change their operating systems, eventually it's likely that CS6 will cease to run in future. One answer would be to run an old OS on a virtual machine, but we won't go into the details of that here.
In part two we look at some of the most popular alternatives to Adobe for sign design, including some more dedicated apps.
Interested in joining our community?
Enquire today about joining your local FESPA Association or FESPA Direct