Features
How To Print Sustainably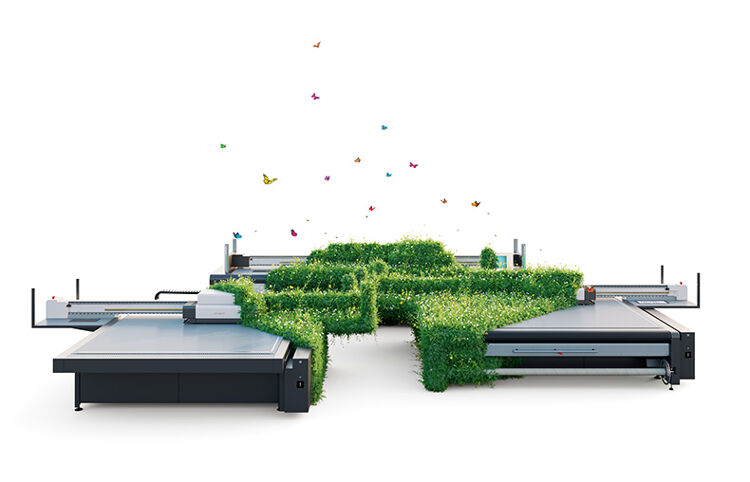 The climate crisis requires the need for all businesses to take responsibility and ensure their businesses are as sustainable as possible. What can printers do? Sonja Angerer discusses the current opportunities for printers to ensure their businesses are sustainable.
There is a need for businesses to print sustainably. Customers are requiring it and employees are passionate about working for sustainable businesses. Here are a few factors to consider to ensure that print is more sustainable and planet friendly:
Design and Product Development
Substrate Choice
Machinery and Lifecycle
Energy Use
Recycling
Clever Design Makes Cleaner Prints
In the past, good design was understood as "form flows function". Today, the product's lifecycle needs to be taken into consideration during the beginning of the design process: will it be easy to recycle once it is no longer needed?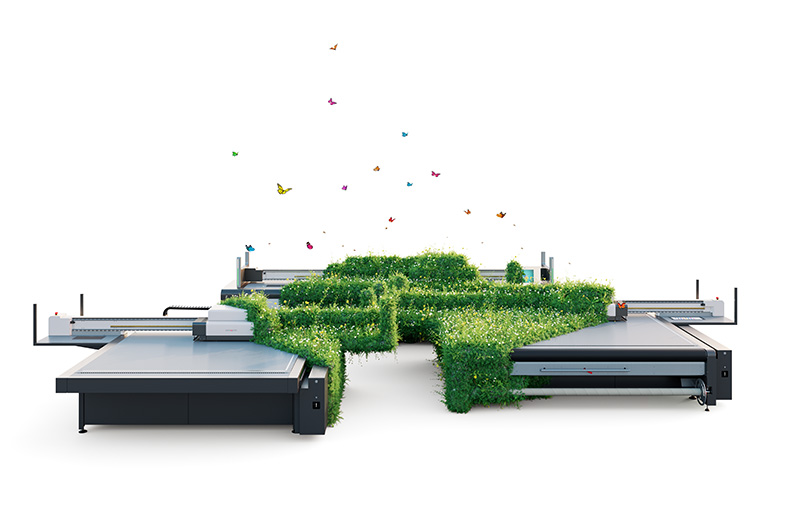 CAPTION: Swissqprint is the only major manufacturer so far to certify their entire range after the ISO 20690 energy efficiency standard. Image credit: Swissqprint

Is it possible to re-use an application, for example, could prints featured on a lorry curtain be turned into bags? If combining different materials makes recycling harder, is it possible to design an application to make it easier to separate the different materials again, or just use one material to begin with? It is important to be mindful of the environment by ensuring that print is as sustainable as possible, an example of this is reducing the impact of packaging on the environment.
Substrate Choice
For many printers' customers choose a substrate is easy, they will often choose the cheapest option. Printers are usually not responsible for their customers' designs or their substrate choice. However, it is every printer's responsibility to educate their customers about eco-friendly, sustainable alternatives.

Many customers have not previously researched sustainable options. For many applications, including outdoors, paper or cardboard-based substrates are more recyclable. Regrowing resources might be sufficient, especially, if the print will be used only for a short period. Usually, customers are not aware of more environmentally friendly print alternatives like using textiles instead of PVC. Advising customers to make more sustainable substrate choices helps printers print with the environment in mind and establishes a better customer relationship.
Machinery and their Lifecycle
Buying new machinery is a long-term commitment. Sustainability should become as important in an investment evaluation for any printer as economical deliberations.

What makes a printer sustainable? It is not only the energy use (see paragraph below), but also its life cycle. Industrial strength machinery is heavy and complex, with a huge carbon footprint from manufacturing and logistics. If the printer is upgradeable, and can be used for a decade or longer, the on-year footprint will likely become less than a desktop printer.

Any machinery that needs a drive-in / fly-in technician frequently, will increase the cost of ownership considerably as well as increasing the carbon footprint. Good maintenance and a service contract with regular check-ups to ensure there are no sudden breakdowns occur can help to print more sustainably.
Energy Use in LFP Printers
Energy efficiency is still a problem in the digital printing world. With ISO 20690, this standard ensures that comparing the energy use of printing systems between models and technologies is much easier. It has not been widely accepted yet, Swissqprint is the only major manufacturer to test their entire range to this standard.

Other manufacturers certify their gear across a wide variety of competing standards, including Energy Star, Blauer Engel or RAL-UZ 122. In general, thermal drying processes with water-based, solvent, or Latex inks often require more energy than UV-curing, especially with LED technology.

However, to understand the real carbon footprint of an large format printing (LFP) product, it is necessary to consider all the steps in the production, including heating or air conditioning, priming, finishing and even logistics. Transport of a carton with a folded-up textile banner with regular mail will result in significantly less carbon footprint than loading a rolled-up super wide-format poster into a lorry for immediate delivery.

Printing sustainably means considering energy use over the whole process from data delivery to customer product pickup and optimise each step along the way.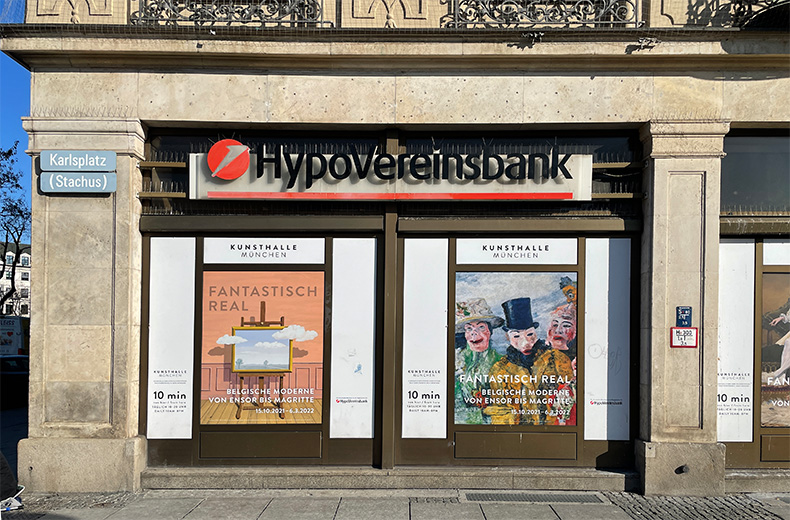 CAPTION: The beautiful LFP posters advertise an art exhibition, but what happens to them once the are no longer needed? Image credit: S. Angerer
Recycling in the Printing Industry
Reduce, reuse, recycle, this phrase is widely used when we talk about how to be more environmentally friendly and how to be more sustainable. In the wide format printing industry, printers are often praised for one-off, complex projects. Recycling and reusing is more complex than in many other lines of business.

For example, the average trade fair booth. It may easily consist of a dozen different materials, so for them to be successfully recycled after the trade show, this would take many days. But the designated time needed for dismantling stands is often too short, as the next event usually starts almost instantly.

Even standard applications like Megaposters on PVC Frontlit or PVC / polyester mesh usually ends up in thermal recycling. While the use of fuel-based substrates and unsustainable finishing options may be inevitable with some applications, many factors can still be improved. Often customers are willing to choose sustainable printing options if they are significantly cheaper than usual conventional printing options.

Some people may not understand the importance of printing sustainably. However, it is entirely possible to successfully print sustainably. The print industry has already made many efforts to reduce waste and energy use, choose more sustainable machinery, substrates and finishing options. Now is the time to educate customers to help.

Interested in joining our community?
Enquire today about joining your local FESPA Association or FESPA Direct