Features
On the road to greater sustainability for print substrates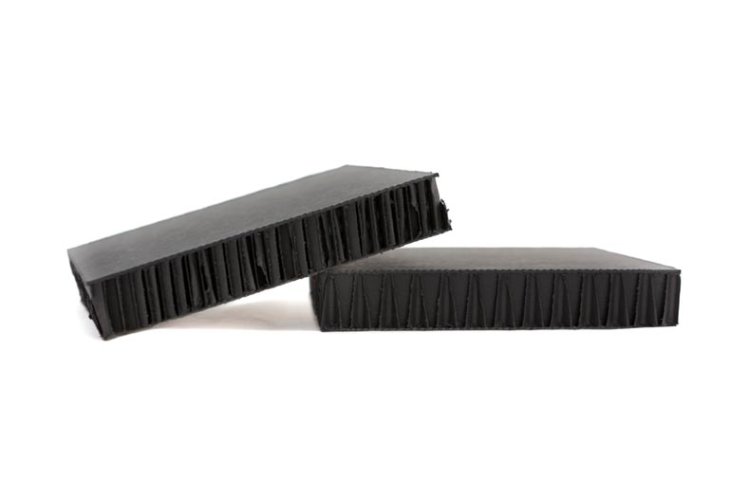 Sonja Angerer discusses that many digitally printed products are difficutlt to recycle however, manufacturers of substrates are currently working to create suitable solutions.
The European Union is aiming for a closed-loop economy where as much waste as possible will be recycled. But for digital print applications, this isn't quite achievable as yet. The manufacturers of print substrates are busy working on solutions. Now, it's up to printers and their customers.
After every exhibition, every POS campaign all the accumulated waste has to be disposed of. It is true that certain materials, such as paper or glass can be sorted and recycled reasonably easily. But, unfortunately that doesn't apply to the majority of substrates that are used in digital printing.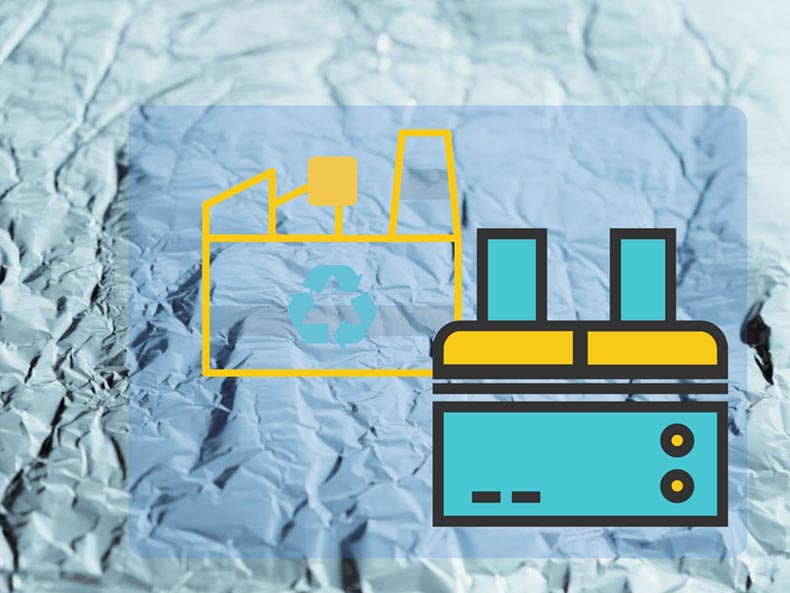 Caption: Recycling is a problem for many digitally printed products. But there are already initiatives that are aiming to change this. Photo: S. Angerer
Why are there not many recycling options for many digital print applications?
To understand why digital print applications are often difficult to recycle, it is important to understand what usually happens in the European Union with commercial and municipal waste:
Landfill
Energy recovery in waste incineration
Recycling into a new raw material
In addition, batches of both sorted and unsorted waste are exported. The magic word for efficient recycling is "sorted". This means the waste must consist, as much as possible of only one material, for example paper, cardboard, or PET bottles. Reprocessing is possible with reasonable effort and expense.
Everyone familiar with the guidelines for domestic waste collection by German local authorities knows, for example, to dispose of the yoghurt pot separately from its aluminum lid. This combination of "plastic pot with aluminum lid" can be used to produce two sorted
secondary materials.
Unfortunately, products such as laminated pop-up displays, or prints affixed to aluminum sheets can't be separated so easily. They remain a composite material, unsuitable for reintroducing into the materials cycle.
However, it doesn't have to be like this. In the auto industry there has been an aim since the
End of Life Vehicle Directive
in 2015 to achieve a recycling rate of 95% by weight. As a result, there's already a whole series of raw materials from auto manufacturing and recycling that can be used multiple times.
Digital print media made from recycled materials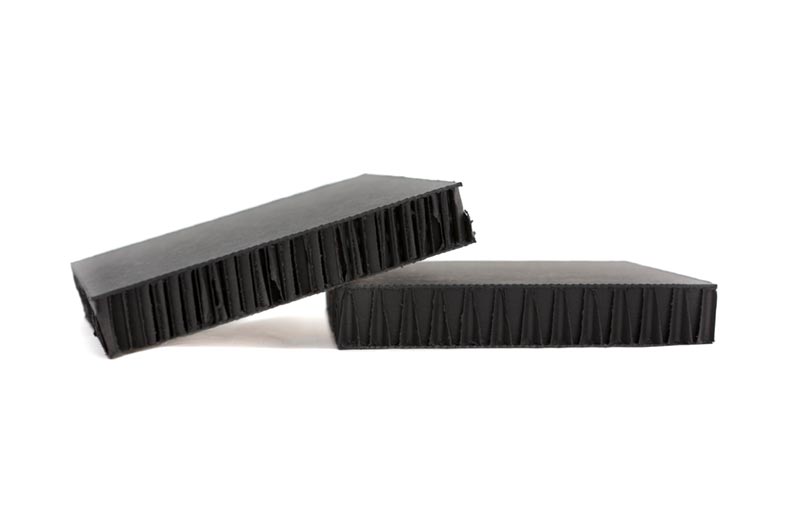 Caption: Re-board (in photo) and other honeycomb boards are produced from renewable raw materials. Photo: Re-board.
Digital printing needs higher-quality substrates than traditional print methods. As a result, it has been possible to offer a very small amount of media that can be produced from partially or completely recycled material.
One small exception is honeycomb boards and other paper-based printing substrates. The Europe-wide recycling rate for paper reached 71.5% back in 2015. However, even with
Re-board
, probably the most famous honeycomb board in use in the printing industry, part of the printable liner has to be produced with a very high proportion of fresh fibers. This is the only way to ensure premium print quality.
Verseidag-Indutex, part of the Serge Ferrari Group since August 2020,
has now developed Vertex, a coating manufactured from post-consumer waste from the automotive industry. The result is a coating that is free of PVC but is also made from already recycled material. This is a major innovation for the digital printing industry. Vertex is intended to form the basis of a whole product line of print substrates for interior and exterior use. The range will cover all digital print applications in general use and will be optimized for HP latex and UV-curing inks. "We deliberately don't recommend eco-solvent and other solvent inks for Vertex-coated materials', says Stefan Altgassen, Director Business Unit Large-Format Printing at Verseidag-Indutex. "In any case, that wouldn't be appropriate as part of an environmentally conscious printing concept."
Extensive tests are currently in progress with beta users. Verseidag-Indutex expects the first products from the Vertex range to arrive on the market by mid-2021. "The goal is to develop mesh and banner materials for current digital printing applications", explains Peter Michael Siemens, Head of Development & Innovation. "Where necessary, these will also meet the current German, French and European fire protection standards."
Like all other mesh and facing materials for large-format printing, the Vertex products have a textile core made from woven polyester. Currently they use conventional yarns because market prices for recycled yarns are much higher. However, according to Verseidag-Indutex CEO Markus Simon, the company is planning "to find a solution to this problem too, within the Serge Ferrari Group". The conglomerate has its own yarn spinning mill in Switzerland.
Recycling and CO2 footprint
The Vertex products are themselves a compound product. "To ensure the right material characteristics for large-format printing, there's no alternative at present", says Siemens. "However, with Vertex for the first time we've been able to produce a high-quality coating using previously recycled materials." It may still be possible to find a solution for recycling the Vertex products. Serge Ferrari managed to create the Texyloop system for banners and mesh with PVC coatings as far back as 2014. The returned and processed print products can be reused as underlay in green roofing.
Even when waste materials are sorted, there are major differences in their suitability for recycling. PVC is still considered hard to recycle. In many countries, discarded PCV is therefore put into landfill or turned into energy in waste incineration plants. The latter might seem a bad idea at first glance, but in fact the energy value of PVC is roughly comparable to that of brown coal. As a company with multiple product divisions, including ones for textile architecture and temporary buildings, Verseidag-Indutex is a member of the industry initiative
VinylPlus
, which campaigns for increased recycling of PVC for use as a raw material in new products.
Other manufacturers of print substrates concentrate purely on PVC-free alternatives without the use of recycled materials or downstream recycling approaches. In September 2020, for example, Heytex presented its
Ecotex products
. These are classed as durable for around one year in outdoor conditions in northern Europe. Since they're lighter than PVC products with similar performance data, they're easier to transport and can thus help achieve a smaller CO2 footprint.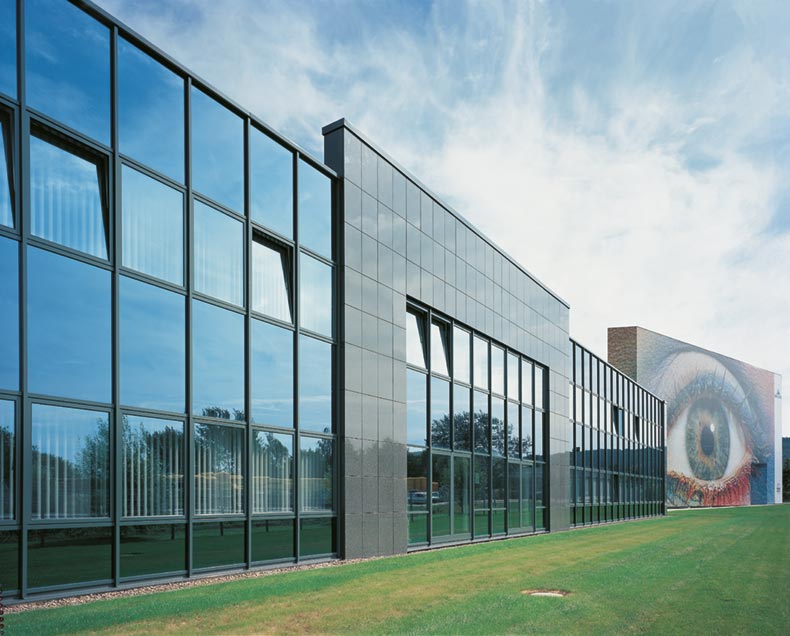 Caption: Neschen recently expanded its portfolio of PVC-free products. In the picture: the Neschen headquarters in Bückeburg. Photo: Neschen
In November, Neschen presented its Easy Dot portfolio, a new self-adhesive matt film. The film is produced without PVC and without solvents, because the adhesive dots are water-based. The film itself is made from polypropylene, or PP. However, production of PP, a widespread alternative to PVC in the printing industry, is particularly high in energy-use. In addition, the performance data for PP media for outdoor use is significantly worse than for PVC. This means that a print might have to be replaced several times, leading to greater material volumes. While PP is considered particularly suitable for recycling, its actual recycling rate in 2017 was
less than one percent
. This is the lowest figure for any plastic in widespread use.
It is therefore difficult to determine an ecological footprint for different print substrates. Re-board published one for its products with calculations based on the CEPI and ISO 14040 specifications. The energy source for production of the print substrate is very important for calculating the ecological footprint. At Verseidag-Indutex, production and administration became largely CO2-neutral in mid-2020 due to a new, high-performance photovoltaic system and the use of certified green electricity. The remainder is offset with certificates.
Most manufacturers of films and substrates for the printing industry have launched initiatives for minimizing their products' impact on the environment. For example, at Avery Dennison various measures have made it possible to
reduce greenhouse emissions by 8,000 tons
.
However, it is important to understand that any improvements made by the manufacturer can only affect the production of the print substrate. Emissions caused during the material's life cycle, for example as a result of distribution, logistics, processing, installing and even the recycling process, are an "added extra".
How can digital print products become more environmentally friendly?
What is the ecological footprint and recyclability of digitally printed products? The famous Facebook relationship status "it's complicated" would be a good answer. One of the reasons for this is that CO2 footprint and recyclability, while connected, are by no means the same thing.
But there are some things digital printers can do to minimize their products' impact on the environment. It starts right from the design stage:

Choosing suitable materials
Avoiding production of compound products, for example by laminating
Developing applications that require less material
Print producing plays a decisive role in making digital prints more environmentally friendly. Appropriate measures include:

Efficient machinery fleet
Efficient workflow with few rejects and little waste
Use of environmentally friendly energy sources (heat pump, solar system, green energy etc.)
However, a measure can only be successful if the consumers of print products play their own part. Lip service isn't enough; they must be willing to shoulder their share of the mark-up for greener substrates and more recycling. It's a major and important task of digital printers to persuade their customers. After all, if there's one thing we've learnt over the last few months, it should be this: We can only get through this together.


Interested in joining our community?
Enquire today about joining your local FESPA Association or FESPA Direct