Product Launches
Durst launches new P5 350 High Speed printing system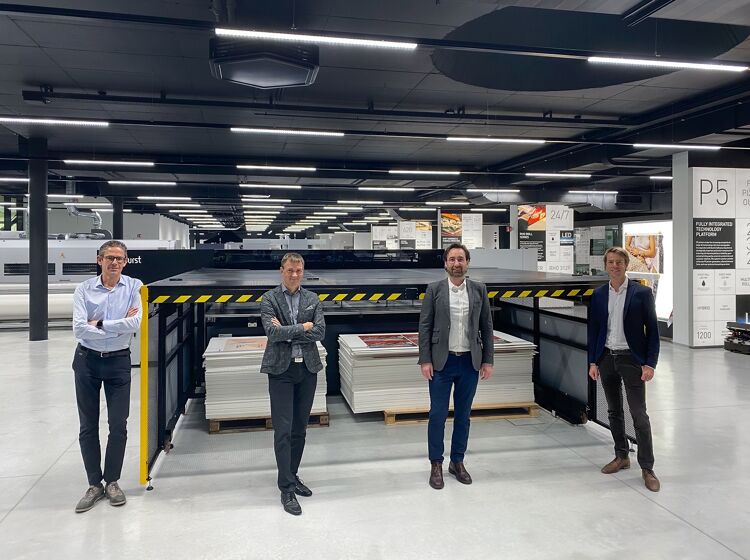 Durst has unveiled numerous innovations as it continues its journey to become a complete solutions provider in line with its "Pixel to Output" strategy. Central is the P5 350 High Speed printer, together with the Durst "Automat"™, a new full automation system, enhanced Durst software, a full LED ink portfolio and partnerships.
Launched in a virtual event, "Firework of Innovations", the P5 350 HS is the newest family member from the P5 technology platform with Durst Automat, the fully automated inline solution that makes production processes far more versatile and efficient for customers. The Durst Workflow is now available for non-Durst printers, following the announcement of a partnership with PrintFactory, which superior API software enables an easy management of mixed print environments. In line with its strategy, Durst has expanded its offer with Workflow, Analytics, automation and ink solutions for printers to deliver complete solutions from Pixel to Output.

The new Durst P5 350 HS can print at over 600 sqm per hour, which is twice the speed of the Durst P5 350 standard model, thus being the most productive hybrid printer in the market. Additionally, thanks to the same unique features that made the P5 350 successful, such as the multiroll and the multitrack 6 option, the new model retains the level of high versatility. It can be configured with up to nine color channels including light colors and white, and varnish for special multilayer printing applications such as "Day&Night", "In&Out", and up to 12 layers hapt-printing.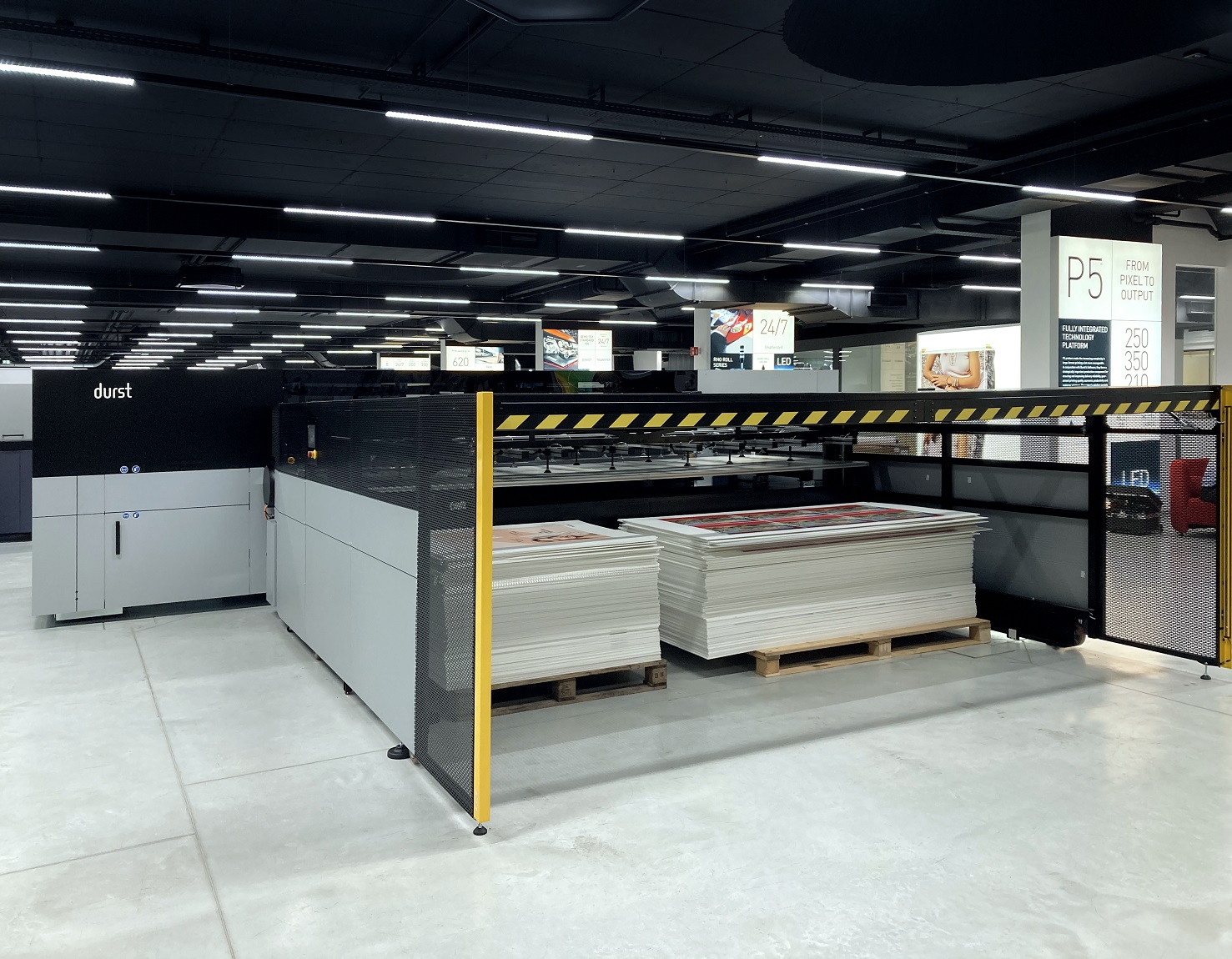 The high versatility is maintained also in combination with Durst Automat, the new fully automated board feeding and stacking system, which can manage up to two lanes, also with different board sizes up to 3.5 m width (137.8 inch) and 2.2 m (86.6 inch) length and has a loading capacity of 90 cm (35.5 inch).

Thanks to its sliding registration tables, a comfortable access to the roll tool enables a fast material change operated by only one single operator.

Installations of the Durst P5 350 HS – combined with Durst Automat – will start from the end of Q1 in 2021. Durst Workflow is a browser-based data management handling system that includes pre-press functionality as well as the ripping. The proven workflow for PDF toolbox, colour management and rip engine ensures highest quality and ink cost optimization.

At the Firework of Innovations event, Durst also announced the introduction of the new POP Flexible LED Ink. This has impressive color gamut, unmatched combination of flexibility, stackability and adhesion. It is a best-in-class hybrid ink suitable for a wide variety of roll-to-roll and board media. Another future-proof ink that can be loaded into Durst's full portfolio of LED printers.

Durst has been steadily building its workflow offerings in line with its end-to-end thinking for 360-degree business solutions aimed at the Smart Factory concept to streamline production and processes. Durst Smart Shop, Workflow, Analytics, Lift ERP – and now Durst Automat – are all pushing the boundaries of automation and innovation. All are backed by consultancy and seamless integration provided through Durst Professional Services.

Christian Harder, Durst Group's Global Sales Director, Graphics Segment, said: "The launch of our latest family Durst P5 member, the P5 350 HS, is an important statement of our firm commitment to continue to be at the forefront of innovation in the large format market. It's among a raft of innovations that we have unveiled to the market as part of our Pixel to Output strategy. Customers are demanding all-in-one solutions, which we provide as we move towards becoming a complete solution provider. In an integrated world, printers need to change as well. And we'll help them on that journey through hardware, software, inks and collaborations."

Christoph Gamper, Durst Group CEO and Co-Owner, said: "We're looking forward to the future. I am confident that in 2021 the economy will recover and, in some fields, be even stronger than before. So we will continue what we do best: innovating with passion. In 2019, we launched the P5 platform and we now have more than 100 systems around the globe. This is a great achievement, so a big thank you from the bottom of my heart to all of our customers, partners and our great Durst team members across the world."

Interested in joining our community?
Enquire today about joining your local FESPA Association or FESPA Direct