Press Releases
FESPA Turkish association ARED provides support for victims of Kahramanmaras Earthquake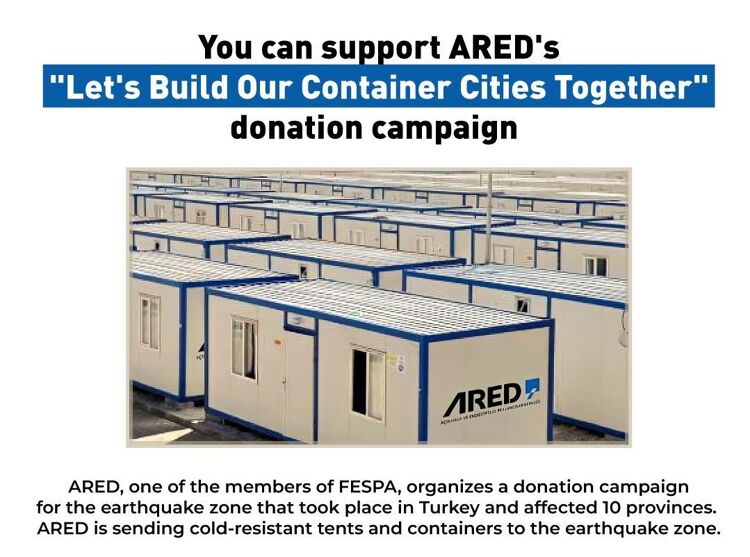 FESPA's Turkish Association, ARED, appeals to global print community to donate to provide more shelter for people made homeless by the earthquake.
FESPA member association ARED, the Turkish Outdoor and Industrial Advertisers Association and co-organiser of FESPA Eurasia, is giving direct support to victims of the Kahramanmaras earthquake by providing emergency shelters and longer-term accommodation for people made homeless by the recent disaster.

With donations from FESPA, its global associations and association members, ARED has so far purchased 10 tents and installed them in the most affected regions to offer short-term shelter. Further donations are being used to purchase units which will be adapted to provide longer-term accommodation, suitable for around two years, for use until new housing is available. These will be located within a temporary housing town set up by the Sectoral Associations Federation (SEDEFED), a Turkish organisation representing over 12,000 businesses, of which ARED is a member. ARED will also design, produce and donate directional signage for the three temporary housing towns that SEDEFED is establishing in Adiyaman, Hatay and Maras.

With donations received so far, ARED has funds to provide over 30 temporary housing units. The association is appealing to the wider FESPA community for further donations to increase the number of temporary houses that can be supplied.

Neil Felton, CEO of FESPA comments "We send our sincere condolences to everyone affected by this tragic disaster. The project initiated by ARED offers vital protection to those impacted, and FESPA will continue to work with ARED to support its community-based efforts. We thank everyone in our international community who feels able to contribute to this vital effort."

İbrahim Demirseren, ARED and FESPA Eurasia Board Director, says "Thank you to the FESPA Community for your generous donations to this cause. We are thrilled to have your support. Through your donations we will be able to increase the help we're offering to the victims of this disaster and continue building temporary shelters for them."

To donate towards further temporary housing for those affected by the earthquake, please visit: https://www.justgiving.com/crowdfunding/fespa
Interested in joining our community?
Enquire today about joining your local FESPA Association or FESPA Direct