Press Releases
FESPA Middle East 2024 to bring together leading global suppliers and regional distributors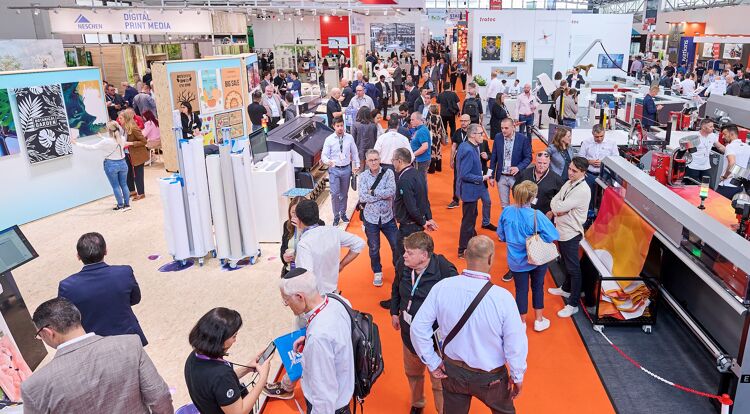 Global brands and local distributors are lining up to participate at FESPA Middle East 2024, taking place from 29 - 31 January at the Dubai Exhibition Centre, UAE. The event will provide a platform for technological innovation in digital wide format, screen and textile printing, as well as signage and visual communications.
Visitors to FESPA Middle East 2024 will see print and signage solutions from event sponsors Epson and CMYK and hardware from leading suppliers including Mimaki, Roland DG, IECHO and Vanklaser. Aerolam, Avery Dennison, BestSub, MacTac, Mecolour and Boyang are among the companies presenting media and consumables.

Confirmed distributors include Flex Europa, ADS, Al Shabak, Blue Rhine, Desert Sign, Helios Business Systems Magic Trading Co., Strings International, Quantum Digital and Wellcare Advertising, representing over 45 global brands[JF1] , including Brother, Graphtec, Mutoh, Onyx, Orafol, Philips Digital Signage, Pongs, Valiani and Vision.

Bazil Cassim, FESPA Regional Manager, Middle East & Africa, comments, "Our mission for the inaugural FESPA Middle East event is to extend FESPA's global exhibitions, business support and community to the Middle East, North Africa and South Asia. With the strong line-up of exhibitors to date, delegates will see solutions from over 100 brands across the speciality print and signage industries. And already, we're in conversations with a number of further suppliers. We're excited about expanding FESPA's presence in this new market to help print and signage businesses in this region to take hold of new opportunities to support our growing FESPA Direct membership in MEA."

Danna Drion, General Manager Marketing EMEA, Mimaki Europe, explains, "MENA is a growing market for digital printing with lots of untapped potential. The demand for personalisation in textiles, as well as an increase in print-on-demand due to the adoption of e-commerce platforms, are all driving more and more print service providers to consider adding or moving to digital. FESPA Middle East will be a fantastic opportunity for Mimaki to showcase our cutting-edge solutions that meet these trends and cater to the needs of this exciting market. We will launch new products and demonstrate our continued focus on innovation, sustainability and collaboration during the show. We're looking forward to connecting with customers and prospects and finding new ways to support them with their goals as they adopt or expand their digital printing capabilities."

Sina Haghi, CEO, Magic Trading Co., comments, "FESPA hosts the largest and most important events in the digital print industry and we are glad that FESPA is finally coming to the Middle East. We're excited to exhibit and meet new and existing customers and prospects to showcase new developments and products. We take pride in helping small print and promotional gift companies in achieving their printing needs and we look forward to expanding our reach and supporting the industry."

Harry Joseph, General Manager, ADS, comments, "With visitors from across the GCC coming to witness the latest in screen printing, digital printing, and the signage industries, FESPA is a global platform for us. International events, conferences, and exhibitions are driving demand for event-related signage and branding materials. Also, urbanisation and development across many cities in the region is generating a continued need for outdoor advertising, wayfinding signage, and large-format prints. Our in-house professionals are aware of these market demands and will help visitors find the right signage solutions to meet their goals at FESPA Middle East 2024."

Sustainability has become a key necessity in securing business opportunities in the GCC and will be a key theme at the exhibition. Visitors can expect to see solutions that enable environmentally conscious production from a number of suppliers. Blue Rhine is one of the exhibitors focussing on this. Ameer Ashraf, Digital Marketing Manager, Blue Rhine, explains, "We've observed a growing emphasis on sustainability, reflecting a shift towards eco-friendly materials and engaging visual experiences in the speciality print and signage industries across the Middle East and Northern Africa. Our stand's theme at FESPA Middle East 2024 is 'sustainable solutions and environmentally conscious practices', and our key message to event attendees is clear: embrace sustainable choices without compromising on quality. We aim to inspire the industry towards a greener future while highlighting how eco-friendly practices can elevate businesses and contribute to a more environmentally conscious printing landscape."

In line with this focus, located at the North entrance of the DEC, a Sustainability Spotlight material showcase will provide educational content and actionable advice for printers looking to make their businesses more sustainable.

FESPA will also host the first World Wrap Masters Middle East regional competition, where participants will wrap a range of objects in a set of timed challenges. The winner will then go on to compete in the World Wrap Masters Final at FESPA Global Print Expo 2024 in Amsterdam.

Exclusive to FESPA Direct and Association members, the Club FESPA Lounge will offer networking opportunities with regional and global printers and signmakers, and will include seminars and refreshments. Members will also have access to a panel of leading global printers exchanging ideas on sustainability, personalisation, trends, brands and more with regional printers.

For more information on FESPA Middle East 2024, visit: https://www.fespamiddleeast.com/welcome.

For more information about the exhibiting opportunities, visit: https://www.fespamiddleeast.com/exhibiting/why-exhibit.
Interested in joining our community?
Enquire today about joining your local FESPA Association or FESPA Direct