Press Releases
FESPA launches new Middle East event to serve growing print and signage market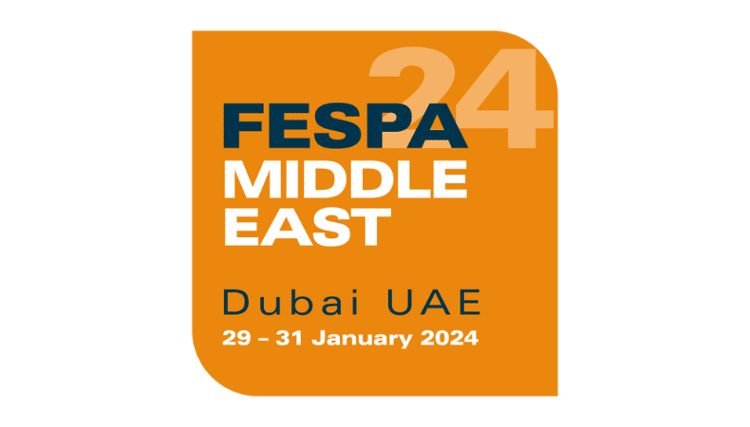 FESPA today launches FESPA Middle East, a new event serving the speciality print, signage and visual communications community in the Middle East and Africa regions. The first edition of the annual exhibition will take place at Dubai Exhibition Centre, United Arab Emirates, from 29 to 31 January 2024.
The exhibition is expected to welcome over 100 global brands. At the event, FESPA will host the first World Wrap Masters competition in the Middle East, a Sustainability Spotlight educational feature, a conference and technical training programme and a Club FESPA Lounge for FESPA Direct (MEA group) members to network.

FESPA CEO Neil Felton comments: "Major vendors have been expressing a strong appetite for a content-led FESPA event in the Middle East for some time, matched by demand from the leading speciality print service providers. It's a market that continues to show solid year-on-year growth, with key sectors such as tourism and property demonstrating healthy post-COVID recovery, alongside the region's renowned core industries. Landmark events have recently showcased the region's capacity to serve international visitors with world-class facilities. Through our recent FLEX Summit and our increasing FESPA Direct membership in MEA, we're establishing FESPA's brand in this region, and we believe that now's the perfect time to inspire and stimulate the Middle Easts' print, signage and visual communications community with a FESPA event."

Regional print industry stakeholders at the recent exclusive FESPA Leadership Exchange (FLEX) Summit in Dubai responded enthusiastically to the idea, commenting: "There's a lot of development in this region which leads to new opportunities in the print field. FESPA's experience and know-how will complement that"; "FESPA Middle East will be an important training and learning event for printers in this region, and it will be a great chance for us all to share and connect"; "We're excited for the event to come to the Middle East to help lift the industry, increase education and make a difference in the market"; "The new event will lead to a lot of new opportunities for us as printers".

Like FESPA's established regional events in Eurasia (Istanbul), Africa (Johannesburg), Central America (Mexico City) and Brazil (Sao Paolo), FESPA Middle East will provide an important, targeted sales and marketing platform for exhibitors including principal suppliers and distributors of equipment, software, media and consumables for digital, screen, textile printing and sign-making.

The visitor audience will comprise of large format digital printers, textile printers, print service providers, fleet graphics producers, sign-makers and fabricators, brand owners and creative agencies, interior designers and architects, and visual communications professionals from the Middle East, Africa and South Asia.

FESPA has selected the location of the Middle East event to attract the regional print industry from a wide geographical area, including the Gulf Corporation Council countries (UAE, Saudi Arabia, Oman, Qatar, Kuwait and Bahrain), which have a combined population of over 57.2 million and a GDP of over $4.37 trillion. Dubai is also an accessible location for visitors from the wider Middle East, North and Central Africa, and South Asia.

Centrally located for this region, Dubai is the choice of many global brands seeking to establish a direct presence in the Middle East, including multiple major print equipment and materials vendors. It also serves as a commercial gateway to Africa for many industries.

The city's well-developed infrastructure and excellent travel and logistical connections via air, sea and land make it an appealing host city for an international event of FESPA's calibre. Jabel Ali Port serves as the 9th busiest port in the world and Dubai International Airport (DXB) is the #1 international airport in the world serving more than 240 destinations via over 100 airlines connecting Dubai to a third of the global population within four hours' flying time. Dubai also has an interlinked road network connecting the wider region.

FESPA has appointed an experienced exhibitions team in Dubai to sell and promote the new FESPA Middle East event, supported by the resources and expertise of the global sales teams based out of UK, USA, Brazil, Mexico, Turkey, South Africa, Thailand and China.

For further information about FESPA Middle East, visit: https://www.fespamiddleeast.com/
Interested in joining our community?
Enquire today about joining your local FESPA Association or FESPA Direct